How to Convert DivX to MOV in Both Online or Offline: Different Methods You Should Know
Digital video has come a long way since it was first introduced commercially in 1986 with the Sony D1 format. As technology improved over the years, various video formats were introduced. Every video clip you view on your smartphone, computer, television, or tablet has a unique file format. You must grasp how each video format works if you want your videos to function effectively on any platform. A video format for web development, for example, will vary from the one you use for social media. Two of those formats are the DivX and MOV, which have differences separating them from various other formats. So in this article, we focus specifically on these two – their comparisons and provide the most straightforward steps on converting DivX to MOV for your convenience.

Part 1. DivX VS. MOV
If you are an avid video consumer, you are likely to have encountered a variety of video formats. Some of them, such as MP4, AVI, and MKV, may be recognizable to you, while others may be unfamiliar. Though not entirely new, DivX has been around for a long time; the only difference is that few people have used it. Short for Digital Video Express, DivX is a lossy video compression program that may reduce video files to a fraction of their original size with minimum quality loss. On the other hand, MOV is a video format developed by Apple. It's a sort of file container that can accommodate a variety of video and multimedia types. Because Apple built it, it can only be used with Apple devices or video players such as Quicktime.
MOV files often include video files with high bitrates and little to no compression. They're of excellent quality, but they're somewhat large. MOV files take up a lot more RAM on a computer since they are high-quality video formats.
Part 2. Best Way to Convert DivX to MOV Offline
Converting videos from one format to another is quite confusing for beginners, especially if there is little to no known software or programs and no familiarity with video formats. There are many ways to do so, both offline and online. But if we are talking about the most convenient way for everyone, FVC Video Converter Ultimate is the way to go. Not only is it free to download, but it also contains a lot of features that you can satisfy your editing needs. It is fast, and it supports various formats, so converting DivX videos to MOV is easy. To use this software, follow these simple steps:
Step 1: To start the process, click the Free Download button for Windows or Mac, depending on your operating system. A .exe file is going to be downloaded to your desktop. Once done, open it and start installing the software.
Step 2: Once installed, launch the software, and an interface will appear and it will direct you to the default tab which is the Converter feature.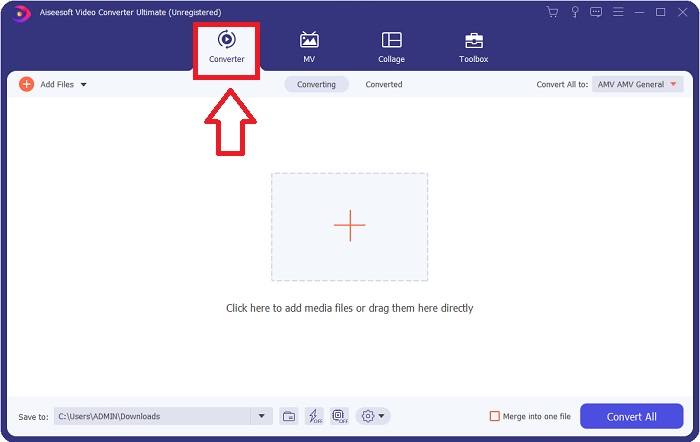 Step 3: From there, a + button will appear in the middle. Click on it to import the video you wish to convert. You can also drag and drop videos from there.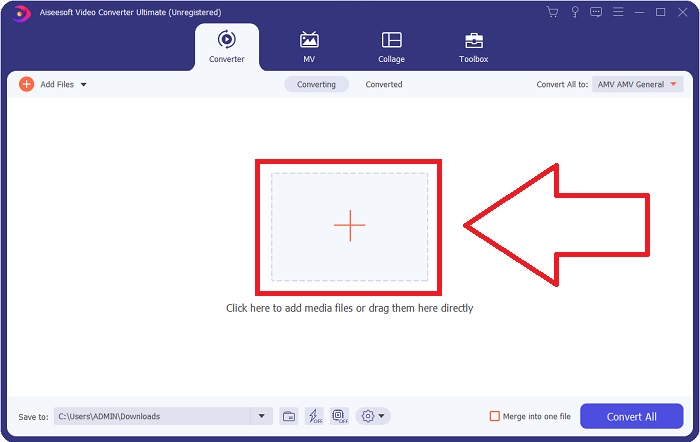 Step 4: Once your video is imported, an icon on the right will show the current format of your video. Besides it, there is a drop-down arrow that you can click to show all the available formats you want your video to be converted to. In this case, choose MOV. There are different tabs on the pop-up menu. You can choose to edit the video further. You can choose which resolution and audio quality perfectly suit your needs. For more options, click the gear icon on the right of the selected resolution or quality. Click Create New to keep your changes.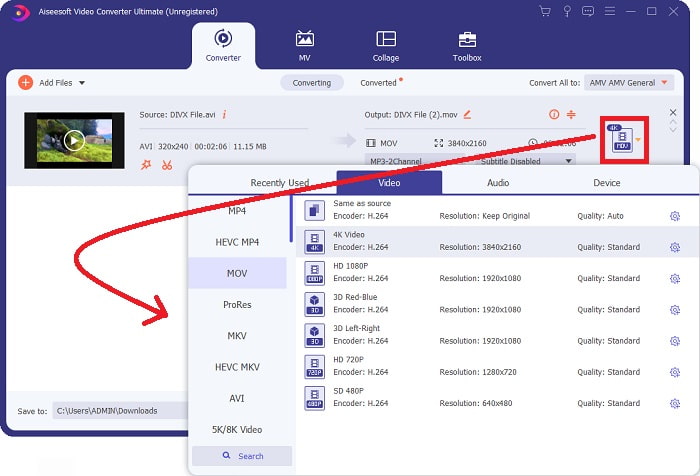 Step 5: If you are satisfied with all the changes you have made, click Convert All on the window's lower right corner to start exporting your video.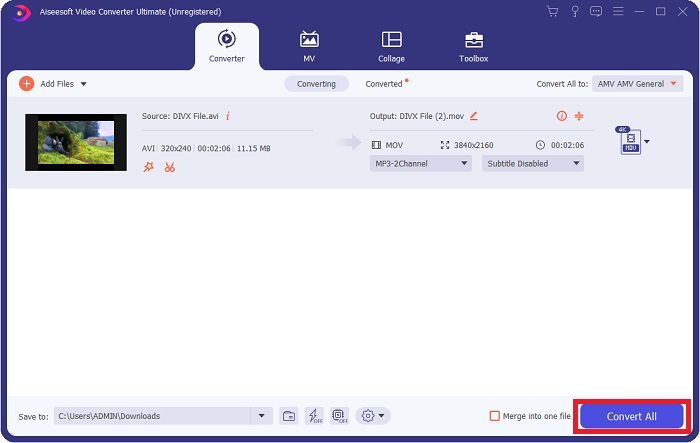 Part 3. How to Convert DivX to MOV Online
Method 1: freeconvert.com/video-converter
This method is an alternative that you can use if you do not want to install export software. It is hassle-free since the only thing to do is go to this website and start editing your video. This web tool can also support various formats to convert to another.
Step 1: To begin, click the Choose Files on the middle of the page. From there, you can now import the video you wish to convert.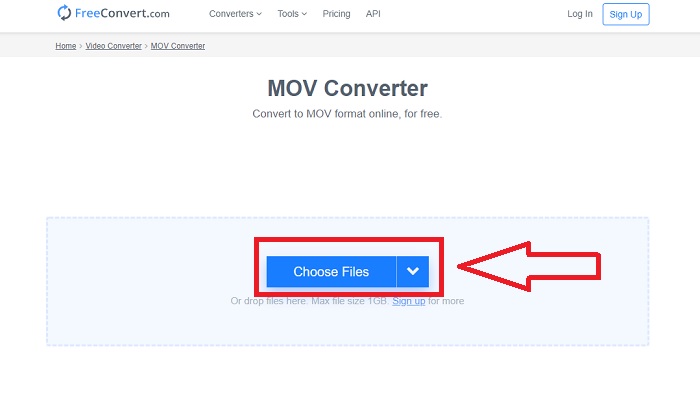 Step 2: If the file is successfully imported, you can now choose which video format you want your video to be converted to by clicking the drop-down arrow. Also, it provides more options for you to edit by clicking the gear icon beside the file format. To save the changes, click Apply Settings on the lower right corner.

Step 3: Once satisfied with all the changes you have made, you can click Convert to MOV to start converting and wait for it to finish. After it is done, click Download MOV to export your converted video completely.

Method 2: onlinefreeconvert.com/divx-to-mov.html
Use this free web tool if you do not want any complications when converting your video. This tool gives you only the option for file format and resolution to keep it simple and easy to use. To use this online converter, continue with the steps provided:
Step 1: Click the + button on the middle of the page to select files from your computer, or you can drag and drop the video you wish to convert.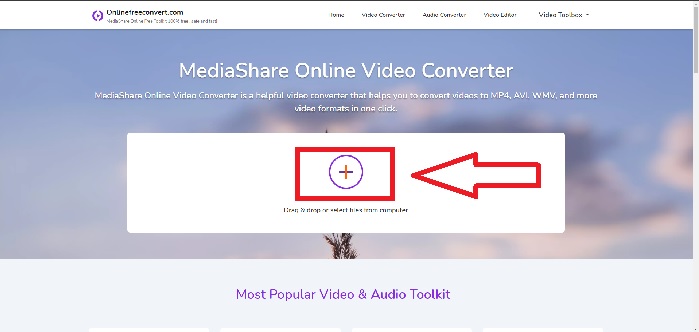 Step 2: From there, you can now choose which file format and resolution you want for your video. There are two drop-down arrows on the right of your file to do so.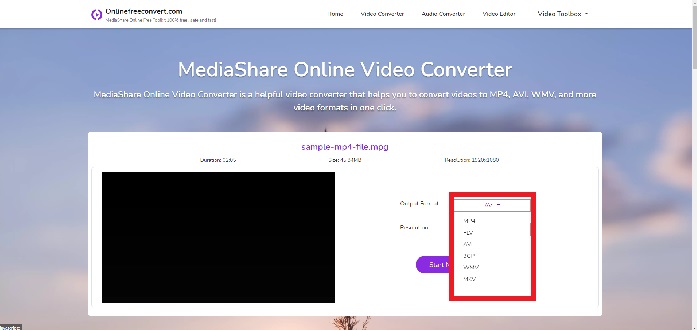 Step 3: Once done, you can click the Start Now button below it to start the conversion, then click Download Now to export to your desktop.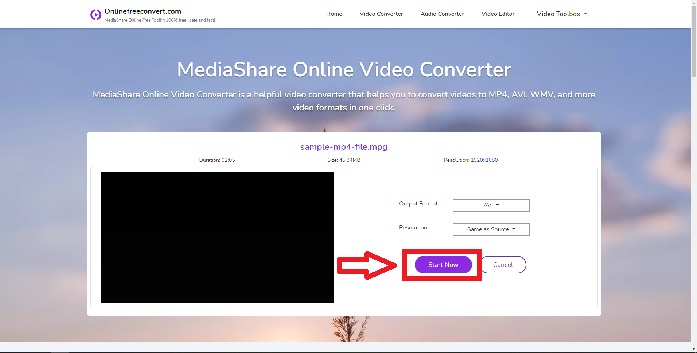 Method 3: convertio.co/divx-mov/
This web tool offers more file formats, specifically unique ones to choose from. Use this to convert while also editing video profiles, frame rate, orientation, and many more. To know more about this online tool, here are the steps to help you navigate:
Step 1: Import your video by clicking the Choose Files on the main interface of the page, or you can drag & drop your files. It is highlighted in red, so it is quick to spot.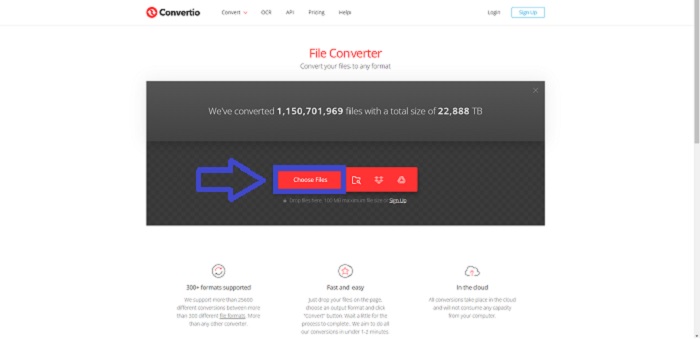 Step 2: Select which format you want your video converted to from the given file formats on the drop-down arrow. From there, you can also search for your desired format to save time. A gear icon will appear on the side to further edit your video. It includes a lot of options to choose from for both video and audio. Click Okay to keep the changes made.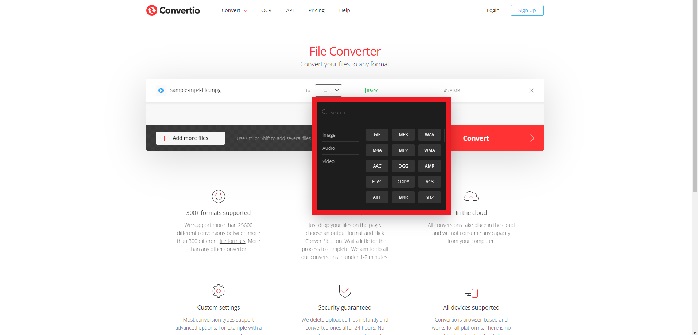 Step 3: You can add more files to convert simultaneously by clicking the Add More Files and repeating step 2. Once satisfied, start converting by clicking the Convert button highlighted in red and waiting for it to finish. Click Download to export your converted video.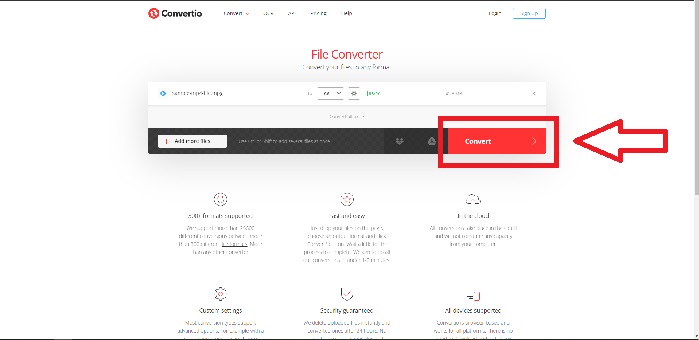 Part 4. Comparison of DivX and MOV
Feature
DIVX
MOV
Released for Public Use On
1986
1998
Support Device
Only support for DivX Codec
Only support for Apple
Extension
.divx
.mov
Disadvantages
Not as good quality as other formats
Not highly compressible
File Size
Very small size
Bigger and requires more space
Codec
Video
Video
Part 5. FAQs about DivX to MOV Conversion
Why do formats matter?
The video format is significant for video editing for a variety of reasons. You can determine how much storage space you'll need for the video you want to film if you know what format a camera shoots in. You must know the format of the footage to determine if editing or color correction tools can handle it directly or whether it will need to be transcoded.
When should I use MOV?
Video playback is exceptionally high-quality with MOV files. MOV is the best option if you're editing in a professional setting for cinema and television. Professional editors favor codecs (compression/decompression) that MOV supports. MOV is beneficial since it can hold mixed materials such as images, videos, and 360-degree animations. It also contains all of the video and audio information. This makes editing the file a lot simpler.
Is DivX good quality?
DivX is a video encoding format that works with a certain type of MPEG-4 file and was frequently used to rip DVDs before the advent of high-definition video. Actually, since 2009, DivX Plus has supported the generation of the highest-quality HD video, H. 264, in the most common container, MKV, using the most recent version of the software. To play your DivX files, click here to get powerful DivX players available.
Conclusion
Video conversion, in general, gives you a lot of options to choose from. It can be online through a web tool or software that you need to install to convert offline. Although there are a lot of these you can find on the internet, it can still confuse those who are not technologically literate. That is why this article provides all the best options for you to try both online and offline hassle-free. But for the most convenience, Video Converter Ultimate is the way to go since it is an all-in-one converter and editor that you might be looking for for a long time.