How to Compress DV File for a Smartphone Without Losing Quality
If you have taken some digital videos with your Sony digital camera, which is 720Px576 in resolution, how do you compress DV to your smartphone? When you need to send the DV video to an iPhone, you only need 480P or less. Usually, the DV videos are in AVI, DV, and DIF formats. Here are the efficient ways about how to compress DV video files.

Part 1: How to Compress DV File Online for Free
When you need to compress DV-AVI files for free, Free Online Video Compressor is the best choice you have to take into consideration. It is a web-based video compress that shrinks the DV files into the desired video size within few clicks. It enables you to reduce the video size with file format, resolution, and bitrate. Moreover, it won't save any of your information to protect your privacy.
1. Compress 720P or other high-quality DV videos within clicks.
2. Enable you to shrink multiple DV video files within a batch process.
3. Support different DV formats, such as AVI, DV, and DIF formats.
4. Provide 30x faster speed than the other DV compressors online.
5. Complete the whole DV compressing process with 3 simple steps.
Step 1: Go to the online video compress with any web browser, you can click the Add Files to Compress button to import DV files from your computer. If it is the first time you use the free online DV compressor, you have to download the installer for the program beforehand.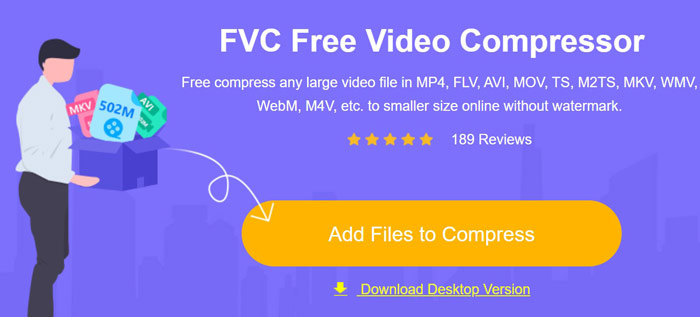 Step 2: Once you have imported the DV file, such as AVI format, choose the parameter slider you want to tweak, such as the format, resolution, bitrate, and more others to get the desired video size.
Format: When you need to compress DV video for a smartphone, you also need to covert the DV into a compatible format, such as the MP4. Moreover, you can also convert the DV for YouTube and Facebook directly.
Resolution: Just as mentioned above, most of the video files are in 720P, you can compress DV for an iPhone in 480P. It also provides 320x240, 640x480, and more other resolutions.
Bitrate: To reduce the size of the DV file, you can simply drag the slider of the size or bitrate to get the video within 20MB for an Email, or shrink the DV file download to an acceptable video size for a smartphone.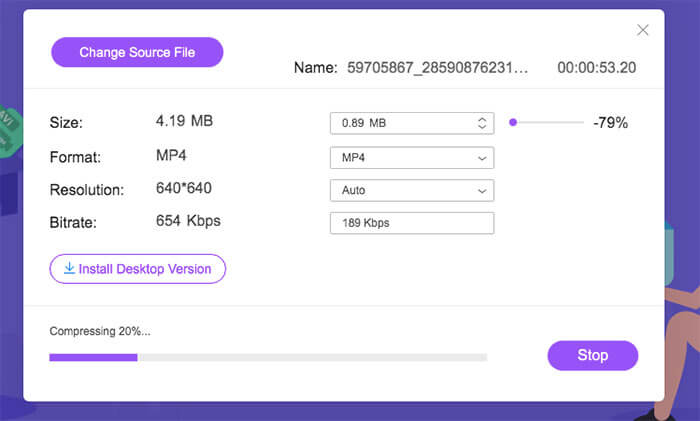 Step 3: Then, you can click the Compress button to choose the destination folder. It will compress the DV video online within a few seconds. Click the OK button once the whole process is done.
When you need to compress DV for Xbox, HTC smartphone, or other devices, you can also download the professional DV compressor to trim the desired part of the DV file, add the desired subtitles, apply video filters, or even enhance the video quality.
You can get more details about how to compress video for Facebook.
Part 2: FAQs about How to Compress DV File
1. What is a DV Video Format?
DV is the abbreviation of Digital Video, and it's a kind of video format that is come up by Sonic, Panasonic, and other digital camera brands. Once you have taken videos with a digital camera, you can find the DV videos in AVI, DV, and DIF file formats.
2. Can I Keep the High Quality for Compressing DV?
No. Whether you compress DV with resolution, or bitrate, it will reduce the video quality as well. But if you just need to watch the DV files on another device, such as iPhone, you only need to have the videos in 480P or less to have the same audio-visual experience.
3. Which is the Best Video Format for Compressing DV Files?
If the original DV video format is AVI, which is playable with most of the video players, you can simply use the original video format. When you need to compress DV for a smartphone or other device, you can choose the MP4 or MOV instead. See how to compress MOV here.
Conclusion
DV video is a video file taken by a digital camera, which is not compatible with most video players. When you need to transfer the video clips you have shot to others, you can simply choose the free online DV compressor to reduce the size of the video within clicks. If you have any query about this, you can leave a comment in the article.