4 Easiest Ways on How to Convert F4V File to AVI Media File Format
Macromedia introduced F4V, and later, Adobe developed it to compete with the modern, high-quality video storage. Also, it is created as a substitute format to FLV since FLV has a limitation. Further explanation is that the F4V file uses ISO base media file format with an H.264 codec to lower the file's size. Although the format does contain high-quality output, the F4V has lower compatibility than the other format. And not only that, but this format has also been phase-out because Adobe Flash Player has already retired.
So if you have the same problem with others because their .f4v can't play on their media player, continue reading below. We gather different tools that will help you play the unplayable .f4v by converting the format into AVI. And now, let's proceed and know how to convert F4V into AVI format with the online and offline tools available.

Part 1. Learn How to Convert F4V to AVI with the Phenomenal F4V to AVI Converter
If you're looking for the best converter that will be an aid on your problem, then FVC Video Converter Ultimate must be the aid. We tested the tool ourselves and read some of the comments; the ultimate is not just a name, but the software's performance and features are ultimate as well. Also, one of the most impressive features this tool offers is the fast conversion and hardware acceleration so that the customers who use this software will not need to wait.
Also, if you want to create GIFs, speed-up videos, or slow them down, reverse, boost the audio, etc. As this tool provides advanced features, you will still need to pay for it before you can use it, and no need to worry because you will not spend more than a hundred dollars. So now, if you are still in the stage of deciding to buy this tool, then try to read the provided steps below and convert the F4V file to AVI by following these steps below.
Step 1. Before you can use this powerful tool, you must download it now on your desktop. Then install it and do the set-up very quickly; click Start Now to open the device.
Step 2. If the tool is already open, go to the Add Files or click the + button, then a folder will show and search for the .f4v file extension and click Open.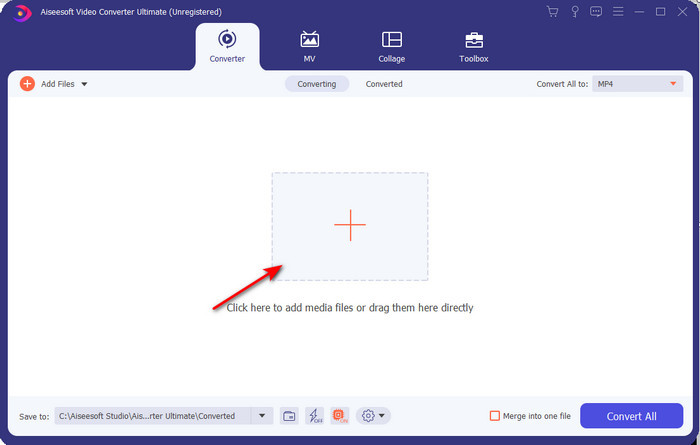 Step 3. After inserting the file, click Convert All to the top-right part of the interface and choose the AVI format.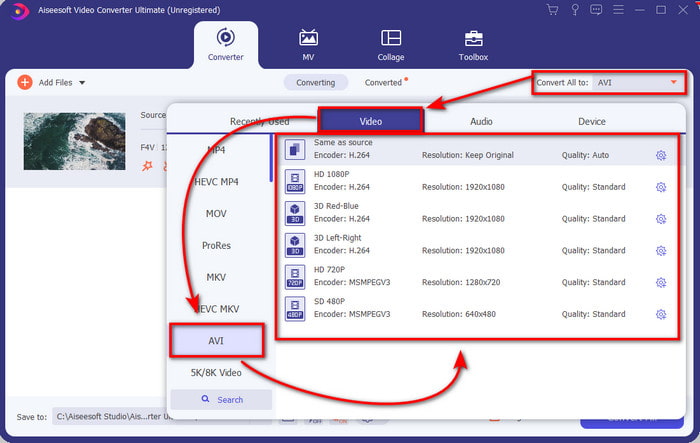 Step 4. And now, to start the conversion process, click the Convert All. Wait for several minutes to turn your F4V to AVI.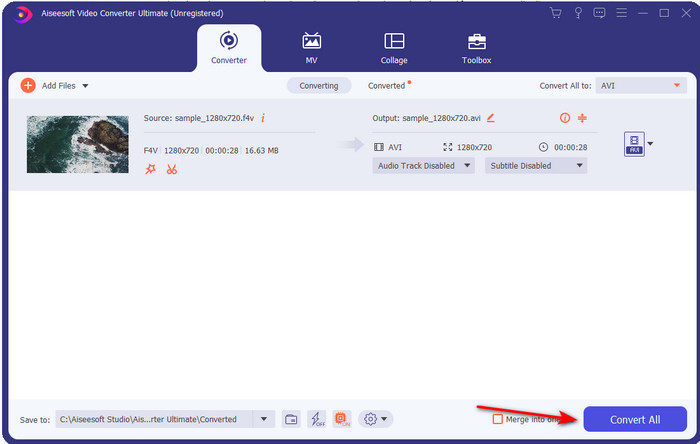 Step 5. A file folder will automatically open on your desktop with the converted .f4v format you've made here. Click the video file to watch the unplayable before on your desktop, or transfer it on your phone if you want.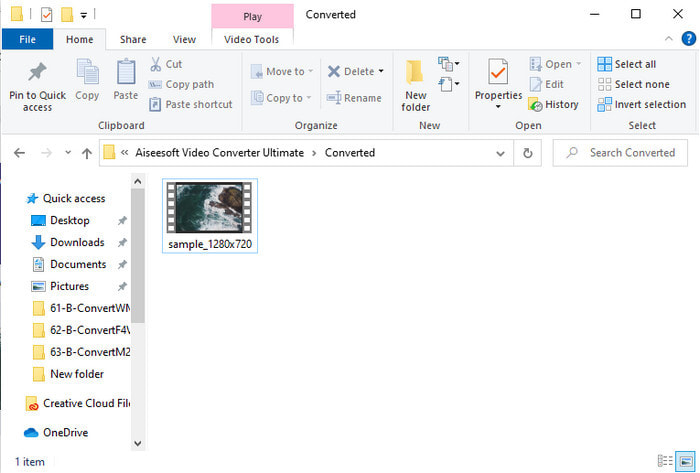 Part 2. Learn How to Convert F4V to AVI Online with the 3 Available Web Converter
1. FVC Free Video Converter Online

If you want to know which web converter is the best, FVC Free Video Converter Online might be it. All of the features you would love to use are available here, as you can change the bitrate and fps of the video to make it high in quality before you convert it. Millions of internet users have already praised the overall performance of this web tool. Also, this web tool supports a medium range of formats you can choose from and upload. However, you are not allowed to make your video look fantastic like the ultimate tool provides. Nevertheless, if you want to try and convert F4V to AVI format, follow these steps below.
Step 1. Click this link to go to the FVC Free Video Converter Online.
Step 2. Then press Add Files to Convert to launch the tool and select the file you want to convert into a new format on the folder by clicking Open.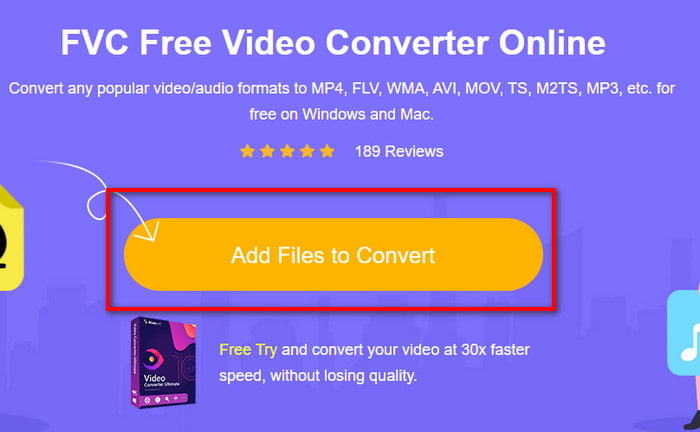 Step 3. Once the file is in, choose the AVI format at the lower part of any format you want it to turn.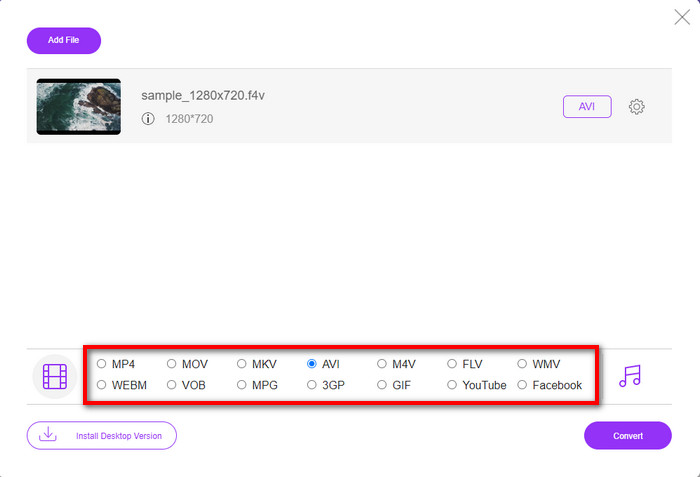 Step 4. After selecting the AVI format, it is now the right time to convert it by clicking the Convert button.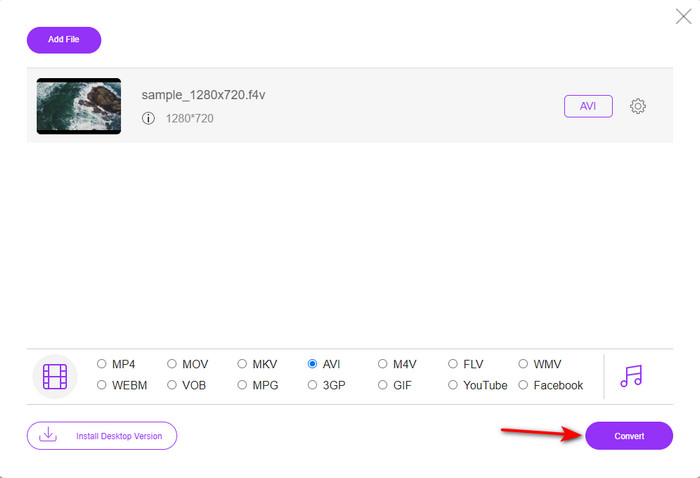 Step 5. Wait for several minutes for the file to be downloaded, and then a file folder will show with the converted file.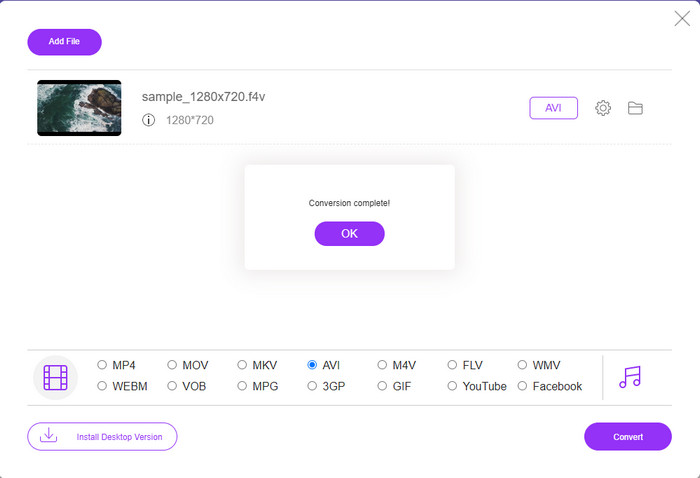 2. Zamzar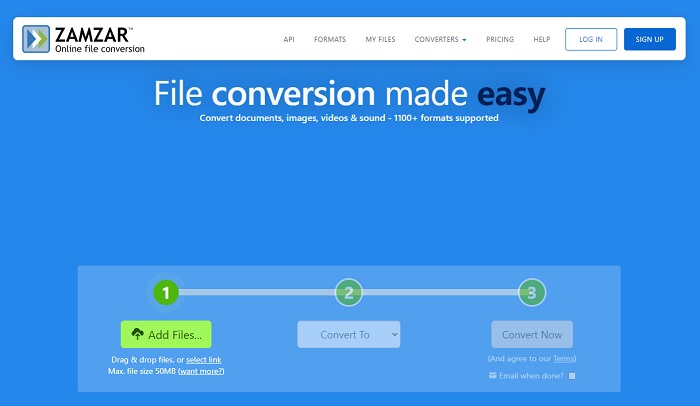 Another converter alternative you can use online is the Zamzar. Just like any converter, this tool needs an internet connection to be used or accessed. All of this on the web tool presented here does need the internet to fuel the conversion. As many users use this, Zamzar became popular because it supports many formats you can use and choose. Also, it is free of charge to use however there is a limitation on the file size this tool can convert. So, if your .f4v file is more than 50MB, you can't convert it in here as it specifies below. And if your file is less than that, you can try to use this to convert F4V to AVI online by following the procedure below.
Step 1. Open your web browser and search Zamzar.
Step 2. Press Add Files and locate the file you want to convert. Then, choose the AVI format press Convert to; after that, click Convert.
Step 3. Wait for the process; then a new interface will show, and click the Download to save the file.
3. ConvertFiles
If you want a more straightforward conversion process that takes only a few minutes, try to use ConvertFiles. The tool performs great during the conversion and after conversion as well. But the ads are killing this tool because there is a lot on the interface of the web tool. Also, the process takes a lot of time compared to the other converters online and offline. The file size you can insert here is much larger than the Zamzar. So now, if you want to use this tool to convert the F4V file to AVI, then follow these steps.
Step 1. Go to your web browser and search the Convert Files, then open it.
Step 2. Click Choose a Local File to open the folder and locate the file under the Output Format; click the AVI. Then click Convert to start the conversion.
Step 3. After the conversion, click the blue highlighted URL that will transfer into a new web. Click this link to download the converted format.
Part 3. Which Format Is Better; F4V vs. AVI
Well, F4V and AVI do their job as a container at best. However, there are lots of these formats in common, and their purpose isn't the same. For example, if you want to store a high-quality video within a small file size and hold and protect the DRM MPEG-4 video data, F4V is the best choice. But suppose you want to store a high-quality video that supports synchronized media playback. In that case, you must choose the AVI format because it has a different container for both audio and video. Despite that, AVI file size is too much to handle by many devices and even desktops because it is uncompressed.
Part 4. FAQs about F4V to AVI Conversion
Does converting F4V lower the resolution after converting?
The resolution of the video must retain its original quality even after you convert it into a new format. In some cases, a lot of users experience that the quality of their F4V has become lower. One of the reasons must be that the rate of quality you set is low, or the tool you use doesn't support 1080 or 4k videos.
Why can't F4V be played on my media player?
This format can play in several media players, but not all of the media players support this format. So, if you want to watch the video in this format, it is the best choice to convert it into a new format or find a new third-party media player to watch your F4V videos.
Do I need to compress F4V to make it lower in size?
The file size of the F4V is not that big compared to the AVI format. After all, if you try to compress this file container, there will be a chance that the quality of the video will lessen. Here you can learn how to compress your F4V videos.
Conclusion
As we end this article, we now have an insight into what F4V is and why you need to convert it. All of the online and offline software mentioned in this article do work well. Although all of the tools are great, the FVC Video Converter Ultimate still stands out among the rest. Because this software does well even, you don't have an internet connection, and this tool can finish the conversion process within a blink of an eye. So now, if you want to experience the phenomenal conversion we are talking about, then download it now.