7 Free MOD Converters Available in Your Platform to Turn MOD Format Easily
Need to change your MOD file? If that is the case, you don't need to worry anymore and have a hard time trying different converters. Do not stress out because today, we got you covered. Right away, we will give you the best ways to convert MOD to MP4, MOV, MPEG2, DVD, or any video format you want with steps to help you follow.

Part 1. Top 7 Free MOD Converters to Convert MOD Files Online and Offline
1. FVC Video Converter Ultimate – Best MOD Converter on Windows & Mac
First on our list is the most picked MOD converter available across the platform, the FVC Video Converter Ultimate. This converter offers the ultra-accelerated converting process to its customers, and as always, it never lets them down. Even though converting with the tool is fast, its quality isn't changed because it is protected while altering the format.
What's more than its lightning-speed process? It also supports the massive formats you can import or export, such as MOD, MP4, MOV, MKV, FLV, WMV, and many more. Because of the supported format, customers became fond of the tool, and many of them recommend this to other fellow users who need to convert their format. So if you need help to convert MOD to MP4 or whatever video format you want, this tool is an excellent help by following the indicated steps below.
Step 1. To download the converter on the desktop, kindly click the download button below, choose what platform you are currently using. Next, follow the installation process quickly, and run the software. If you're new to converting, don't be afraid because the steps provided here will assure you to convert the MOD file properly.
Step 2. Upload the MOD file by clicking the Add Files, or you can press the big + button at the middle of the interface. After that, a computer folder will show on your screen; this time, browse and click the MOD file and press Open to proceed to the next step.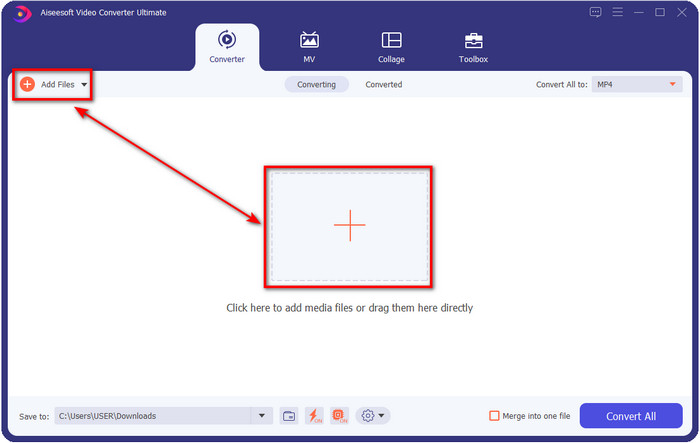 Step 3. To alter the format to MP4, MOV, MKV, or whatever format you need, hit the Convert All to and choose.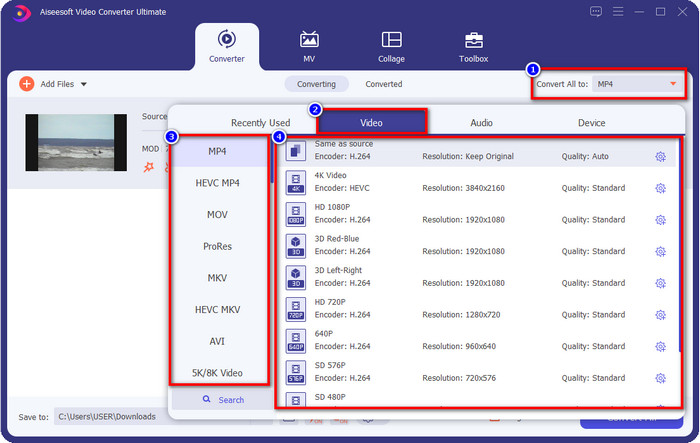 Optional. One of the fantastic features this tool provides is the enhancer. If you click the paint tray, a new mini interface will show; you can now make a significant adjustment to your video by ticking the boxes. Click Save to apply the changes you've made on your MOD video.
Step 4. After all the procedures, it is now time to convert MOD by clicking Convert All. As easy as 1-2-3, you already learn to convert MOD format into a new format.
Pros
Convert MOD to MP4, MOV, MKV, FLV, AVI, or into 200+ format available effectively.
Advanced editing features include trimming, cutting, cropping, and more.
It is safe and malware-free to download.
Available to download on all desktop platforms like Windows and Mac.
Cons
To avail of all the advanced features, you will need to purchase the tool.
2. iMovieSoft Free TOD Converter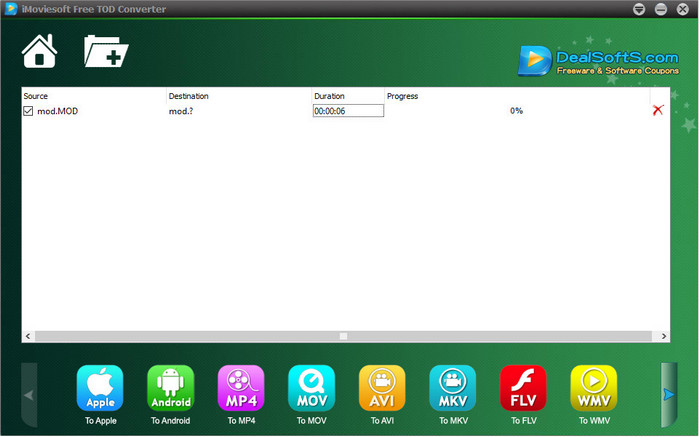 Another converter you can download on your desktop is the iMoiveSoft Free TOD Converter. You can easily convert your MOD format into the available formats with it. However, the format this tool supported is not that many, but the known format is available. Moreover, the main website of the tool is not connection secured; although there is a warning, we did try to download it on our system to provide steps to convert MOD files to MOV, MP4, AVI, etc.
Step 1. Download the converter on your desktop and open it.
Step 2. Click the Folder and look for the MOD files to insert.
Step 3. Hit the format below and press Convert.
Pros
It is free to download on Windows and Mac.
Easy to use.
Basic editing features are available.
Cons
The main website is not connection safe.
It is has a format option you can choose on.
UI needs improvement.
3. iOrgSoft Converter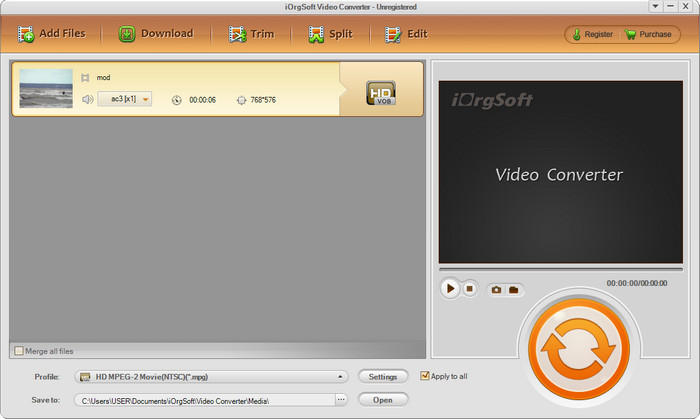 iOrgSoft Converter is a choice if you need to convert MOD to MPEG2 easily. This converter's main website also has an unprotected connection like the iMovieSoft. You can also use an external link to download the video here. Although the tool offers some options, its user interface has less priority, which means expect not as good-looking UI. Also, crashes and glitches happen when you are about to convert.
Step 1. Search the main webpage of the converter and download it there.
Step 2. Open the converter, click Add Files to insert MOD files, click the format tray and choose the format you want.
Step 3. Hit the convert button to start converting.
Pros
It supports more formats than iMovieSoft.
Simple to use and easy to understand.
Download it on Windows and Mac.
Cons
Unsecured connection to its main website.
The users' interface is terrible.
4. FFmpeg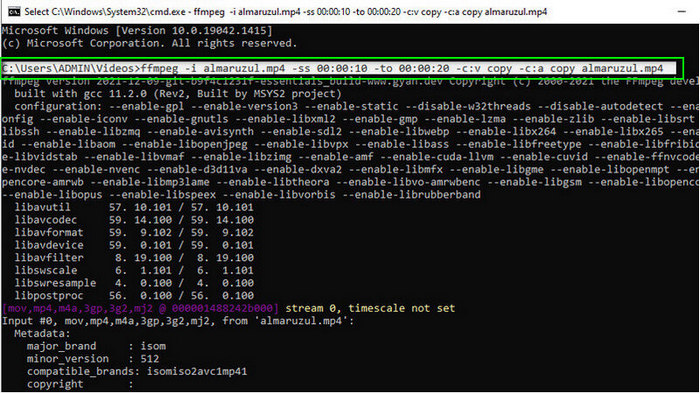 Suppose you need a free MOD to MOV converter, then FFmpeg is here to help you. Unlike other converters in this list, it uses a CLI-based interface to communicate with the tool you will use text. Even though it is not so familiar to us, some users still use this as their converter. So now, if the converter caught your attention, follow the steps below.
Step 1. Download the FFmpeg and run the exe file.
Step 2. Open the CMD; you can now communicate with the tool with it.
Step 3. Look for the location of the file using the command prompt. After that, copy and paste this text, ffmpeg -i input.mod -vn -ar 44100 -ac 2 -b:a 192k output.mp4 as MP4. You can also change the format into MOV, MKV, AVI, and more. To start the process, click Enter on your keyboard.
Pros
Unique video converter available on most platforms.
Safe to use.
It is reliable in converting your format.
Cons
It is not very easy to use.
It is not the best choice for starters or beginners to convert format.
5. CloudConvert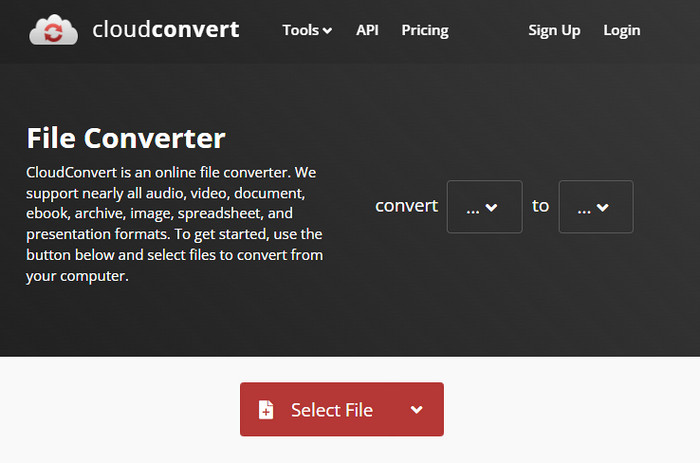 Doesn't want to download a converter on your desktop? If so, you can still convert MOD format with CloudConvert online. This online tool provides a simple yet effective converting process to its users. It also supports converting another file type like PDF, Archive, E-books, and others into a new format.
Step 1. Search the CloudConvert on your favorite browser.
Step 2. Click Select File and upload the MOD file. Hit the drop-down button and choose your ideal format. Next, click Convert.
Step 3. After uploading, click Download to save the new file format on your drive.
Pros
Downloading the tool is not needed.
Free online web tool.
User-friendly.
Cons
Network dependent.
The course of the process will depend on the speed of your internet.
6. Converter365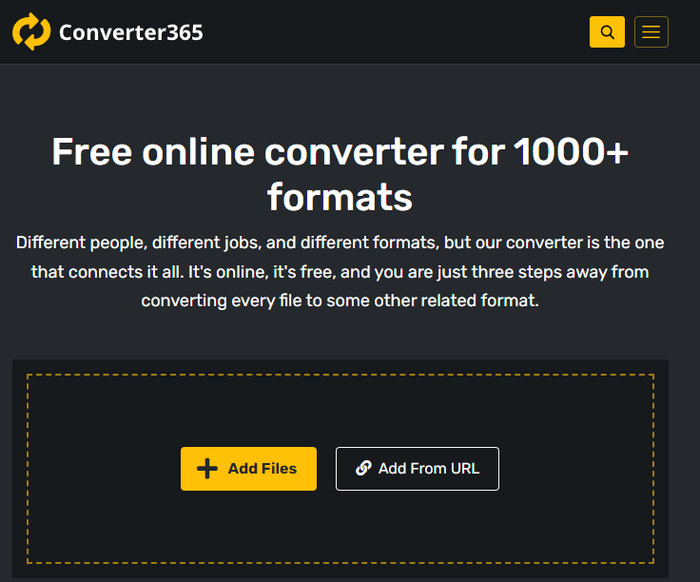 Another online free MOD to MP4 converter you can use is the Converter365. It is one of the online tools we can say has an elegant vibe interface. Because of that, using this tool looks professional; however, we have trouble converting video files here because it crashes. Moreover, if you need to convert your MOD file easily, this might help you.
Step 1. Open your browser and search for Converter365.
Step 2. Tick Add Files, then find the .mod file. Once you've found the file choose the format by clicking the drop-down button.
Step 3. Press Start Conversion, and the converting will begin.
Pros
The converter is accessible thru the web.
It provides a simple yet effective conversion.
The user interface looks professional.
Cons
It needs an internet connection to use.
Sometimes errors happen while converting the format.
7. Zamzar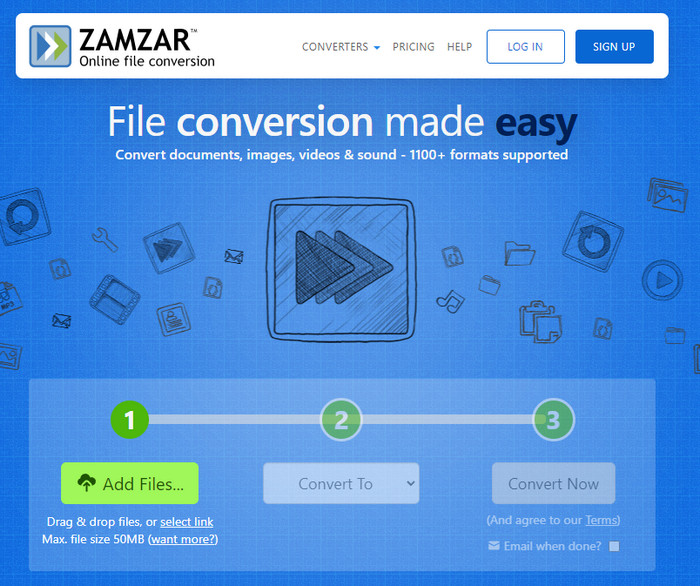 If you need an easy and practical online MOD converter, then Zamzar is a help. This tool provides an on-point process of converting your .mod files. Moreover, it is undoubtedly one of the safest converters available on the web. So, if you want to try this tool, you can follow the steps below.
Step 1. Access the Zamzar by searching it on your favorite browser.
Step 2. Press Add File to insert the MOD file you need to convert. Click Convert To and choose the format you need.
Step 3. Click Convert Now and wait for the process. Next, hit the Download to save it on your computer drive.
Pros
One of the best options if you need to convert a format.
It provides a straightforward process of converting.
Available in all web browsers.
Cons
Internet-dependent, no internet you cant use it.
It supports fewer format options.
Related:
Part 2. FAQs about MOD Converters
What is MOD?
MOD is a two-way format that could be used as audio for standard digital music tracking applications. It contains note patterns, instruments numbers, and message controllers with different tracks for sample sounds. As it is mentioned, it is two-way; you can also use this as a video format for digital camcorders manufactured by Panasonic and JVC. Although this format has support from known brands, it is a little bit outdated if we were about to compare it with the other video container.
Do media players support .mod extension?
Not all media players support this format, especially if your player doesn't have a MPEG-2 video codec inside. It is quite a problem for everyone; you can download a MPEG-2 video extension if you need it to play. But you can also convert the file into a supported format into your platforms, this is so far the easiest and safest way. So now, if you need to convert your MOD file you might like to use the FVC Video Converter Ultimate instead. Doesn't have any idea about the tool? In that case, read the details above.
Does MOD compatible with the DVD player?
It is not compatible with the DVD player; however, you can burn it into DVD to make it compatible with the DVD player.
Conclusion
These seven tools are the best choice if you need a MOD converter because of their performance and efficiency. We carefully tried all the software, and we found out that the FVC Video Converter Ultimate provides a phenomenal output and features that the other tool can't beat. So now, if you need to experience the greatness of the tool you can download it first on your desktop and use it as you want.

FVC Video Converter Ultimate
2,999,368+ Downloads
Convert MOD to any popular format.
Enhance video quality naturally
Make video collage smoothly with high-quality output
Edit videos like a pro, including cropping, rotating, adding filter, etc.