How to Convert MPEG to WMV Easily
When individuals refer to MPEG files, they often refer to MPEG-4 video files, omitting MPEG-1 and MPEG-2 video files. Indeed, MPEG can refer to as MPEG-1 or MPEG-2 rather than MPEG-4, which is often associated with the AVI or MP4 extension. WMV files can be a more extensive and better format for Windows Media Player than MPEG files. If you have MPEG files and wish to stream video to devices like DirectShow Filters or Xbox 360, you may use the following to convert MPEG to typical video in WMV.

Part 1. How to Convert MPEG to WMV for Free
An effective MPEG to WMV converter is required to convert MPEG to WMV. Video Converter Ultimate could assist you in completing the work swiftly and efficiently. As a MPEG to WMV converter, Video Converter Ultimate could be used in a professional setting because it can convert all types of video and audio codecs in different formats from one to another while giving you more options to make changes during the process. Furthermore, this is a multiplatform video converter with lossless output and lightning-fast conversion speeds. Quality is also not to worry about when it uses HEVC technology and is 4K UHD supported. Just follow these simple steps and prepare your mind to be blown.
Steps on Convert MPEG to WMV with Video Converter Ultimate:
Step 1: Before the conversion is proper, download the software first by clicking the Free Download button below and waiting for the .exe file to finish. Open the file and install the software accordingly before launching it.
Step 2: There will be a + button in the middle of the interface – click on it and upload the MPEG video file you wish to convert. Alternatively, you can just drag and drop the file for ease.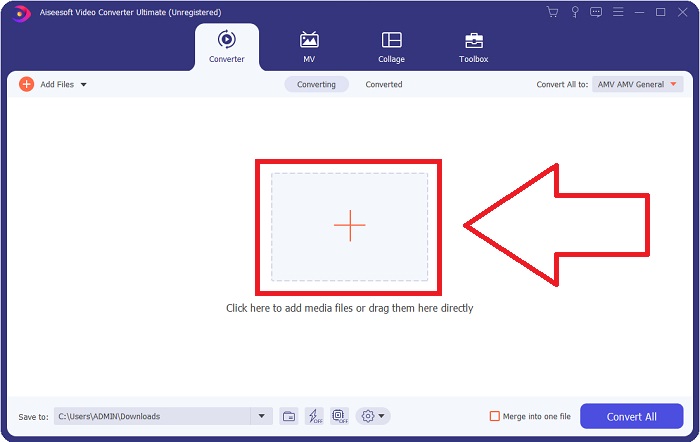 Step 3: Now, you can scroll down and select WMV on the left side of the tab or just type it in the search bar for quick use. Just click the gear icon beside the video quality you chose and make necessary adjustments for additional options.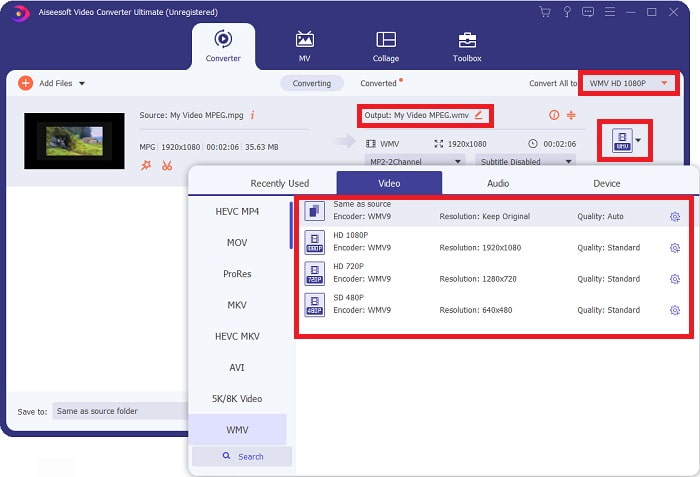 Step 4: Once you finish all the required changes, you can complete the job by simply clicking the Convert All button on the lower right corner.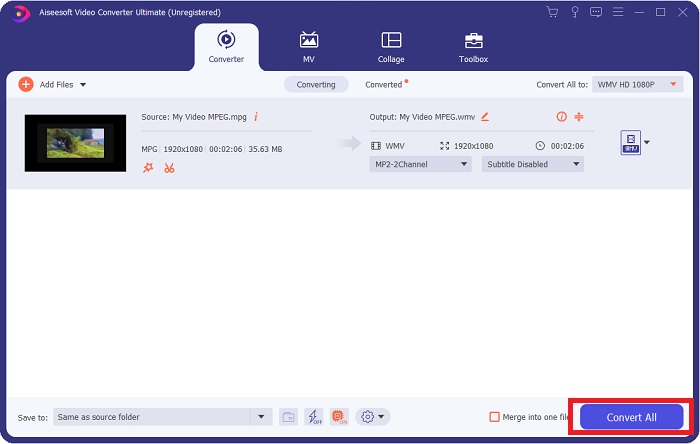 Pros
It has a user-friendly interface.
It supports numerous input and output formats.
It enables you to adjust additional settings video and audio-wise.
It has no watermark applied.
It produces high-quality output.
It is compatible with Windows and Mac.
Cons
It charges you to use all the features.
It requires a process of installation.
Part 2. Best Converter to Use in Converting MPEG to WMV Online
FVC Free Video Converter Online is a free online video converter that accepts various input and output formats, including MP4, TS, AVI, MKV, FLV, MOV, MP3, and many more. FVC Free Video Converter is also the only online converter without a watermark.
To put it another way, it is a universal converter. That is, even if FVC Free Movie Converter is free, the watermark will not appear after your video after conversion.
Step 1: Click this link, and it will redirect you to the online tool proper.
Step 2: By clicking the Add Files to Convert button, you can import the MPEG file you wish to convert.

Step 3: From there, you can select WMV from the list of formats available on the lower part of the web interface. There will also be a gear icon that, by clicking it, it will allow you to make a few adjustments to your video.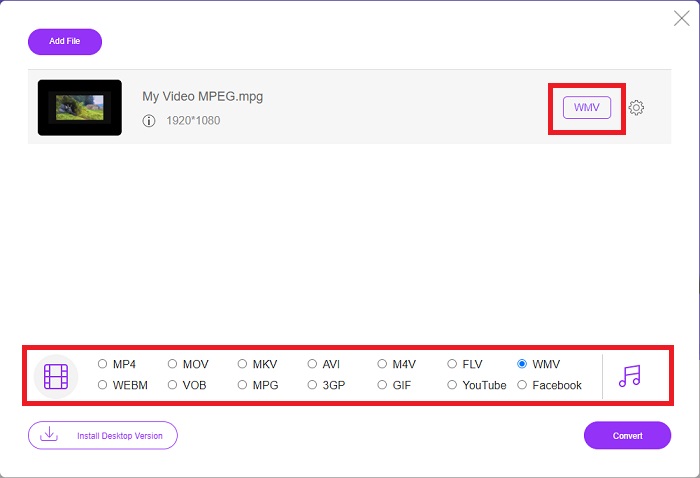 Step 4: Click the Convert button once you are satisfied with all the changes made, and it will start the conversion process.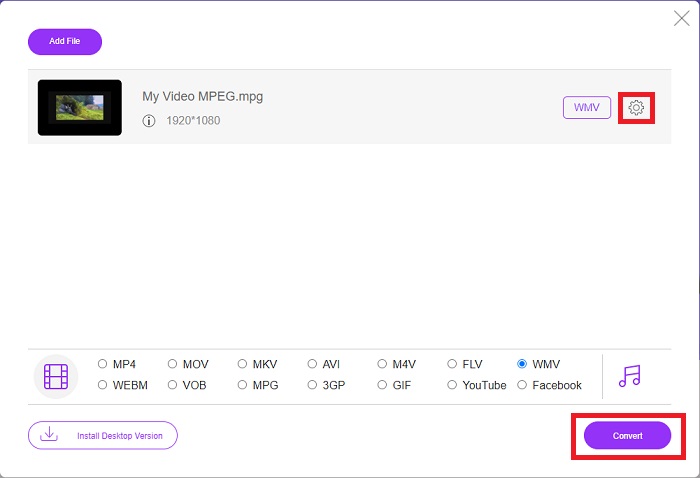 Part 3. Extended Knowledge about MPEG and WMV
All the information you need is here. A comparison table is below to help you distinguish between the two formats: A video file format for the internet, the MPEG-2 (or MPG) format can be used. Because the same company created them – Moving Picture Expert Group – it is the sibling format of MP4 and MP3. Depending on the situation, the MPG format utilizes MPEG-2 or MPEG-1 compression. It is typically simple to open on any OS platform.
On the other hand, WMV (Windows Media Video) is a set of video codecs and coding formats released by Microsoft as part of their Windows Media framework. It's the purpose of the RM format on internet streaming applications. It can store compressed movies and even deliver Blu-ray/DVD.
| | | |
| --- | --- | --- |
| | MPEG | WMV |
| File Extension | .mpeg | .wmv |
| Developer | Moving Pictures Experts Group | Microsoft |
| Supporting Programs | ◆ Windows Media Player ◆ VLC Media Player ◆ Apple QuickTime Player ◆ Cyberlink PowerDVD 17 | ◆ VLC Media Player ◆ MPlayer ◆ Media Player Classic ◆ Windows Media Player |
Part 4. FAQs about Converting MPEG to WMV
Does WMV contain high-quality content?
WMV is one of the most common video formats on the internet today, particularly among Windows users. The format may hold high-resolution movies that can compress to conserve space on your computer or external hard disk.
Which is better between the two?
WMV and MPG are two video file formats now popular among consumers. The source of the standard is the crucial distinction between the two. As a result, when comparing the quality of MPEG1 to WMV with the same file size, WMV would be much superior owing to the compression methods.
Why is WMV file size so big?
The default video format for Windows PCs is Windows Media Video (WMV), which is more significant than MP4 since it can hold massive audio and video files. To make your WMV files smaller, you can read on How to Compress Videos.
Conclusion
There is undoubtedly no telling when you will need a converter to best suit your current situation. While the video producing and consuming industry consists of numerous video file formats, not all can be played by a single media player or supported by an editor of choice. Converting one format to another is sometimes necessary. That is why we recommend Video Converter Ultimate and its online tool counterpart as your partner in this case since it provides you the most convenience while offering a lot of options for you. So, let us help you deliver the best video converting and editing experience on the tip of your fingers by using FVC Video Converter Ultimate.