Complete Review on How to Convert SWF File into AVI with the 5 Converters
A format created by the joint force of ShockWave Flash and Adobe is the SWF. This format is designed to contain and play video animation on Flash Player or on the web with the Flash plug-ins. However, it is very difficult to watch animated videos in the format of SWF. Because all of the media players don't support the said format other than the Flash Player. And in that case, you will need to find a converter to watch the .swf file on your desktop. So now, we present to you below are the converters you can use to convert SWF to AVI online and offline.

Part 1. SWF vs AVI: Which One Is Better?
Earlier, we explained some of the data we gathered during our research about SWF files. But did you know that this file uses a vector rather than a pixel? To understand it better, let's dig deeper into it. Pixels are tiny boxes that are shown onto your screen. Basically, all of this tiny square does have different colors and all of them are joint together to create a visual. However, vectors use mathematical equations to calculate the shape that will be going to part take on your screen display. So, if we try to watch SWF videos then expect a much better visual quality than any format.
AVI is one of the renowned file formats that has a huge file size compared to the other formats. And the main reason why the file size of the AVI is big is only because it is uncompressed. And because it is uncompressed expect that the file to retain the quality but in a much bigger size.
The only reason you will need to learn how to convert a SWF file into AVI is to watch the video that is still under the file extension of .swf. Furthermore, we already make your searching much easier than ever as we compile different tools you can choose. Also, all of the mentioned tools below provide a great conversion that will literally be going to help you to solve this problem.
Part 2. 5 of the Best SWF to AVI Converters Available on Desktop and Web
1. FVC Video Converter Ultimate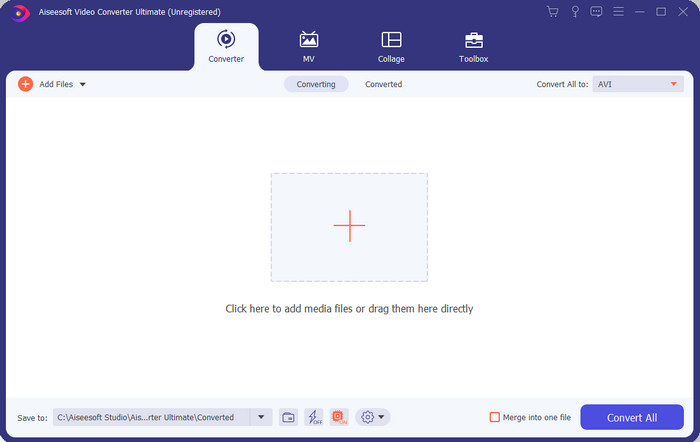 If you're looking for the ultimate phenomenal software you need to use to convert .swf then the FVC Video Converter Ultimate is the one. It is not placed at first if the software doesn't provide an outstanding conversion. Also, it supports 200+ formats that are known to you or even those that aren't. Unlike the converters enlisted below, this is far more different in interface, functionality, advanced features, accessibility, and more. If you are searching for a splendid converter then say this to yourself that the search is over as you find one. Furthermore, if you are still not convinced yet with the tool then let's see it for yourself by downloading this best free SWF to AVI converter first.
Pros
It supports hardware acceleration and fast conversion to convert within a blink of an eye.
Wide-range of supported media file formats.
Editing features are available after the payment has been settled.
Batch conversion can be done easily.
Cons
Needs to be paid first before you can use it but it is very cheap.
Needs to be downloaded on your drive first.
2. VLC Media Player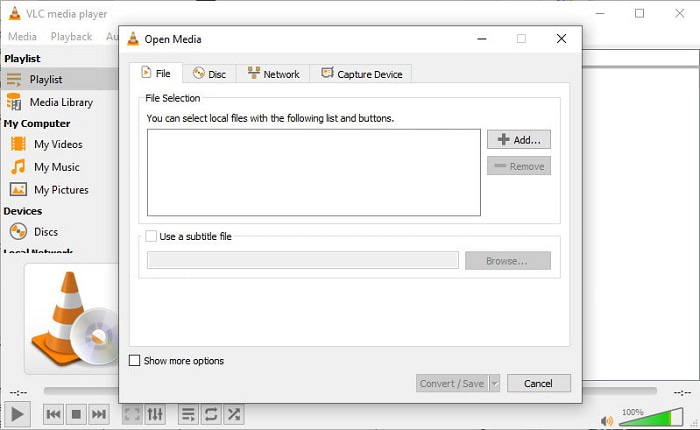 This media player has a secret feature you would love to use. VLC Media Player is not only used as a media player but has also provided a converter as well. However, the supported format of the built-in converter software is very minimal and you can't set the resolution. Also, the process of converting format here would definitely give you a hard time compared to the other converters. But if you want to try to and use this freeware SWF to AVI converter then download the media player.
Pros
It has a built-in converter alongside the media player.
Free to download on any platform.
It is secure to download and the process of converting is protected as well.
Cons
Lesser format supported than the other converters available in this list.
Process of converting is a lot to be done before you can do the conversion.
3. Convertio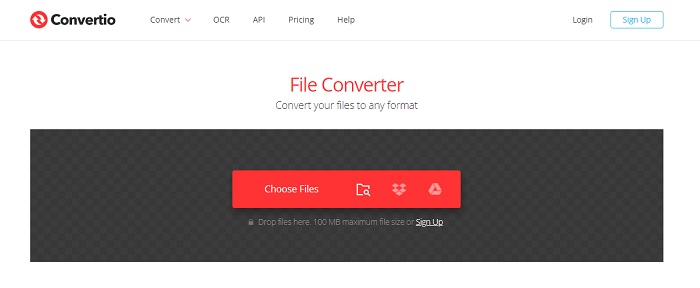 If you want to convert SWF to AVI online then try Convertio as it provides simple and effective conversion. Also, this web tool is safe to be used and all of the files that have been converted with this tool will be deleted from the website. Another amazing feature of this tool is that you can do the batch conversion if you sign-up. However, the process of uploading and downloading would definitely take a lot of your time and that is a little bit of hassle to the users. If you don't want to spend a penny on your conversion then try to use this.
Pros
No need to download the software on your drive before you can use it.
It supports a medium level of formats you can choose from.
2 file formats at a time can be converted at the same time.
Cons
Uploading and downloading the file after the conversion would take a lot of your time.
Internet dependent which means if your internet is slow then expects a long time.
4. OnlineConvertFree.com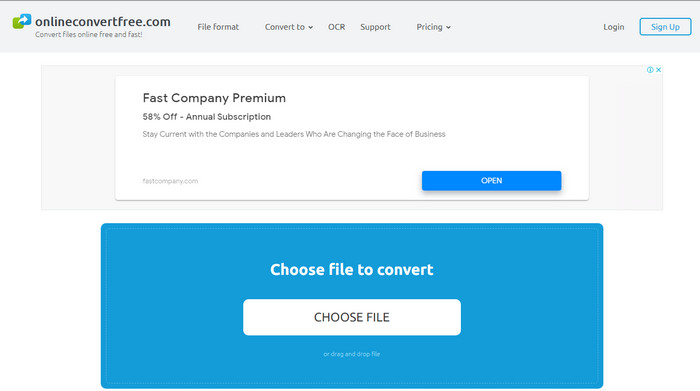 Another online video converter SWF to AVI you can use is the OnlineConvertFree.com. If simplicity is beauty, then this must be your choice on the job of converting. Unlike the first mentioned online tool, this is much simpler but it supports less formats you can choose. Also, the file size is limited in this online software. So, if you have a file size that is more than 20mb then expect that you can't use it with this tool. However, if you want to use this to convert files and also to not spend a lot then use this.
Pros
It is free to access.
This converter can be used if you have an internet connection.
Overall interface looks neat.
Cons
Can't be accessed if the internet is not available.
Ads are killing the website.
Part 3. 5 Steps on How to Convert SWF to AVI on FVC Video Converter Ultimate
Here are the detailed steps on how to use the FVC Video Converter Ultimate. All of the provided steps in here will guarantee you an easy and yet phenomenal experience.
Step 1. Firstly, it is a must to download the tool on your computer drive, choose whether it is PC or Mac. Then install the software on your drive, perform the set-up easily, then click Start Now.
Step 2. Open the software you installed into your drive, then click the + button then locate the file on the folder that will be going to pop-up next. Press Open to proceed.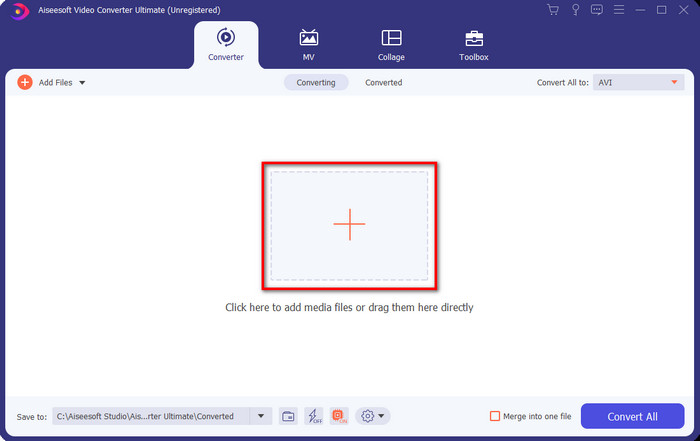 Step 3. And to change the SWF file into an AVI format click the drop-down button and select AVI format then choose the resolution.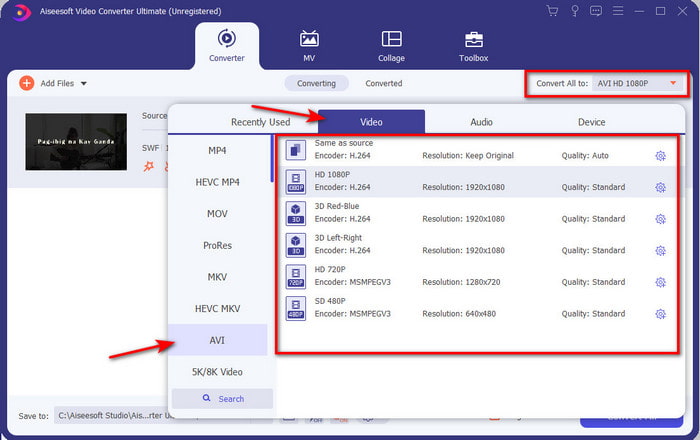 Step 4. And if you are already done selecting the format, click Convert All for the converting process to begin.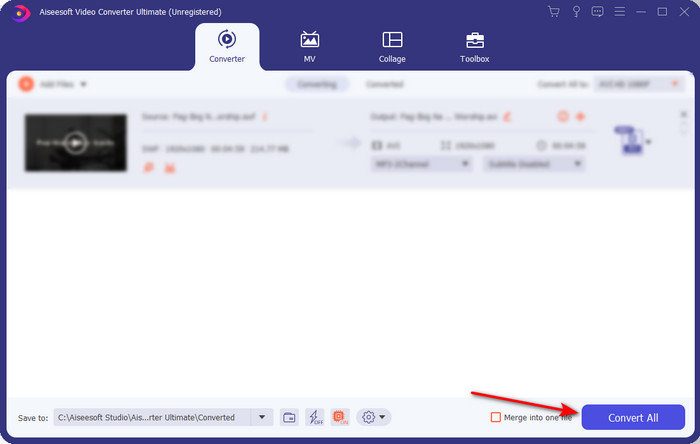 Step 5. After the conversion is done, a folder with the converted file will show. Click the newly AVI file to watch it and transfer it later if you want.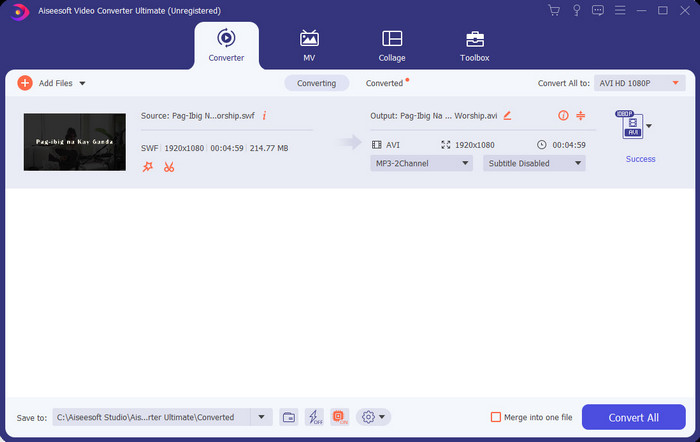 Part 4. FAQs about SWF and AVI
Can I play SWF on the other media players?
Definitely no, because .swf is not supported on your media player even if you use a third-party app. And the best choice to play the .swf then you must turn it into a new format just to play it. But if you don't want to convert it then you must use the Flash Player just to play the SWF file format.
Is .swf smaller in size?
Absolutely yes, other than being small in size it is also loaded much faster compared to the other format and also the whole structure of the format itself. You can try compressing SWF files with a video compressor if they are too large.
Can my SWF file adjust transparency?
Well, you can set it to be transparent if you want to or not if you don't want to. As well, you can add an alpha channel with the color on your display or grayscale to set it as transparent.
Conclusion
As we end this article, we already found out what SWF is and the other purpose of it. Also, we've learned that you can't use the .swf file if you don't use a Flash Player and other than that you can't play it. So now, the best solution to play the SWF file is to convert it into a new format like the AVI. Moreover, all of the tools mentioned above do perform their job as a converter. But there is no tool that provides a much faster and easier solution than the FVC Video Converter Ultimate.