Best Online and Offline Converters in Converting SWF to MKV Files
SWF file is a format for Adobe flash that contains videos and vector-based animations.And this type of file usually cannot handle various subtitle streams. Many people are looking for a file format that can handle multiple subtitle streams and audio tracks in various languages.Therefore, if you are one of those people who is looking for a solution to change SWF to MKV, we present the best converters for you!

Part 1. Convert SWF to MKV Offline Using the FVC Video Converter Ultimate
FVC Video Converter Ultimate is a free offline tool that allows you to convert various file formats like SWF to MKV, MP4, WMV, MOV, AVI, FLV, and many more. This converter has many great features that could help you improve your files. You can trim, add effects, add watermark, and add subtitles. What's fantastic is you can also batch convert your SWF files. Moreover, it supports ultra-fast conversion, in which you can convert files in just a few seconds. The steps provided below will surely help you convert your SWF to MKV file.
Step 1. For the first step, download the converter by clicking the Download button below for Windows or Mac. Then after downloading, open the application to start the process.
Step 2. After opening the converter, click the Add Files button or the + sign button to upload your SWF file in the software's first interface.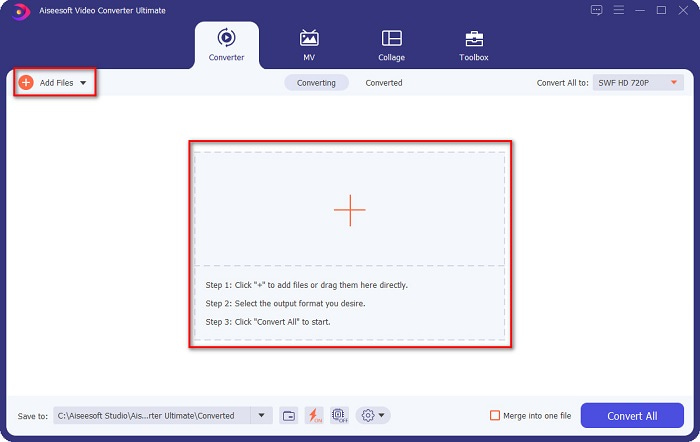 Step 3. Next is, click the Convert All to button. After clicking the Convert All to button, a list of file formats will appear. Then select the MKV file format.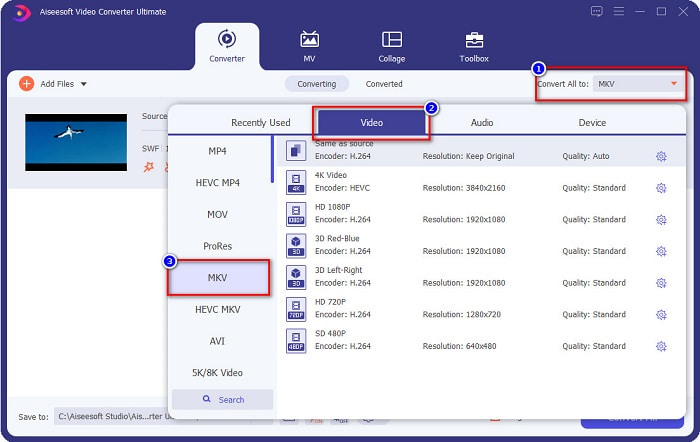 Optional. If you want to cut the length of your file, click the scissor button. You can trim the length by adjusting the play heads to your desired length. Then click the Save button, to save the changes.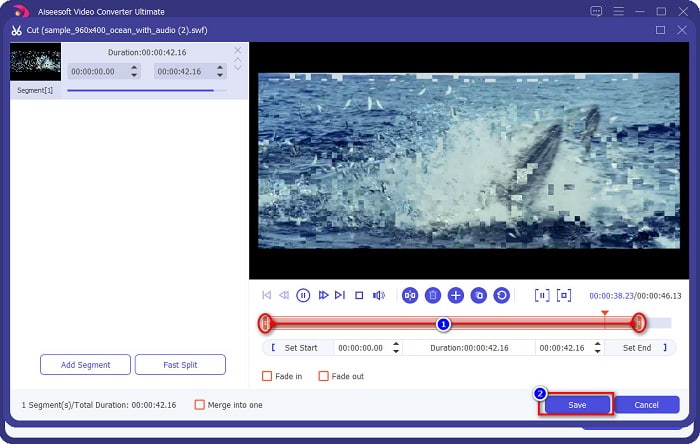 Step 4. And lastly, click the Convert All button to convert your SWF file to an MKV file. And that is it! After a few seconds, your file will be ready.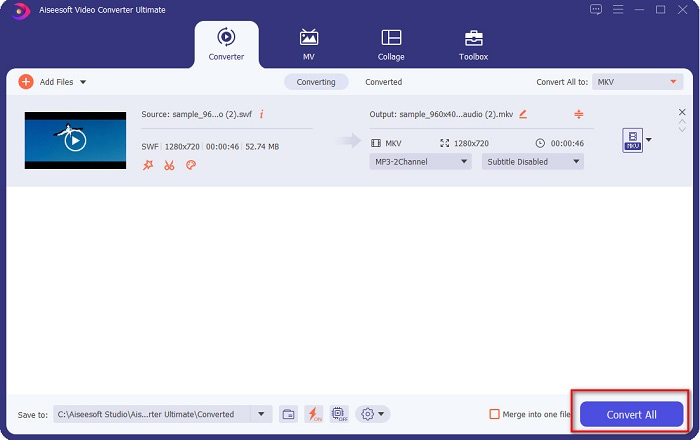 Part 2. Convert SWF to MKV Online Using Free Online Converters
It is no denying that converting files using an online tool is more convenient because you will not need to download anything. Therefore, we provide free online tools that are one of the best nowadays.
FVC Free Online Video Converter
Steps on how to convert using FVC Free Online Video Converter:
Step 1. To use this converter, search FVC Free Online Video Converter, or click this link, and you will be directed to their website.
Step 2. After going to the website, click Add Files to Convert. Then launch the converter, and then select your SWF file when your computer files appear.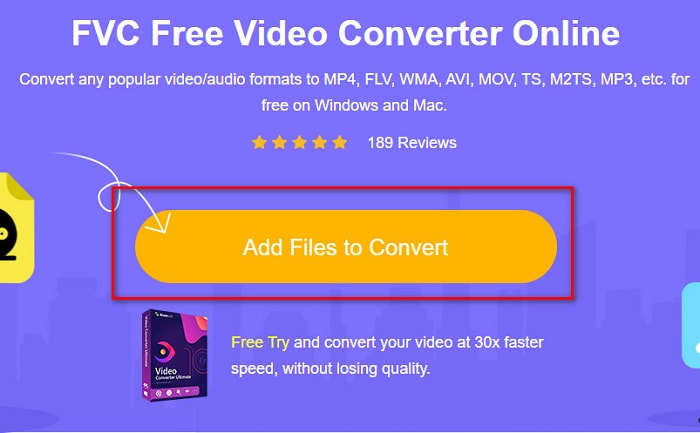 Step 3. The available file formats are listed below the software's second interface. Click the MKV file, then proceed to the next step.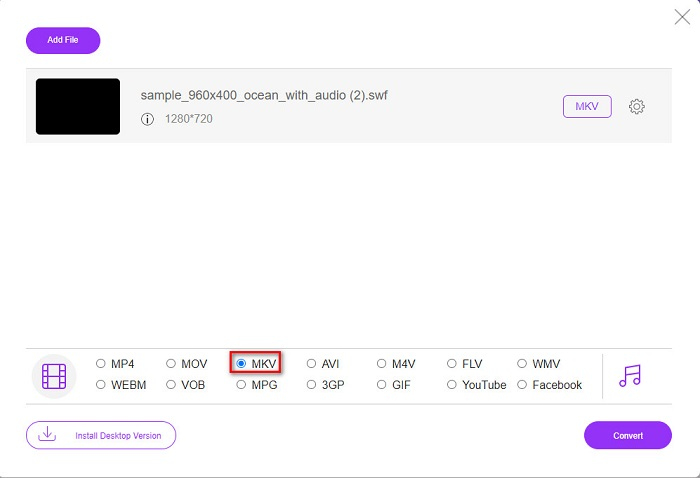 Step 4. To finish, click the Convert button to start your conversion. Then wait for your conversion to finish.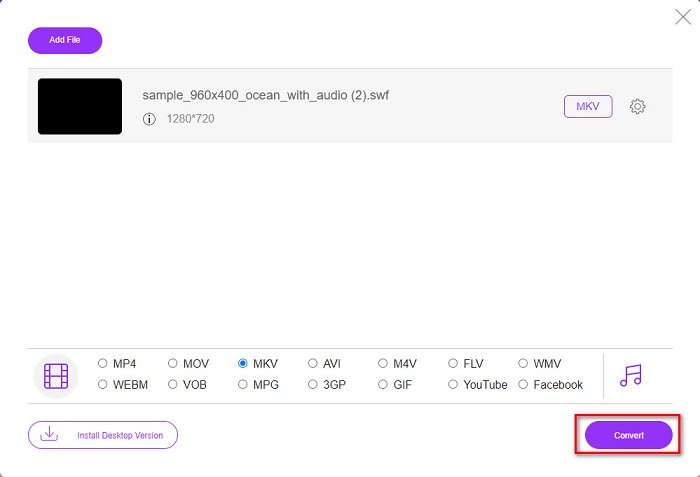 Aconvert.com
Another free online converter that you must try is Aconvert.com. This tool can convert various files across the net. It is also easy-to-use and allows you to convert quickly depending on your internet speed. Since this converter is an online tool, you may experience having a slow conversion and have ads that might be disturbing. Still, this converter allows you to convert SWF to MKV with ease.
Step 1. On your browser, search Aconvert.com. Then click the Video panel on the left side of the software's interface.

Step 2. After, click the Choose Files button, and select your SWF file. Then on the Target Format, click the MKV file.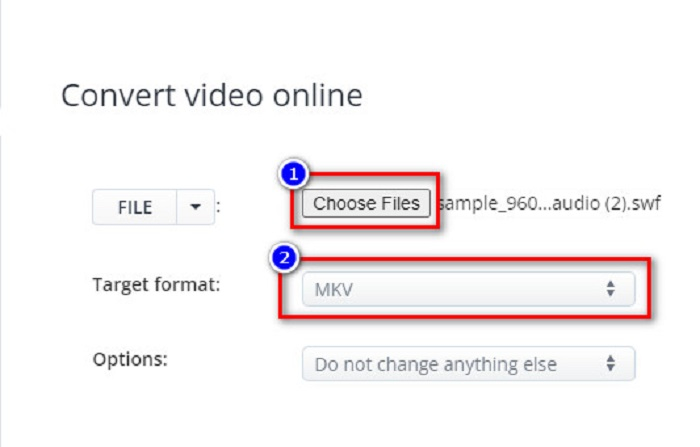 Step 3. For the last step, click the Convert Now! button, to begin your SWF file to MKV conversion.

FreeConvert.com
FreeConvert.com is an online converter to convert your SWF file to MKV file format. It is easy to use; however, it contains many disturbing ads. Nevertheless, this converter supports various file formats available on the web.
Step 1. Search FreeConvert.com on your browser to be led to their website. And then, click the Choose Files button. Your computer files will appear, then select your SWF file.

Step 2. Click the drop-down button beside the Output word to select your conversion output. Click MKV as your file output format.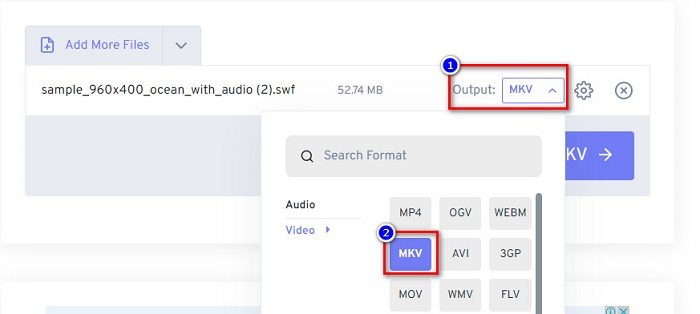 Step 3. Then click the Convert to MKV button to start converting your file.

Part 3. Extended Knowledge of SWF and MKV
SWF or Shock Wave File is an Adobe Flash file format. Macromedia developed it, but later on, owned by Adobe. This file format is usually used over the net, but you can open it by enabling adobe flash in your browser. SWF files contain not just videos but also vector-based animations. Moreover, this type of file format has compressed audio, video, and animations, so that it may be available on the web.
In comparison, MKV file or Matroska is a file format supported by various audio and video codecs. It is usually being used to store short video clips and movies. Although the file size of MKV is larger, the MKV file is a future-proof file, and this means that this type of file was designed not to be outdated.
Part 4. FAQs about Converting SWF to MKV
Can you convert SWF to MKV losslessly?
Yes. You can convert your SWF files to MKV files without losing the quality. Some converters can change SWF to MKV losslessly, like FVC Video Converter Ultimate. This converter can convert files without the quality being affected.
Can you play SWF on Windows?
Yes, you can. However, you still need to download a hidden flash player for adobe because adobe flash is being phased out.
Does Windows Media Player support SWF files?
No. Windows Media Player does not support SWF files. Nonetheless, you must have a .swf codec to play it on Windows Media Player. Or the easiest choice is to convert your SWF file to a file like MP4, which various media players widely support. To have more information about converting SWF to MP4, read this article SWF to MP4: Free Convert SWF to MP4 Online and PC.
Conclusion
This article shows you how to convert SWF to MKV by using the offline and online converters presented above. And there is no denying that online tools are more convenient to use; however, you can experience slow conversion in using them. In addition, the FVC Video Converter Ultimate has more features that are beneficial for your file and in your conversion—still having doubts about it? Download it now and experience the unique features that this converter can offer!