Online and Offline Conversion Process: SWF to WMV
SWF is a legacy file format created by Adobe for the Shockwave Flash player. Flash is no longer supported by many browsers, was never supported by iOS devices, and the SWF file format is seldom used these days due to performance and security problems. On the other hand, WMV is a set of video compression codecs created for early internet video streaming and physical media such as HD-DVD and Blu-Ray. Video in this file format is natively viewable on Windows devices, so you may wish to convert SWF files to WMV because Flash players are becoming more unsupported, and you can no longer play SWF files. Hence, we provide you with two options to convert your SWF to WMV.

Part 1. How to Convert SWF to WMV on Windows and Mac at Ease
Video Converter Ultimate is a multimedia converter that converts practically all major video and audio files to your desired output format. It can convert video files in batches, making it more potent than it seems. It does not stop at converting; it also enables users to modify their videos with the help of helpful editing tools. Furthermore, this video converter supports various formats, including the most widely used nowadays. More significantly, it converts at a faster rate than comparable software. To use this particular software, follow these simple steps:
Step 1: Click the Free Download button to download the .exe file you will need to install the software. Wait for it to finish, open it, and follow the installation process promptly. Click Start Now and launch the software.
Step 2: Upload the video file you wish to convert by clicking the + button in the middle of the interface. Alternatively, drag the file from your desktop and drop it on the interface, and it will automatically import.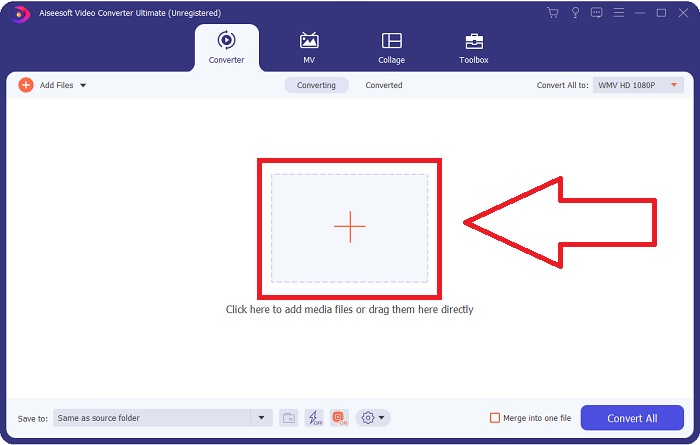 Step 3: Click the drop-down arrow on the right in which you will see the current format your video is in, and it will show you all the available formats to choose. In this case, scroll down and select WMV or just type it in the search bar. All video qualities are also available to choose from on the right panel.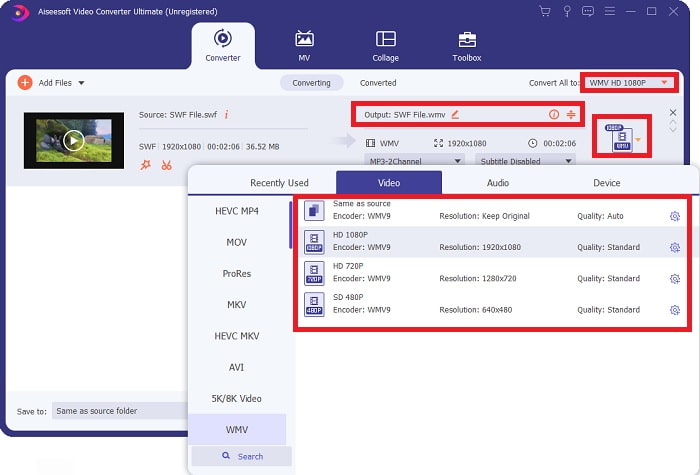 Step 4: To further edit your video, click on the gear icon on the right to show all the handy editing tools. From there, you can make all the necessary adjustments that best suit your needs. Just click the Create New button once you are finished.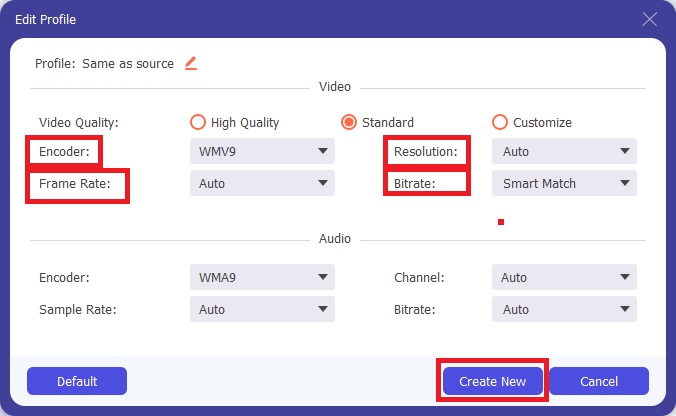 Step 5: Finish the conversion process by finally clicking the Convert All button on the window's bottom right corner and waiting for it to finish.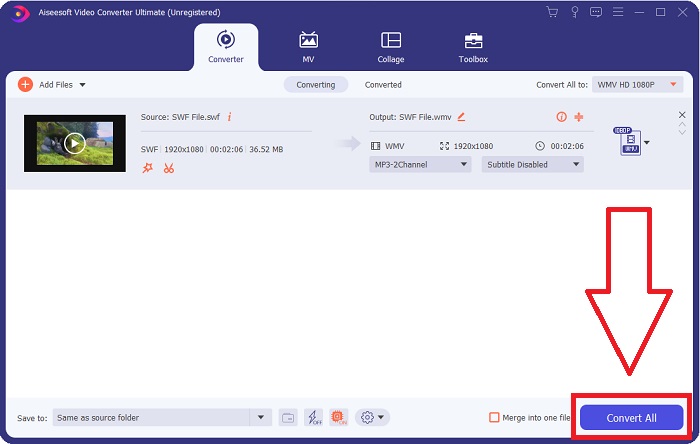 Part 2. Another Tip to Convert SWF to WMV Online
FVC Free Video Converter is always free and requires no registration. Some free online video converters restrict conversion timeframes or file size. If you've used all your free conversion times or your file is too enormous, you'll need to buy a plan, even if you seldom convert videos. But FVC Free Video Converter has no such restrictions and can convert videos at any time.
Moreover, this service does not need registration to convert bigger files, unlike most online video converters require registration to convert videos greater than 1GB. Here are the steps you need to follow for this fantastic tool:
Step 1: To go to the website, click this link. Then, download the launcher quickly by clicking the Add Files to Convert button and waiting for it to finish.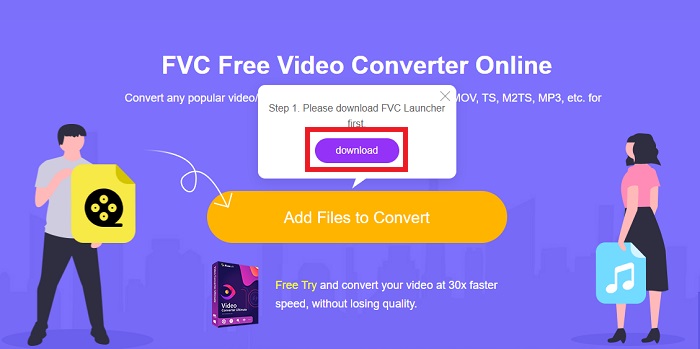 Step 2: Click the said button again, and this time, it will allow you to upload the video file you wish to convert. After that, select WMV among all the available formats.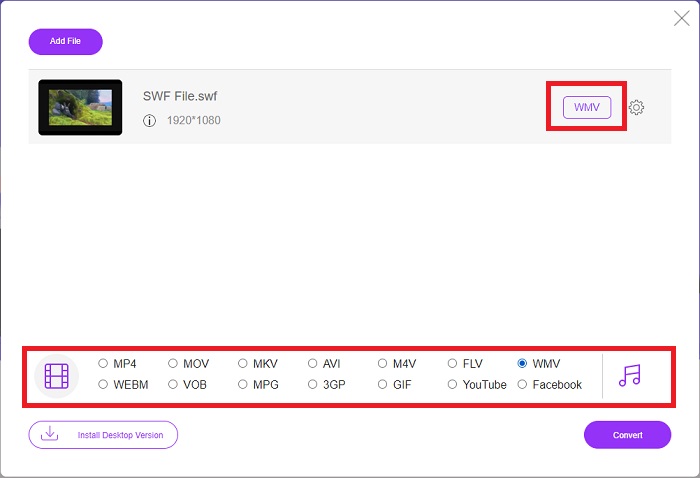 Step 3: You can still use handy editing tools like the software itself. Just click the gear icon, and it will show you all the adjustments you can make. To save the changes made, click OK and once you finish adjusting, click Convert to start the process.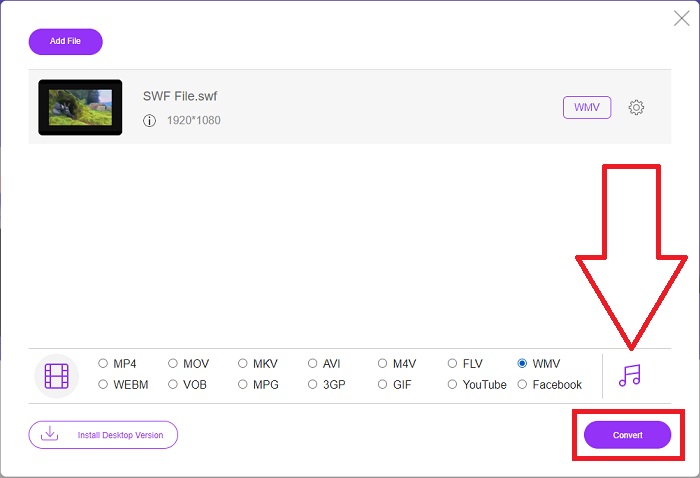 Related:
Part 3. Extensive Knowledge About SWF and WMV Formats
If you want to know more about the two formats, continue reading this article. We provide all the necessary and essential information you might need as a background.
Adobe uses the SWF file format to store films and vector-based animations. Small Web Format is the abbreviation; however, it is also known as ShockWave Format. It's usually used to broadcast video via the internet, especially browser-based games. Unfortunately, Adobe stated that it would stop supporting the Flash format by the end of 2020 due to performance and security problems.
On the other hand, a WMV file is a Windows Media Video file that can compress using one or more of Microsoft's video compression formats. It's a popular video storage format in Windows, which is why it's utilized by certain third-party apps for things like short animations. It's designed to work with Microsoft media players like Windows Media Player and Movies & TV. For use with Digital Rights Management (DRM) systems, WMV files may be encrypted.
| | | |
| --- | --- | --- |
| | Small Web Format | Windows Media Video |
| File Extension | .swf | .wmv |
| Developer | Adobe Systems Incorporated | Microsoft |
| Supporting Programs | ◆ Adobe Flash Player ◆ Adobe Flash ◆ Professional CC ◆ GOM Player ◆ Adobe Dreamweaver 2020 | ◆ VLC Media Player ◆ MPlayer ◆ Media Player Classic ◆ Windows Media Player |
Part 4. FAQs about Converting SWF and WMV
What is the use of WMV files?
WMV video files are the best format for selling video materials online or via HD DVD and Blu-ray Discs.
What is the use of the SWF file?
Flash files, or SWF files, are often utilized for the efficient distribution of multimedia information over the internet.
Can SWF files be edited?
Adobe Flash is a file format used by Adobe. Unlike other multimedia files, and SWF file requires the Flash Player plugin to view a web browser. Furthermore, Users cannot directly edit SWF files.
Conclusion
FVC Video Converter Ultimate is the perfect option for you if you are a newbie or simply an amateur when it comes to video conversion. You do not convert video formats very frequently. Its benefits, such as constant video format conversion, fast video file conversion compared to comparable programs, simple operation, support for various formats, and so on, help it become the best video converter out there. When it comes to video conversion, Video Converter Ultimate and its online equivalent are the most acceptable options.