Have a Deep Understanding Towards Using After Effects to Achieve Slow Motion
For most editors who want to make a cinematic scene in their videos, the internet always recommends After Effects; otherwise, other adobe products. But for a beginner who wants to use this will always see After Effects as a complicated platform to use to make a slow-motion because of the problematic steps it consistently portrays in the interface. In this article, you will know all the details and procedures that will guide you to answer the issue of how to do slow motion in After Effects, so you can use it at ease and call yourself a professional editor.

Part 1. How to Make Slow Motion in After Effects
After Effects is a video editing tool used to add effects and animation to movies and video clips; for more seamless video production, most video editors use it to make titles, intros, and transitions between clips. One of many factors good intros and transitions have is putting some slow motion in the scene, and After Effects can do great work in converting a normal speed video into slow motion.As a part of the Adobe Creative Cloud, you get access to After Effects for free. This tool is included in the full suite, but you can also purchase it separately if that's all you need. Using this set of tools has the advantage of being familiar to anyone who has used other Adobe products, which makes learning new functions and interactions a breeze. For you to know more about the After Effects and how to make a slow-motion, here are the steps provided:
Step 1. Import your video clip by clicking the File at the top left corner and selecting the Import. Then, choose the video clip you want to edit and customize.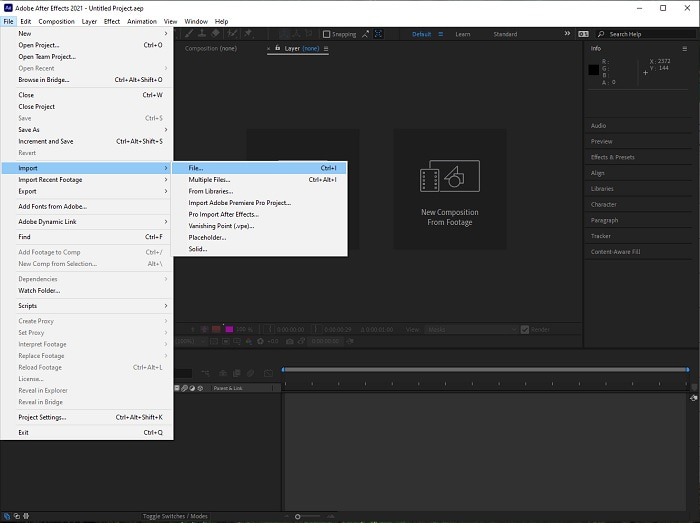 Step 2. Drag your imported video clip to the video track to begin editing. After that, right-click the video file and choose the Time; next is the Time Stretch.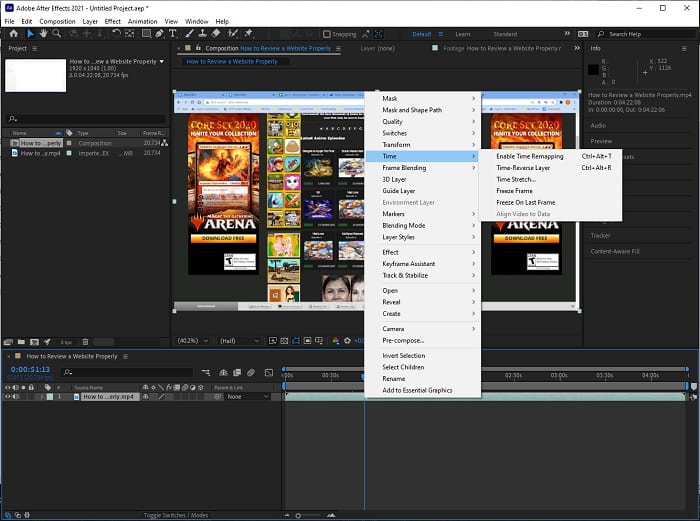 Step 3. Adjust the Time Stretch by increasing the Stretch Factor from 100 to 500+ to produce a slower playback speed.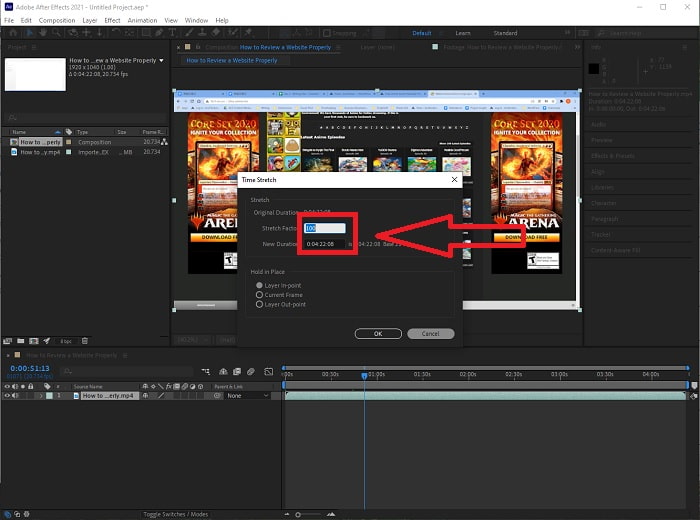 Typically, there are many ways to adjust the playback speed or simply do a slow-motion video using After Effects; some plugins are needed to make a slow-motion video, some just rely on the tools available on the software given above.
Part 2. Easier Approach to Make Slow Motion on Windows PC and Mac
Method 1. Use Video Converter Ultimate
Video Converter Ultimate is one of the software that is the best alternative to After Effects in providing accessible tools to use in editing and furnishing videos, especially in controlling the playback speed of a video and converting it to slow motion. One of its tools available is Video Speed Controller, which has easy procedures to follow and execute the desired adjustment in speed properly. In addition, like After Effects, this software can produce a high-quality output even if you're adjusting details from your video. To know more about the procedure, here are the steps you need to follow:
Step 1. Select Free Download to start the download and save it to your computer. After that, you'll be able to personalize and set up the application.
Step 2. Once the software has been installed, run it by selecting the Toolbox option from the menu bar and then selecting Video Speed Controller from the list that appears.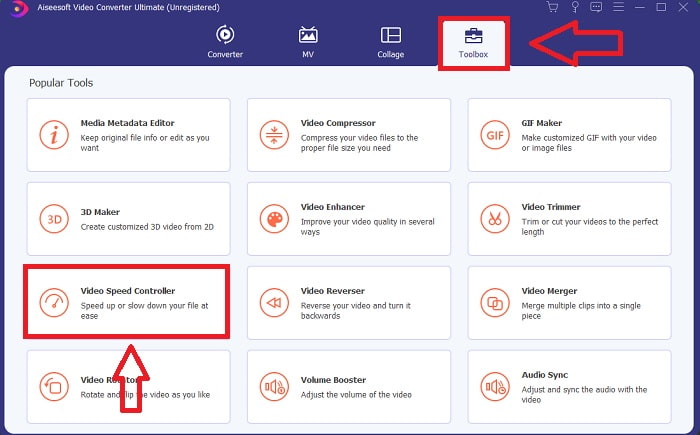 Step 3. Simply drop any file into the video clip editor by clicking the + button in your preferred location.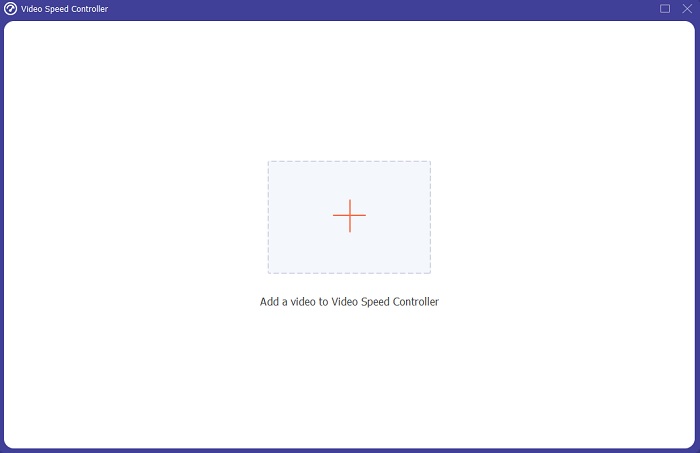 Step 4. You can change the playback speed by specifying how many times the video rate will increase or decrease during the playback.
Step 5. You can choose your desired output by changing the format, resolution, quality of your video clip after you've finished adjusting the playback speed of your video clip, and check if the slow-motion is smooth when you use this software than After Effects. When you're ready to save your work, select Export from the File menu and specify a location.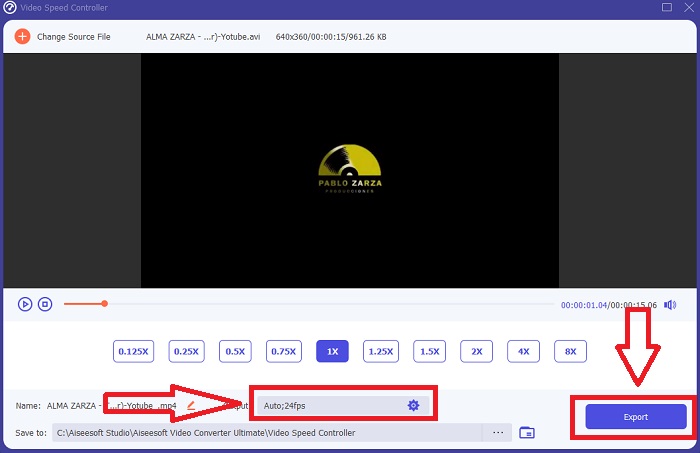 Related:
Method 2. Use InVideo
InVideo is a web-based video editing tool that is ideal for businesses of all sizes when it comes to creating and sharing videos for social media and websites, InVideo is the go-to solution. Also available for use is a library of image and video content culled from various online repositories such as Story blocks and Shutterstock that can be incorporated into the application. In contrast to the previous web tool discussed in this article, you must first enter your email address to use InVideo. This web-based tool provides a large number of templates for you to choose from when creating your video. With its impressive features, this web application can serve as a viable alternative to After Effects cs6, allowing you to elevate your editing abilities to the level of a professional editor. One of its features will enable you to convert a normal speed video into a slow-motion video, and to learn more about the specifics of the procedure, here are the steps that are presented:
Step 1. To gain access, you must first create an account on the web tool. The next step is to choose the template that will be used for your project. To begin the uploading process, click the Upload button in the upper-left corner of the interface.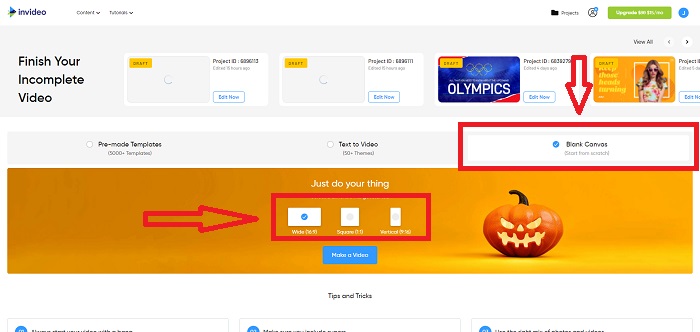 Step 2. The Speed tab in the upper-right corner of the interface can be used to change the speed of your video clip's playback. Drag it to the track you want to change the speed of. Moreover, you can adjust the speed of your video clip by dragging the Slider to the right or left.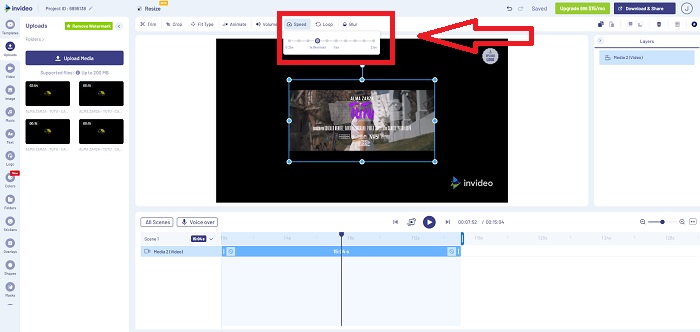 Step 3. As soon as you're finished editing, click Download & Share to get better results in slow-motion effects like the After Effects by upgrading to Premium.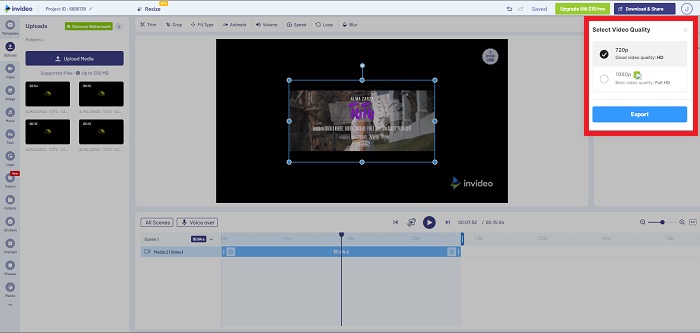 Part 3. FAQs about Making Slow Motion Videos in After Effects
What is the difference between After Effects to Premiere Pro?
When it comes to animation and motion graphics effects, After Effects is the go-to software; in contrast, Adobe Premiere Pro, which is primarily focused on video editing, is intended to assist you in creating all of the cool extras that make your motion graphics pop.
What is the After Effects slow-motion plugin?
Even though you may not have shot at a higher frame rate, Twixtor by RevisionFX is an After Effects plug-in that helps you create ultra-slow motion footage.
What are the other tools available in After Effects?
Other than the tool that can adjust the playback speed of the video, it has a pen tool that can help you sketch, position instructions, and put text into your video. It has a camera tool that can help primarily in 3D projects, shape layers in 2D projects, adjust layers for some customizing reason, etc.
Conclusion
To conclude, After Effects is an excellent Adobe product that mostly gives the video an impressive outlook. It can put filters to make more choices of a scene, put the text as subtitles and introduction, shapes adjustment, and the speed controller that can adjust the playback speed of your video. However, it may look complicated for some beginners to use software like After Effects; that's why we recommend using Video Converter Ultimate to achieve the slow-motion effect you want to comply with your video. It is easier to use and has a smaller file size than every Adobe product.