Compress AVI Files to Get Smaller File Sizes without Losing Quality
No matter you want to send AVI files to email, or upload AVI files to websites, it really matters to compress AVI. There are many video editors and compressors that can shrink AVI files. To be more specific, you can convert video format, cut unwanted video clips or reset parameters to make your AVI video smaller. If you want to keep the AVI video format and content, you can use a video compressor to reset video settings. Here're 3 free ways to compress AVI files without losing quality. Just read and follow.

Part 1: How to Compress AVI Files Online for Free
There are so many online video compressors on the market, which one can be your best AVI compressor online? For most users, there are some important factors you need to consider.
1. Completely free and safe to use.
2. No maximum file size limit.
3. Batch compress AVI files.
4. Compress large AVI video over GB to really small file size.
5. Change AVI video format, resolution and bitrate to shrink the video size.
Luckily, you can get all those features in FVC Free Video Compressor. You can compress large AVI files online for free on your Windows and Mac computer. No subscription or registration required. The 30x faster speed makes it superfast to compress AVI than other competitors. Now, let's see how to compress AVI video size online.
Step 1: Open this free video compressor online. Click Add Files to Compress to install the launcher.
Step 2: Browse and add your AVI video. You can get a simple and intuitive interface for further AVI compression.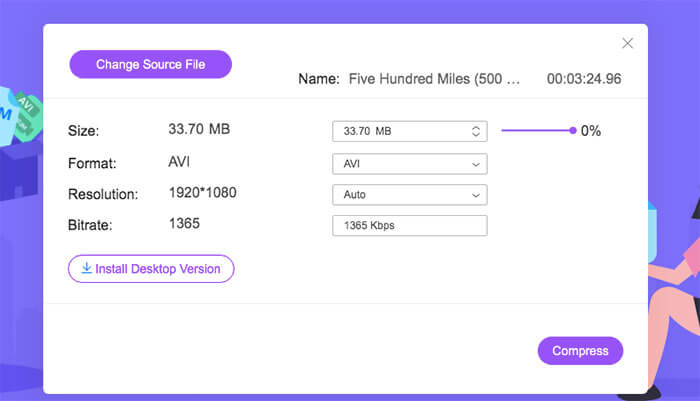 Step 3: In the Size section, you can reduce AVI video size by moving a slider besides. Or you can specify the compressed AVI video size with the Upside and Downside arrows.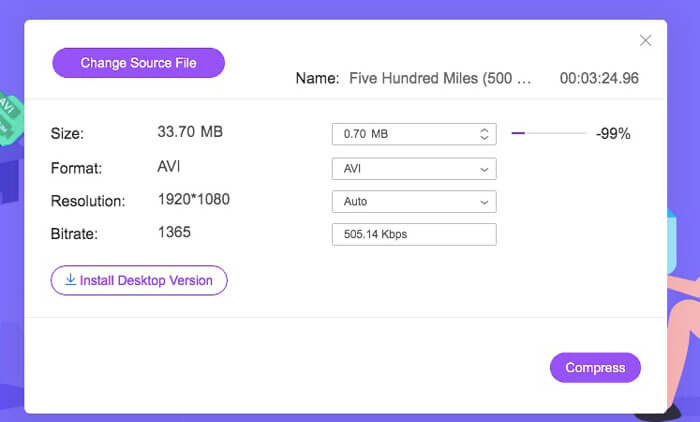 Step 4: Unfold the Format list. You can compress AVI to MP4, MOV and even YouTube and Facebook formats. Later, select one Resolution profile to reduce the size of AVI file.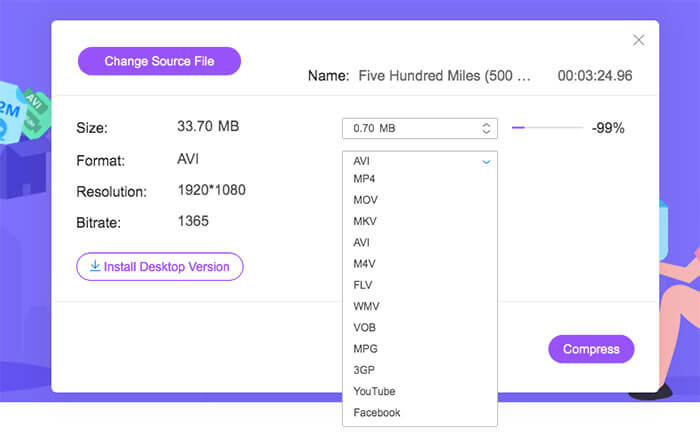 Step 5: Click Compress and set the output folder. After the Compression successfully notification pops up, you can get the compressed AVI video.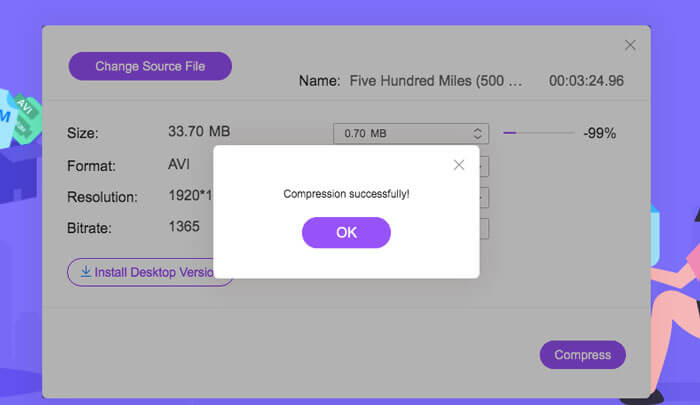 Part 2: How to Compress AVI Videos on Windows
To compress an AVI video on Windows 10/8/7 for free, there is another choice you can use. It is Windows Movie Maker that can compress AVI file on Windows 10 and earlier versions. Just do as the following paragraphs show.
Step 1: Open Windows Movie Maker. Click Import Video under Capture Video to add your AVI video.
Step 2: Select the imported AVI video. Then drag and drop it into Timeline below.
Step 3: Click Save Movie File and create custom settings from the File list.
Step 4: Under Video settings, you can adjust video width, height, bitrate and frame rate to make this AVI video smaller.
Step 5: Click Save to shrink your AVI video on Windows into a small file size.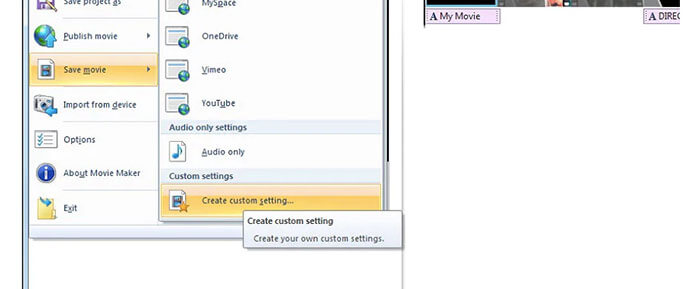 Part 3: How to Compress AVI Video Files on Mac
iMovie can be your free AVI video compressor software as well. You can use iMovie to compress .avi videos on Mac for free. Moreover, you can crop black edges and unwanted parts to reduce video size within iMovie as well. There are many useful video editing and compressing tools in iMovie.
Step 1: Run iMovie. Select New Movie from the File drop-down list.
Step 2: Create a new project for your compressed AVI video file.
Step 3: Click Import on the top. Select and add an overlarge AVI video into iMovie.
Step 4: Unfold the File list and select Share followed by File…. Click the Export icon on the top right corner, then select File.
Step 5: To reduce AVI video size, you need to decrease video resolution and quality profiles. Click Next followed by Save to get your compressed AVI file.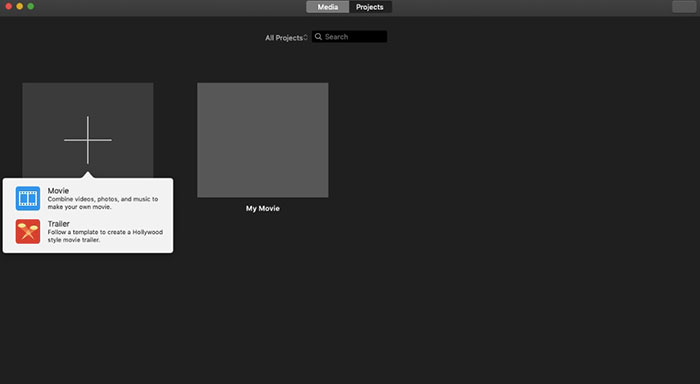 Part 4: FAQs of Compressing AVI
Why is AVI so big?
You can find that .avi formatted files tend to be larger than other files. AVI uses less compression to store video and audio data. Or you can regard AVI as a lossless video format. Therefore, AVI files are always in large file sizes.
How to compress AVI with After Effects?
Add your AVI video into After Effects. Go to the Composition list. Select Add to Adobe Media Encoder Queue. In the Media Encoder, find your project file in the render engine. Switch to the Video or Audio list on the right panel. Change the video/audio quality, bitrate and other details. Actually, you can check the estimated file size on the lower right corner. Click OK to save changes and reduce AVI file size in After Effects without losing quality.
Does it work to compress AVI to MP4 format?
Yes. You can convert and compress AVI to MP4 to reduce a lot of video size. AVI is a lossless video format, while MP4 is a lossy video format. Furthermore, you can adjust video settings to complete the AVI file compression.
You can use the above tools to compress AVI online and offline for free. There is no video length or file size limit. You can reduce video size and compress AVI for email, Twitter, Facebook and more directly. By the way, if you need to batch compress AVI files, using FVC Free Video Compressor is your fastest solution. You can compress large AVI files online in batch for free with 30x faster speed. It is 100% free and safe to use for all users.