2 Efficient Ways to Compress Video for Web Without Losing Quality
If you are managing your own website or designing a website, compressing video for web is very necessary for you to reduce video buffer time and provide a better user experience. Normally, a smoothly played website video is less than 10 MB in WebM/MP4 format. So, if your videos are too large to load, compressing video for web to optimize your website is exactly what you need to do right now.

Part 1: How to Compress Video for Web Free Online
FVC Free Online Video Compressor can help you compress video for web to a smaller size free online efficiently. With no need to download any software, you can get desired compressed video file in 3 simple steps.
1. Compress video for web with simple uploading and adjusting size settings free online.
2. Compress any large videos to less than 50MB to make your website visited quickly.
3. Convert video for web to any formats including compatible WebM and MP4 formats.
4. Save your videos with no watermark, which will protect your ownership.
Step 1: Open FVC Free Video Compressor website and click the Add Files to Compress button. Following the guide to launch the plugin and then click the Add Files again to choose videos you need to compress for web.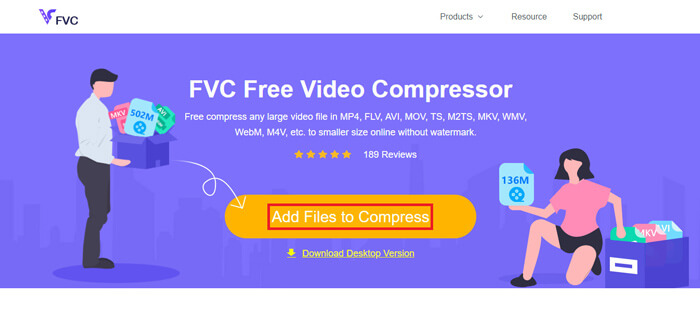 Step 2: Compress video for web by adjusting size, format, and resolution in detail. The best size setting of website videos is less than 10 MB with 640x480 resolution. And the compatible format to chrome is WEBM or MP4.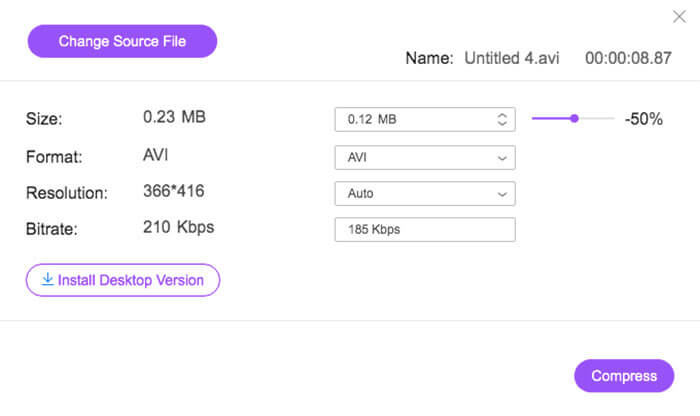 Step 3: Click the Compress button and choose the desired folder to save.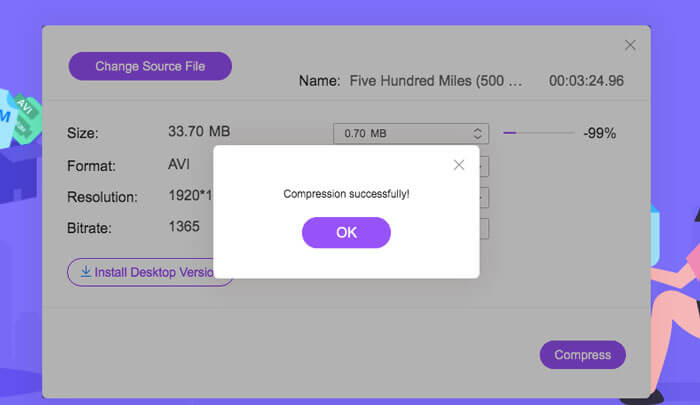 Part 2: The Most Efficient Way to Compress Video for Web
If you want to adjust detailed settings including encoder, resolution, bitrate, and frame rate, the professional tool - FVC Video Converter Ultimate is the best choice to compress video for web. It can help you convert videos to an optimal size and format without losing quality.
1. Compress videos to lower definitions like 640×480 or less without losing too much quality.
2. Provide more than 10 resolutions for you to choose the appropriate one for your videos.
3. Enables you to convert videos to over 200 formats including WebM or MP4 format that is compatible with the website.
4. Support the preview function that will give you the reference to change the parameters.
Step 1: Download FVC Video Converter Ultimate for Windows/Mac and launch it. Click the Toolbox button and choose the Video Compressor tool.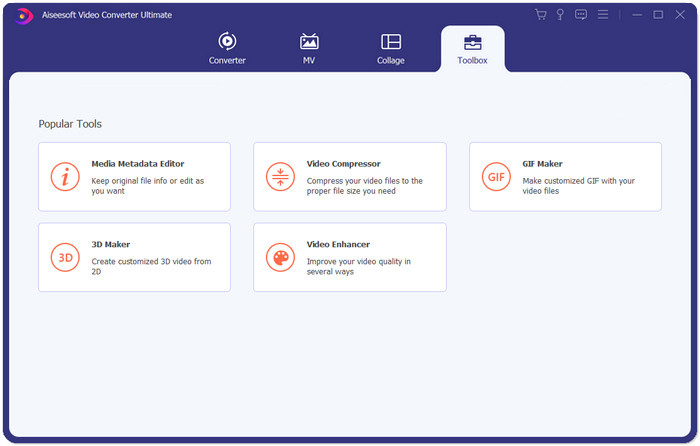 Step 2: Click the Plus icon to choose the desired video files you want to compress. Then after entering the settings interface, you can change the detailed parameters, including video size, format, resolution, and bitrate.
• Size: As mentioned before, the size should be less than 10 MB. Thus, you can click the downward arrow to reduce the video size.
• Format: Because the MP4 format has a small size with relatively high quality, so you'd better choose the MP4 format.
• Resolution: To reduce the video size for web to less than 10 MB, you'd better use the standard 640×480 or less resolution
• Bitrate: It will change with the resolution automatically. If you choose the 640*480 resolution, then the bitrate will be around 1000kbps.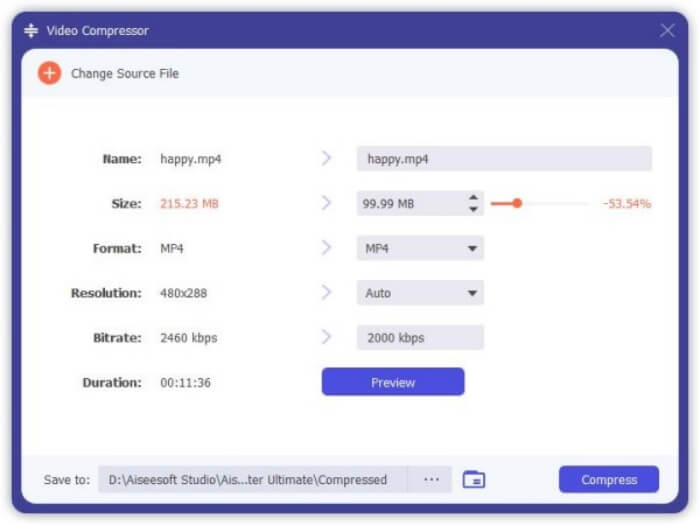 Step 3: Before compressing videos for web, you can click the Preview button to check the effect. Then click the Compress button and then choose the desired local folder to save.
This software is compatible with almost video formats, and you can easily compress video for YouTube, Facebook, and other web uses.
Part 3: FAQs of Compressing Video for Web
1.Which is the best size of compressing video for web background?
The best size of compressing videos for web background is less than 10 MB within 1 minute, which only takes 1 to 2 seconds to load.
2.Which video format is the most compatible with website?
WebM or MP4 format is the best because it is supported by all major browsers including Google Chrome, Safari, Firefox, etc. Moreover, WebM and MP4 formats are also compatible with HTML 5 Player that is mainly used to watch web videos.
3.Why should I compress video for web?
Because the larger the videos are, the longer time it will take to load. If you are developing your own website, fast loading speed will let more clients willing to browse your website.
Conclusion
When you are managing your own website and it always buffer a lot, you should try to improve video loading speed by compressing video for web to a smaller size free online or converting videos to lower resolution without losing too much quality. Using the FVC Free Online Compressor to shrink video for web easily or downloading the professional FVC Video Converter Ultimate to compress video for web with high quality.