Learn How to Edit iD3 Tags on iTunes [Quickiest & Easiest Way]
iTunes is multi-purpose software that you can use as a media player, media library, manage utility, client app for Apple devices. Initially, the software will only focus on a collection of purchasable kinds of music. However, the demand for other features expanded, so the software did a massive upgrade on its system. Like that, the tool can now do other things as mentioned above. So, if you want to know how to edit iD3 tags on iTunes, this is the right post for you; keep on reading to learn more about it.

Part 1. Effective Ways to Edit ID3 Tags on iTunes Using 3 Different Methods
You can use three different methods to edit iTunes metadata on Mac if you don't know how to edit the metadata using iTunes. You can check out the steps below and choose which method you want to use; we guarantee you will have the metadata updated using iTunes for neither of the three you choose.
Method 1. Use the Edit on iTunes
Step 1. Open the iTunes app on your Mac.
Step 2. Click the media file once, click Edit, and click the Album Info under it.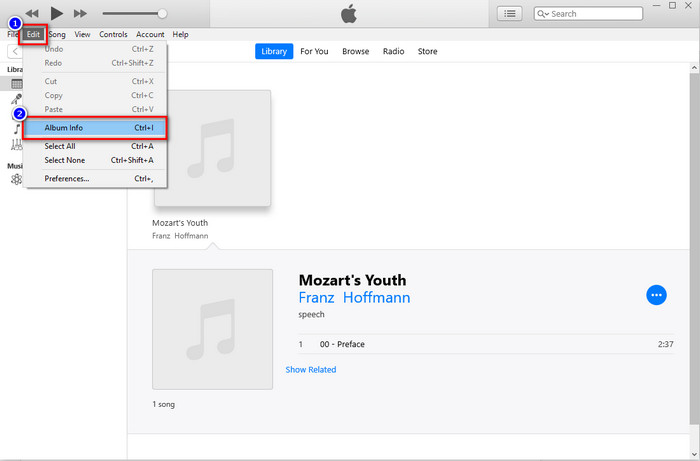 Step 3. A new panel will show where you can change the tags on the files on your screen. If you've edited the information, you can now click OK to save the changes you've made.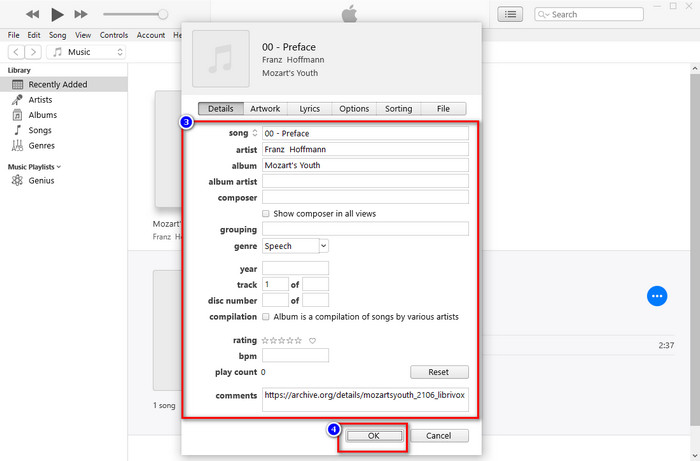 Method 2. Use the Right-click on iTunes
Step 1. Launch iTunes and find the media file.
Step 2. Instead of going to Edit, you can press the right-click of your mouse and click the Album Info.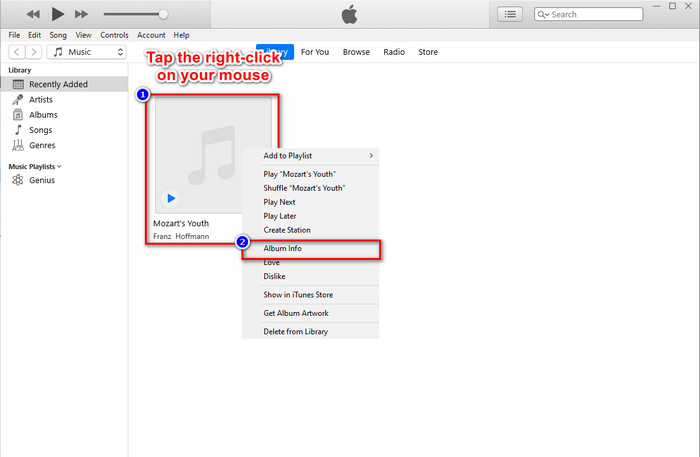 Step 3. Change the metadata on the panel by filling the textbox to update metadata on iTunes, and if you are done, you can now click OK to save.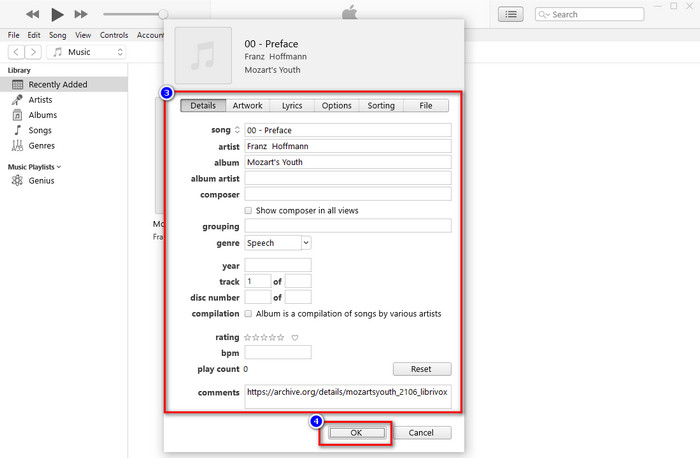 Method 3. Use the Three-dots on iTunes
Step 1. Look for iTunes on the Finder, and click it to open.
Step 2. Once you've launched the software, click the file once. A three-dots will show on your screen, click it, and select Album Info.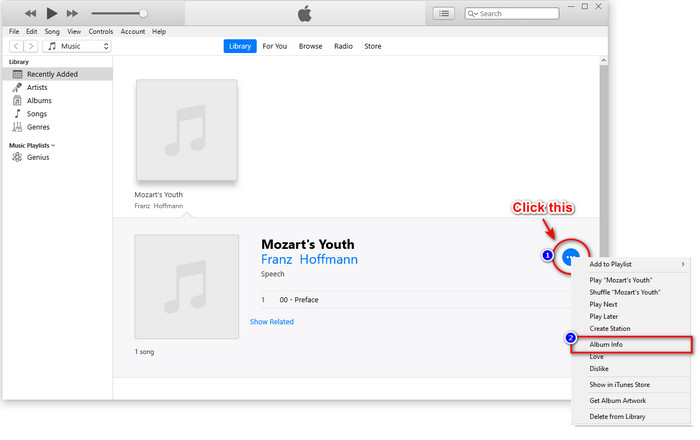 Step 3. A panel will show onto your screen to fill the critical data you need as your iD3 tag, then press OK if you want to save the changes.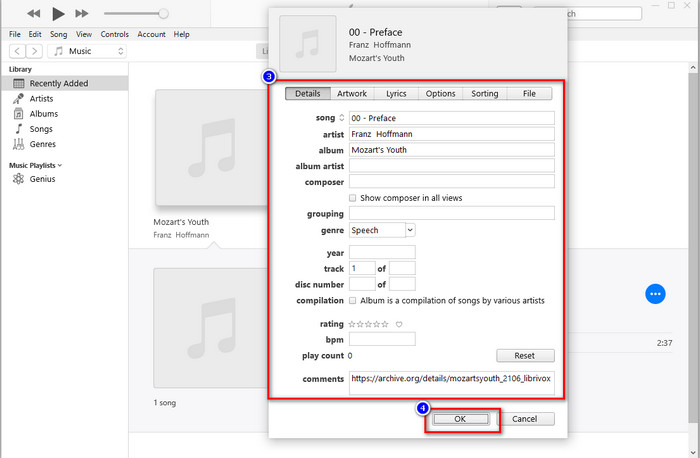 If you notice, there isn't a significant change in the methods, but we still include them all for you to choose from. Although iTunes is available on Mac, the upgrade version of Mac doesn't support iTunes anymore; then what should you use? Fortunately, we include software you can use instead of fixing iTunes metadata on Mac. To know more about this software alternative, you can continue reading part 2 below and learn how to use it.
Part 2. Ultimate Alternative to Edit MP3 Metadata on Mac without iTunes Easily [Recommended]
Natively, iTunes is overtaken by three distinct features on Apple: music, podcast, and shows or movie. So now, in the modern version of Mac, you can't use iTunes because they replaced it. So, what should you do to edit MP3 metadata on Mac without iTunes? Is it still possible? Well, with the help of the ultimate tool, everything is possible.
FVC Video Converter Ultimate is the best alternative you can use to change the metadata on your Mac or Windows. With this tool, you can easily upload your MOV, M4V, WMV, FLV, RMVB, MP4, and 1000+ more formats. Even if you have the most uncommon format, this tool supports that format of yours. Another fantastic thing this tool offers that you can't have on iTunes is all on the Toolbox related to videos. If you want to use this wonderful tool on your Mac to change your metadata, you can read the tutorial below and follow it accordingly.
Step 1. Kindly click the download button below and choose the Mac, but you must click the appropriate button if you are a Windows user. After that, install and follow the process quickly, then open now the tool.
Step 2. Open the Toolbox of the ultimate tool and locate the Media Metadata Editor there.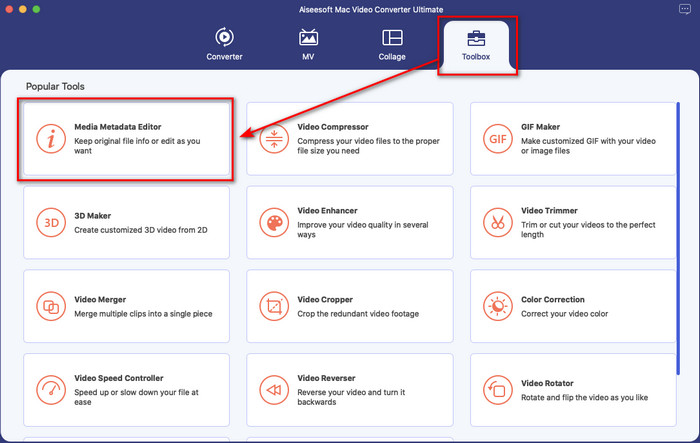 Step 3. Click the + button then a file folder will show on your Mac screen; select the media file, click it, and hit Open to proceed.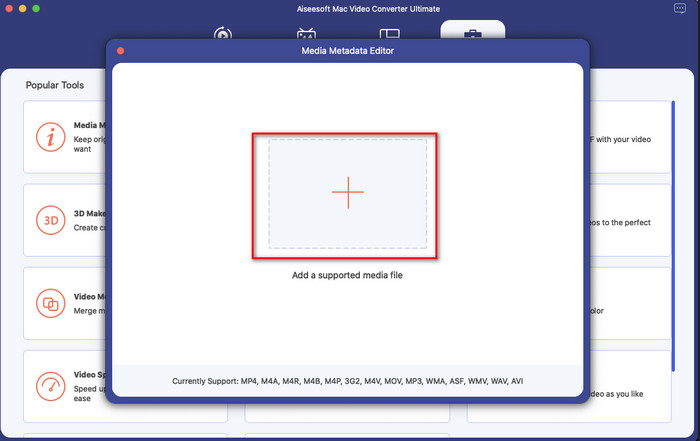 Step 4. Fill the metadata of each textbox accordingly, then hit Save to apply all of the metadata you've added using the ultimate software. Easy isn't it? Thanks to the ultimate tool, you can use this freely at a low cost instead of the iTunes music metadata editor.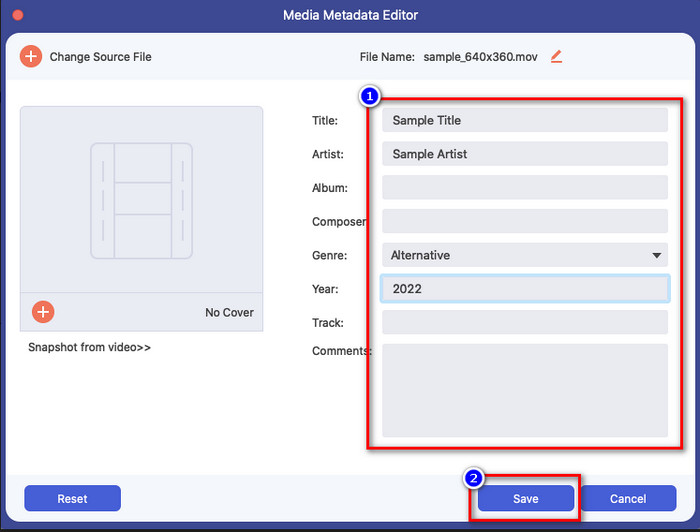 Pros
It offers you to upload any media files you have easily.
One of the best metadata editors of 2022, according to the reviews.
It is capable of doing video and audio editing as well converting.
It is available in all operating systems, such as Windows 10/11 or macOS.
Cons
It is not built-in, so you will need to download the tool.
Purchasing is essential to unleashing the full potential of the software.
Part 3. FAQs about Editing iD3 Tags in iTunes
Why can't I find iTunes on my Mac?
If the version of your Mac is 10.14 or above, then iTunes isn't available there because the built-in app is separated into three different tools: shows or movies, music, and podcast. However, you can still use iTunes in 10.13 or the lower version of Mac.
Does iTunes support Windows OS on changing metadata?
Luckily, you can download iTunes on Windows OS if you want it on your desktop. So, if you're going to use change iTunes metadata on Windows, you can follow the same steps above. Even though the images are tools on Mac, it is still possible to copy the steps above to change the metadata on your media file easily.
Do my files on iTunes are removed?
The brand's name is changed, but the file you have on your iTunes is on the Apple Music app. Also, the iTunes gift card is still usable to buy some music on the new music store. Although music, podcasts, and movies are split, their function is still the same, but their GUI is much better now than the previous iTunes.
When is the first launch of iTunes?
It was January 9, 2001; Apple opened the best multimedia player that contains different media files, such as music, video, and podcasts.
Conclusion
Now that we know how to edit id3 tags on iTunes, it is time to do it by following the steps above. If you are not satisfied using iTunes or can't find it, we suggest you use the best alternative that you can find, which is the FVC Video Converter Ultimate. With this tool, you can easily add or remove the metadata on any video or audio protected by DRM on Apple. So, if you want to know it better, you must download it now and try it yourself.