Steady Guideline on FFmpeg Metadata Editor You Should Know
FFmpeg is a known multifunctional tool that can help you convert, resize, cut, trim, and do more all-in-one tools. However, few articles talk about editing metadata while using the software, and some are unreliable. If you want to know more about the FFmpeg metadata editor capabilities, you must keep reading, as we provide a helpful and neutral review about the said software you can use.

Part 1. Brief Introduction about FFmpeg Metadata Editor
FFmpeg is known as one of the best free software used by many customers and companies to easily handle the libraries and programs while transcribing the data on them effectively. The software is not the usual editor that you download on your drive because this tool is command-based, in which you will need to use codes to command the software to do a specific task. Even though users tend to ignore the tool because of its difficulty, it is still considered the best encoder and decoder for many common and uncommon files.
With its complexity and CLI interface, users find it fascinating because it is kin into details, which means you can quickly change per details of your file. However, learning to use it isn't easy, especially for people who don't experience handling command-based software. But if you are eager to use it, it will indeed pay off once you get the hang of it. One of the great things about this tool is that it gets a weekly update which means the software developer keeps an eye on the upgrades needed for the software. If you want a reliable tutorial to edit metadata on FFmpeg, you can read part two for more information.
Pros
It performs the best on editing the metadata.
It uses CLI interface to manage in-detailed editing on every file.
Professional first choice on performing editing and other stuff.
Cons
It is not the best choice for a beginner who wants to edit the metadata at ease.
Codes are needed to command the tool.
Part 2. How to View and Edit Metadata to a Video File with FFmpeg
Now that you are reading this step, you want to learn how to add the metadata with this tool. Although it is a steep learning curve, we can successfully add the tags on any of your files and arrange files on our library or folder once you follow the steps accordingly. Follow it up to the end to know how to edit and view metadata on FFmpeg.
Step 1. Download the tool on your drive, extract it, and follow the installation process.
Launch the CMD, then type FFmpeg and hit Enter on your keyboard; if a bunch of text is shown on your screen, then the tool is successfully launched. It isn't part of the steps, but this is how you troubleshoot the FFmpeg if it is activated.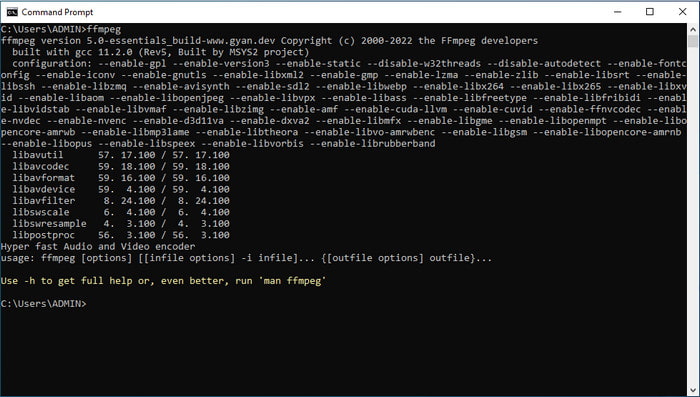 Step 2. Locate the file on the File Manager, and specify the input file.
Step 3. Type on the CMD, type ffmpeg – i sample.mp3 -vn -acodec copy -metadata title ='Mozart' -metadata description =' music is a melody in our heart' sample.mp3 to add a title on your metadata. Hit Enter on your keyboard to successfully add the metadata to your audio file.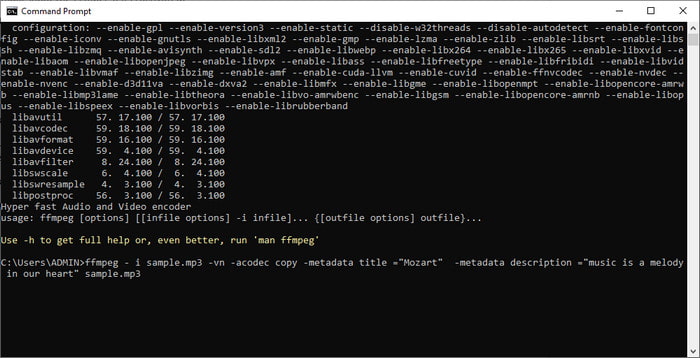 Part 3. Is There an Easier Way to Edit Metadata on Windows and Mac?
Luckily, there is a simple way to edit metadata on FFmpeg; however, it is not by using FFmpeg, but it is with the assistance of the ultimate converter. FVC Video Converter Ultimate is a powerful metadata editor you can use that has a better manageable GUI than the FFmpeg. Instead of opening the CMD, you can click a few buttons and fill the tags, then voila, you have added the metadata on your file. Is that it? Yes, with that, you have now added metadata to your video and audio file easily.
In addition to its less complex GUI, this tool presents beauty and an adequate video editor that you can easily handle whenever you need one. Unlike FFmpeg, there is no code you will need input to command the tool, easy, right? Well, that is what the ultimate tool is capable of. If you want to know how to use this tool, you can press the download button below, install it, then open it. After that, follow the steps below, as we will focus on changing the metadata of your media file.

FVC Video Converter Ultimate
5,689,200+ Downloads
It supports 1000+ media formats to upload and change their metadata easily.
Multiple functions and features are available to use in this tool.
It supports a high-speed process to finish the task swiftly.
Available to download on Windows and Mac of any versions.
Step 1. On the tool's interface, click Toolbox and find the Media Metadata Editor on the list of features below.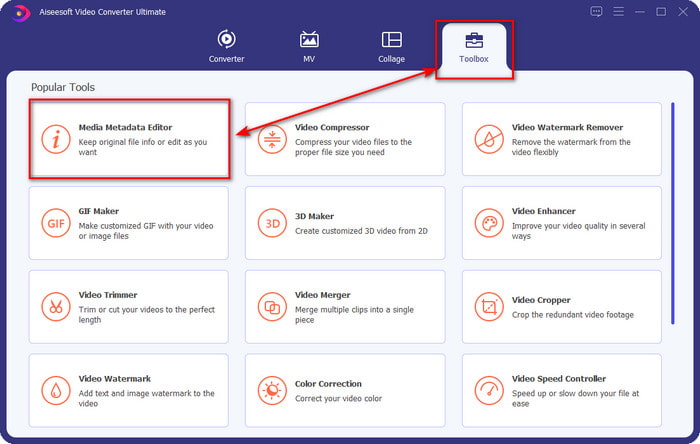 Step 2. After you've clicked it, a new window will show, click +. Find the media file on the folder that will show on your screen, then click Open.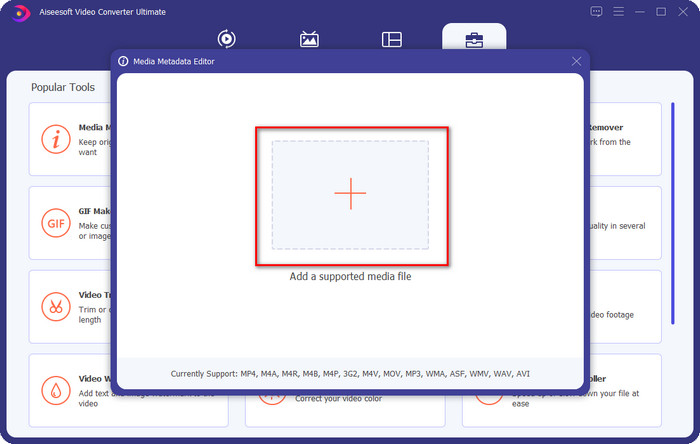 Step 3. You can now add the metadata on each text box, click them individually, and type on it. After that, click the Save button. No code, no problem! That is what you can do to add the metadata to your media files easily.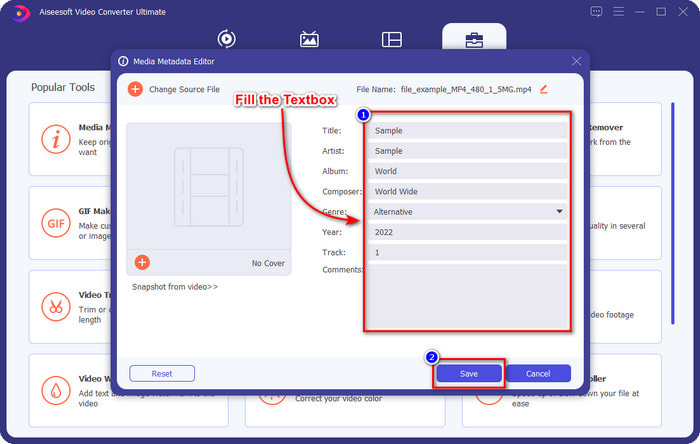 Related:
Part 4. FAQs about FFmpeg Metadata Editor
Why is FFmpeg too complicated to handle?
It isn't hard to use, but the tool looks hard because of the codes and CLI interface. However, if you get using FFmpeg, it will be easy for you to handle any task with the help of this free software.
Why does my FFmpeg fail to add metadata?
There is a simple reason why the software didn't successfully add the metadata to your file. Firstly, the location you added is wrong, which means the cmd doesn't recognize the file. Second, if you input the incorrect code, the software won't understand the command even if there is the slightest error on space or character. Lastly, the software isn't correctly installed, and you will need to troubleshoot the software on the CMD. We will assure you that the software will function well if all of these are checked.
Why is FFmpeg use the command prompt?
It is the only way you can communicate on the FFmpeg. Unlike the other editor, you will need to click a specific button to function. But it is not the same with the FFmpeg; codes are like buttons to command the tool to do a particular task.
Conclusion
Get an FFmpeg video metadata editor if you feel that the tool is for you; even though its GUI is not appealing, its performance is better than the other editor you can use. What if you don't want to use the tool because it is complicated? Then what should you do? This case is known to come; if you are the type of user who doesn't want to use the FFmpeg, we suggest that you use its alternative, the ultimate converter. Please read carefully the details above to know how to use it to edit your file's metadata easily without using the command prompt. Nevertheless, the success in editing the tags became easy with the assistance of the ultimate tool.