Learn How to Edit OGG Metadata Easily with Detailed Steps
With tags on your OGG files, the device you are currently using can understand what is in the file. Once the metadata is attached, it can help you arrange it properly by determining the tags to find it quickly. So, if your OGG files don't have metadata, it is a must to add one. Although searching for a tag editor for OGG is easy, we aren't sure if they are perfectly safe to use. Instead of trying them out and failing, we will do the troubleshooting per tool for you. So, keep reading this post to know how to edit OGG metadata manually with a 100% success assurance.

Part 1. Edit OGG Metadata without Downloading an External Program on Windows
On Windows, you can easily edit OGG metadata without downloading a tool using Properties. However, it is not as effective as the ultimate devoted tool below, but the task can be done with its help. So, if you want to know how to use this metadata editor, you can follow the steps below.
Advantages of Using Properties on Windows:
◆ Downloading it isn't essential to use it anytime, and even you don't have internet access.
◆ Easy-to-use and could be used by any users who want to edit metadata.
◆ It supports a wide range of OGG, MP3, WAV, WMA, and many more formats.
How to Edit OGG Tags Easily with Properties on Windows:
Step 1. Find the OGG file on your desktop, and right-click the file; under it, hit Properties.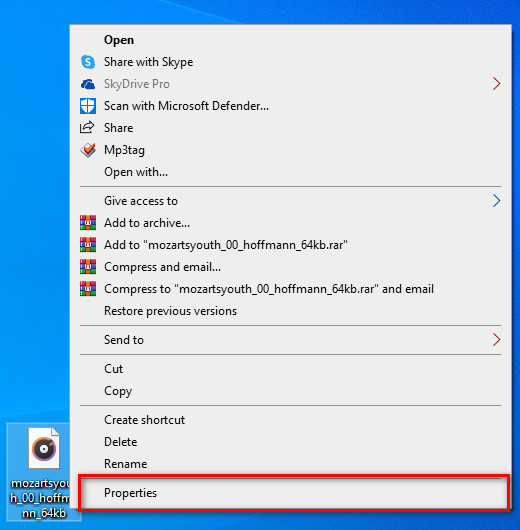 Step 2. After you've clicked the Properties, a panel will show on your screen. Go to the Details, tap every tag and fill it.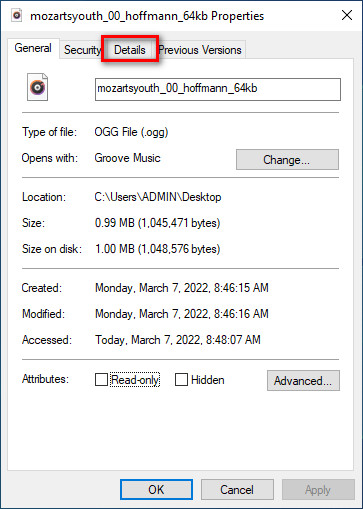 Step 3. Press OK to save the changes you've made with Properties.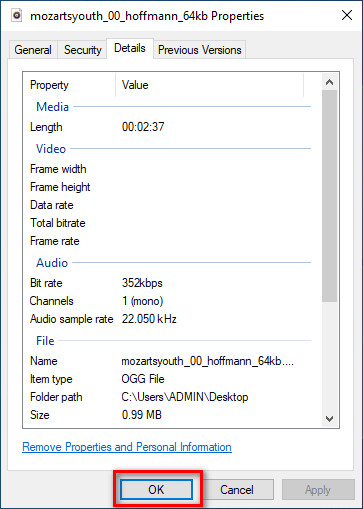 Tip: This function sometimes doesn't save the metadata you've added on the OGG file. So, if this happens, you'll need to redo it again and start from the very beginning.
Part 2. Most Recommended OGG Tag Editor to Edit OGG Metadata on Windows & Mac [Professionally]
The best way to edit OGG is to use a powerful yet simplistic tag editor on Windows and Mac, the FVC Video Converter Ultimate. With this tool, you can manually override the metadata of OGG within a few clicks away. Unlike Properties, you won't encounter any problem regarding editing or fixing the tags of your media file. However, you will need to download and purchase the tool to fully access its great features that no other tool can give you.
In addition to its editing capability on metadata, this tool allows you to convert your OGG file into a new audio format while retaining the high-quality audio stored on your OGG file. You can also perform basic editing on your video and audio if you want, such as cutting, trimming, merging, cropping, and many more, but it can also perform advanced editing; you can check the advanced editing on the Toolbox. Maybe you think what the ultimate thing about this tool; Well, it lives up to everyone's expectations, and the name ultimate isn't just a name, but it is also the tool's abilities. So, if you want to use the tool to edit OGG metadata, you can copy the steps below to succeed at the tip of your finger.
Advantage of Using the FVC Video Converter Ultimate [Recommended]:
◆ It is a professional tag editor that can easily manipulate the metadata of your audio file even you aren't a pro.
◆ It supports a wide range of formats to upload like OGG, MP3, WAV, WMA, AIFF, and 1000+ more, including video formats.
◆ It is the best choice for starters in editing the metadata, resolution, quality, cutting, etc.
◆ Able to download the software on both Windows and Mac systems if you may.
◆ Additional functions and features are available on Toolbox to help you with different tasks related to video and audio.
How to Edit OGG Tags Like a Pro with the FVC Video Converter Ultimate:
Step 1. Press the download button below, choose the correct operating system you're using. If downloading is finished, click the software file you've downloaded to install it next to your drive. Set it up according to your preferences; lastly, click Start Now to launch the tool.
Step 2. After you've opened the software on your desktop, go to the Toolbox section and find the Media Metadata Editor; hit the feature to proceed.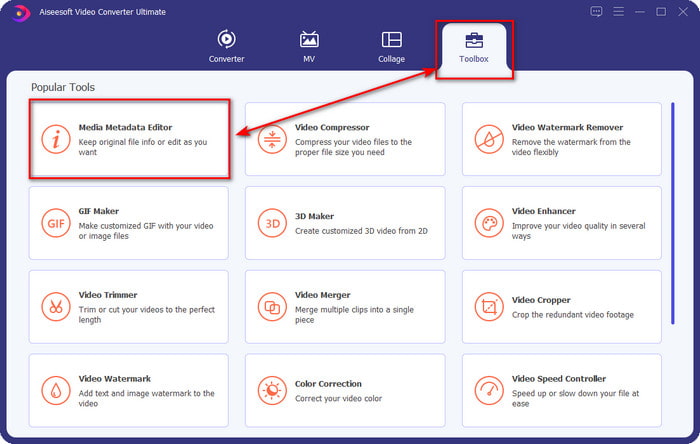 Step 3. Click the + icon to locate the OGG file saved on your desktop drive. Select the .ogg filename and click Open to upload the file to the tool.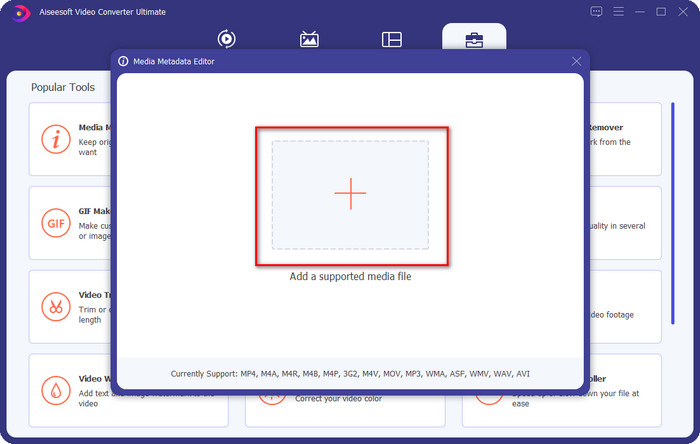 Step 4. Edit or remove the metadata on the mini window that will show on your screen, click every textbox and add the information you want to apply on the OGG. You can also add an image on the OGG audio file if you've desired, but make sure that the image is saved on your desktop.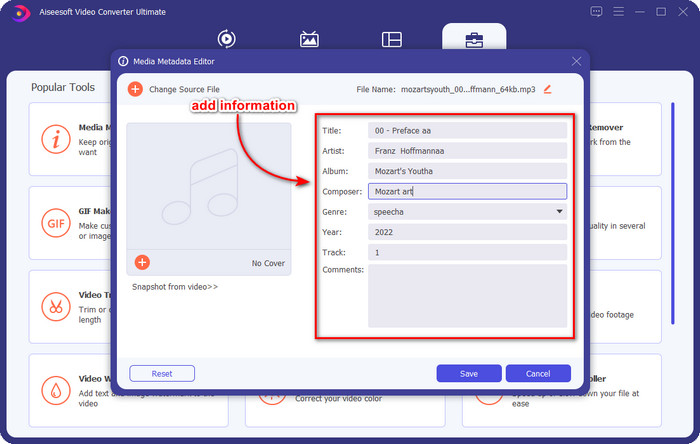 Step 5. If you've done adding the needed information on your OGG file, you can click Save to proceed to save the file with metadata on it. With that, you have now added the edited OGG metadata on your desktop with the assistance of the best OGG metadata editor you can use on both operating systems safely and quickly.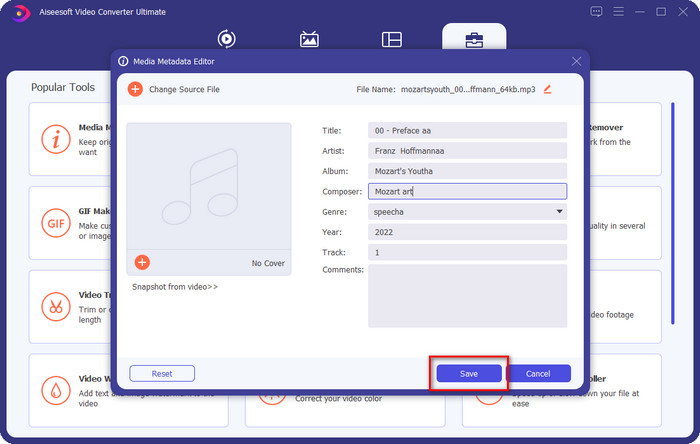 Part 3. FAQs about Editing OGG Metadata
Can I use the OGG file on Mac?
OGG files aren't supported on any Apple devices, but you can use a third-party app to play the unplayable OGG file on Mac. Want to know how? If so, click this link as we gathered the facts about OGG and how to play the OGG files on Mac easily.
Is OGG more popular than MP3?
Popularity-wise, MP3 is much more supported than OGG because it is much more flexible if we compare them. Both are good audio containers, and they have different audio strengths. But quality-wise, OGG is far better than MP3 but is less supported.
Can I record high-quality OGG?
Absolutely, yes, you can record OGG. But which tool supports the OGG format? If there is any, is it the best OGG recorder I can use? Well, all of these questions do have an answer if you've clicked this link and proceeded on reading it.
Conclusion
Amazing right? It is, with what can you do to edit OGG metadata with the solutions listed above. If you need one, these are the known solutions to solve your OGG file tags. If you don't believe in the information we have written here, you must try them both, and we can assure you success in editing the tags on your OGG. But if you want a pro tool to edit tags on your OGG, you must use the ultimate tool to finish the task. FVC Video Converter Ultimate is undoubtedly the best choice for editing any tags on any media type that you have. If you think that this is the right tool for you, we suggest that you read the steps we provided above to edit the tags easily.