Learn How to See Metadata on iPhone and iPad with Detailed Steps
Whenever you shoot a video or take a snap on your iPhone or iPad, there are small details that we didn't include, but they are on the file; these are known as EXIF files. The majority of the EXIF file or metadata does have an on-spot detail about the film you took. With these tags, you can know information such as the location, time, date, and other information that can become handy. So, if you want to know how to see metadata on iPhone or iPad, you can continue reading this article to know how to do it quickly.

Part 1. How to See Photo Metadata on iOS in an Easy Way
If you took a selfie or a snap using iOS, metadata is included even if you didn't add them on purpose. As we set a tutorial below, you are on the right track. To know how to see metadata on an iPhone or iPad photo, you must read.
Step 1. Open Photos on your iOS device to open it.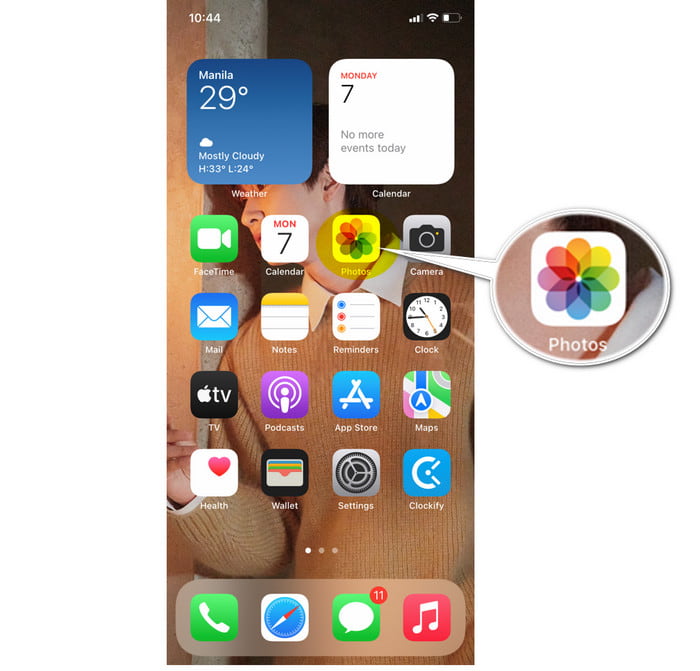 Step 2. Find the image you wanted to see the metadata.
Step 3. Tap the i icon to view the metadata, or you can swipe it up, and the tags on the images will show on your screen. You can also edit the tags available here, and they will automatically be saved on the image.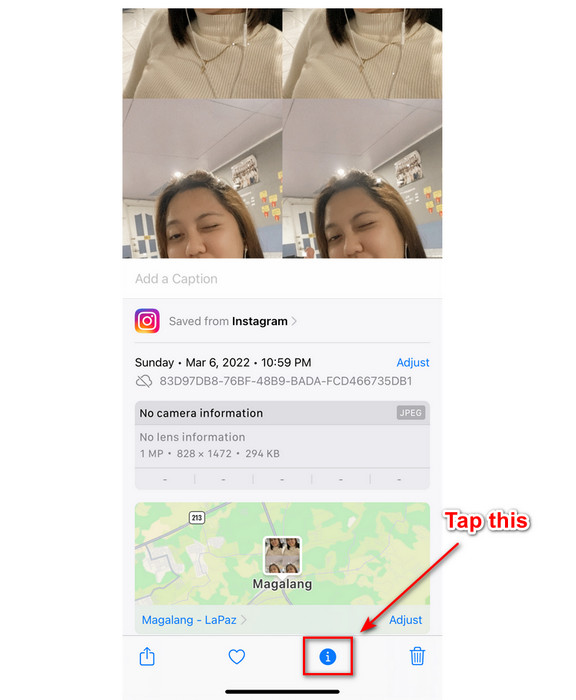 Part 2. How to View Video Metadata on iOS in a Simple Way
What if you want to view the metadata on the video you took on iOS devices? Then what should you do? By following the steps below, you can learn how to see metadata on iPhone and iPad, and you have a chance to edit the video's metadata.
Step 1. Tap the Photos to open it.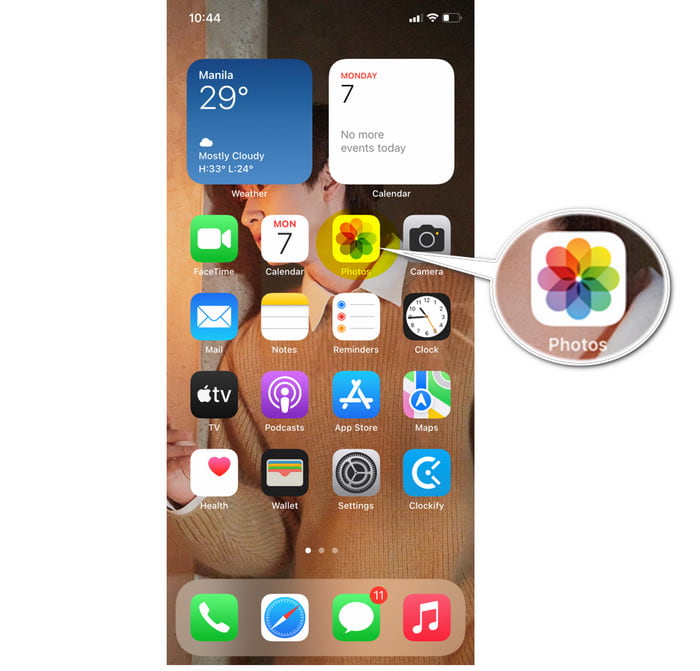 Step 2. On the Album, locate the video tap it to view it.
Step 3. Swipe it up to view the tags of the video file. Under it, you can edit some information on the video file. After that, it will save the adjustment you've made automatically.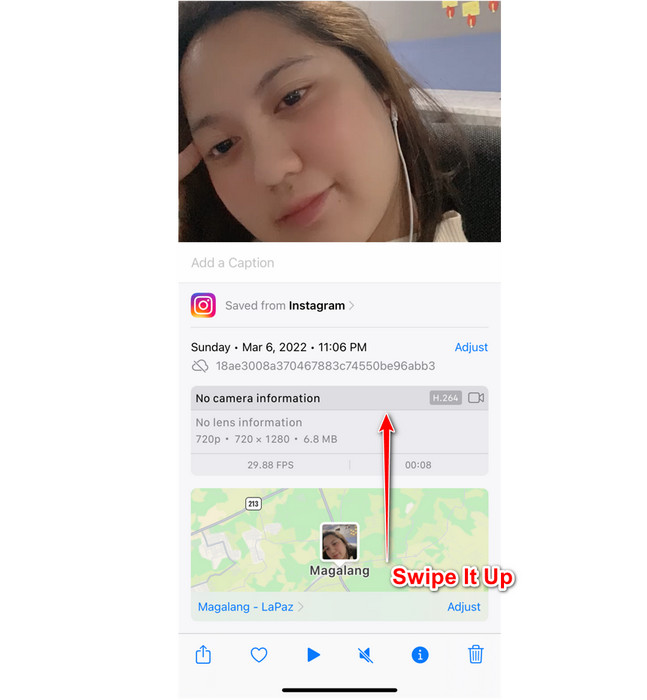 Part 3. Bonus Metadata Editor to Edit Metadata on Mac and Windows at Ease
We know that learning the iOS doesn't have a proper metadata editor to edit your file's metadata. So, what should you do if you want to add tags to your file? Luckily, we found FVC Video Converter Ultimate to help you fix it easily. With this tool, you can add more detailed metadata than what the Photos can offer to you. However, you will need to use a Mac or Windows desktop to use it.
Addition features are available on Toolbox, you can check them out, and all of these features are reliable to use for editing and other purposes. So, if you have one of the said operating systems, you can follow the steps below to successfully learn how to add metadata to the media file on your iOS device.
If you want to change or fix the metadata of your video file, you must transfer the file on your desktop first. After you import it into your desktop, you can now follow the steps below.
Steps on How to Edit Video Metadata with the Help of Ultimate Converter
Step 1. Click the download button to download the software on your desktop, follow the installation process, and click Start Now.
Step 2. Open the Toolbox and click on the list the Media Metadata Editor.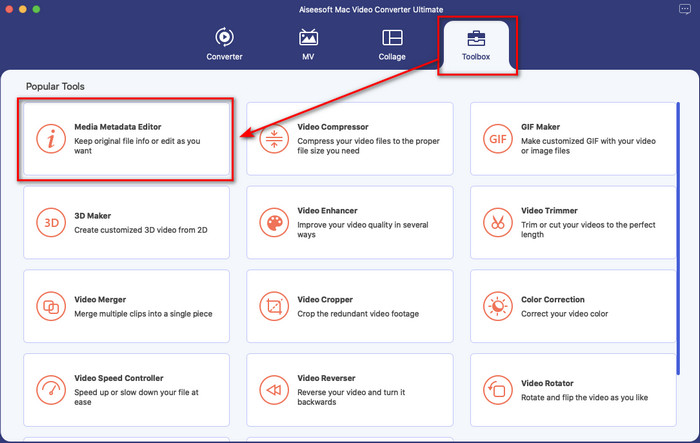 Step 3. New windows will show on your screen; click + to open the folder, find the video file you've transferred on your desktop, and click Open.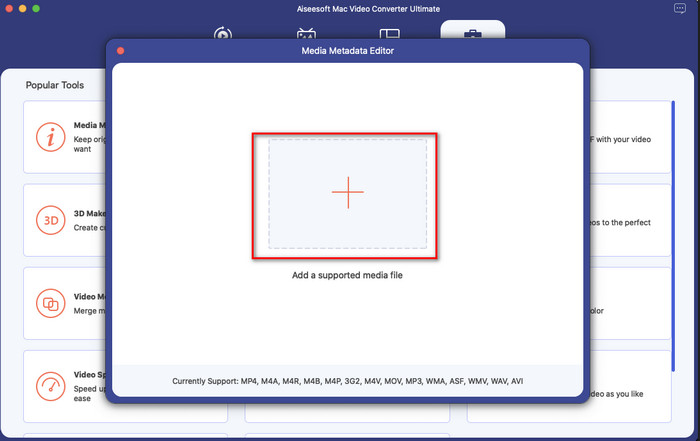 Step 4. Edit the metadata on the file you've transferred on the desktop. After that, click the Save button to apply the adjustment you've made earlier.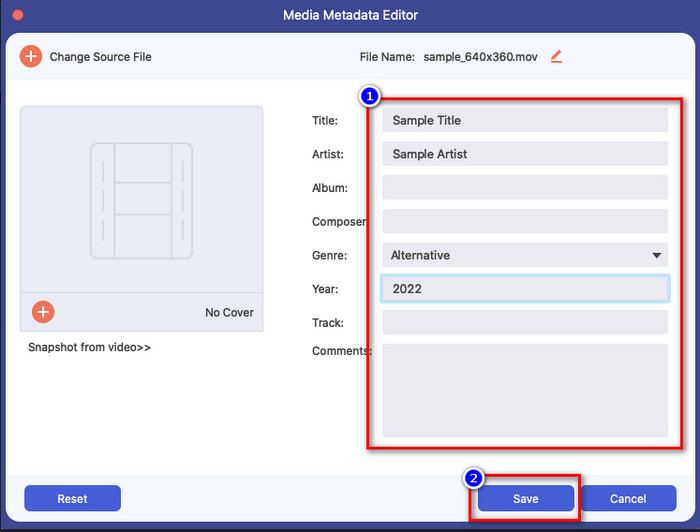 Pros
It is the best choice for editing media file tags on MP4, AVI, MKV, FLV, RMVB, TS, and 1000+ formats, including audio formats.
It supports simple and advanced video editing features to help you make your video look even more impressive.
It has an ultra-fast converting process and hardware acceleration to upload and download the file as quickly as a lightning bolt.
Other ultimate features like converting, MV, and photo-video collage are available for consumers.
It is available on any operating system such as Windows and Mac to download.
Cons
It doesn't support any mobile devices such as iOS and Android.
You'll need to purchase the tool to use all the fantastic available features.
Downloading the tool is essential.
Part 4. FAQs about How to See Metadata on iOS
Does the photo I took on iPhone have exact location data?
Yes, it has, but sometimes you will need to adjust it because the data location isn't correct all of the time. If you want to change the location data, you can go to Photo, select the image, swipe it up, click Add a location; on the search bar, type the location, and tap the location you want on the list. You can do it in both image and video if you need to change the location tag.
Does adding metadata on iPhone increase its size?
It will increase the file size; however, you wouldn't even notice the difference between the size of the original and the file with the metadata. But if you add a lot of information about your file, you will see that the file size will increase.
What are the tags I can add to my images using Photos?
There is one tag you can add to the image file, but you can adjust the time and date of it if you want to. Nonetheless, there aren't many things you can do to add or edit the tags using Photos. If you want to add more metadata to the file, you must download a third-party app to fill your needs.
Conclusion
All in all, the technique we taught are only available on iOS devices. Maybe this is new to you, but there are even more amazing things the built-in image library on iOS offers you; check them out if you want to know what are things we are talking about. Although the built-in app can edit or view the metadata, it is still not enough if you want to see or add more information to your file. Instead of reading other articles that will talk about a third-party app. Why don't you try to use the FVC Video Converter Ultimate and download it on your Mac or Windows to finish the task without breaking a sweat? You can add the important tags on your media files within a few clicks, such as authors' names, titles, comments, years, and many more. So, what are you waiting for? This ultimate software is ready to help you on this task safe and sound.