How to Merge MXF Video Files from Sony Camcorder with the Original 4K Quality
Q: "I have ordered Sony X70 right now to replace my Canon XF100 camera. With Canon XF100, I can use Canon XF Utility to merge all the MXF files with fast speed. Is there a similar software to merge MXF files created by the Sony X70?"
When you use the 4K-mode to take videos with professional cameras like Sony XDCAM (including Sony X70), Canon XF305, and Panasonic AG-HPX500M, the video files will be saved in MXF format with high quality. But most of the video joiners do not support MXF files. Here are the most frequently used MXF combiners you should know.

Part 1: How to Merge MXF Files Free Online
If you simply join some large MXF files without size limitation, FVC Free Online Merger is a versatile method you can take into consideration. It enables you to upload videos in multiple formats. Moreover, you can produce an impressive video with no watermark added.
1. Put MXF video files side by side online without any size limitation.
2. Merge multiple MXF video files into MP4 format in 1080p resolution.
3. Configure and adjust the resolution settings with various presets.
4. Protect privacy to remove the uploaded MXF within 24 hours.
Step 1: Head to FVC Free Online Merger and click the Upload Videos to Merge button to install the browser plugin, and choose the MXF files you want to join.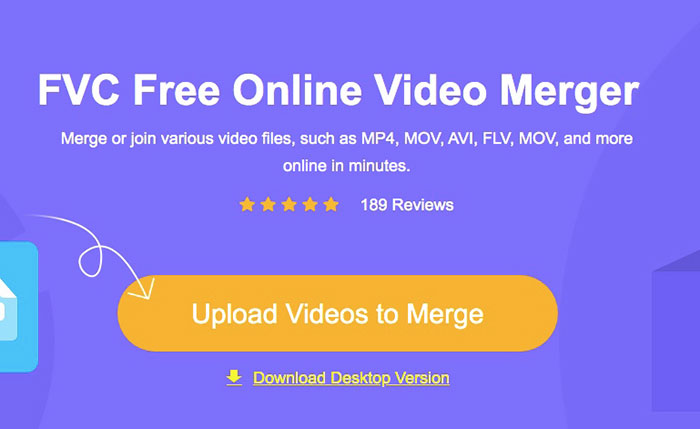 Step 2: Click the Plus icon to insert other MXF files in the desired order. Then choose the MP4 format to ensure the videos can be uploaded and played smoothly on YouTube. To keep a high quality of videos, you can choose the 1920*1080P resolution.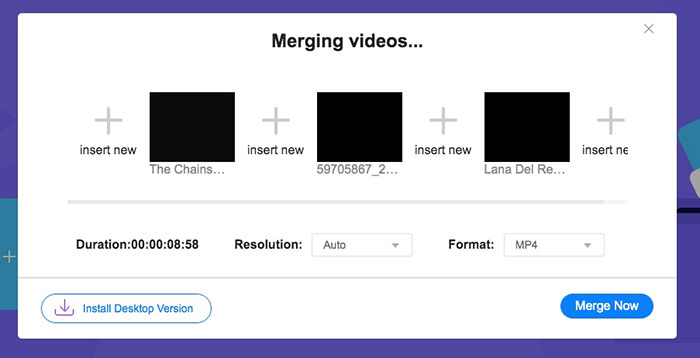 Step 3: After that, you can set the path to save your combined videos to the computer and click the Merge Now button at the bottom right corner to start joining MXF files automatically.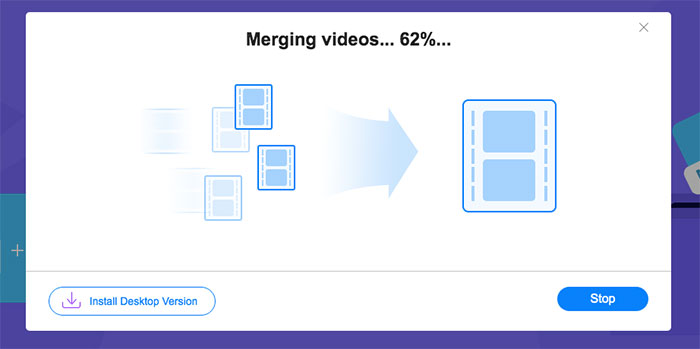 Part 2: How to Join MXF Files without Original Quality
When you need to preserve the original 4K-quality of MXF videos to create movies or televisions, FVC Video Converter Ultimate is a versatile way to combine video files, including MXF, MKV, MP4, and more. It enables you to trim the desired part, compress the file, and convert it to another video format. Moreover, it enables you to join MXF files with 1080P or 4K-resolution.
1. Combine different video formats, including MXF, MKV, MP4, and more.
2. Provide 4 methods to upscale resolution, remove video noise, etc.
3. Tweak the video resolution, bitrate, frame rate, and other parameters.
4. Convert the combined video to another video format for social media sites.
Step 1: Download and launch Video Converter Ultimate. Click the Add Files button to choose all the MXF files you want to merge. You can also drag the files into the software. If you want to adjust the order, just pull the videos and release them in the right order.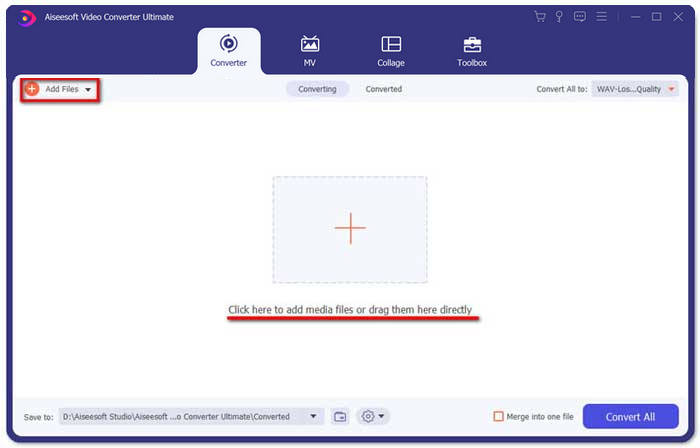 Step 2: After that, you can click the Convert All to button and find MXF format in the video line. Choose the 4K or Same as Source button to keep the original high quality. Moreover, you can also upscale the video resolution according to your requirement.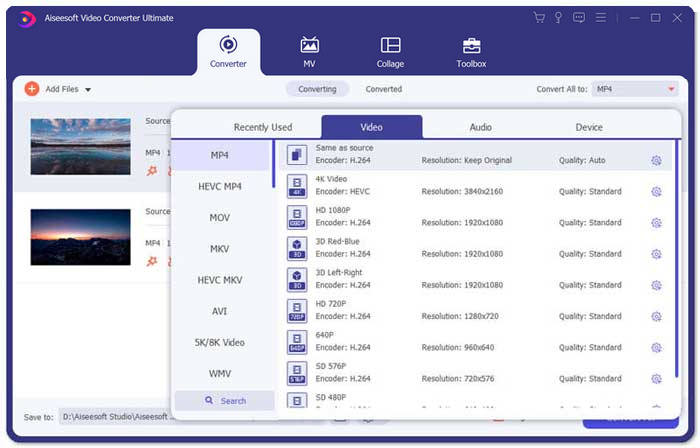 Step 3: After choosing the desired storage path, tick the Merge into one file box and then click Convert All button to combine MXF files. Once you have merged the videos, you can save the files to your computer or share them on social media websites.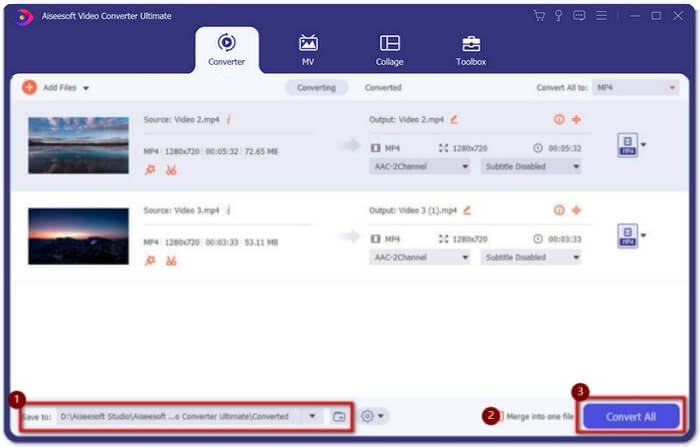 Part 3: FAQs for Merging MXF Video Files
1. What is MXF?
MXF is the abbreviation of Material Exchange Format, which is a professional audio and video media format. The videos taken by professional cameras in 4K-mode are always in MXF format, so it is often used to produce and edit videos in the film and television industry.
2. If I want to merge MXF videos for YouTube, which format should I choose?
MXF is too large for YouTube, you'd better choose to merge MXF files into MP4 to keep a relatively high quality with a small size. Moreover, most of the devices and players support playing MP4 videos.
3. Can I play MXF video files with QuickTime player?
Yes, you can. Although it's an uncommon format, some video players can support playing MXF videos including QuickTime on Mac and Zoom player on Windows. If you can't play MXF videos, you can try to convert the MXF files to some common formats like MP4, and AVI.
Conclusion
To combine MXF video files taken by professional cameras, you can find the most frequently used MXF joiners from the article. If you only want to upload these merged videos on YouTube, using the free online joiner is the best choice because it can help you merge MXF files into MP4 with smaller sizes. However, if you'd like to create a professional movie or television, you should choose the Video Converter ultimate to keep the original 4K-quality.