M4V Tag Editor on Mac & Windows to Edit M4V Metadata [Trouble-Free]
M4V files are protected with Apple FairPlay DRM to avoid users from illegally distributing the file on the web. So, if your .m4v is secured, then what should you do? Can you still be able to edit the tags of protected M4V? Fortunately, you can. Want to know what tools to use? In this article, you will learn the different M4V tag editors on Mac or Windows you can use to change your M4V files' metadata effortlessly.

Part 1. Top 2 Picks M4V Tag Editors for Mac OS
As we are browsing on the web, we saw the possible tools you can use to change the tags of your M4V that are available on your Mac system. If you want to know the best two tools you can use, read the following details below if you are a Mac user.
iFlicks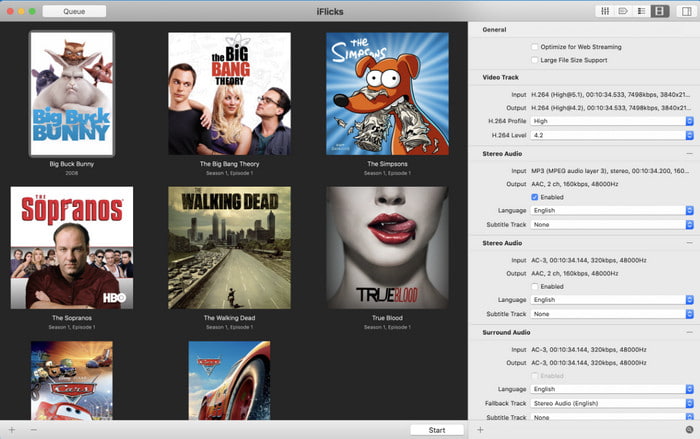 Operating System Available: macOS 10.13.2 or later
Price: $9.49– $18.49 for a year
iFlicks is a complete converter and M4V tag editor on Mac. This tool allows iTunes users to look better by arranging the TV show and movie according to your metadata. Also, it can automatically fetch the tags of your M4V files available on iTunes, so you won't need to add them manually, but you can also override the data on your own. Although the tool is convenient, sometimes it can be complicated to get used to. So correcting or finding the proper tags might be difficult because of the small search window it displays. Also, you will need to subscribe to the software after the trial ends.
Subler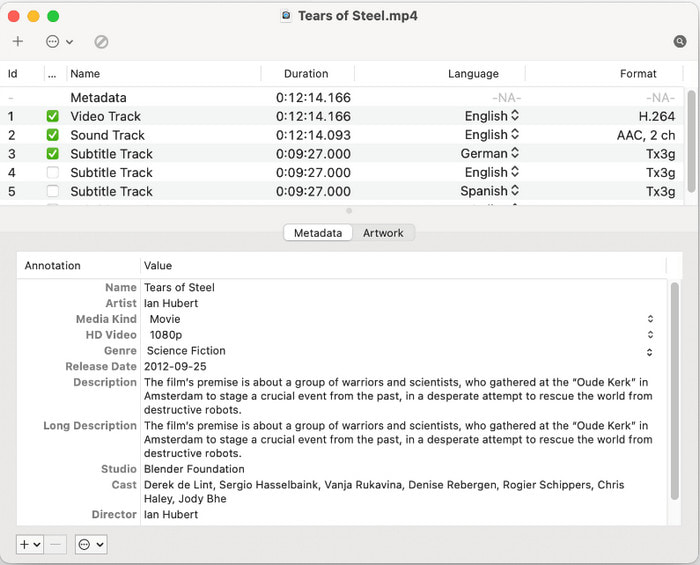 Operating System Available: macOS 10.11 or later
Price: Free
Subler is another m4v tag editor on Mac used to remove or edit the metadata of your M4V files then save it again. This tool is a demuxer and transcoder; it can quickly help you on any Apple-related format depending on how you use it. Before, this tool was a subtitle adder, but the developer decided to add new features because of the high demand for solving the common problem. Even though the developers added new features, they still didn't improve the GUI experience on the tool. It is, as it is, an un-customizable GUI, but it is straightforward.
Part 2. Top 3 Picks M4V Tag Editor for Windows OS
If you are a Windows user, this task is still doable for some metadata editors on Windows. But what are the tools that support the M4V format? Continue reading the list below to grasp the full details we accumulate as we search, choose them carefully, and review each one of them.
FVC Video Converter Ultimate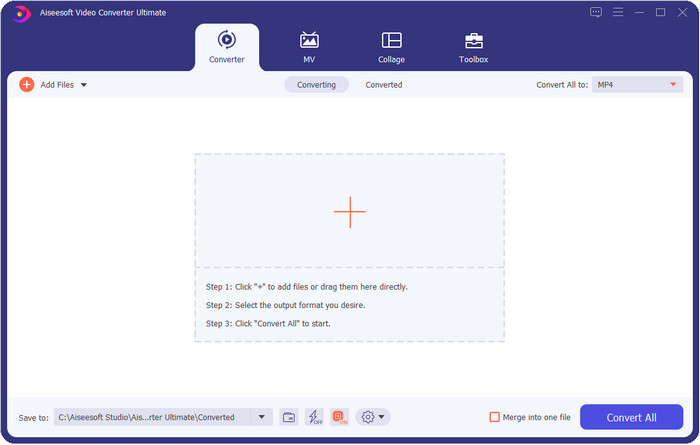 Operating System Available: Windows Vista/7/8/8.5/10/11 and above; macOS 10.7 up to the latest
Price: $ 25.00 for a year; $ 55.00 for lifetime
FVC Video Converter Ultimate is an award-winning M4V metadata editor on Windows and Mac that can offer you to handle the metadata effortlessly. Although the tool is a bit costly compared to the other software, it is still the powerful tool you will need with the complete and multi-purpose toolbox you can easily use. In addition to that, it supports ultra-wide range formats, so there is no need to worry because your format is supported here, whether it is video or audio. There is no need to download different tools to edit the metadata, convert the file, and do another editing because all video-related problems have one solution: the ultimate tool.

FVC Video Converter Ultimate Features:
5,689,200+ Downloads
Quickly fill or remove the tags on your M4V, MOV, MKV, AVI, MP4, and 1000+ formats.
It supports a reliable toolbox to help you trim, cut, enhance, make GIFs, etc.
It has the best and most customizable GUI to help the user's experience.
It supports all operating systems such as Windows and Mac.
Tag Scanner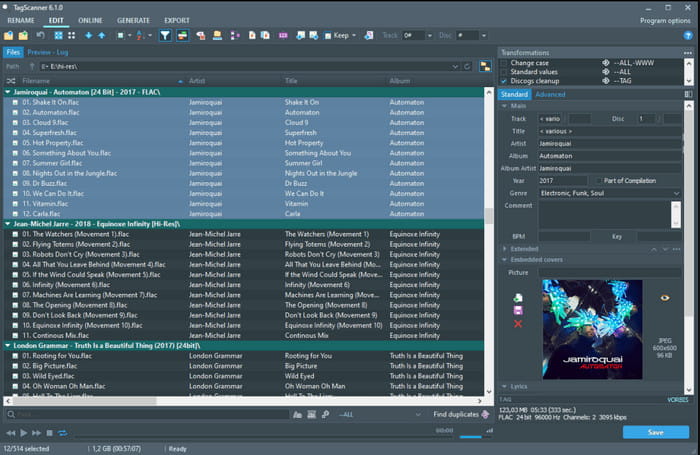 Operating System Available: Windows Vista and up
Price: Free
Tag Scanner is another popular m4v metadata editor on Windows you can download and use freely. This tool allows you to experience an easy way of editing the tags of your files individually or batch. It is an ideal app to take control of the metadata such as the name, album, genre, time, date, and others of the supported media file. However, before you get the hang of the tool's function or how to use it, you will need to spend a lot of time since it has pretty advanced functions.
Avidemux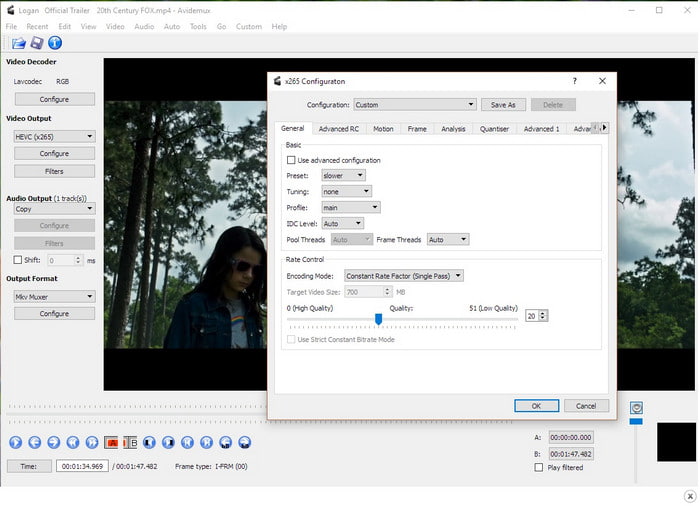 Operating System Available: Windows XP/7/8/8.5/10, macOS, Linux
Price: Free
Avidemux is one of the known M4V tag editors to edit m4v metadata available on different platforms. It is an open-source software developed by SourceForge to help their frequent users with their daily task of editing, like metadata. Although it has all-out functions and features, it still supports the most basic editing that you will need on your media file. Also, the format it supports is limited, and even the other latest format isn't supported here. Nonetheless, it is still in the stage of improving, which means that the tool will keep on getting better and better in the long run.
Once you've accessed the tool on the main website, keep in mind that your connection isn't secured, so your someone can access the personal information you've inserted on the website.
Part 3. FAQs about M4V Tag Editor
What is the information I can see on metadata?
Metadata is the information you can find on the data, such as the author's name, title, location, time, date, genre, chapters, and many more. If you want to know more about the metadata, you can click go to this and learn more about what metadata is.
Can I view metadata?
Yes, you can, whether you want to use the built-in metadata viewer on your Windows or Mac or instead want to use a specific tool. If you don't know what you should use to view the metadata of your media file, then read these top 4 metadata viewers available online and offline.
Can metadata help me organize the files?
Yes, you can arrange the media files according to the metadata. So, if you want more organized files in your library or folder, we recommend that you change or add metadata to avoid the messed-up files on your folder or library and confusion.
Conclusion
Isn't it amazing that there are different M4V metadata editors on the market? You can download all of these tools if you want to and adjust the metadata of your M4V files. But which is the best? Without a doubt in our hearts, the FVC Video Converter Ultimate is the best and most potent editor you will need in this task. Are you still not convinced with the information we provide in this article? Well, you must download the tool and have hands-on experience with the tool.