4 of the Best Photo Animation Makers You Can Use to Make Animated Images
On this day most of the social media sites are already using a GIF instead of the old still image. Because GIFs are appealing in the eye of the users and it delivers a much better message compared to images. So, if you want to know what are the accessible photo animation makers you can use then proceed on the list below. As we search for the best maker you can use to add animation movement on the images.

Part 1. Best Photo Animation Maker Software
In this list we already put this at first because it is the phenomenal editor you can use, the Video Converter Ultimate. So, if you want to make animation from photos you can easily make it here. Moreover, this desktop software can bring any image to life with its advanced features you can use even if you are pro or not. The overall experience when we try this software so far is the best compared to the other online or offline. So now, if you want to know how to bring your simple images to life then follow the steps indicated below and proceed.
5 Easy Steps to Bring Images to Life with the Video Converter Ultimate:
Step 1. Firstly, click the download button below and choose what OS you are currently using. Install the software next, do the set-up quickly, and click Start Now to proceed.
Step 2. Open the software and go to the Toolbox to locate the GIF Maker.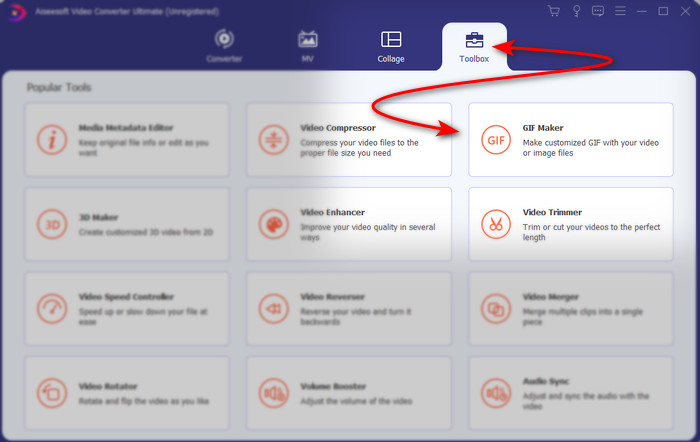 Step 3. Click the Photo to GIF option then a file folder will show next to your screen. Choose the file and click Open to insert it.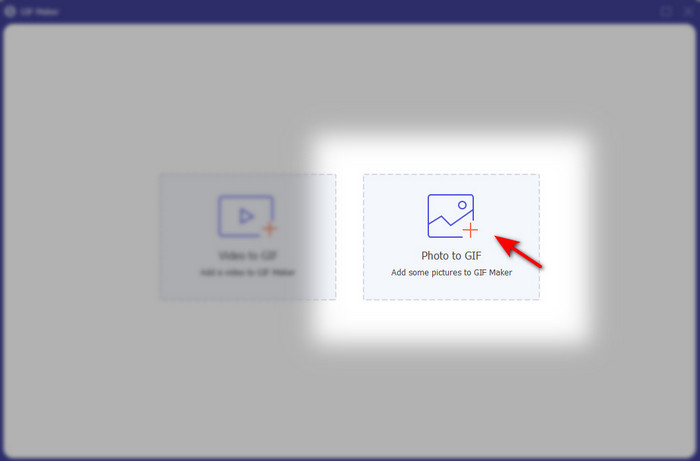 Step 4. Click the + button to insert more images to make animation from photos. Then set the duration by clicking the image first and then clicking the Change Duration button. After that, press Apply to save the changes. To download the animation, click Generate GIF.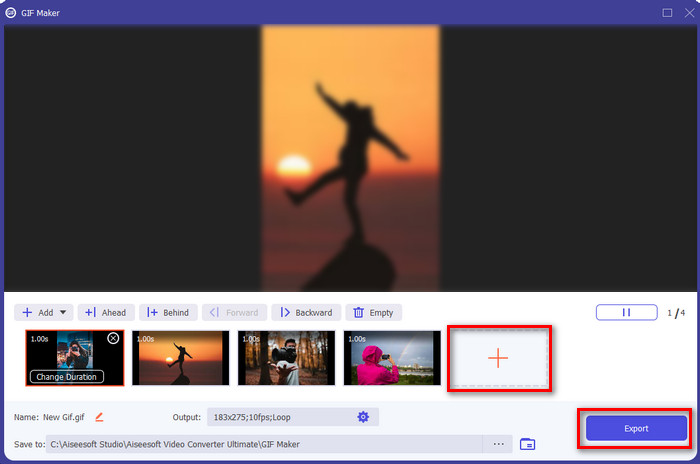 Step 5. After generating the GIF, a folder the animated GIF file will show on your screen. Click the file to watch the animation you've made earlier.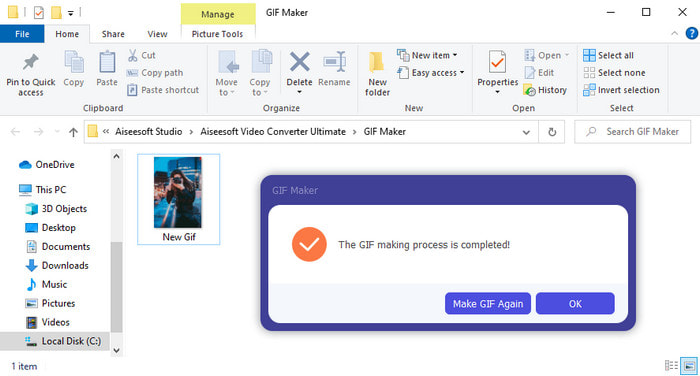 Part 2. Top 3 Free Online Animated Photo Maker
Top 1. Ezgif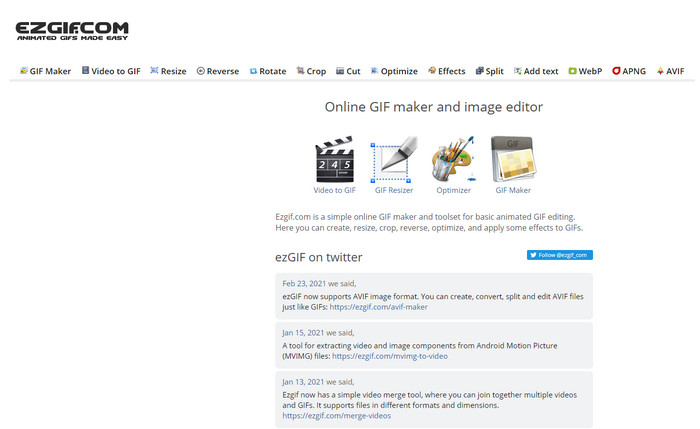 If you're looking for an animated photo maker online free then Ezgif must be it. This webtool is the best in the line of making a magnificent animated photo. And if you like creating one, then there is a chance that you've already used this online tool so if you haven't encountered this tool yet then it is a must to try it. However, some of the users find this tool lacks in some of the futuristic editing features they would love to use. So, if you are on a tight budget then this is a choice but remember that this tool is not the best choice for pro's and for starters it is great.
Pros
Easy to access and it is safe.
Perfect tool for beginners who want to try making simple GIFs.
Semi pro editor online tool.
Cons
It limits its user to experience greatness.
Internet dependent tool. So, if you don't have internet then expect that you can't use this online tool.
Top 2. Kapwing
Unlike Ezgif, Kapwing is the best at improving the visual on the images. So, if you intend to use this online tool then learning how to make animated GIFs from photos will surely help you. The performance, accessibility and flexibility of the online tool is great to be used by anyone who has a small idea on editing. However, uploading and downloading image files here will take a lot more time than the other web tool. Also, watermark is included in the final output although you can remove it by signing in on the tool.
Pros
It has a lot of major editing features compared to Ezgif.
Free online tool that can be accessed by anyone who has the internet.
Interface of the online tool looks elegant and neat.
Cons
Final output will always be going to have a watermark on the lower left side.
Not the best choice for who just started on editing GIFs.
Top 3. GIFMaker.me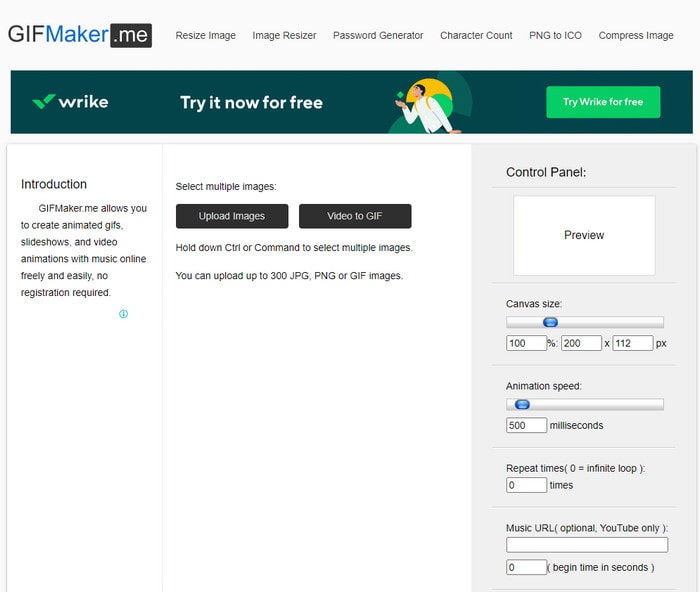 Another photo animation maker online that you can access for free, GIFMaker.me. This webtool is very convenient to those who don't have experience creating GIFs. Because in this tool you can just simply insert a bulk image and it will turn into a transitional GIF. However, this tool is the least favorite in this article because of its lack of editing features to make impressive GIFs. Although it lacks editing features if you just want to create a slideshow image then this must be your go to.
Pros
No cost GIF maker you can use on the web.
Interface of the maker is simple and easy to understand.
Simple control panel is available on the right side of the online tool.
Cons
Pesky ads are on the web interface.
It lacks most of the editing features you would love to use.
Part 3. FAQs about Photo Animation Maker
Can I use animated GIFs as wallpaper?
You can't use a raw animated GIF and use it as a background on your phone or computer. However, you can use a third-party tool to make it work. So, if you want to know how to do it then click this link to proceed.
Why can't I share GIFs on Instagram?
Although GIFs are the most used format on the entire web still some platforms don't support GIF. Because Instagram only supports PNG and MP4 format. So, there two different ways on how to share GIFs on Instagram the first one is to convert GIF to MP4. On the other hand, you can learn different methods on how to post GIFs on Instagram by clicking these links provided.
What is the purpose of the GIF?
GIFs are made to be used to animate images but in a smaller file size compared to the other video format. Although it is animated, GIFs or Graphic Interchange Format are not considered as a video format. And in that case, you can learn a lot about GIFs. if you click and read this article thoroughly.
Conclusion
To sum up all the details above, it is now easier for the both of us to know what are the available animation makers we can use to make animation from photos compiled. Although the tools presented above are great help still the Video Converter Ultimate is the dominant GIF editor you would love to use. Because it is very easy to use, the interface is great, all of the advanced features are available here and more. So, if you have a doubt on this tool then see it for yourself by downloading it first and follow the indicated steps above.