Top 6 Reverser Software You Can Use to Reverse Video on Windows and Mac
Reversing a video can create a new message that can make its audience think or amaze. This video effect has been used to make a video interesting and deliver a message in a different way. A lot of music videos like Breezeblock by the Aljt have been uploaded in reverse video on YouTube. So, to know more about how to reverse videos then follow this guide. As it helps you to do the reversing of video easier than ever.

Part 1. Top 1 & 2 Offline Software and Learn How to Reverse a Video on Windows & Mac
Top 1. Video Converter Ultimate
A lot of video editing has been up there who wants to dominate but the phenomenal converter is still the best choice. Video Converter Ultimate has already been used and helped a million of users in regards to their problem like, how to reverse a video. This tool lets you do the editing on your own but with the touch of a professional. Although you don't have experience in editing this tool is the best for you, even if you already have experience. Also, a lot of editors don't have the same advanced features this software can provide to you. So, if you want to know more about this software then let's dig in to the steps below and let's follow it correctly.
Step 1. Download the software first on your hard drive then Install and follow the set-up process.
Step 2. Then launch the tool and on the Toolbox find the Video Reverser.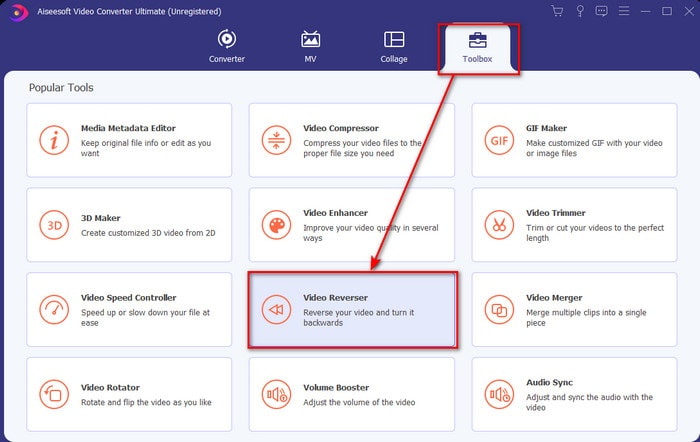 Step 3. Click the + and choose the video you want to be reversed on the folder. Then click open to proceed to the next step.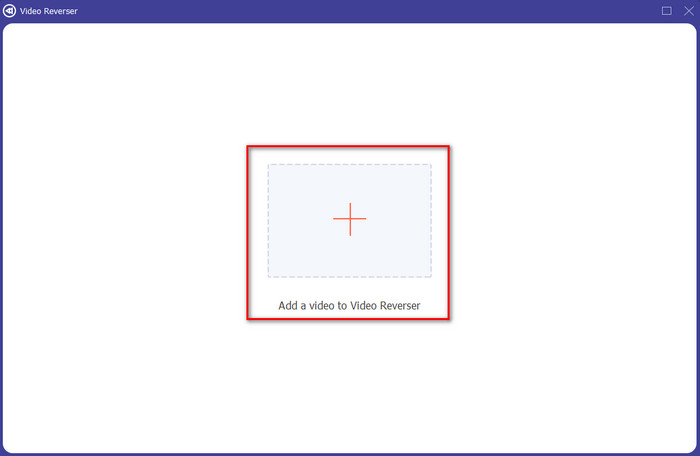 Step 4. Then adjust the length of the video by moving the playback in and out. To download the reverse video, click the Export.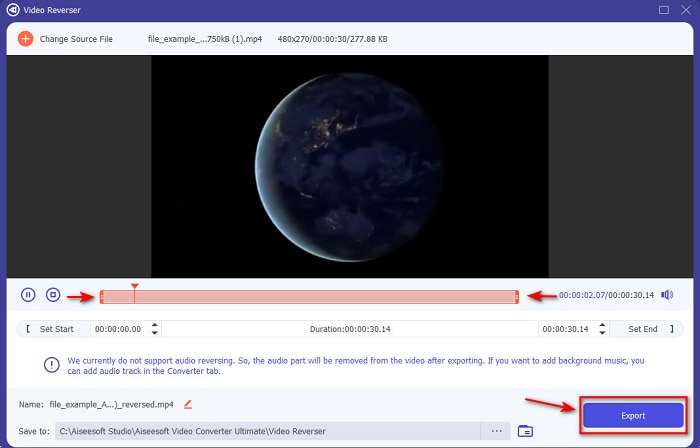 Step 5. Wait for a couple of seconds to finish exporting, after it is done. You can now re-watch the video, by clicking the reversed file in the folder. And enjoy the no-delay reverse brought to you by the Ultimate Converter Ultimate.
Pros
Professional final output can be easily executed if you use this tool.
It has a lot of amazing features to make your video phenomenal.
Unlimited reversing can be done in this tool.
Cons
Needs to be downloaded first before you can use it.
It is not for free but it is worth it if you buy this phenomenal pro tool.
Related:
Top 2. Easy Video Maker
Easy Video Maker is a handy tool you can use that has some medium video editing you will need. Also, you can use this tool to make your video better in visual as it supports transition, effects, merging and more. However, the tool interface looks like it came from the 90s as it looks too old. Also, the tool is hard to use in creating and editing a video but the performance of it is great. And the format this tool supports for the final output is MP4. So, if you want to use this tool then follow this step below.
Step 1. Download the Official Easy Video Maker on the web.
Step 2. Then launch the tool, click the add button and Import/ Add Video. Drag the file to the Timeline and right click the video. Click the Reverse Playback to reverse the video.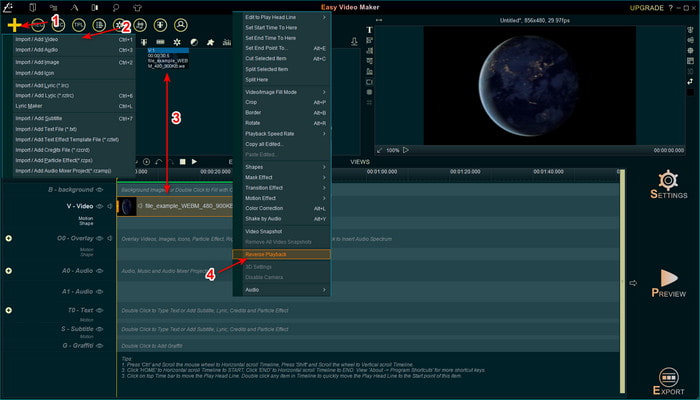 Step 3. Press the Export to save the file to your drive.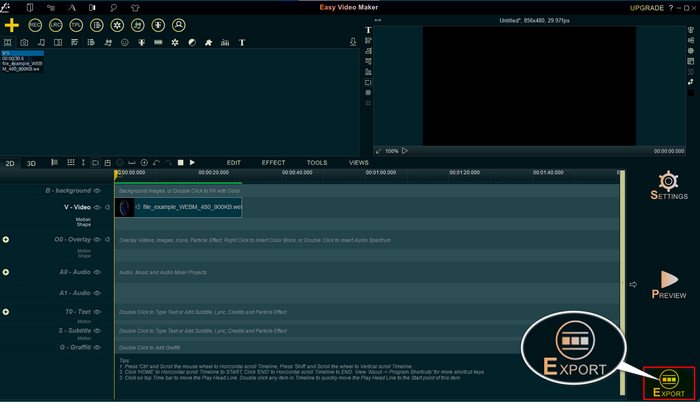 Pros
The tool is free to download.
It supports medium level editing you will need.
Learning how to use this will take some time but you will get used to it.
Cons
Launching the tool loads a lot longer than expected and the interface of it looks too old. Not retro feels but literally old.
You can't export more than 5 minutes of video to its free version.
Part 2. Top 3 & 4 Online Tool to Reverse a Video
Top 3. Ezgif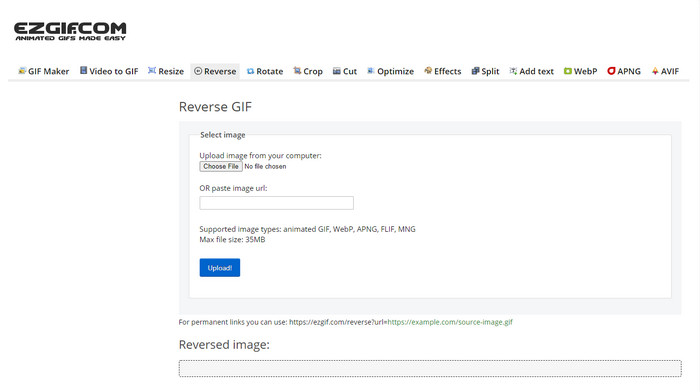 Ezgif has a feature you can use to reverse clip for free online. Also, it has other editing features like making GIFs, resizing, crop, optimize and more. However, if you try to insert a file size bigger than 35mb in the web tool. Then expect that the tool wouldn't allow this to be reversed because it is too big to be reversed. So, if you're intending to reverse a long video then this tool is not the best choice because it has limitations. But the performance of its reverser is great to be used on reversing clips for free.
Pros
No need to download it on your desktop.
Flexible and efficient.
User friendly.
Cons
It limits your reversing into 35mb only which is a super small to be used.
Downloading the reverse file into your drive takes a lot more time than expected.
Top 4. Clideo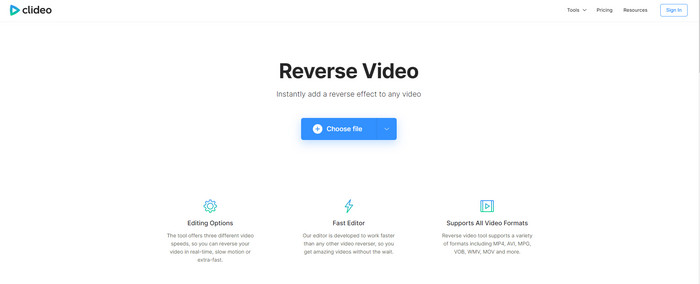 Another online tool you can use to rewind video is the Clideo. The visual appearance of the tool is very minimal but it is great. The overall look of the tool is neat than the Ezgif and it looks more professional. But as they say, don't be deceived by its look, the upload of the file here is super slow especially if your file is greater than 40 mb. So, because of that make sure you have a lot of spare time and patience waiting just to upload the file first. However, it supports a lot of editing features you can use to make your video better for free.
Pros
Free to be used by anyone who has an internet connection.
The web user interface is generally great.
Amazing editing features are available.
Cons
Uploading and downloading the video to reverse will take a lot of time than expected.
A huge watermark is included after you export the reverse video.
Part 3. Top 5 & 6 Apps to Reverse a Video on iPhone/Android
Top 5. Reverse Video: Play Backwards 4+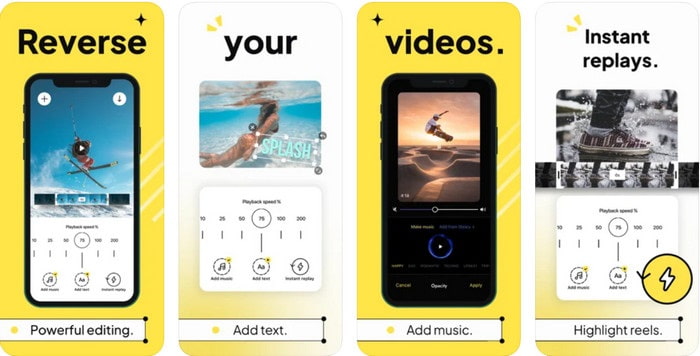 Reverse Video: Play Backwards 4+it is only available to every iOS user, it is used to edit backwards video. The interface of this app is simple to understand, also you can add text and music as background. Although you can download the tool for free, a lot of reviews in this app say that this tool is a money-scam. Also, they experience that they are forced to make a 5-star review on the tool to access the tool features. However, if you want to try this for yourself then expect nothing great because this tool is not the best choice for reversing.
Pros
It already achieves 4.5 stars in rating.
Video reversing in here is good to be used.
Cons
Most of the reviews here aren't talking about the app. And most are repetitive that talks about nonsense.
It takes forever to just load a single file.
The video quality exported for free is bad.
Top 6. Reverse Movie FX - magic video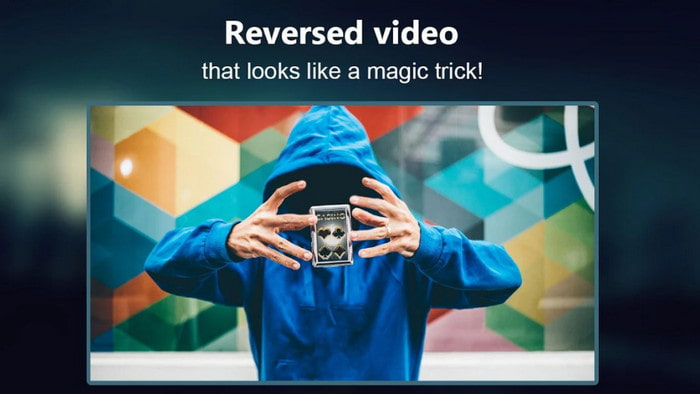 Reverse movie with the help of this Android app you can download on Play store, Reverse Movie FX - magic video.Already used by a lot of users who love making reverse film, it also has a loop and background music support. Although the tool seems flawless, the video quality of the output file became less. Basically, if you reverse 1080 video then expect to have 720 or less. Also, it contains ads on it so beware because some are popping out of nowhere. Moreover, reversing in here is easy and better than the Reverse Video: Play Backwards 4+.
Pros
It is great to create a reverse clip, film or video on your phone.
Easy to understand user interface.
4.5 stars in app reviews.
Cons
The app has a lot of popping ads out of nowhere.
Minor and major bugs are still in the app. For example, if you try to reverse a video sometimes it says error.
Part 4. FAQs about Reverse Video
What is the difference between invert and reverse?
Invert focus on turning something into a different side or other position; it could be upside down or inside out. For example, if you invert the number 12 the result will be 21. While reversing is from one direction going back to the original direction. For example, if the clock is on reverse it will count to 12, 11, 10, 9, 8, 7, 6 and so on.
Can the rewind video effect be used as transitions?
Yes, instead of using a good 'old animated transition, why don't you try and explore the art of rewinding video. Just by adding reverse on it can be very effective especially if you are not so experienced in editing video. And just by using this as your transition you can make a great video that can make other people astonished, even you. Then add music in the background as a finishing touch to make it more fabulous.
Can I watch a video in reverse on VLC?
Yes, you can already watch reverse clips, film, or any type of video on VLC. But if it is not pre-made or should we say it is not already in reverse when you play it there. Then it's sad to say it doesn't support playing videos in reverse. So, before you play it on VLC then reverse it with the help of the tool in the list.
Conclusion
As a result of your patience in reading and following the steps in this article diligently on how to reverse a video. You now have the knowledge and capabilities to do your own reversing. So, you must now choose the best reverser software to achieve the greatest effect to make your video outstanding. And before anything else, the best reverser in this list is none other than the phenomenal Video Converter Ultimate. So now, this is the right time to download it, try, and do the reversing effect on your own here.