How to Speed up Video in Many Ways Possible Using iPhone
You're going to create the best music video in your school project, and you want to portray a life cycle scene. You want to fast forward the whole music video by increasing the playback speed and executing the transition of young to adult cycle properly, but you only have your phone to make it possible. You only have an iPhone - to be exact - to increase the playback speed and edit the whole music video. However, iPhone is famous for its restrictive approach in downloading applications because some of its apps need to purchase the entire version to have full access. Continue reading this article for you to understand how to speed up a video on iPhone deeply.

Part 1. Best Way to Speed up Video on iPhone
Previously known as iPhone OS, iOS is an Apple Inc. mobile operating system developed solely for the company's hardware. It is also known for its exclusivity in downloading applications, unlike Android. However, iPhone offers other applications that can edit and customize a video clip and are available on its operating system. Some of these applications can also control the playback speed; talking about the iPhone video speed control, these applications are accessible to use and free to download on any iOS device. To know further about video speed control on iPhone, here are the steps embedded below:
Method 1. Use iMovie to Speed up Video on iPhone
You can create Hollywood-style trailers in 4K resolution with iMovie on your iPhone. After you've edited all of your videos, you can go ahead and add animated titles, music, and other finishing touches like filters and effects. Apple's iMovie software makes it easy to tell your story in a polished, professional manner and then to share your work with friends and family. iMovie offers features that can improve your video quality with its various templates and finishing tools available; It also introduces its ability to control the playback speed to iPhone. Since most of the editors need to give importance to the issues presented, here are the steps to follow to achieve your desired speed using this tool in iPhone.
Step 1: Launch the iMovie app on your iPhone or iPad. If an interface overview appears, select Continue. To begin a new video clip, go to the Projects page and tap the + plus sign icon. Go to the New Projects window and select Movie to continue.
Step 2: Click Create Movie at the bottom of the screen after selecting a video from your camera roll. The speed tool resembles a speedometer, and can be found by tapping the video clip in the timeline and waiting for the editing tools to appear before using them. Simply move the yellow bottom Slider to fast-forward or rewind your video footage. You can speed things up by up to two times or slow them down by an eighth of what they were original.
Step 3:If everything is settled, click Done at the upper left corner of your phone's screen. To save your finished video, click the Share button at the bottom of the screen and select where you want to keep it.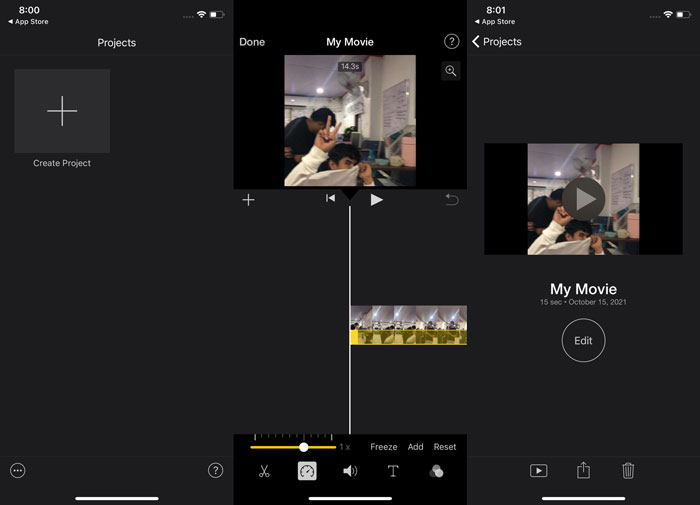 Method 2. Use Videoshop to Speed up Video on iPhone
When it comes to video editing software, there are few better options than Videoshop. Using it, you can quickly edit your video by adding effects such as music, voiceover, text, and images. You can also quickly apply stunning filters to your videos, create photo slideshows, and edit, merge, copy, paste, rotate, and flip your videos. Moreover, you can also quickly adjust the video playback speed to create fast-motion or slow-motion videos using this application. With just easy steps, you can now change the playback speed of your video until you achieve the desired speed for your video. To learn more about how to speed up a video using Videoshop on iPhone, here are the lists that assess steps to follow so that you can use it at ease.
Step 1: When you first open the video editor on your iPhone, you'll be given the option of recording a new video or importing previously stored video. Make use of the video editor, and a new interface will appear once you've added a video file to the editor window. In the video editor's lower section, there is a Toolbar with numerous tools. Swipe or click your screen left and right within this toolbar. Once you've selected Speed, you'll be presented with a video speed control menu.
Step 2: Using this video editor on an iPhone, you can easily change the speed of your video. The video playback can be slowed down or sped up by dragging the Speed Handle to the left or right. To preview the change, press the Play button. You can then adjust the video speed again until you're satisfied with your customized video.
Step 3: Save your work by clicking the Done button in the upper right corner.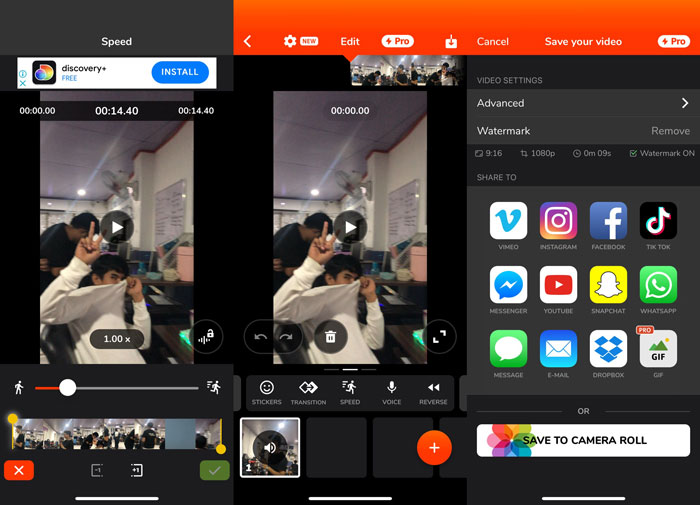 Part 2. Alternative Way to Speed up Video on iPhone
If you're struggling to digest all the steps from the previous tool, this article presents an alternative that helps on the issue of how to speed up video up to 2x in iPhone. You're not that familiar and used to using iPhone as an editor of your video, especially when you want to increase the playback speed of your video. Video Converter Ultimate will be the best alternative you need to consider, enabling you to speed up your video permanently. Download and use Video Converter Ultimate as a speed controller for your videos.This software consists of numerous features and tools that can improve your editing skills. It also consists of a Video Speed Controller tool to mend the problem every iOS user has. With this tool, you can now adjust the speed of your video at ease and can produce a good quality of the video. In addition, it can convert the rate of your video in just a few seconds, thanks to its fast conversion process. All in all, this software functions professionally with the friendly user interface it presents.Since this alternative way is software that you can only access on your computer, you need to learn how to transfer video from your iPhone to your computer to accomplish this alternative way.
1. To begin, use a USB cable to connect your iPhone to a PC.
2. Open the Photos app on your PC by clicking on the Start button and then Photos.
3. Follow the on-screen directions after selecting Import from a USB device. You have complete control over what you import and where it is saved. Give yourself some breathing room while the detection and transfer processes take place.
Now you can follow the steps below to speed up your videos on your iPhone.
Step 1: To run the software on your computer, you need to download it first by clicking Free Download at the include button below. After downloading it to your desktop, you can now install it and click Start Now to end the installation.
Step 2: After installing the software, try to launch it, and you will see the converting phase on the main interface of the software. Then, navigate the Toolbox feature. From there, you will see different featured tools the software has, and to adjust the speed of your video, select Video Speed Controller.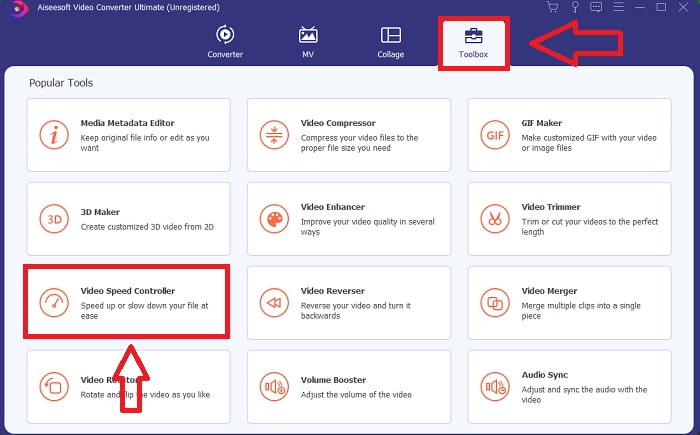 Step 3: Another tab will appear on your screen after you proceed. Start the process of editing by pressing the + sign.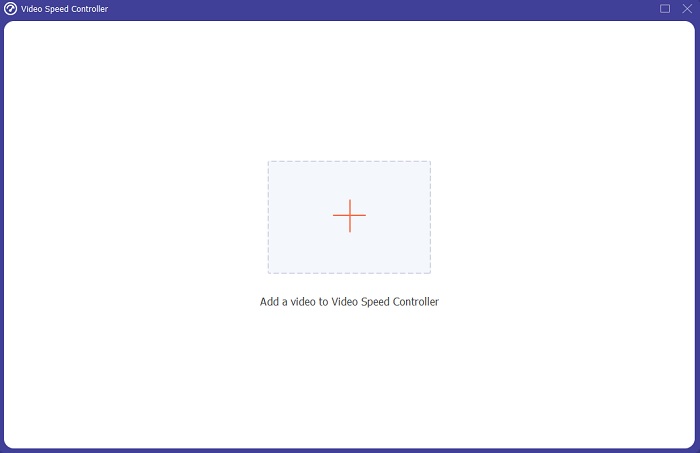 Step 4: You may start the editing phase by selecting how many times the video's frame rate will increase or decrease to alter the playback speed. If you're already satisfied with the speed rate of your video, you can now customize the quality of your output video by adjusting the format, resolution, frame rate, etc. Also, you will be given a chance to rename your video output as well.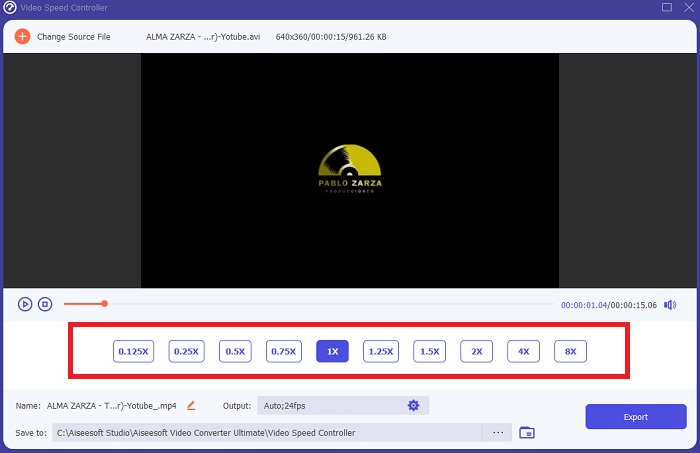 Step 5: To save your work, click Export and select a destination in your computer's file system.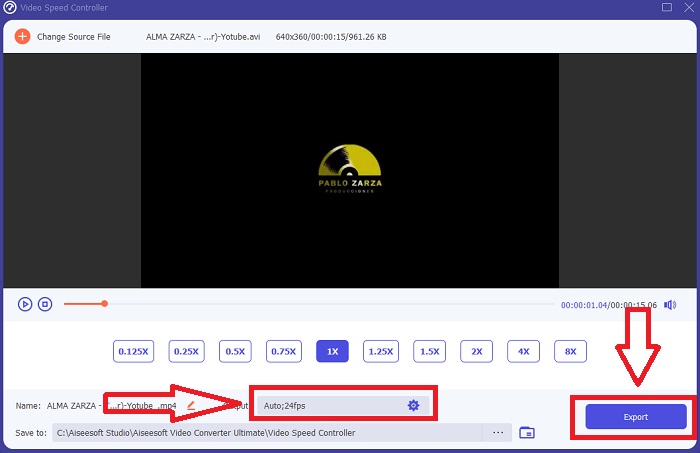 Related:
Part 3. FAQs about How to Speed up Video on iPhone
How does a video controller work?
The video player's speed control determines the video's playback speed. When using a media player to watch a movie, the video will play at the same speed as a standard video. The purpose of the video player's speed control is to let the user alter the video's playback speed. Some of the videos need to be slowed down so that you can follow along with the action.
How do I permanently change video playback speed?
Think about how many steps it takes to change the playback speed of your videos. Despite the fact that video tools and video editors are readily available online, you're still on the lookout for the best tool to fix playback speed issues with your video clip. Numerous web tools are available on the internet, some of which are free to use but require payment to unlock all features. Video Converter Ultimate, a free program for speeding up videos, is your best bet in making your playback speed permanently changed.
How do I speed up an MP4 video?
There are numerous converters available for download and offline use. You can speed up video playback by using Video Converter Ultimate as an alternative to other video converters. The video speed booster is just one of the many features available because it's free, open-source software.
Conclusion
As I have said, iPhone users who dream of resolving their video's playback speed don't have to purchase different tools. There are many free-to-use editors available that you need to seek; some need critical understanding to use it properly, but most of them are accessible. Speaking of the best tools available, we recommend using Video Converter Ultimate to speed up your video clips up to 2x the normal speed or even up to 8x fast. Additionally, the video can be slowed down to a quarter of its normal speed using this feature. This software has everything a professional editor wants to have, and by using it, you will have the ability to make yourself a professional.