3 Steps to Convert FLV to Xvid with Free FLV to Xvid Converter
FLV, is a container file format widely supported by most media players like Media Player Classic, MPlayer, RealPlayer, VLC media player, and so on. However, once you want to play the FLV files on a DVD or CD player, you will get stuck. A CD or DVD player does not support FLV playback natively.
The solution to this problem is to convert FLV to Xvid, which is a codec written to a CD or DVD player.
This tutorial is to tell you the way to change FLV to Xvid with a simple free FLV to Xvid converter in 3 steps.

Part 1. 3 Steps to Free Convert FLV to Xvid
It is easy to turn FLV to Xvid, and the steps of converting FLV to Xvid start a free FLV to Xvid converter.
FVC Free FLV Converter is the wizard to transcode FLV files to other formats and codecs including Xvid, Divx, MP4, MOV, MKV, WMV, AVI, and more.

FVC Free FLV Converter
155411+ Downloads
Convert over 300 video formats including FLV, Xvid, etc.
Convert video to DVD VOB in NTSC, PAL, and SECAM.
Extract audio from FLV to save the background music.
Now, let's check the detailed steps to convert FLV to Xvid with this converter.
Step 1. Add FLV files
Free download this FLV to Xvid converter on your computer. It works on both Windows and Mac computers. Download and install it on your computer.
Click the Add Files button to add multiple FLV files or the whole FLV folder to this program.
You can drag and drop the FLV files to this software directly.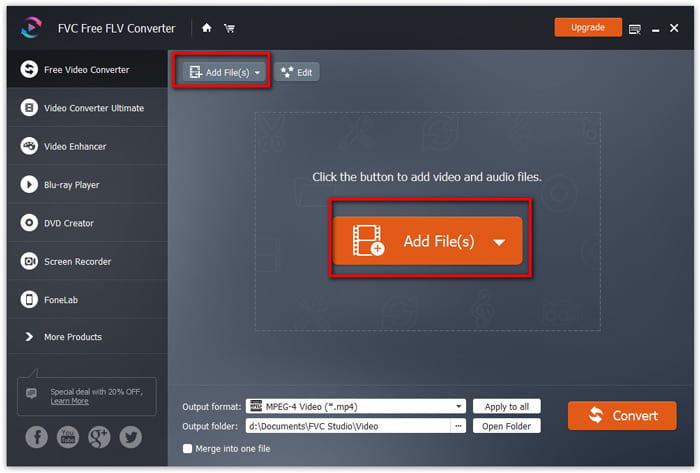 Step 2. Choose Xvid output
Select the drop-down list of Output format, and search for Xvid, and choose Xvid SD, HD, or 4K format.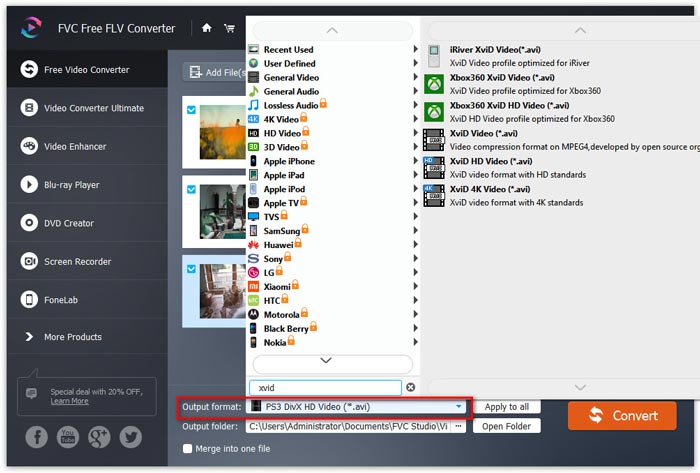 Step 3. Convert FLV to Xvid
After checking the Xvid format, click the three-dot near to Output folder to locate and select the destination to save the converted Xvid files.
Finally, click the Convert button on the top-right corner to start converting FLV to Xvid.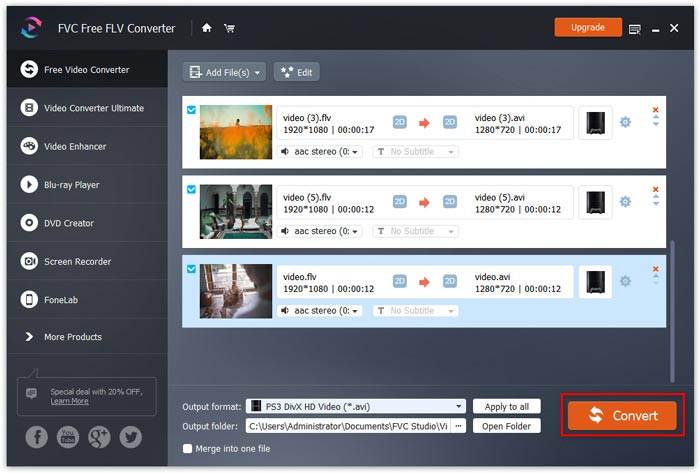 This software also lets you merge several files into one single file by checking the box of Merge into one file. The edit icon at the top menu allows you to add a starting and ending theme for your video creation.
Part 2. What Is FLV and Xvid
What Is Xvid?
Xvid, formerly XviD, is a video codec library following the MPEG-4 video coding standard. As a primary competitor of DivX Pro Codec, a proprietary software, Xvid is free software under the GNU General Public License.
Xvid is a program that uses MPEG-4 Advanced Simple Profile compression. Files encoded with Xvid can be written to a CD or DVD and played in some DivX compatible DVD players and other Xvid media players.
Besides, Windows, Mac OS, Linux, BSD can also access the Xvid library directly.
What Is FLV?
FLV, Flash Video, as a container file format, is used to deliver such digital content as TV shows, movies, and more over the Internet.
Before this format cab be supported by Adobe Flash Player plug-in or application on the web or locally. However, Adobe has announced its discontinuing development of the Flash Player since 2021. But, you can still open FLV files on Media Player Classic, MPlayer, RealPlayer, VLC Media Player, and more FLV player software.
Though FLC is widely supported by most players, it cannot be opened on a CD or DVD player.
Part 3. FAQs of Converting FLV to Xvid
What is the difference between Xvid and AVI?
AVI is a multimedia container format that contains both video and audio. It supports such codecs as DV, H.263, VP8, VP9, DivX, etc. AVI files encoded with DivX and Xvid share the same extension, .avi, and enable the AVI files to have the similar or even better quality that DVD.
Is Xvid the same as DivX?
No. In January 2021, DivXNetworks founded OpenDivX as an open-source MEPG-4 video codec originally, however, it was placed under a restrictive license and only the members of DivX Advanced Research Centre (DARC) had written access to the project's CVS. Then in July 2001, DARC released a beta version of their closed-source commercial DivX 4 code based on encore2, and all the OpenDivX code was replaced with Xvid using the downloaded latest version of encore2 before it was removed. Xvid encoded files can be written to a CD or DVD, and they can be played on some DivX compatible DVD players and media players. However, Xvid can optionally encode video with advanced MPEG-4 features that most DivX Certified set-top players do not support.
Is FLV still used?
FLV is a container file format used to transfer digital video content over the Internet. It has been used in videos, banner ads, animations, streams, and more. There is a more efficient container file format currently, but FLV is still used and supported by Windows, HandBrake, FFmpeg, VLC, and so on. Even if FLV is not supported by your devices, you can still convert FLV to MP4, MOV, WMV, etc., that are widely compatible.
Conclusion
Though FLV has been widely used on the web, desktop, and mobile devices, it is not supported by CD or DVD players. If you need to watch the FLV files on CD or DVD player, converting FLV to Xvid is the solution. Here, a detailed 3-step guide to changing FLV to Xvid with a free FLV to Xvid converter helps you to achieve the goal conveniently. It is totally free to convert most video and audio files. If you like the content, please share it with your followers.