Top 7 Xvid Players for Windows/Mac/iOS/Android
Xvid is a video codec library following the MPEG-4 video encoding standard. Besides, Xvid is the major competitor for DivX Pro codec. It uses advanced ASP features like b-frames, global and quarter pixel motion compensation, trellis quantization, lumi masking, and MPEG, H.263 and custom quantization matrices.
Xvid can be used on all operating systems and platforms. Hence, you can play the Xvid files with a wide range of Xvid players. In this post, we shall share the top 7 Xvid players on Windows, Mac, iOS and Android devices.

Top 1. FVC Free Video Player - Open Source Xvid Player
FVC Free Video Player is an easy-to-use but powerful Xvid player. This media player can play any video file smoothly, including Xvid, MP4, AVI, MKV, FLV, MOV, WMV, etc. You can play the Xvid movie. Learn more features of this free Xvid player:
1. Provide a wide range of multimedia formats smoothly.
2. Keep the original image quality and lossless Dolby audio.
3. Adjust brightness, contrast, hue, saturation and more parameter.
4. Capture a screenshot while playing the Xvid video.
How to play Xvid movie with FVC Free Video Player
Step 1. Go to the official page of FVC Free Video Player(https://www.free-videoconverter.net/free-video-player/). Click Play Now button to download and install the launcher.

Step 2. Then this free online video player will pop up. You can click Open File button to browse and load the Xvid file. Once the file is loaded successfully, it will be played automatically on your computer.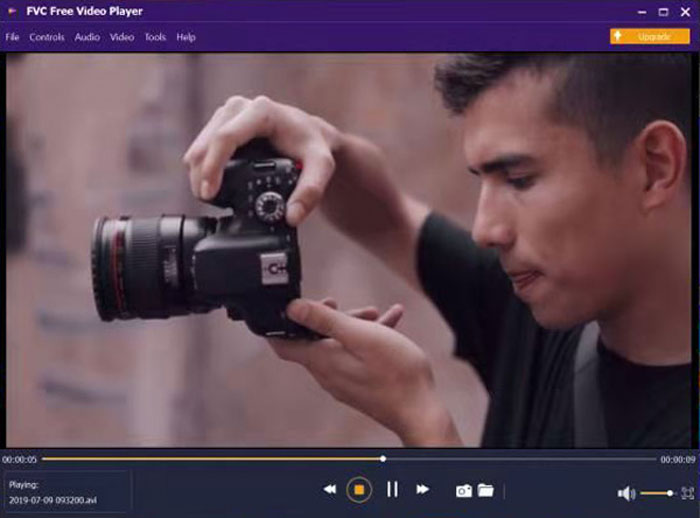 Top 2. FVC Blu-ray Player - Free Xvid Player
FVC Blu-ray Player can not only work as a professional Blu-ray or DVD player, but also act as a free Xvid player. It can play any video files, such as Xvid, MP4, MPG, TS, MTS, M2TS, MXF, WMV, MKV, AVI and VOB files. Different to other common media players, this Xvid player lets users freely set audio/video track, subtitle track, screen size and other parameters. Now get the wonderful HD video watching experience with its DTS-HD Master Audio or Dolby TrueHD.
Top 3. VLC Media Player - Free Xvid Player
VLC Media Player, a free and open source Xvid player, is designed for nearly all operating systems, including Windows, Mac OS X, Linux, Unix, iOS and Android. It's known for its versatility and easy of use. VLC Media Player plays everything like files, discs, Webcams, devices and streams. It also supports playing MPEG-4, MPEG-2, H.264, WMV, MKV, WebM, MP3 other than Xvid files. What's more, no spyware, no ads or no user tracking in this free Xvid player.
Top 4. GOM Player - Xvid Player for Windows
GOM Player is the global free Xvid player that supports various file formats, including Xvid, MP4, AVI, FLV, WMV, MOV, etc. The GOM Player will search and sync subtitles for the Xvid movie being played, for it has a wide subtitle library. In addition, you can enjoy a a high level of immersive experience in 360-degree mode. However, if you want to play enjoy the vivid 360°VR playback on macOS, you need to upgrade to its pro version.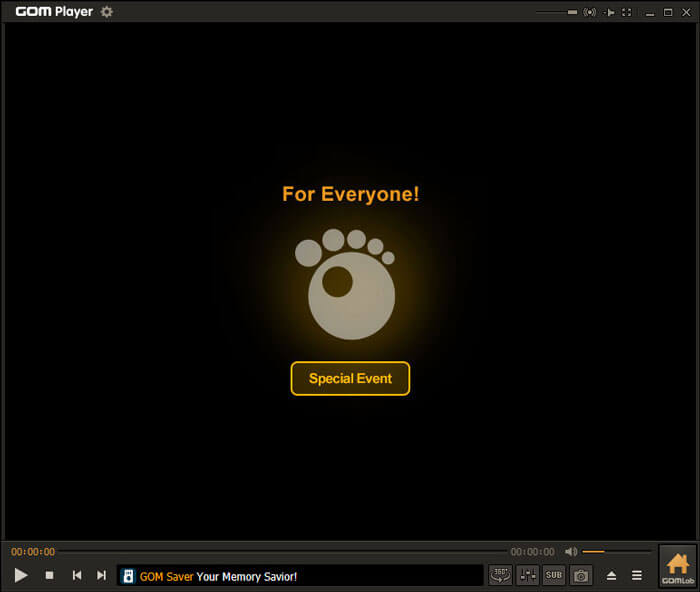 Top 5. KMPlayer - Xvid Movie Player
KMPlayer is a well-known Xvid video player that works on Windows, Mac OS, iOS and Android. It can play all high quality video including 4K, 8K, UHD, 60FPS. Various media file formats are supported like Xvid, MPEG, AVI, MKV, MP4, WebM, MOV, WMV, MP3, etc. With the hardware acceleration function, it optimizes the playback speed even on low-end PC. KMPlayer provides VR mode and 3D mode. Meanwhile, you can enter the video URL and download video from Facebook, YouTube or Instagram. Click to get more 4K UHD players.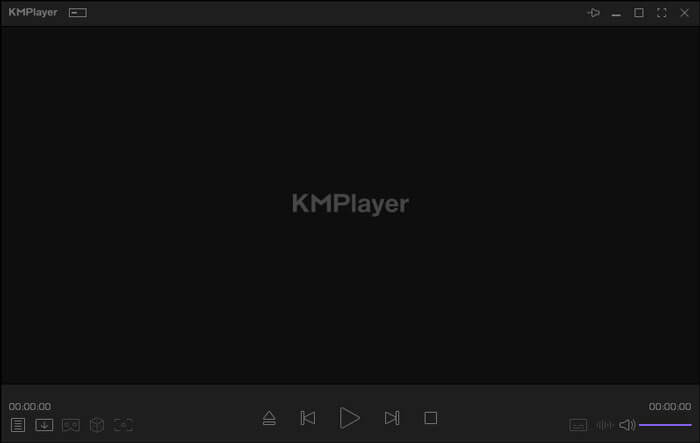 Top 6. QuickTime Player - Xvid Player for Mac
QuickTime Player is the default Xvid player for Mac developed by Apple. It is capable of handling various of file formats like digital video, picture, audio, panoramic images and interactivity. Besides, QuickTime lets you edit common movie with the rotate, trim and rearrange features. One obvious character different to other Xvid player is that you can create a quick screen recording with QuickTime Player on Mac. (Convert QuickTime to MP4 here.)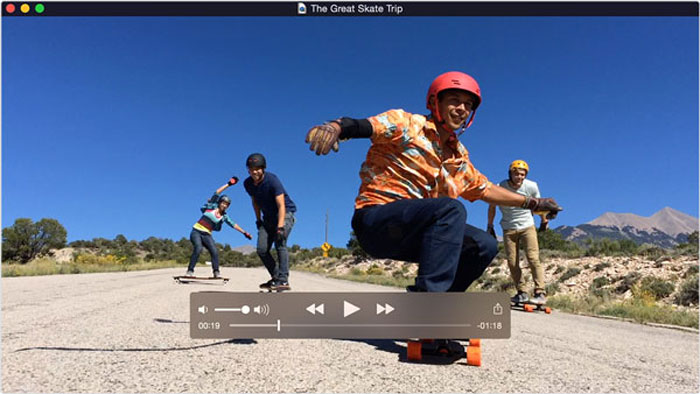 Top 7. DivX Player - Free Xvid Player
DivX Player is dedicated to provide better video experience. DivX lets you play all DivX, Xvid, MKV, MP4, AVI files and more on Windows computer and Mac. You can also open a video from its URL. With this DivX Player, you can rotate video, customize screen size and adjust aspect ratio with ease. If you want to access video from Google Drive or Dropbox, you have to upgrade to DivX Pro.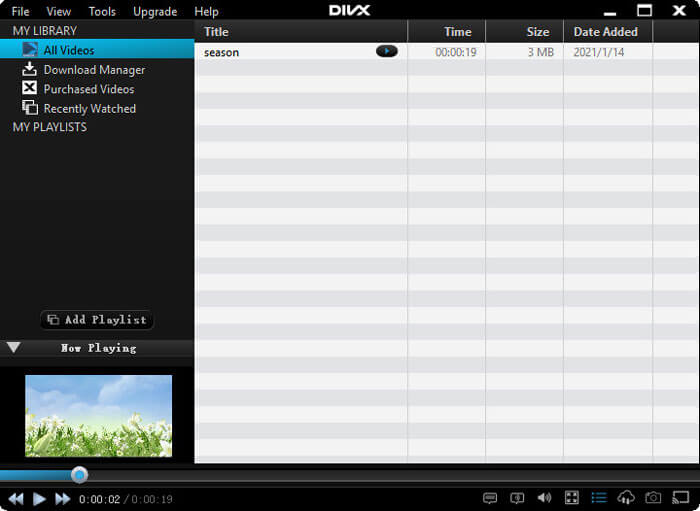 FAQs of Xvid Player
What is the DivX Codec?
The DivX codec is currently the most popular MPEG-4 based codec because of its quality, speed and efficiency as well as the wide range of DVD players that support the DivX format. When you convert the MP4 to DivX, you can remain the video quality for online streaming with ease.
How do I watch Xvid codec movies on my Mac?
You can download the Xvid plugin for QuickTime, and enjoy the Xvid encoded video on your Mac. If you don't want to install the plugin or external Xvid player, try FVC Free Video Player and view the Xvid codec movie online.
What's the difference between Xvid and DivX?
Both Xvid and DivX are free to use. Xvid is the video codec library that followed by MPEG-4 video coding standard. DivX is a lossy scheme that can compress files one-eighth to one-twelfth the size of the uncompressed digital video. DivX is the proprietary codec that is protected, while Xvid is not protected.
Conclusion
We have summarized the top 7 Xvid players for Windows and Mac. Now you can select your preferred Xvid player and play the Xvid movie right now. If you have any questions, you can leave us a message.