WebEx ARF Player – Play and Convert ARF Files on Windows and Mac
If you are the WebEx meeting host, you are allowed to download the recorded video file from WebEx. Your WebEx recording video will be saved into the .arf file extension by default. The Cisco WebEx ARF format is not widely supported by many third-party media players. If you want to open an ARF recording file, a WebEx ARF player is necessary. This article mainly talks about how to get and use the WebEx player for ARF playback. Just read and follow.

Part 1: How to Open and Convert an ARF File with WebEx ARF Player
Cisco WebEx is a video conferencing and online meeting tool for interactive webinars and large-scale virtual events. Long-distance is no longer a difficult question for co-workers all over the world.
After the online meeting, you can receive an email with a link of the WebEx recording. You can click the link and watch the recorded WebEx meeting directly. There is no such an ARF file player required.
If you download a WebEx file for offline watching, then you need to use an .ARF player for further WebEx playback. Here is how you play and convert ARF files with WebEx ARF Player software.
Step 1: Visit your WebEx platform. Choose My WebEx, My Files, and My Recordings. Choose your recording file. Then select More followed by Download. You can download a WebEx file in .ARF file extension.
Step 2: Go to WebEx Meeting Center. Choose Support and then Downloads. Go to Recorder and Players and then Recording and Playback.
Step 3: In the for .ARF section, choose Download to free download and install WebEx player for Windows or Mac. You can use this ARF player to open ARF files on PC immediately. Click Pause to pause and resume ARF playing.
Step 4: After accessing the desktop ARF player, you can change the file format from ARF to MP4. From the File drop-down menu, you can choose .MP4 from the Convert Format list.
Step 5: Specify the output file name and folder. Click OK to confirm and start converting ARF to MP4 video. Also, you can convert ARF to MP4 format within WebEx ARF Player as well.

Part 2: Best WebEx ARF Player Alternative for Windows and Mac
If you are looking for other ARF file players, you can take a look at FVC Free Video Player. it is capable to play ARF files online for free. After installing a launcher, you can get the WebEx ARF playback in clicks. Thanks to the latest audio encoding technology, you can watch ARF videos with lossless sound effects. Furthermore, you can customize video and audio playing parameters flexibly. In a word, FVC Free Video Player can be one of your best ARF players for Windows 10/8/7 and Mac.
1. Play videos downloaded.
2. Wide support of input video and audio formats, including WebEx ARF, MP4, MOV, AVI, FLV, and more.
3. Enhance audio quality with the latest DTS-HD and Dolby TrueHD audio encoding technology.
4. Adjust brightness, contrast, and other parameters with customizable options and sliders.
5. Get 3D video playback and screen capture support.
Step 1: Visit the official website of FVC Free Video Player on your browser. Click Play Now and Download to install the FVC launcher first.

Step 2: In the popping-up WebEx file player window, click Open File on the main interface. Browse and import your downloaded WebEx ARF meeting.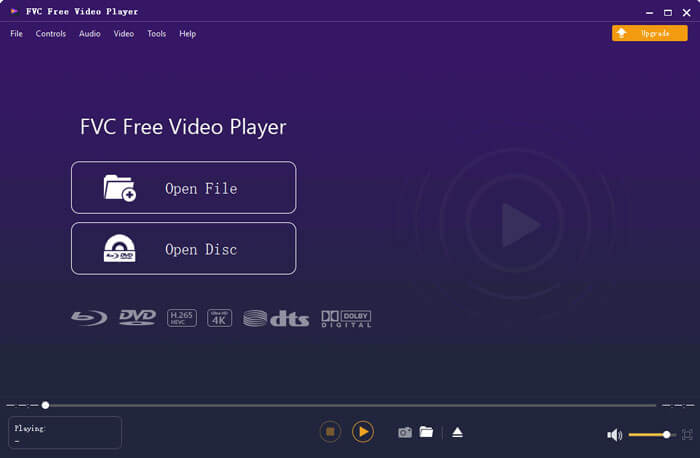 Step 3: The ARF video starts playing after importing automatically. You can control its playback speed and video effects with the top and bottom toolbars.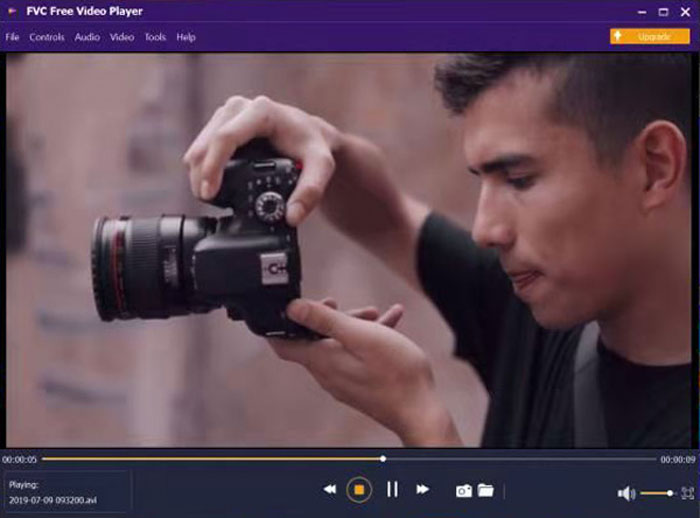 Part 3: FAQs of ARF File Players
Where to get an ARF player for Chrome extension?
You can download Cisco WebEx extension from the Chrome Web Store directly. but there is no such an ARF player Chrome extension yet.
Is there any ARF player for mobile app?
If you want to play ARF and WRF files on iPhone or Android, VLC for Mobile can be your choice. Instead of ARF player portable apps, you can convert ARF to MP4 format. It can be your ARF player for Android and iPhone app as well. It can also be a great music player app.
How can I convert ARF to MP4?
There are many online and offline ARF to MP4 converters in the market. For example, you can convert an ARF file to MP4 with FVC Free Online Video Converter, Video Converter Ultimate, and more.
Why you can't download WebEx recording?
Only the WebEx administrator can download WebEx recording files. Meanwhile, the WebEx administrator should turn on the administration option for WebEx downloading recording files in advance.
Why does the WebEx conversion fail on Mac?
Be aware that the conversion of WebEx ARF to MP4 requires a Windows-based application. You should install an ARF to MP4 converter on your Windows computer. It is not supported to convert ARF to MP4 on Mac at present. Generally speaking, you can play WebEx recordings on Mac. But you cannot convert .arf files to MP4 and other formats on Mac.
That's all about the WebEx ARF player tutorial and alternative. You can play WebEx ARF files on your Windows and Mac computer with ease. Moreover, you can convert WebEx ARF to MP4 and other compatible formats. If you still have questions about ARF players, you can leave messages below or feel free to contact us.