Audiobook player - Play your Favorite Audiobooks Anytime Easily
Driven by the fast-paced life, audiobooks are playing an increasingly important role nowadays. Followed by are the many smart audiobook players which can help to save your time for paper book reading. Have you been looking for the best audiobook player to relax? You are very lucky to see this post for you can learn more from the top 5 smart audiobook players here.

Part 1: 5 Best Audiobook Players for Android and iPhone
Top 1: Free Video Player
To anyone who wants to play an audiobook, Free Video Player can be the best choice. You can enjoy your favorite audiobook any time anywhere without installing any software. At the same time, it can provide you excellent audio effect with an adjustable soundtrack and sound channel. Moreover, there are also many hotkeys in this smart audiobook player for playback control, which will bring you a lot of conveniences.
Platform: online
1. Play the audiobook from a variety of popular platforms.
2. Allow you to skip the unwanted part by the speed-up option.
3. Provide you the best audio quality to please your ears.
4. 100% free with a friendly and intuitive UI.
Step 1: Click the Play Now button on the website of the free audiobook player. You may need to wait for a few seconds for this program to activate.

Step 2: Click the Open File button on the main interface. Then you should select the desired audiobook file on the pop-up window. Later, the audiobook will play automatically.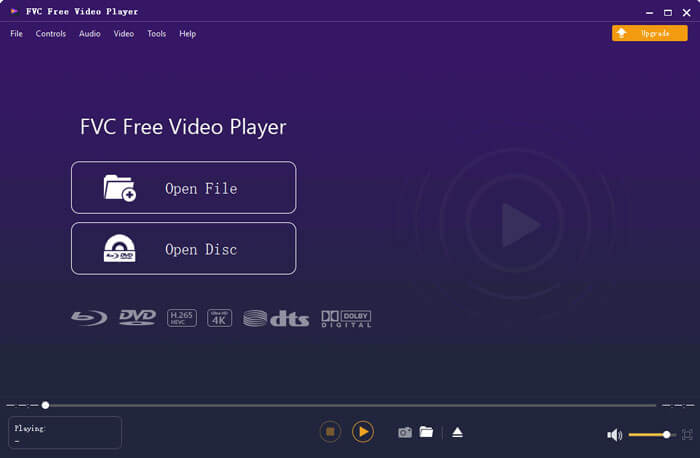 Step 3: You can choose to skip the part you don't want to listen to by clicking the fast forward button, which is on the bottom of your screen. To get a better sound effect, you can also adjust the audio track, depending on your needs.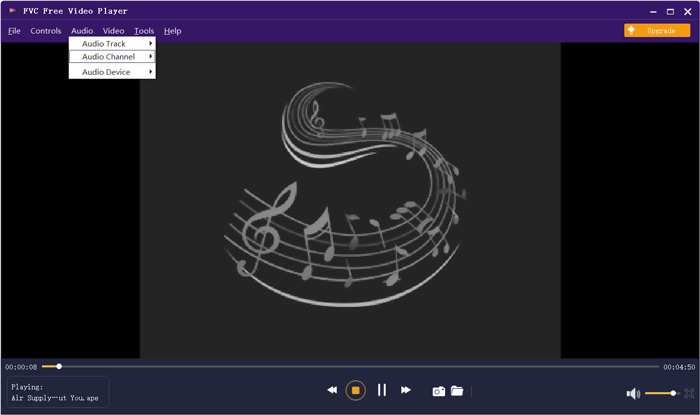 Top 2: Smart Audiobook Player
Just as its name suggests, the Smart Audiobook Player is designed for audiobook playback. You can classify your books as new, started, and finished in this program if you want. It allows you to create a list of characters manually so that you can easily follow the story. And of course, the speed control function is included in it.
Platform: Android
1. Allow you to download cover from the Internet.
2. Enable you to exclude your folders that contain audio files.
3. It will pause automatically in case you fall asleep.
4. You can control this audiobook player from the home screen.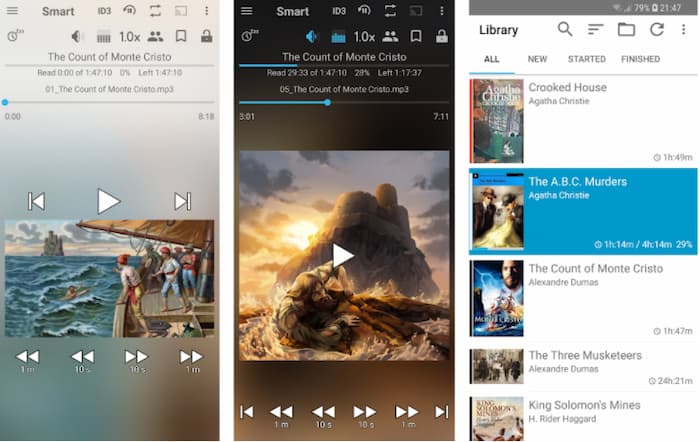 Top 3: LibriVox Audio Books
You can use the LibriVox Audio Books to play your favorite audiobook. One of its biggest features is that there are over 24,000 free audiobooks on this platform. So, you don't need to worry about how to find the audiobook you want to listen to. Moreover, this audiobook player for Android also has many advanced functions to meet your needs, such as the sleep timer, Bluetooth control, bookmark, and more.
Platform: Android
1. You can easily find the book you want to read.
2. Offer you unlimited access to over 24,000 free audiobooks.
3. Provide recent books and downloaded book options.
4. Provide unlimited bookmarks in the audiobook player.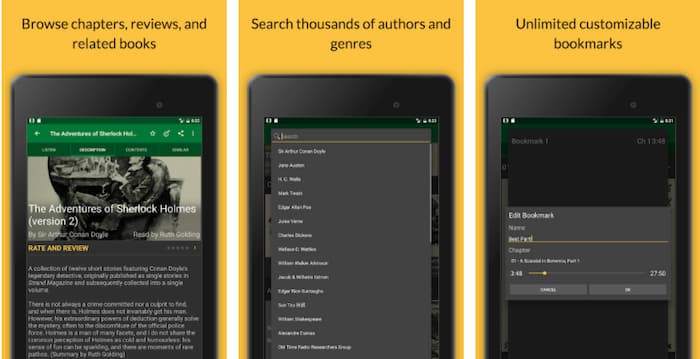 Top 4: Free Audiobooks HQ
When you want to listen to an audiobook, you can try the Free Audiobook HQ. Aiming at the audiobook lovers, it is available for free on iPhone. Just open, search, click and listen, the operating procedure is quite simple. You can also slow down or speed up the playback anytime.
Platform: iPhone
1. Help you find the top-rated books with the click of a button.
2. Provide the sleep timer function when it's time for bed.
3. Listen to about 11,000 free audiobooks of good quality.
4. No credits/recurring monthly fees in the audiobook player.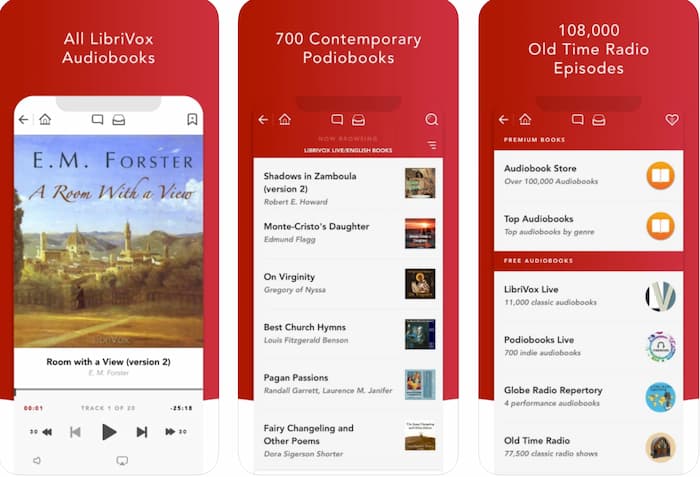 Top 5: Libby
Libby is a full-featured audiobook player app which you find on iPhone. There are various types of audiobooks for you to choose from. If you like reading e-books and magazines, you don't need to download any software on purpose because there are also many such resources.
Platform: iPhone
1. Provide local libraries to offer millions of audiobooks.
2. Sync your reading position to all your devices automatically.
3. Allow you to slow down/speed up from 0.6 to 3.0x.
4. Enable you to set a sleep timer if you want.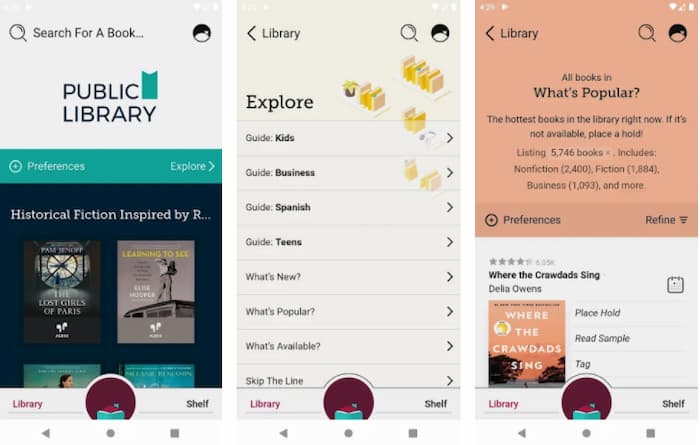 You may also be interested in best free MP3 music players.
Part 2: FAQs of Audiobook Players for Android and iPhone
1. Can I listen to the audiobook via Bluetooth?
Yes. You can use Bluetooth to listen to the audiobook you like. It is also one of the biggest advantages of the audiobook for you can listen to books via Bluetooth when you are doing something else with an audiobook player.
2. Is there any audiobook player for the elder?
Due to the specialty of the elder group, you'd better choose some professional audiobook players for them which provide larger sound and easy-to-operate settings. For example, the Homer Player is a good choice because it is designed for the old especially.
3. Can I play the audiobook on PC?
Yes. Even though the majority of people will play the audiobook on their phone with a music player app, some people would choose to play it on the computer. At this time, the best choice is to use the Free Video Player. As an online free audiobook player, it can play various books while guaranteeing audio quality.
Conclusion
This article includes the top 5 smart audiobook players on Android and iPhone. When you want to listen to a certain book to upscale yourself, you can choose freely from them. If you do not want to download an app, you must give the Free Video Player a try! If you have any good suggestions, welcome to leave a message. Looking forward to receiving your feedback!