5 Best Free WAV Players for Android, iOS and Computer
WAV, stands for Waveform Audio File Format, is an audio standard developed by Microsoft and IBM. It is an uncompressed or lossless audio format. Are you troubled with the WAV playing on your Android phone, iPhone, iPad, or computer?
Generally speaking, you can easily open WAV files on your computer with Windows Media Player or QuickTime Player. However, due to the lack of correct codec packs or other reasons, you may get the WAV won't playback issue. In that case, you need a good WAV player to help you play the audio.

Here in this post, we will mainly talk about the WAV player for Android and iOS device. Moreover, we like to introduce you with a WAV player for Windows PC and Mac in case you face the WAV playback issue.
Part 1. Top 5 WAV Player Apps for Android and iPhone
WAV format can be supported by both Android and iOS devices. So whether you are using an iPhone, iPad or Android phone, you need a WAV player app to play the lossless audio files. Here at the first part, we like to make a list of 5 best WAV file player apps for you to choose from. Some of them offer both Android and iOS apps for you to use. You can check the key features of each WAV player and then choose your preferred one.
1. VLC media player
Open source WAV file player for Android, iPhone, PC and Mac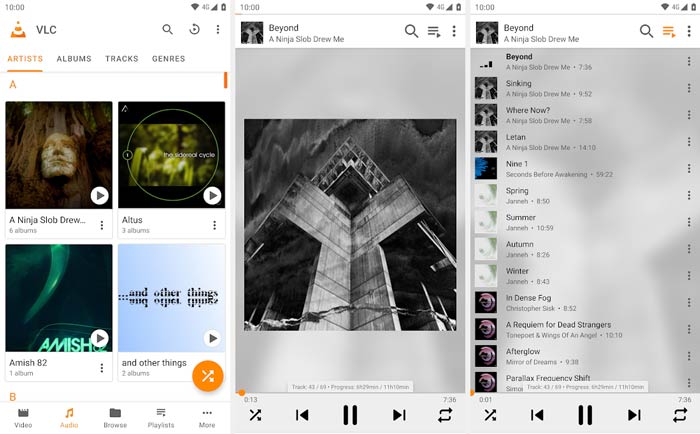 Key Features
1. Support any frequently-used audio formats including WAV, MP3, AAC, AC3, WMA, FLAC, ALAC, ATRAC 3, TrueAudio, APE, Real Audio, AMR, MIDI, LPCM, Raw Audio, and more
2. Play all types of 4K, HD and SD videos in MP4, MKV, MOV, FLV, AVI, etc.
3. Boost audio sound up to 125% and increase video sound up to 200%
4. Offer other useful features like converting, editing and recording
5. Work as a WAV player for Android and iOS device and computer
2. KMPlayer
Free WAV player for Android, iOS, Windows and Mac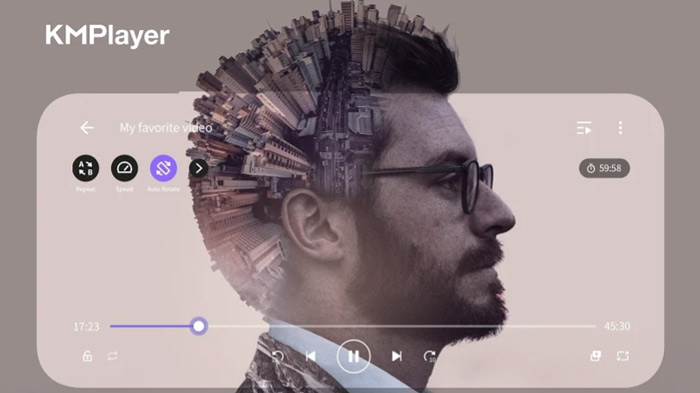 Key Features
1. Play all types of audio files in WAV, MP3, AAC, MP2, OGG, etc.
2. Support High definition 4K, 8K, UHD, Full HD video playback
3. Enhance video quality with Saturation Control, Gamma Control, Grayscale Filter, Auto Level Control, and more
4. Playback speed control function up to 0.25 – 4 times
3. foobar2000
WAV player app for Android, iOS, Windows and macOS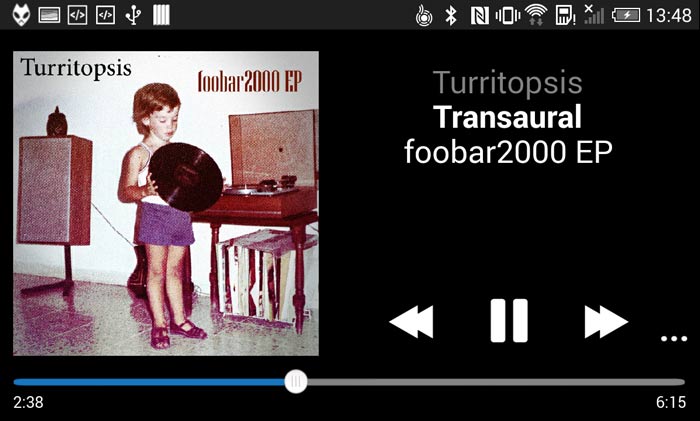 Key Features
1. Support audio formats like MP3, AAC, Vorbis, Opus, FLAC, WavPack, WAV, AIFF, etc.
2. Support gapless music playback and full ReplayGain
3. Play and download music from UPnP media servers
4. Rip audio CDs and transcode all supported audio formats
4. PowerAudio Free Music Player
Free WAV player for Android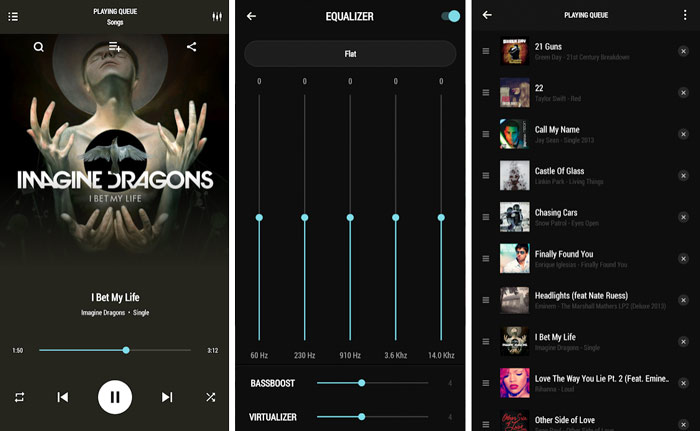 Key Features
1. Support all major audio formats like MP3, WAV, M4A, AAC, AMR, OGG, etc.
2. Browse all types of songs by albums, artists, favorites or playlists
3. Equalizer with various presets and create your own playlists
4. Support BassBoost and Virtualizer, Multi-select and Custom queue
5. Manage and sort songs by name or date and set phone ringtone
5. Vox Music Player
WAV player for iOS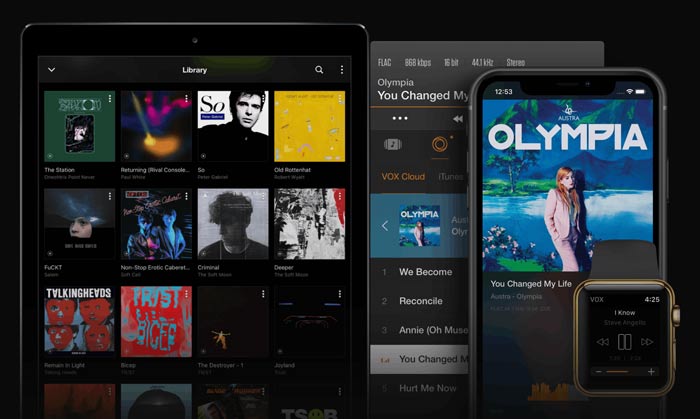 Key Features
1. Play all the audio formats like WAV, AAC, MP3, AC3, ALAC, M4A, FLAC, and more
2. Support enhanced Bass technology and powerful share feature
3. Offer VOX Cloud Storage to synchronize all music libraries from different iOS devices
4. Built-in equalizer with a score of presets and easy link to SoundCloud, LastFM and Spotify accounts
Part 2. Best Free WAV Player for Windows 10/8/7 PC and Mac
FVC Free Video Player is one of the most popular video and audio playing software which can help you play WAV files on your computer with high audio quality. It highly supports all frequently-used video and audio formats, such as WAV, MP3, AAC, M4A, ALAC, AC3, FLAC, APE, FLV, MP4, AVI, MKV, MOV, and more. As one kind of online WAV audio player, it is compatible with any popular browser including IE, Safari, Chrome and Firefox.

When you want to play WAV files on your Windows PC or Mac, you can navigate to the official site of this player. Click on the Play Now button to free install a small launcher file for the WAV audio playback.
After that, the main WAV player window will appear on the screen. You can click Open File to import the WAV file you want to listen to.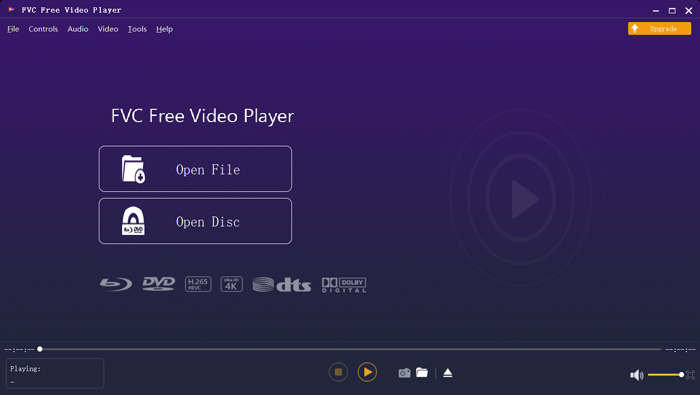 The loaded WAV music will be automatically played. With the adoption of the advanced audio decoding technologies like Dolby, DTS, AAC and TrueHD, you can enjoy the music with great sound quality.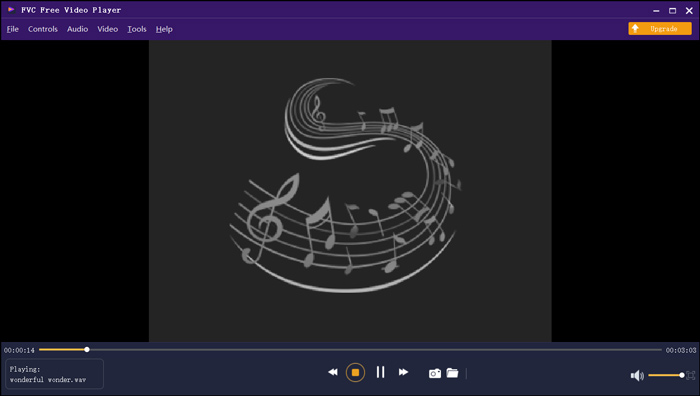 Part 3. FAQs of WAV File Player
Does iPhone have a built in WAV player app?
No. All Apple devices including iPhone, iPad and iPod and related player software like QuickTime Player can't directly play the WAV files.
WAV is the native audio format for Apple devices. You can directly open the WAV file with Music app on your iPhone.
How to free convert WAV to MP3?
To free convert WAV to MP3, you can rely on the popular audio converting software, Free Online Audio Converter. It is able to make the audio conversion from WAV to MP3 or another audio format you need with ease.
What are the disadvantages of WAV?
One big disadvantage of WAV is its file size. As an uncompressed audio file, the file size of WAV files is quite large. That makes WAV impractical for portable devices and streaming. What's more, compared with MP3, WAV format is still not supported by many devices and players.
Conclusion
Are you looking for a WAV player for Android, iPhone or computer? We have made a review of 5 great WAV player apps for you to choose from. You can pick your preferred one based on the features.