Top 5 Audio Recorder Apps on Mobile Devices to Record Audio Non-stop
Choosing an audio recorder app is easy, especially if you know your specifications or needed features, whether you are a beginner or veteran. However, not all users know what these specifications are that they need. Instead of reading many articles on the web or trying out many audio recorders, today, we will present a simple review about the best recorders you can use with their specifications and features available on your Android or iOS. These apps shown here are downloadable or have already been on your mobile devices. Let's read the verified review on the tools listed below without more delays.

Part 1. Best Audio Recorder Apps on iOS Devices
1. Voice Memos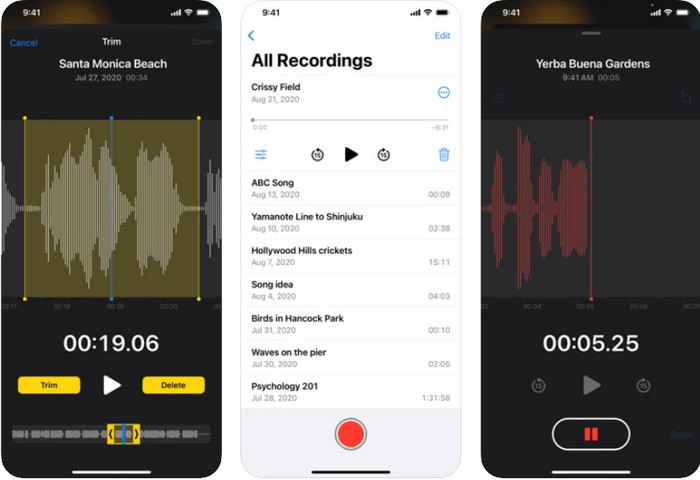 One of the best audio recording apps available on iOS is the Voice Memos. IOS users love to use this Recorder to do a quick and straightforward use by tapping the red button, and the audio recording will start. Also, you wouldn't need to download the tool because it is pre-installed and ready to be used. Even though many users use it as a personal recorder, it supports only AAC. This format only works great on Apple devices because it is new, so if you transfer your recording on other non-Apple devices, except that it is unsupported.
Features of the Voice Memos
◆ Simple and easy to use as an audio recorder app on your iOS.
◆ It records effectively.
◆ Built-in library for the recording you've made.
◆ Basic editing features are available.
◆ Transfer recording thru different options to other Apple services.
Pros
It uses one of the best audio formats, the AAC.
Pre-installed in all of the iOS devices.
Malware-free, and it is safe to use.
Cons
Transferring and playing the recording to the other non-Apple service is unsupported.
It doesn't support phone audio recording.
2. Rev Voice Recorder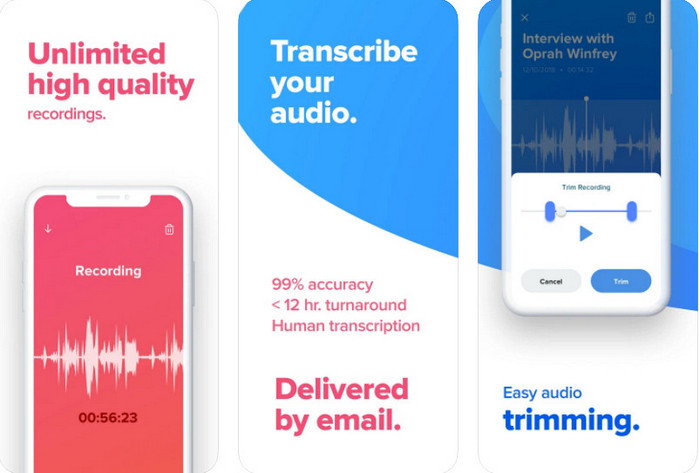 Another audio recording app on iPhone and iPad is the Rev Voice Recorder. This tool provides more technicalities in recording than the Voice Memo. A great feature of this tool is that it uses a professional human to transcribe audio with 99% accuracy instead of a robot. But before you can use this tool, you will need to download it on your iOS devices first. Although the tool is free to download, an additional charge upon availing of transcribing will happen directly on your credit card or whatever payment method you are using. Nevertheless, if you need a recording app with a transcriber, this tool is a choice for Apple devices.
Features of Rev Voice Recorder
◆ High-quality voice recorder.
◆ Trim the unnecessary audio on your recordings.
◆ Accurate transcribing.
◆ Intuitively stops when calls and other interruptions happen.
Pros
It is a free and downloadable audio recorder app on iOS.
Developer response immediately after you comment about the app.
It is a professional audio transcriber.
Cons
Payment for human transcribing is a bit pricey compared to an AI.
It doesn't work on some updated iOS.
3. Otter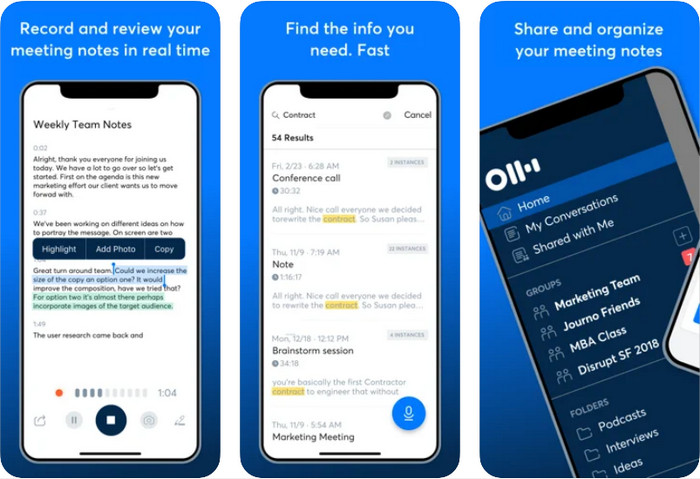 Otter is one of the tools that helps you record audio on iPad and iPhone in real-time. This Recorder does recording and transcribing simultaneously with the help of AI. It can share meetings, edit, highlight, organize, and export at one. But before you can attain this, you will need to purchase the tool or only use the basics features this tool provides. Although it is a powerful recorder, the Otter online works better than the downloadable app on your iOS. Even so, if you need a recorder that has an automatic AI transcriber, then Otter is a choice.
Features of Otter
◆ Record and transcribe the audio in real-time.
◆ Organize your export and make some highlights.
◆ It can take notes automatically thru live meetings or conferences.
◆ Edit the audio after recording.
Pros
Free to download on your iOS devices.
Easy and professional tool.
It has built-in collaborative taking notes.
Cons
Purchase is needed to be able to use professional tools.
Editing sometimes malfunctions.
Part 2. Best Audio Recorder Apps on Android Devices
1. Easy Voice Recorder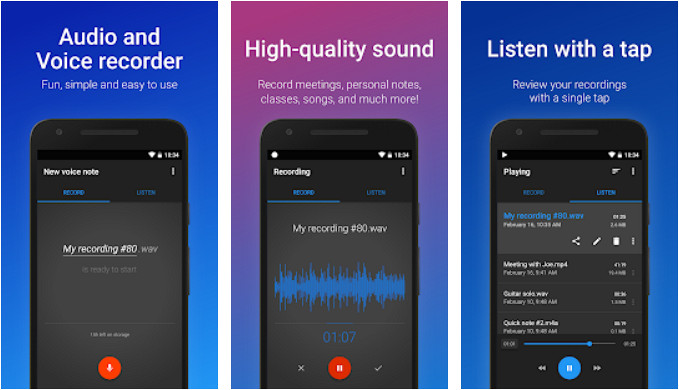 The best audio recording app on Android is the Easy Voice Recorder. As the name says, this tool provides easy and effective recording that many Android users love. Also, it has many types of skin color to choose from to light up to the dark theme and more. Moreover, it also offers a pro version to remove the ads and attain the other pro-available features this tool supports. Although it is excellent for multiple recording purposes, it still can't record while having a phone call. For recording phone calls, this is not the tool of choice.
Features of Easy Voice Recorder
◆ Very intuitive to use as an audio recorder.
◆ It supports several audio output formats you can choose from.
◆ Get rid of the unwanted recording by trimming it under the Edit mode.
◆ Simple GUI.
Pros
It is free to download on your Android.
A hassle-free audio recorder.
It supports transferring recording thru SMS.
Cons
It has many ads.
You can't use some features we mention if you didn't buy the pro version.
2. Smart Recorder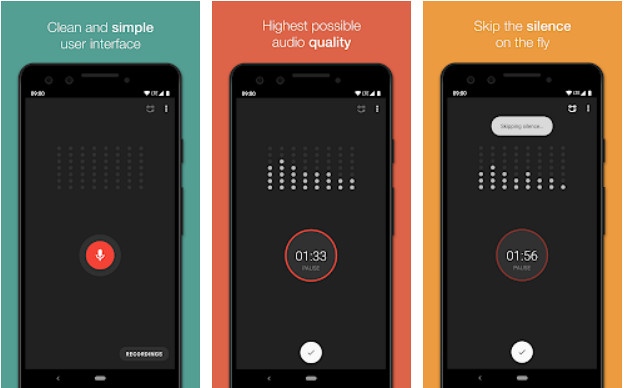 Smart Recorder is an audio recorder app you can download on Playstore for free. This tool can perform audio recordings like the others mentioned above. Also, it can record audio non-stop as long as you have sufficient space on your phone with high-quality output. Unlike iOS recorder, this tool doesn't have to transcribe to translate audio to text. In addition to that, you can't save the final audio output directly to the SD card because it only supports phones storage. However, it has a skip silence mode to shorten the recording by removing the silent space on your recording.
Features of Smart Recorder
◆ Concurrent sound analyzer.
◆ Non-stop recording even on background.
◆ Skip silence mode is supported.
◆ Built-in recording library.
Pros
Free and easy to use.
GUI is easy to understand.
On-point audio recorder app on Android.
Cons
It doesn't support editing features.
You aren't allowed to change the name of the recording or transfer it thru contacts.
Bonus: Best Audio Recorder App for Windows and Mac
If you need a recorder that suffices your needs on a professional audio recording, FVC Screen Recorder is the pro tool you can use on your desktop whether you are using a Windows or Mac. Unlike the other recorder apps above, this tool has built-in noise cancellation and microphone enhancer to make your recording outstanding. With this tool, recording audio or video became more effective even when on a call or meeting; you can instantly record all the conversations made and re-play them again.
In addition to that, you can also choose the output format you want to make it compatible with the device you are using if you transfer it. So far, this is what we recommend if you're looking for the best audio recording app on Windows or Mac.

Features of FVC Screen Recorder
◆ Record system sound and microphone simultaneously without any limitation.
◆ It can record 4k audio to have a completely ultra-high-definition audio output.
◆ Noise cancellation & microphone enhancers are supported to make recording better.
◆ Built-in recording library properly arranges according to the latest to the oldest.
◆ It supports the best screen recorder and game recorder if you need it.
◆ Other advanced features are also available to experience an all-out tool.
◆ Restore recording if you accidentally closed the software and forgot to save it.
Pros
It is the best audio recorder amongst the recorder at the top.
Able to record voice calls thru the desktop without limitation.
It can record non-stop if you have enough space on your computer drive.
Cons
Need to be purchased before you can use it.
It doesn't support mobile devices.
Part 3. FAQs about Audio Recording App
How do I record audio on my phone?
If you are an Android user, you can easily open your native audio recorder or download the audio recorder above. Press the red button to start the recording; after that, click the stop button to save the recording you've made on your Android. If you are an iOS user, you can use the voice memo to record audio. By opening the Voice Memo on your iOS, press the red button to start the recording; after a few minutes of recording, you can click the same button to stop. If you need to know if the Voice Memo is the best audio recorder on iOS, you must click this link to read more detailed information.
What is the importance of choosing an audio recorder?
The primary importance of having an audio recorder is to create a more efficient way of taking note of something easier. Instead of writing them down, you can focus on the conversation and review it later.
What format is the best audio output for recording?
If you are an Apple user, we suggest you use the AAC because this audio format contains the best audio format on Apple devices but is less compatible. However, if you need compatibility with great quality, MP3 might be the choice.
Conclusion
The biggest question is already solved; with the time you spend reading, you already have an answer on what audio recorder app you should use. With the test we made, we found out that the recorders here show great recording potential. However, if you need the best audio recorder, you can't use it on your phone, but you can use it on your computer, the FVC Screen Recorder.