Is Voice Memo the Best Audio Recorder to Use on iOS Devices
Taking notes and ideas is one way to remember essential things, especially if we quickly forget them. Although writing notes and ideas are good, did you know that there is a way to record everything much faster and easier? Via uses our own audio recorders app on our phones, iOS. Moreover, if you are an iOS user, you must see the pre-installed recorder on your device that you can use to record audio. The question is, is it the best audio recorder on iOS? If so, is there any alternative app on Android or Desktop? This common query has an answer later in this article, so stay tuned and continue reading this write-up to have more information about the voice memo and other alternatives you can use.

Part 1. What is Voice Memo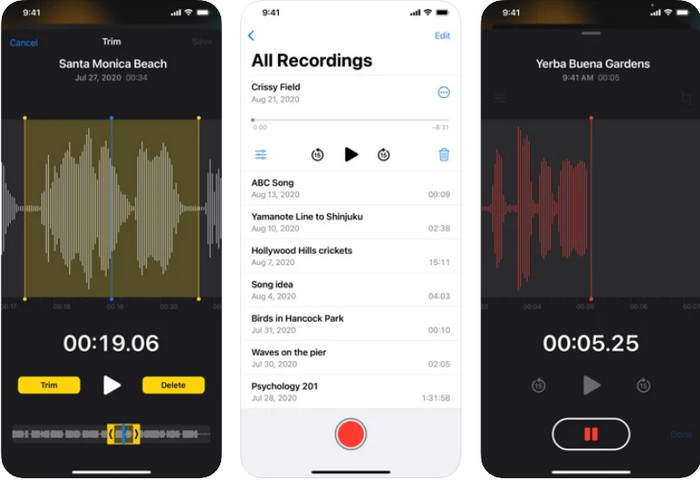 Voice Memo is the portable audio recorder Apple developed on every iOS product. This app became reliable because it can perform a quick and effective recording within a few clicks. Suppose you need to record an immediate meeting, take notes, audio diary, or compose a song; this will work for you if you are an iOS user. Unlike the other recorders, this tool has an organized library of recordings to find the recording you did. It also has basic editing features such as trimming to cut the audio you want to on your recordings. Moreover, it is the standardized audio recorder on every iOS phone and Apple Watch.
Part 2. What are the Key Features Found on Voice Memo
The best features of the Voice Memo app are listed below. Please read them carefully to know what other things you can do to your recorder that you might not know.
◆ Once you accidentally deleted your recording, you can restore it on the Recently Deleted.
◆ Trim or delete the part of your recording quickly.
◆ Enhance recording and skip silence features are supported.
◆ Adjust the playback speed of recording to slow and faster.
◆ Do a quick duplication of the recording.
These are the best features we saw on this iOS recorder as we tried it and did a couple of recordings to see if it is worth being called the best audio recorder on iOS. These features aren't enough for some users, but we will see an upgraded version shortly. As we did a deep research about the audio recorder, we found some pros and cons about this Voice Memo on iPhone, iPad, and Apple Watch if you continue reading below.
Part 3. What are the Pros & Cons of Using Voice Memo
As we continued reading this article, it became more apparent to us if the audio recorder that is pre-installed on your device is the best or not. But if you still don't know which is which, then the pros and cons about the Voice Memo recorder will answer whether it is the best audio recorder on iOS.
Pros
It is a straightforward audio recorder on iOS.
There is no need to download it because it is the native audio recorder on iOS.
It is safe and surely malware-free.
No ads on the interface that could annoy you while recording.
Cons
Most users, even us, experience some bugs and glitches in playing the recordings.
It doesn't support transcribe features to translate audio to text.
It doesn't support recording system sound only on the mic.
Part 4. Best Voice Memos Alternatives for Android/Windows/Mac/Online
Since Voice Memos is only available on Apple, let's answer your next question about the other alternatives you can use on Android and desktop. The list below will talk about the four options we found that do the same functions as the iOS recorder or even better.
1. FVC Screen Recorder

FVC Screen Recorder is your one-stop video, audio, or gaming recorder you can use that is better than the default iOS recorder. This tool provides all you need for a recorder; it has a microphone enhancer to make your voice sound better at the microphone connected to the desktop. Not only that, but it also has an advanced noise cancellation to remove the noise background while you are recording. All of these features are available on this audio recorder. However, this tool is not available on Android and iOS; you can only use this on desktop. So, you want to have the best Voice Memos on Mac and Windows; this is the only solution that provides excellence to its users.
Pros
It supports multiple unique features to help the users with their recording.
Record video, audio, or gaming without bother because it uses a floating toolbar.
Available to adjust the system sound and your mic at ease.
It supports not only MP3 but also AAC, M4A, WMA, and more.
Cons
Limited to Windows and Mac.
Purchasing the tool is needed to avail all the major features.
Related:
2. FVC Free Online Audio Recorder

Doesn't want to download an app but want to use an Apple Voice Memo online, if you haven't figured out what to use, it is best to try the FVC Free Audio Recorder Online instead. This audio recorder app works like the other recorder; however, it is accessible online via opening it on your favorite browser. It has no restriction on recording any audio or sound on Windows or Mac. If you need to record the system sound and your voice simultaneously, you can do it with the help of this online tool. However, it only supports MP3 as its standard output format, and it has no editing features to help you trim or cut the unnecessary sounds on your recording.
Pros
It is accessible, and no download is needed to use it.
Malware-free and user-friendly to use by anyone.
Record audio inside of your system and mic simultaneously or individually at ease.
Cons
It is network dependent which means if you don't have internet, you can't use it.
Only support one audio format as an output.
3. Voice Recorder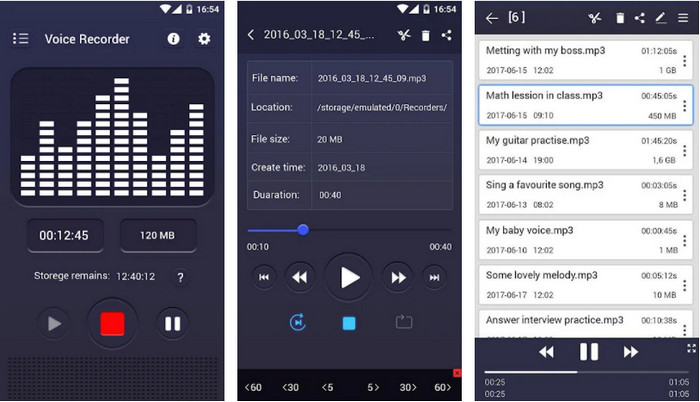 One of the most straightforward Voice Memo on Android is the Voice Recorder. This tool helps you to record any audio that the mic catches. Although the app has no special features, it is undoubtedly an excellent audio recorder app if you need one on your Android phone. The app's interface gives us the vibes of old cassette recorders, which is good if you like to have an old stylish style. However, there is a quite problem with the tool: the ads. Also, there are some instances that when you cancel recording, the recording will still save on your phone, which is a bit irritating and not storage-friendly. But the overall performance is impressively great and can be used by anyone.
Pros
Free to download.
It supports saving it on an internal or SD card.
Basic editing features are available.
Cons
It can't record a while having a phone call.
Bugs and glitches are happenings.
4. ASR Voice Recorder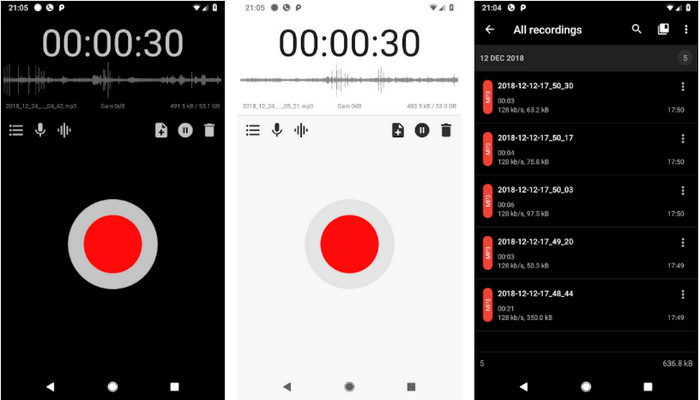 Record anytime anywhere with the help of this Voice Memo Android alternative, the ASR Voice Recorder. Unlike some of the recorders mentioned, this tool supports not only MP3 format but also WAV, OGG, FLAC, M4A, and AMR. Same as the iOS default recorder, this app also has a red round button at the middle of your phone interface, and just by clicking it, the recording will begin. It also has numerous features that help you in your recording. However, just like the first Android recorder app, this tool also has ads. Although they aren't big, ads can be very irritating, right? But if you need an audio recorder that is almost like the recorder Apple provides, then this is a choice based on the interface.
Pros
A playback controller and skip silence mode are available.
The supports help you promptly.
It can record into a Bluetooth headset microphone.
Cons
Bugs are happening on the Bluetooth headset microphone.
Sometimes it malfunctions and unable to play your recordings.
Part 5. FAQs about Voice Memo App
Where are voice memos stored on iPhone?
The audio recordings are inside the iOS internal drive because iOS doesn't have an external card. After recording, there is a built-in library on the interface of the voice memo to find the recordings you've made; all of them are arranged based on the date you've taken them.
How long can a voice memo be on iPhone?
You can record as long as you store on your phone to record all of the audio you need. Moreover, the standard is to record 100 minutes while using approximately 1.2 GB. But now, different generations of iOS devices show, and this may vary in other iOS devices.
How to send a voice memo on iPhone?
Launch the Voice Memo first and go to the utility; you will see this at the upper right corner, then press it. After that, look for the Share and choose the sharing option you need.
How to make a voice memo a ringtone?
You can't directly use the recordings on voice memo as a ringtone because it is not supported. However, you can save, transfer on desktop, then convert it into M4R with the FVC Video Converter Ultimate. Download the software first on your desktop, follow the installation process, and open it. Insert the ringtone file by clicking the + button. At the upper-right part of the interface, click Convert All to, go to Audio, and look for the M4R. After that, you can click the Convert All button to start converting. Transfer it back to your iOS device, and now you can easily use it as a ringtone.
Conclusion
Now that we have enough data about the Voice Memo, it is time to decide if it is the best audio recorder app on iOS. So, if you think it is not, that is okay because we got you covered with the other option you can use to record. However, you can easily use the iOS default recorder on any iOS device if you think it is the best. Regarding performance, there is no doubt that the FVC Screen Recorder is a multi-purpose recorder that you'll need to record audio, video, and gaming all at once. So now, if you need it, you can click the download button to download it on your Windows or Mac.