Best MP2 Audio Recorder with Reliable Steps and Tips For PC and Mac
MP2 is another lossy compressed audio file. Although MP3 format is very popular other than the other audio formats, the standard is always the MP2. Because it is the standard audio format it is prone to lost data. So, transferring data over the internet will be no problem to you. In some cases, users have trouble deciding what is the best MP2 recorder that fits their demands. In that case, the list below provides detailed steps and information that you may like to use. Continue reading this article to tackle what are these audio recorders that can produce the MP2 file format.

Part 1. Best MP2 Recorder for Windows and Mac
FVC Free Audio Recorder
One of the best online audio recorders may help you. FVC Free Audio Recorder as it is mentioned in its name, is a free tool used by many users over the internet. If the internet is not a problem to you, then you can rely on this online VHS MP2 recorder to produce a good output format. Not to mention, this tool is developed by the FVC so it is 100% malware free, so you're good-to-go if you use the tool. Moreover, here is the list of steps below so make sure you follow it thoroughly.
Step 1. Click this link provided to go to the website.
Step 2. Click Start Recording to launch the recorder.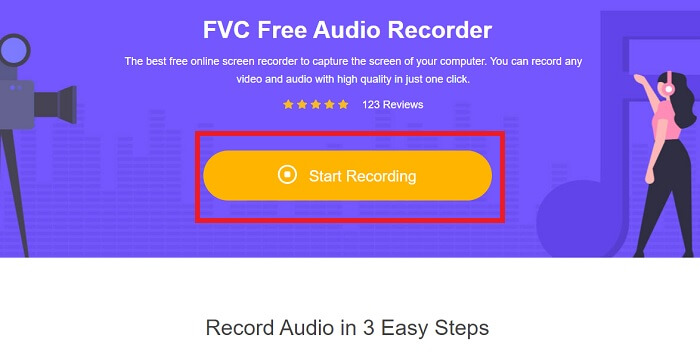 Step 3. A floating toolbar like this shows on your screen.

Step 4. Click the System Sound and Microphone to add system sound and your voice. If it is done then click the round REC to start recording.

Step 5. If recording is already done, click the cube like button to stop recording. It automatically saves it to your pc and enjoys it.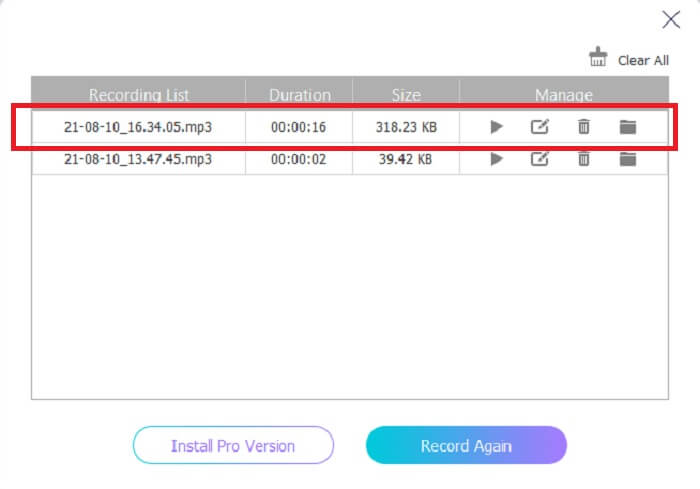 Part 2. Extended and Easy to Use MP2 Recorder to Record MP2 Audio
1. FVC Screen Recorder
If the online tool makes you say wow, then this tool will make you say excellent. Unlike the online tool recorder, the FVC Screen Recorder is a multifunctional tool that never limits your creativity. While improving your audio recording that takes you to another level that the other tools can't provide. Maybe you're still wondering if this tool can be your MP2 recorder, let's just say it is for you to find out. Without any more delays, let us proceed to prove to you that this tool is what you're looking for. Read carefully the provided steps below.
Step 1. Download the tool on your PC or Mac. Install the tool to your desktop and modify the Preferences and if everything is already settled, click Finish to launch the tool.
Step 2. The tool will automatically launch. A toolbar like this will show into your display. Click the Audio Recorder to proceed.

Step 3. Look for the gear icon and click it. Change the Output settings based on your wants. Click the OK to save the changes.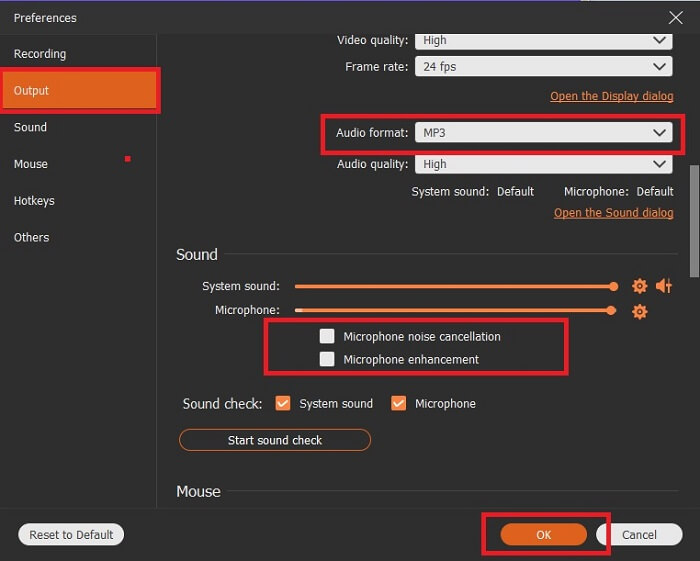 Step 4. Check if the System Sound and Microphone is on before recording. If it is already done click the disk-shape button to start recording.

Step 5. If you're ready to end the recording click the box like button to stop. Then Save it and click Next to produce the recording. If you want to re-listened to the recording then click the parallel line button to check the recording you just made. The first file will be your latest recording and the last is the oldest recording.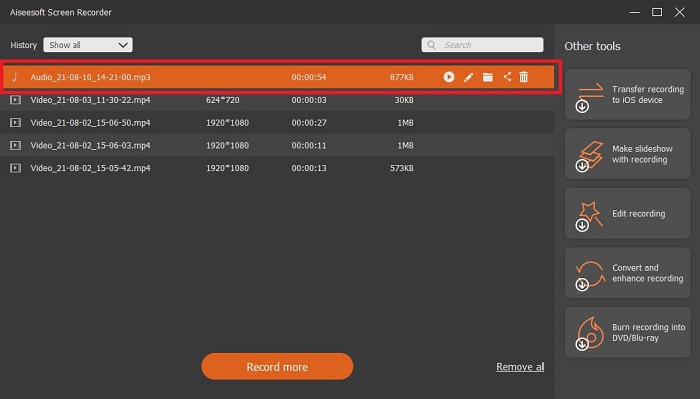 2. Audio Boo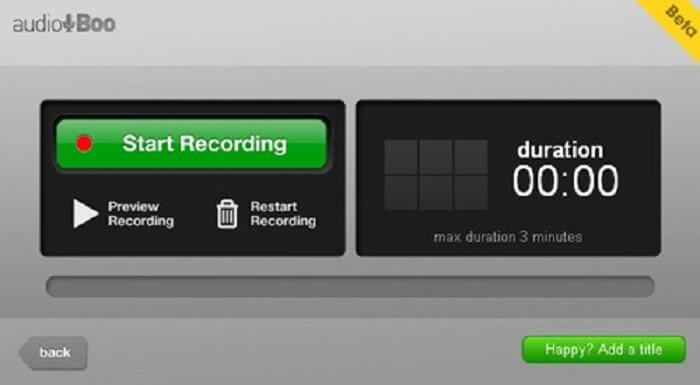 Another tool you may use in short recording is the Audio Boo. It allows the user to do a short type recording. For example, singing for your loved ones then sending it to them, audio diary, audio short reminder, and many more. But because of the limitation it gives you can record a full conversation, long jamming sessions, and etc. So, if you're wondering how long is the available recording, 3 minutes is the maximum.
3. Adobe Audition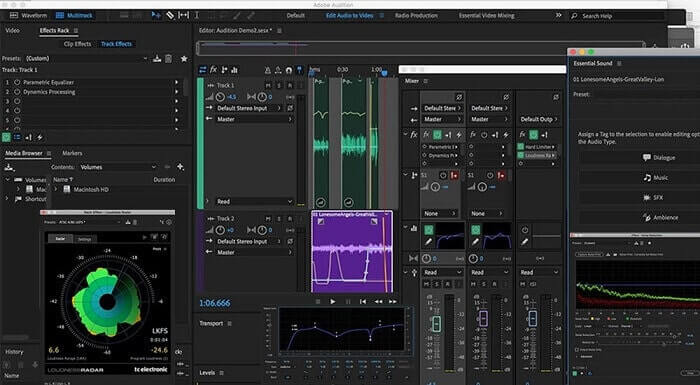 A tool that allows the user to record a quality recording. Also, it is supported by Adobe so expect a good quality output that it will produce. This is most commonly used by the music producer, singers, music arranger and as such. This is a more industrialized recorder. It is a bit overwhelming to the new user to use this type of Mp2 recorder. But it produces a good quality like the other MP2 recorders.
Further Reading
Part 3. Comparison Chart
Tool Feature/s
FVC Free Audio Recorder
FVC Audio Recorder (Premium)
Audio Boo
Adobe Audition
Audio recorder
YES
YES
YES
YES
Noise cancellation
NO
YES
NO
YES
Microphone Enhancement
NO
YES
NO
YES
Editing tools
NO
YES
NO
YES
Available Program/s
All Programs are supported
All Programs are supported
iPhone, iPod touch, and iPad.
Windows 7, Windows 8.1, or Windows 10 OS X Yosemite, OS X El Capitan, or macOS Sierra
Available Formats
MP3 and MP2
MP3, MP2, WMA, AAC, M4A, FLAC, OGG, AMR, Opus and many more.
MP3
AC3, M4A, MAT, VOX, W64, WAV, and many more
Price of the Tool(if it is payable)
Free Online Tool
For 1 month: $25.00
For a year: $31.20
For Lifetime License: $55.20
Free Downloadable tool
$27.62/moment, for annual
$315.61/years, for annual
$41.43/monthly plan
Part 4. FAQs about MP2 Recorder
Can I convert my MP2 to another format?
Yes, you can by using this MP2 Converter that is available online and you may as well want to try to use this ultimate converter for a much better output.
Which is the best MP? 1, 2, 3, or 4?
These MP file formats are all containers for audio, video and text. But the major difference between them is what they contain. MP1 is the first to be the first to do a cassette format. MP2 supports 1 to 2 channels and the standard for the playback of digital television and radio stations. MP3 is the most commonly used format that saves audio recording or audio format. MP4 contains audio, video and text format.
I want to play my video but my media player doesn't support the format, what should I do?
You may use this media player as it supports almost all different formats you may know.
Conclusion
At last, we now know the different tools over the web by the help of this article. So, if you are still having a hard time choosing which is the best tool for you. These tips might help you to decide what is the best. The recording tool you must use should be user-friendly, reliable, available to all platforms in case you change your device currently using, so it will not affect your audio recording, long-lasting, always receive updates, budget-friendly, and most of all malware free. If your guess is the FVC Screen Recorder then you are right. Because this tool never limits you, not so hard to use, and not too pricey. So, no need to look for another tool if this tool can do better than the others.