Three of the Best WMA Recorders for Voice Talents and Voice Content Creators
Are you someone who makes video tutorials, podcasts, and voice content online? Do you want to start your podcasting career? A voice talent? Begin by getting a tool that you can use to record your voice in good quality. Although MP3 is a good output file, it is good to use WMA files too. It is an audio container that is supported by most major multimedia players. The format contains a lossless codec that is often used for Windows media players. That is why most voice content editors use this file format when they are coding. For this reason, you need a recorder that can bring you this kind of file format or similar. Taking this into consideration, we listed some of the easy WMA recorders that you can use.

Part 1. Top 3 WMA Recorders for Windows and Mac
FVC Free Audio Recorder
The first digital voice recorder WMA is FVC Free Audio Recorder. This tool is commonly used by bloggers and podcasters when they need to record background music to avoid copyright issues and record their voices without background noise. The fact that the tool is free and accessible online, it is much easier for them to produce content. Not only content creators use this, but also educators who need to record voice memos. What makes other users drawn to this free recorder is the fact that it is unlimited of use. You do not need to worry about being limited to the duration and times you use it. No restrictions and limitations. The best part is, you do not need to download it on your PC. Worry not for malware that can infect your PC. In spite of all these features mentioned for a free app there is still more to this tool, please refer to the advantages below and be informed.
What makes it good?
● The bitrate is adjustable, that means you can change the audio output quality for your advantage.
● It does not require registration and payment.
● It can record audio and microphone at the same time.
● You can access it anytime with any browser.
● It records system sounds, that means no static and background noise.
Meanwhile, if you want to try the credibility of the tool you can refer to the steps written below.
Step 1. First, visit the official website of the tool by clicking the hyperlink in this description.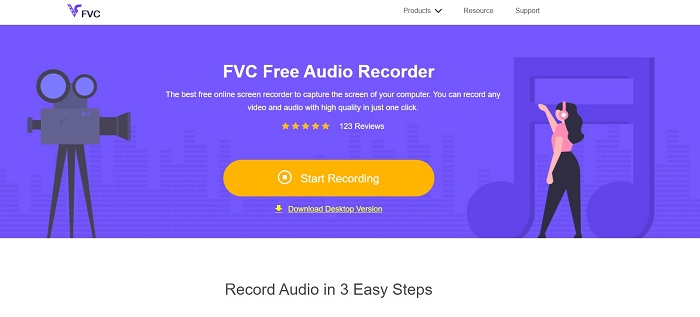 Step 2. Launch the app by clicking the Start Recording button.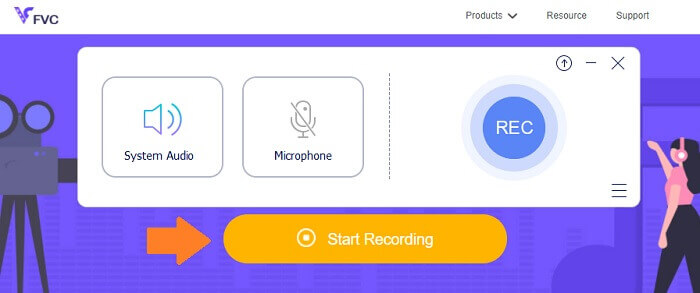 Step 3. Now enable the System Audio to record the audio. If you prefer to enable the microphone you have the option to.

Step 4. To stop the recording click the blue Stop button. The file will then be saved on your PC.

In spite of all the good things you will get from a free app, we cannot deny the fact that there are some drawbacks. That's where premium tools come in.
FVC Screen Recorder
Free Screen Recorder was developed to break the limitation of free apps. This way you can maximize all possibilities with the FVC Screen Recorder. This tool can do more than just screen recording, you can also record audio separately. That is why this is also good for those who are professional Vloggers and Podcasters. All of the features mentioned to the FVC Free Audio recorder are also present in the tool, but an enhanced version of it. Even the bitrate range is higher. The higher the range the better the sound quality you will get. On the other hand, know more about it by reading the list below.
What makes it good?
● Adjusting the bitrate is easy and the range is higher.
● The tool interface is simple and easy to use.
● Audio quality is remarkably good.
● It can record screen and audio at the same time and separately.
To show you how convenient this tool is, please see the step-by-step procedure for you to be guided.
Step 1. Download and install the app by using the download buttons below.
Step 2. Launch the app after installing it. From there click Audio Recorder. From there, enable the System Sound.

Step 3. Start recording when you are ready. To begin the recording, click the REC button.

Step 4. Once done recording, click the stop button. It is the red Square button at the bottom left side of the floating bar.

Step 5. From there it will give you an option if you want to Save or Re-Record.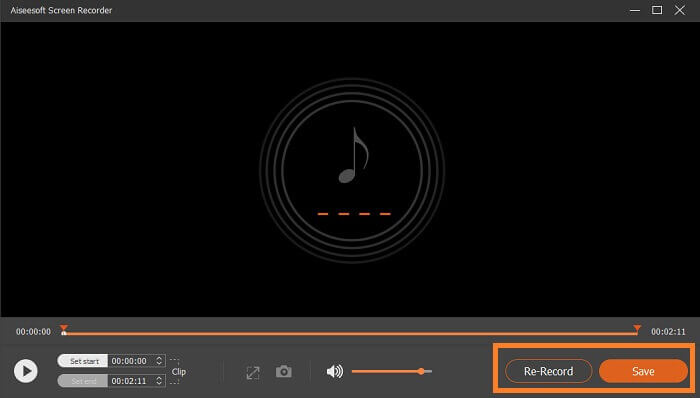 Snagit
Finally we Snagit. This tool is a screen recorder by default and it was added to the list because the tool has audio recording too. Although you cannot record separately, you can still record audio. What can you benefit from this tool? We have so many on the list but we will highlight some of them. Aside from the audio feature, you can also record webcam, Trim video clips, and turn your recording into animated GIFs. One of the best features this tool is known about is the Smart Move feature that allows you to make the objects in your capture moveable. If I am going to mention all features here it won't be enough. You can check the list below if you want to see a simplified list of them.
What makes it good?
● It supports Annotation that can turn your simple recording into animation or interactive.
● Snagit can record iOS screens.
● Convert your screenshot into simplified graphics.
● Design your images using stamps.
Part 2. Comparison Chart
| | | | |
| --- | --- | --- | --- |
| Point of Comparison | FVC Free Audio Recorder | FVC Screen Recorder | Snagit |
| Platform | Web-based | Desktop app | Desktop app |
| Price | Free | Paid | Paid |
| Bitrate | Flexible | Flexible | Stagnant |
| Recording with Microphone | | | |
Part 3. FAQs about WMA Recorder
How good is the WMA file?
WMA is a file format. It is also known as Windows Media Audio. It is based on ASF that keeps a bitstream of audio. This can store lesser files but can produce good quality audio. Much better than MP3.
What recorders can I use that supports WMA formats?
You can check on the list above. But if you need more you can check Audacity for PCs, Acethinker Free Audio Recorder for web-based apps, iTalk for iPhone, and Rev Voice Recorder for Android.
Which is better: WMA or MP3?
The difference between WMA and Mp3 when it comes to sound, WMA is better than MP3. For most file formats that support high-quality audio WMA stores fewer data than MP3. The only advantage of MP3 is that it can be played on most media players as compared to WMA. Want to make the conversion from WMA to MP3, read on How to Convert WMA to MP3 to have a check.
Conclusion
The tools listed in this article are all helpful and can match all your recording needs. Every tool is unique and they have their own advantages and disadvantages. If you are tight-fitting whichever is suitable for you, consider your needs. If you do not want to pay, then use the FVC Free Audio recorder. Meanwhile, if you want to get more than audio recording, use the premium tool of the audio recorder which is the FVC Screen Recorder. If you need to be more creative, use Snagit. Regardless of the goods and the bad, the list of tools is helpful.