Bandicam Screen Recorder Review & Alternative for Windows and Mac
Is Bandicam a good Screen Recorder? Well, it is hard to tell whether Bandicam Screen Recorder is good to use in short words. Different people have different opinions. Why not spend 5 minutes on this article to find your result? You can get the latest Bandicam Screen Recorder review here. Moreover, you can also get the best Bandicam alternative for Windows and Mac. It is completely free to record screen video and audio on your computer. Just continue reading and get the information you need.

Part 1: Is Bandicam Screen Recorder Worth Use
Bandicam Screen Recorder is capable to record video, audio, and webcam at the same time on Windows 10/8/7. You can get on-screen drawing tools and other advanced filters during screen recording. However, there are also some negative user comments about Bandicam Screen Recorder software. Here is a complete Bandicam Screen Recorder for Windows review you can refer to.
Bandicam Screen Recorder Pros:
1. Record video at a resolution up to 3840×2160 with the game recording, device recording, and screen recording modes.
2. Capture video, audio, webcam, PC screen, DirectX and openGL gameplay as AVI or MP4 format.
3. Record screen video with full screen or customized size.
4. Detect and record your primary sound device and webcam with high quality smartly.
5. Optimize screen recording performance with a hardware-accelerated H.264/HEVC encoder.
Bandicam Screen Recorder Cons:
1. There is no official Bandicam Screen Recorder for Mac version. Bandicam works on Windows only.
2. The Bandicam Screen Recorder full version works worse than its free trial version.
3. The user interface of Bandicam Screen Recorder is a little confusing for new users.
Bandicam Screen Recorder Price:
Is Bandicam free? The answer is No. The Bandicam Screen Recorder free version attached a watermark in your output video. If you want to buy Bandicam Screen Recorder full version, it charges $39.95 for a 1-PC license. If you buy a 2-PC license, you can get a Bandicam 25% discount.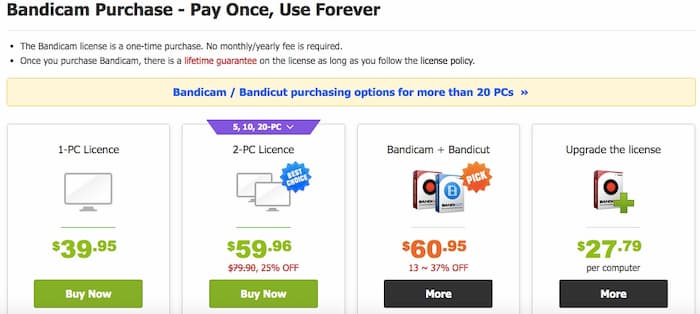 Find other screen recorder tool like Snagit Screen Capture here.
Part 2: Best Free Bandicam Screen Recorder Alternative
If you are looking for Bandicam Screen Recorder no watermark alternative, you can take a look at FVC Free Screen Recorder. It is 100% safe and free for screen recording. Different from Bandicam Screen Recorder, you can record screen video and audio on both your Windows and Mac computer. Instead of downloading a large Bandicam Screen Recorder package, you can download a launcher in several kb. After that, you can use the free screen recorder alternative to Bandicam online.
1.

No watermark

. There will be no watermark added to your video after recording.
2.

100% free

. No hidden fee during the entire screen video recording process.
3.

No time limit

. You can record videos, gameplays, online conferences, and more for hours and even days.
4.

Easy to use

. The user interface is lightweight and intuitive for beginners.
5.

Edit screencast during recording

. You can add real-time lines, text, highlights, and other annotations while recording.
6.

Save to MP4 and WMV format

. You can record screen video and save it into the MP4 and WMV video format with high quality.
Step 1: Visit the official site of FVC Free Screen Recorder on any browser. Click Start Recording in the main interface.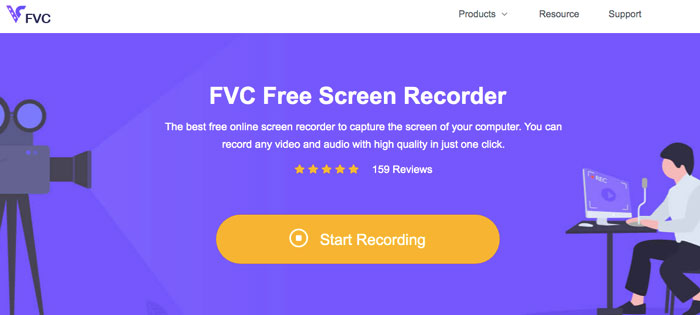 Step 2: The first time you use the Bandicam Screen Recorder free online alternative, click Download to quickly download and install its launcher first.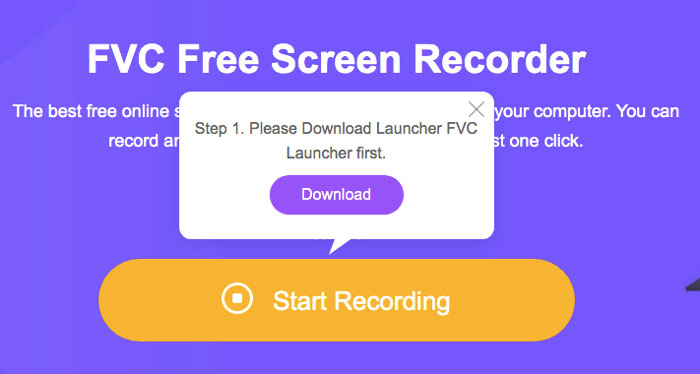 Step 3: Follow the FVC Launcher Installer and complete the installation process. It takes 778kb storage space on your computer.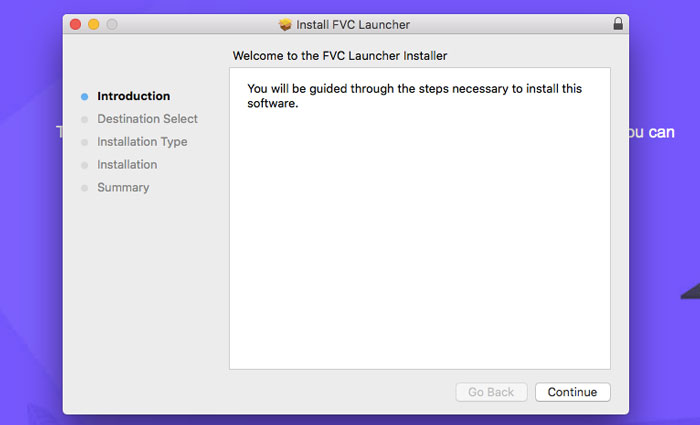 Step 4: FVC Free Screen Recorder pops up automatically. Unfold the Screen icon to set the screen capture area as 1280x720, 854x480, and more. Or you can drag with the left-click mouse instead.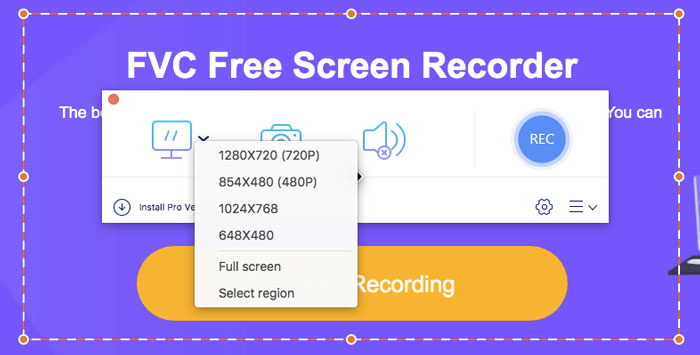 Step 5: If you want to record a computer screen with audio, you can click the Audio icon to enable audio recording. Now click REC to start recording with the Bandicam free alternative.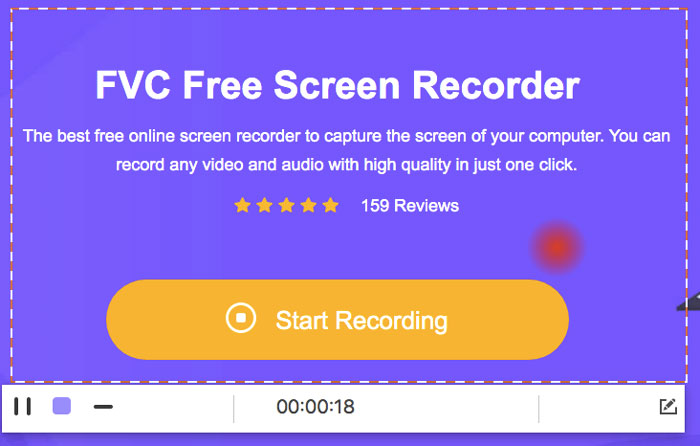 Step 6: When you click Stop, you can get the recorded screen video in WMV or MP4 format directly. Now you can rename, preview, share, and delete it with the options near the bottom.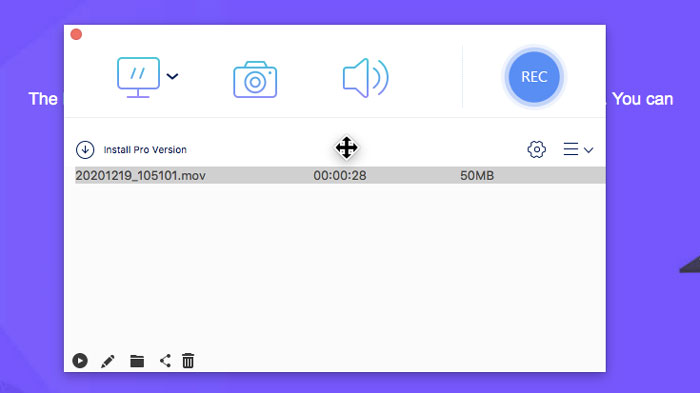 Part 3: FAQs of Bandicam Screen Recorder
Is Bandicam Screen Recorder safe?
Yes. You should download Bandicam Screen Recorder from its official website. The other unauthorized Bandicam for PC packages may contain malware and viruses.
How long can you record with Bandicam Screen Recorder unregistered?
Unregistered Bandicam users can record PC screens up to 10 minutes for free per file. You need to upgrade and get the Bandicam Screen Recorder registration code to record screen video unlimitedly.
Is there a Bandicam Screen Recorder portable version?
No. Though you can see some Bandicam Screen Recorder portable download links, they are not safe. You will be led into other pages instead of the Bandicam portable screen recorder.
That's all about the Bandicam Screen Recorder review and alterative. You can know whether Bandicam Screen Recorder full version is good for you. Besides, you can get one more free tool to record Windows and Mac screen for free without watermark. FVC Free Screen Recorder can be your best free Bandicam alternative. Because you can record the screen of your computer with zero cost safely and easily.