Comprehensive Review of the Best Game Recording Software
With the fast-growing gaming community, we can now see that everyone has unlimited access to gaming 24/7. Most gamers rely on their PC to play games, starting from real-time strategy, RPG, simulations, action-adventure, multiplayer, etc. Whether you are a youngster or grown-up, gaming is for everyone, so it has become popular. While playing the game, you can also stream to share your experience with the other gamers in the community. Perhaps, you've been thinking of trying streaming on Twitch or Facebook live, and this is a good choice. But you will need to remember that when you're streaming while gaming, the bandwidth it carries is heavy, which could lead to some lags and interruption on our connection.
Does anyone one of us want to play and stream with a laggy connection? We know it is stressful to experience this such instances. And for that reason, we would love to record the game, share it on a different video-sharing platform, such as YouTube, then do live streaming with a laggy internet connection. If we are on the same page, we gather the five professional game recording software you must have on your Windows and Mac below.

Part 1. Why Do You Need a Game Recorder
When we are gaming, sometimes we think about using a game recorder to do some recording. We use it because we want to capture the amazing tricks, highlights, montages, etc., that we are doing. And with the demand for screen recording tools, you will notice that some games have built-in recording software that can help you record what's happening while gaming, and some don't.
Even though some games can help you record, their quality isn't that good. So, if you preview the video you capture, you will notice that the quality of the video is poor. Luckily, you can capture what's happening on your screen in real-time without affecting its quality with a gaming recorder. You will need to keep in mind three things before choosing a game recorder, and we list it as a bullet form to easily highlight them individually.
◆ Ensure that the video game recorder supports high-quality recording, at least 720 or 1080 if you want an HD resolution.
◆ The software you are using must be capable of recording for a long time because gaming could take more than 30 minutes or even more, depending on the game you are playing.
◆ The recorder must support a high FPS if you want a smooth recording. The higher the FPS, the smoother the recording it will get.
Now that we know the three things you must know on screen recording the game, we must proceed to the software you can use to do the recording. We still have different preferences, but we only include three of them for the majority a gamer should have. These are the gems a gamer must have on doing such a task as we proceed. Keep the ball rolling as we share our experience testing the screen recorder while gaming.
Part 2. Top 5 Professional Game Recorders a Gamer Must Know
Aiseeesoft Screen Recorder

Aiseeesoft Screen Recorder is the powerful and professional game screen recorder that a gamer should have. With this tool, you can record your gaming up to 60 FPS, which is excellent if you want to capture every action while playing. Also, this tool is superior in features and functions if we were about to compare it with the other recording software you can have. It is a reliable gaming recorder. If you want to record your screen with a webcam and microphone, save it with the highest quality.
Based on the experience when we tried to do a game recorder for 10 minutes with 60 FPS and the highest quality. We notice that there aren't bugs or crashes while recording it. Also, before it starts, there is a 3-second countdown. And when we export the recording, the file size is 1.3 GB which is lower than the other recorder we tried, but the quality is still the same. In addition to that, we tried to record up to an hour; still, there isn't any problem we encounter while using it, and it impresses us. Isn't it amazing how excellent the recorder is? If you want to know its other features, you must read the following, and the download button is presented below if you wish to have it.

Aiseesoft Screen Recorder
4,988,518++ Downloads
Non-stop recording while gaming with the help of its Game Recorder.
It supports recording 60 FPS with the highest quality video output for you.
It can record your screen with a webcam and microphone like a pro.
You can set a specific format to audio and video if you want to.
Download it now on your Windows and Mac.
Bandicam
Most of us already use Bandicam because it is one of the best game recording software on your Windows. With this recorder, you can experience an all-out screen recording while using it, and even you are gaming. Also, the tool supports 480 fps to ensure that it will capture the gaming you are doing action per action. There is no doubt about its ability and function, but its free version doesn't support the 480 experience.
While using this screen recorder, we often experience crashes even we didn't start the recording. It is unpleasant when the recording starts because it keeps us bothered while recording and gaming. Also, there is no indication when the recording will begin like a timer. Even though we set its FPS to 30, it is still troublesome to experience this problem while using the recorder. Thus, you can't record more than 10 minutes using this tool, and there will be a watermark, mainly if you use the free version. But on the bright side, the file size of a 10 minutes game recording is 1.10GB only; it is the smallest file size in this article.
Action!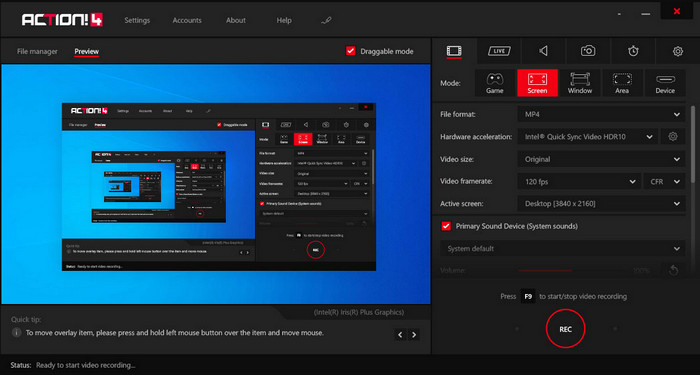 Action! is another reliable Windows 10 game recording you can download and use as a game recorder on your desktop. With this tool, you can record up to 120 FPS which is far better than the other screen recorders you can find. Unlike the other screen recorder in this list, you will see that its GUI looks professional once you've downloaded the tool and other adjustable options are available on the screen. Even though the recorder looks pro, you can only choose either MP4 or AVI as the format if you export the game recording here.
As we are testing the software, we find it hard to use the tool because it doesn't start recording right away, even when you launch the game. So, if you want to record, you'll need to open the video game then press F9 to begin the recording. When the 10-minute mark reaches the recording, we stop it. With 60 FPS is set, the file size of the screen recording comes to 2.19 GB, which is second of the largest file size in this article. Also, the exported screen recording has a watermark on it. But overall experience, the tool is excellent for screen recording, and there were no crashes or bugs when we tried to use it.
Loilo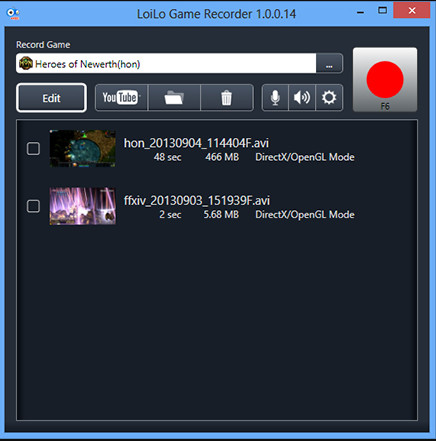 Loilo is one of the best free game recording software on your Windows. This screen is simple, yet it can screen recording with high resolution and 30 FPS less than the other three gaming recorders. While using it, you will notice that its GUI isn't that much, but it offers an okay gaming screen recording that you might like to use for free. In addition to its screen recording ability, this tool also supports editing features that you might use; although they are basics, it is still capable of helping you to edit.
When we try out using the screen recorder, there isn't much happening while running on the system. But before you can record, you will need to set the target of the recording. After we finished recording for 10 minutes with 30 FPS, we saw that the file size of a saves recording is 4.6 GB. It is the largest file size that a screen recorder has on this article. Even though the FPS is second to the lowest, we still think the screen recorder isn't storage-friendly. So, if you want to use this software to record an hour-long, then expect that the file would even become enormous.
FVC Screen Recorder Online

FVC Screen Recorder Online is the best video game recorder you can access on the web without downloading any additional files to launch it. Unlike the recorder we mention, this tool can screen record anything happening on your screen, like gaming. Even though the online recorder can help you record gaming, the 24 FPS it supports isn't that much if you want to record per action on your screen.
While we are using this web recorder, we notice that it can be faulty sometimes because it depends on your internet connection. Although it is not the best screen recorder for a high-graphics game, it is still usable; you can access it for free. After we record 10 minutes of gaming and export it, the file size of the recording is only 1.2 GB which is the second less in size than the others. So, if you want to record for free in a smaller size, then this is the web tool you might like to use.
Part 3. FAQs about the Best Game Recorder
What is the best screen recorder to record Minecraft?
There are a bunch of screen recorders you might see on the market other than the screen recorder we add in this article. But with the tutorial and the tools we add to this article, you can now do the recording right away on your Minecraft; click this link to know more.
Which is a better screen recorder, Camtasia or Snagit?
If you click this link, you will know more about Camtasia vs. Snagit. Read this article thoroughly to grasp all of the information you will need on both screen recorders.
Why does my screen recorder doesn't capture smooth video gaming?
For playing a game with the high-graphics game, you'll need to extend your frame per second up to 60 or above to make the recording smoother. The higher the FPS of the recording, the smoother the video will be, but its file size will be much more significant.
Conclusion
Now that we know the five best game recording software, this is the time you should choose. So, gamer, this is your chance to showcase your skills by recording your highlights and uploading them. If you have a strong internet connection, you might like to stream, but not all of us have strong internet. It is still possible to share it with the recorder by doing a game recording. To have the best game screen recorder at your reach, you must download the Aiseeesoft Screen Recorder, for it is the best game recorder you can lean on. Still not so sure if this is the tool for you? If so, click the download button and test it out, and indeed it is the best recorder for your gaming needs.