Snagit vs. Camtasia: Choose Which Is the Right Tool for the Right Job
In today's time the best way to remember all the things you miss is to rewatch all the discussions and presentations, the news, streamers, or live shows. But some of this can't be accessed over the internet so the best way to reminisce about all of these happening is to record it. While scrolling over the internet you found out that there are this two well-known tools-Snagit and Camtasia for screen capturing and recording. Because of this, it caught your attention and you search it over to your search engine to know which is the best recorder for you to choose between these two options. And now you're here asking the question of which one is better between these two. For now, we will examine which performs better. So, who you got, Snagit or Camtasia? Continue reading to know more about these recorders and to know which is the right tool for the right.

Part 1. Brief Review of Snagit and Camtasia
Before we know which is better let us know a small insight about the two.
Snagit is best in taking screenshots and editing but also it offers you the video recording as well. It has these 3 main options in its interface: you may choose between all-in-one, images, and video. All-in-one brings you the screen recording you like and also screenshots. As being said, the purpose of images and videos is to do a single task only. Want to know more about Snagit? Then click this link to proceed.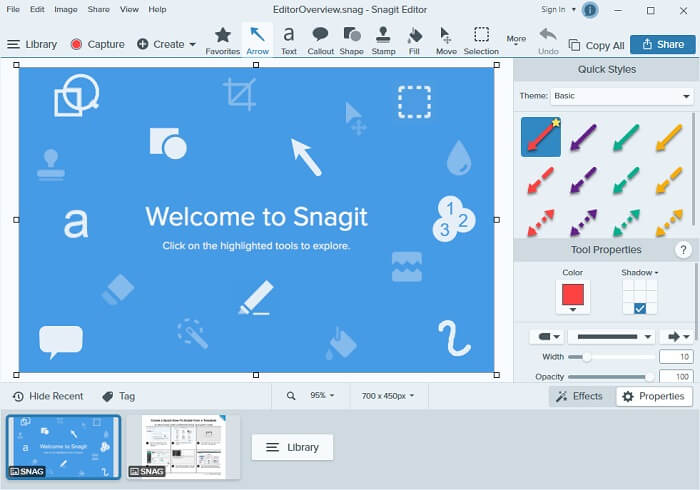 While on the other hand, If Snagit is well known for its screen capture and editing then Camtasia is known as one of the best screen recorders over the web. Though Camtasia doesn't offer you to take screenshots, its screen reordering ability is superior to the other best screen recorder.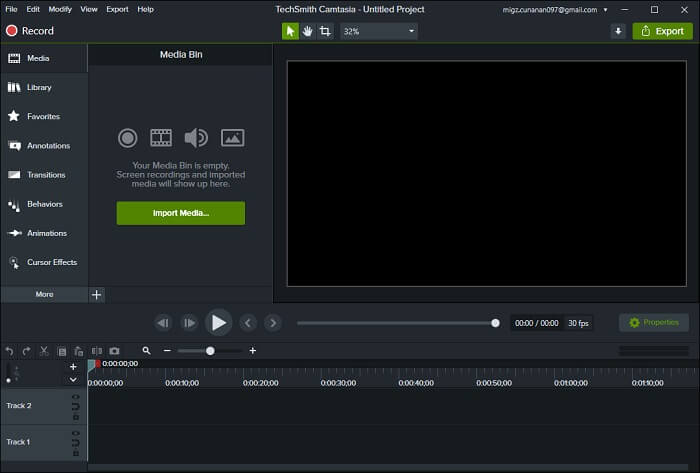 So, without any more delay let's go and know more about the different characteristics of these tools.
Part 2. Snagit vs. Camtasia: A Comprehensive Differentiation Understanding
Both of them can do recording but which is the best? This is provided to you to know the comparison between Snagit and Camtasia which is the best you should use.
1. Video and Audio Recording Abilities
Both of the tools are very effective in the recording. It depends on your demand what you should choose between the two. They both have a Screen recorder, Audio recorder, System Sound recorder, and Webcam recorder.
Snagit: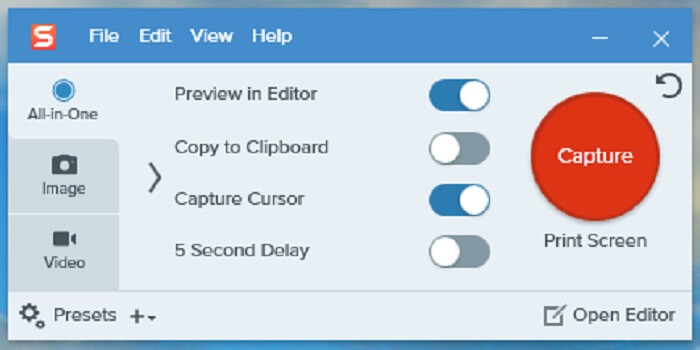 Camtasia:

2. Video/Image/Audio Editing
Starting from here they will now have their differences. As it is said, Snagit is best for editing images but it lacks editing in video and audio. So, if you record a video or audio in this tool basically you can't add your own touch to make it better. But on the other hand, Camtasia is very effective in editing video and audio but it doesn't provide screenshots so while recording you can't do screenshots.
3. User's Interface
Based on the two tools they are both on-point. But in some cases, if you're new to recording, Camtasia is a bit overwhelming as a recording tool. Because it provides different video/audio editing tools but no need to worry, it is not that hard to learn from it. Nevertheless, Snagit is more on point because if you install the tool, you may start recording without setting it up or do much more. Their interface seems fairly standard.
4. Budget Friendly
Maybe you're thinking that Camtasia is a lot more expensive than Snagit. To be honest, Camtasia is more expensive than Snagit. It became expensive because it offers you more control over your video and audio recording. Compared to Camtasia it is two times higher than Snagit. But remember that it is only a one-time payment only for both of the tools.
5. Sharing Your Finished Content
As they both came from the same developer. So, sharing it will be no problem on a platform like YouTube, Facebook, Instagram, and so on. But also, it offers you 2GB to upload your content over ScreenCast.com.
If you're still having a hard time deciding which one is better then use this comparison chart between the tools. There is a Great, OK and Less OK for you to find out.
| | | |
| --- | --- | --- |
| Tool Feature/s | Snagit | Camtasia |
| Video and Audio Recording | Great | Great |
| Video/Image/Audio Editing | Video and Audio it's a Great | Image it's a Great |
| User's Interface | | |
| Budget Friendly | | |
| Sharing your Finished Content | | |
Part 3. Best Open-Source Screen Recorder Online Alternative for Snagit and Camtasia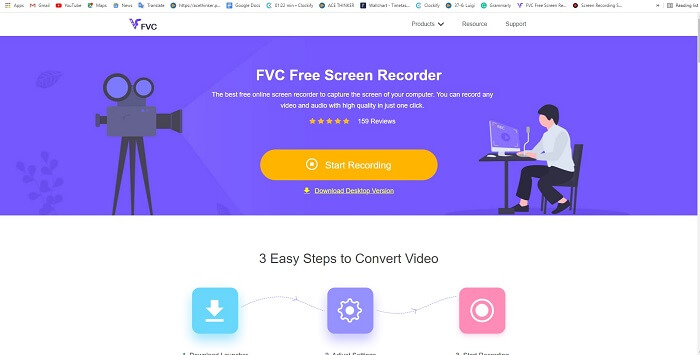 If you think that recording should not be expensive then this online tool is for you. FVC Free Screen Recorder this online tool offers you one of the best online recordings if Snagit and Camtasia are not your forte. To know more about this tool and how it functions read these simple steps below and follow it accordingly.
Step 1. Access it over to your web by clicking this link to proceed.
Step 2. Click Start Recording to start launching the software.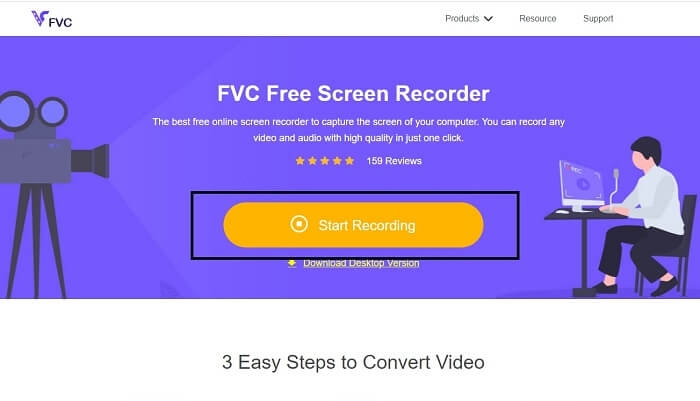 Step 3. A manageable floating toolbar like this will show on your screen.
Step 4. Set the frame ratio or click the Full screen to record all the action over to your screen. You may as well add your face by opening the Webcam, add voice via Microphone and the sound in your system by turning on the System Sound. If everything is already set, click the disk like shape button to start the recording.

Step 5. To end the recording click the cube like button to stop the recording. After stopping, it will automatically be saved in your storage. But if you want to check it, click the three lines and a history list will show then click the first recording because that is the latest one.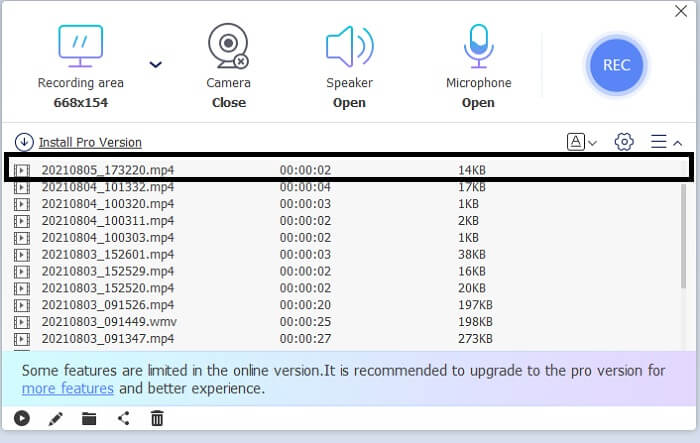 Part 4. Comparison chart
Tool Feature/s
FVC Free Screen Recorder
Snagit
Camtasia
Video/Audio/Webcam/System Sound recording
Malware Free
Registration Needed before using
Platform/s
Web-based app
Desktop app
Desktop app
File Size
No need to download
316 mb
452 mb
Price Range
It is a free open source online tool

$12.50Annual fee

$49.99One-time payment

$50.00Annual fee

$249.99One-time payment
Part 5. FAQs of Snagit Vs Camtasia
Where can I play my finished recording on Snagit and Camtasia?
You can use this video player online, which allows you to play any type of videos and audio format via online. It also offers an offline video player which performs much better than the online tool.
Who is the creator of Camtasia/Snagit?
It was developed by TechSmith.
Is Snagit and Camtasia free to use?
Both of these are not free to use, but they have 15-days trial to use and it needs your Gmail or you may as well create an account before you may access it.
Conclusion
At the end of the day, we already know what is the best tool between the two. The battles between Snagit vs. Camtasia have come to an end. Because each tool has its own unique characteristics as a screen recorder. But there is one tool that will stand out. It might be never introduced here in this write-up but this tool is so powerful that both of this software can be done by this tool. Maybe you're wondering if it will cost you a lot of money to tell you this. It will not, it is true you'll have to pay it before you're able to use it but it is not pricey. FVC Screen Recorder is the tool that became more advanced than these two. If you enjoy using the online tool then this is the best choice for you if you don't want to lose a lot of money but still have a great video recording. Why don't try this tool to experience a new height of recording better than anything else.