A Comprehensive Review of Fraps Screen Recorder 2022
Fraps was one of the first game capture programs. While it has a number of good setups, it is a little behind the times. It's still one of the most well-known game capture programs, and it's quite simple to use, allowing you to record high-quality films with ease thanks to its user-friendly interface. Unfortunately, the makers have only issued a few updates since the game's initial release. Fraps has fallen behind the competition. It also lacks any built-in help options and lacks helpful support documentation. While it's still worth investigating, it's far less adaptable than the many newer, more up-to-date alternatives.

Part 1. Fraps Screen Recorder Reviews
Fraps screen recorder is one of the originals. It is one of the promising screen recorders that became popular during its release. It delivers outstanding video recordings up to 7680x4000 with a customizable frame rate ranging from 1-120. It means the tool provides quality as the original content. After it was released to the market, the developer launched a few more improved versions of the tool, but it is still slowly being left behind. More and more similar apps are being released in the market. Regardless if it is still continuously being used by many. If you still want to consider using it, see the list of advantages and disadvantages of the app.
Pros
Fraps are consistent in recording 120 frames per second.
Fraps show no latency and it is recording real-time.
The Built-in Benchmarking software is impressive.
The video quality of the output is satisfying.
Cons
Issues have been reported that during a recording, the quality of the game performance is decreasing so as the resolution.
Video output needs to be converted or compressed before uploading to social media sites because of its large size.
You need an extra hard drive for it. A 2-min video recording almost consumes 3.95 GB.
Of course, great features come with a great price. Fraps will cost you $37.0 per subscription. You can also choose to try the app first by maximizing the free trial with the limitation of 30 seconds recording at a time. You also need to know that the last update of this app was last February 20, 2013. Nevertheless, it is still a good tool. If you want to learn how to use Fraps, check out the steps below.
Part 2. How to Use Fraps Screen Recorder
After reading the Fraps screen recorder review and decided to use the tool, use the guide below to get started. For a free trial, remember that there will be limited access and a watermark will appear in the recording.
Step 1. Get Fraps Screen Recorder
Download and install Frap by visiting the official website. Launch it afterward.
Step 2. Start Video Recording
To start the recording, the default shortcut code is F9. If in any case that the hotkeys don't work, tick the Video Capture Hotkey.
Step 3. Set your recording preference
On the same interface, you will also see the settings before recording. You can tweak the settings according to your needs and preference.
Step 4. Open the Game to Record
As soon as you launch the game window you will see the Benchmarking at the top corner of the game Window. When you are ready to record, hit F9 or the custom hotkey you preset.
Part 3. Best Alternative to Fraps Screen Recorder
Now, if you think about it carefully, the tool requires a lot. An extra hard drive, compressing, etc. If you are not ready for this, you can find a more practical way to record without complicated requirements. One good example is FVC Free Screen Recorder.
It is safe to say that the tool is practical since you need a working internet and a browser to use it. No registration is required, no payment, and no need to download it on your PC. Along with the screen being recorded, audio is also captured. There is more to discover with this tool. Learn more by reading below.
Step 1. Visit https://www.free-videoconverter.net/free-screen-recorder/ to start using the tool.

Step 2. Click the Start Recording button to begin recording, then click Open FVC Launcher from the pop-up window. Wait until the tool loads, when you see a message Tool is Activated.

Step 3. From there the floating bar will then appear. To start the recording, select the area you're going to record, click the REC button, and let the three seconds countdown finish.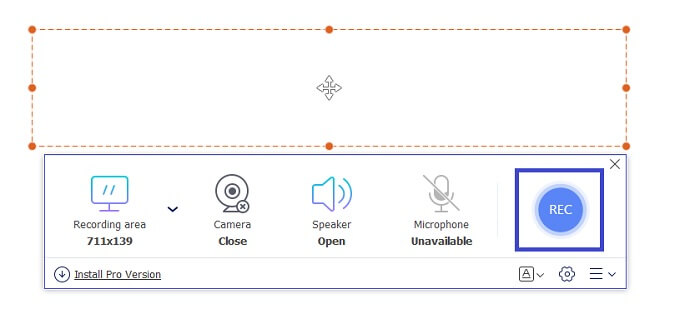 Note: Set the frame to your desired aspect ratio, add audio, and add microphone recording is possible.
Step 4. To stop the recording, click the Square icon.
Pros
It is for free.
The tool is easy to use and easy to navigate while recording.
You can set the output format into your device compatible format.
Cons
It is limited in screen recording.
Part 4. Comparison Chart
| | | |
| --- | --- | --- |
| Features | Fraps Screen Recorder | FVC Free Screen Recorder |
| Price | $37.0 | Free |
| Accessibility | Upon download | Web-based Access anytime |
| Video Quality Output | ULTRA HD | HD |
| Frame rate range | 1-120 FBS | 1-120 FBS |
| Reliability | | |
| Lags | NO LAGS | NO LAGS |
| Aspect ratio | NOT ADJUSTABLE | ADJUSTABLE |
Further Reading
1. Secret Screen Recorder Review
2. Debut Screen Recorder Review
Part 5. FAQs of Fraps Screen Recorder
If I launch the app and the game, will it not affect my gameplay?
Great Question. This varies depending on the operating system that the computer runs—a massive impact with the configuration too. If you are running the latest and High-end computer, it is relatively minimal. But the best solution there is to Benchmark it.
I can't seem to find 30fps, 60fps, 75 fps, or any other frame rate during the game. Can anyone help me out?
For this, there are several reasons why. First, consider the fact about the internal limit. Rendering at a certain frame rate in some games might be prevented because of internal configuration. Many games these days have limitations, and some will only give a maximum of 30FPS. Another possibility is you having a Vsync open or enabled. It is a factor because Vysync is synchronized in your graphics card and the display of your monitor. Disabling it will help Fraps continuously render without waiting for the last frame to display.
I need help in averaging the frame in between two points.
The answer to that is still Benchmarking Hotkey. This will determine where the point or beginning of the Averaging is and where it is to take place.
Why the file size is big? Most especially AVI formats.
It is because there is no time to encode the video while the game is on. Also, as mentioned in this article, the first two minutes of recording will already accumulate 3GB. That is why you have to use a compressor after recording before uploading.
Conclusion
Fraps can make a few more updates to the trend and a few alterations and improvements with the interface. Nevertheless, it is still a good app you can consider using if you want to record your computer screen or games during live streaming.
If not satisfied with both of the solutions given to you above, you can try Fraps' alternative - the FVC Screen Recorder premium. It is the FVC Free Screen Recorder premium version. It is one of the most recommended apps used by gamers and video tutorial makers on YouTube. Plus, being able to lock the window where and to which is being recorded only. This means you can do anything on the screen, even when it is recording. You can get to record your screen and separately record audio too. Try it now by clicking the download buttons below.