Top 5 Album Art Changers for Windows/Mac/Android/iOS to Use
Playing music on different online music streaming platforms like Spotify and Pandora became the new trend. Our access to music became boundless for every listener on the said platforms. From traditionally downloading into streaming, it will save a couple of space on your storage. Apart from enjoying listening to the songs we play, identifying the music is essential. And with a CD cover, we can determine if that is the right song to play. Considering you search a specific title and author, tons of queries will show.
So, it is essential to have album art that will stand out amongst the rest to make it unique. For that reason, we need to add album art to the music we have to make a difference from others. Let's switch this thing up and determine the best album art changer software for Windows 7/8/10/11, Mac, and even our phones without any more delays. Keep reading this article as we round them all up for you to know more.

Part 1. Top 3 Album Art Changer Software on Windows 7/8/10/11 and Mac
FVC Video Converter Ultimate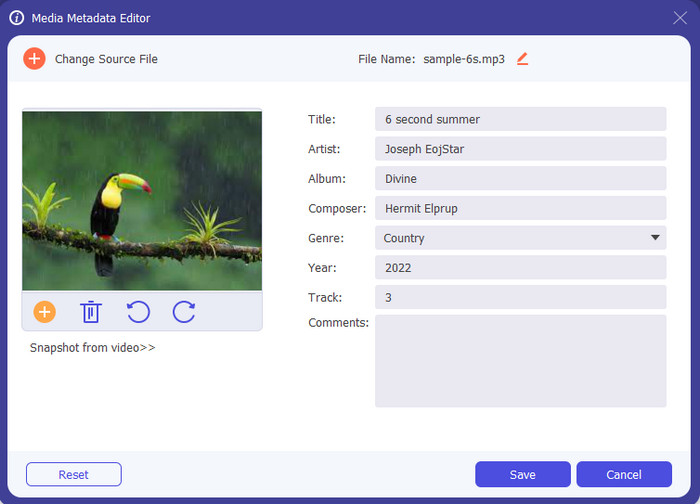 Operating System Supported: Windows 7/8/10/11 and macOS
FVC Video Converter Ultimate is our top choice for uploading high-definition album art on our music file to make them look complete. This tool provides a section where you can input metadata and album art to our file. The other metadata you will need on your file includes album, genre, title, artist, year, and different detailed information that the other tool can't provide. Also, the tool supports over 1000+ formats you can upload into it, so there is no need to worry if your file is supported here because it is.
On top of that, this software is more than capable of handling the metadata. It can also help you do more fantastic stuff, such as syncing your audio and video, accelerating the playback speed, and many more. The tool is our one-stop video and audio problem solution as bright as the sun. Learning how to change album art on Windows and Mac with the assistance of this tool is worth our very time.
Advantages of Using FVC Video Converter Ultimate:
1. It supports uploading a high-definition image as album art such as JPEG, PNG, HEIC, and many more.
2. It supports over 1000+ video and audio formats to upload, add, edit, or remove metadata.
3. Add the vital metadata on our file to arrange them correctly in the library and folder.
4. This tool supports hardware acceleration and ultra-fast process to have a smooth process.
5. Best choice for every user, whether they are experts or beginners.
6. Available to download on your Windows 7/8/10/11 and Mac.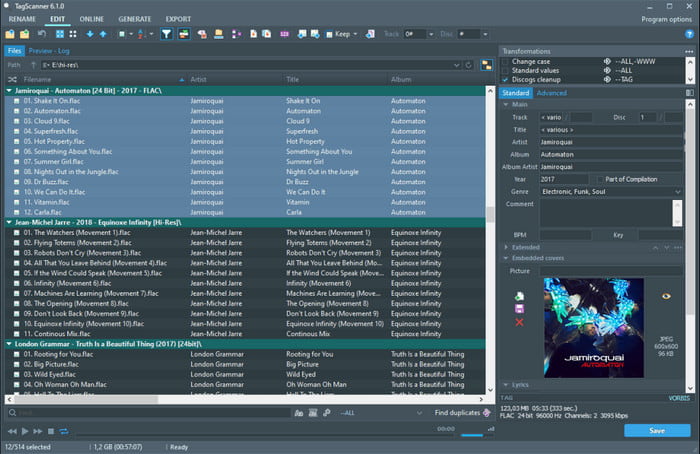 Operating System Supported: Windows
You can download the Tagscanner as your personal album art changer software for Windows 7/8/10/11. With its batch function, you can import multiple files here and then change their metadata at ease. The best thing about using this tool is detecting tag information on Amazon and FreeDB to save us time adding them. Although the tool's GUI is unusual because it looks like a spreadsheet, it is still considered a powerful tag editor you can download on your desktop.
Although it can search and work multiple files with tags, there are times that the automatic search tags feature that this tool supports will give you the wrong labels on the search. But no need to worry because this happens not often. So, before you apply or add the tags that this tool searches, you must check them first and see if they are accurate to avoid false tags on our file. Nonetheless, this software is excellent to use, and you can also download it for free.
Pros
It supports adding metadata to multiple files at once.
Free to download on your Windows software.
An automatic search of tags is supported.
Cons
Sometimes the tags it generates on Amazon and FreeDB are inaccurate.
Learning how to use the tool will take time.
The software doesn't have a Mac version for Mac users.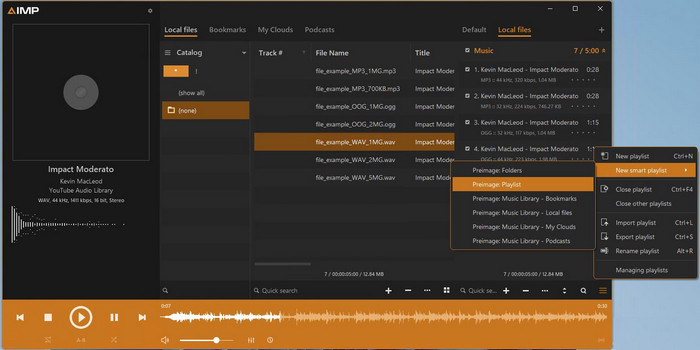 Operating System Supported: Windows and Android
AIMP is a trustworthy music player and an MP3 tag editor you can download on both desktop and phone. One of the exciting features this tool supports is creating a smart playlist to match your mood with ease. But before you can use the smart playlist, you must have the correct metadata on your music file to do it. Luckily, the tool can help you adjust the essential metadata that you must have on your file and add the cover album to make it look better. Suppose you like to download this tool; other than its regular version, you can also use the portable version on flash drives to transfer it from your computer to another.
Even though the tool works great on playing and metadata editing, the GUI of the software needs to have an update. The tool's user interface is unorganized compared to the other software. If this doesn't matter to you at all, then you can use this album art changer pro and download its apk on their official website.
Pros
GUI is customizable.
It supports average audio formats to upload and change the metadata.
Add essential tags to your music file to make them organized.
Cons
Although the tool can organize music files, its GUI is unorganized.
Other functions and features need an update.
Part 2. Top 2 Album Art Changer Apps on Android and iOS Devices
Album Art Changer for Android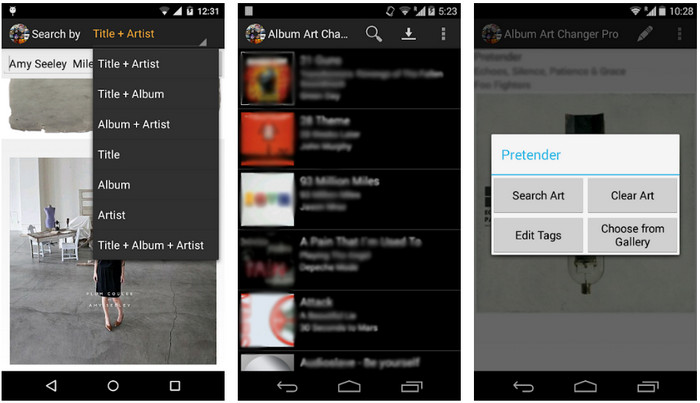 Operating System Supported: Android
Album Art Changer for Android can help us generate album art by using the app that you can freely download on Playstore. But it will not search the art for you if you don't have metadata, so make sure that the music file does have title, album, and artist name to find the correct album art to your music. It can also edit the ID3 tags that are already on the music file.
Although the tool is free to download, some pesky ads are popping out of nowhere once you use the tool. One of the major problems that many users encounter using the tool is that it generates too slow on album art. But if you have downloaded the album art on your Android, you can upload it to avoid this problem.
Pros
It is free to download, but it also has a pro version available on Playstore.
Search and add the album art automatically with the help of this app.
It supports an average of audio formats.
Cons
Pesky ads are showing while using the app.
Sometimes, glitches happen when you add the album art to the song.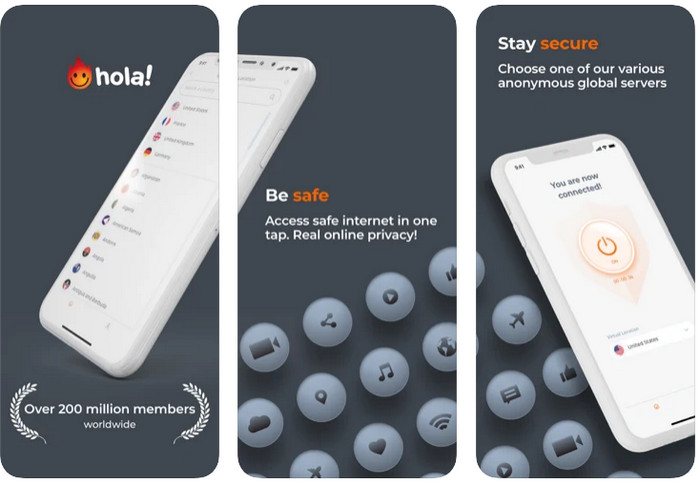 Operating System Supported: iOS
Cover Art Studio allows its users to create their personalized album art to make it unique from the other cover. Although the tool isn't capable of generating album art like the other tool, it still has built-in stickers on where you can choose from to maneuver your album cover. Also, the tool supports adding the image on your Photos, so editing them here to use it as the cover art is one of the strengths this tool offers.
However, the tool limits the stickers you can use on your personalized cover art on its free version. We suggest purchasing the premium version if you want to have the premium stickers and other advantages of using it. Moreover, the tool is terrific, and it has a better GUI than the Album Art Changer for Android.
Pros
It doesn't contain any ads while using it.
Developers often update the app to fix the problem.
Create your personalized cover art here.
Cons
It doesn't allow you to add album art to your music.
Sometimes there are some crashes and bugs still happening lately.
Part 3. FAQs about Album Art Changer
Does adding album art increase the file size of the music?
It affects the song's file size once you've added an album art on it. But sometimes, the file size won't increase as expected, especially if the image isn't high-resolution. So, if you want to add cover art to your music file, then there is no need for you to hesitate to add one to make the song complete with the perfect visual.
Can I use the art on the web for my album cover?
Yes, you can, but make sure that you will get the authorization of the rightful owner of that art. If you didn't do it, you already violated the copyright law. To avoid this, you must contact them immediately and ask permission to use the specific art, image, logo, painting, and so on.
Why doesn't music have album art?
Most of the music you can find on the web has designated album art, especially if you bought or have access to an online music streaming or music store. However, if you download it on the web, it won't save the album because it is pirated on the web, which is illegal.
Conclusion
In the end, we now have a clear vision of the tools and apps that could help us add album art to our song. Because of this review, we have noticed that the software has different characteristics as an album art changer. Now, we must choose which we think is the best software tool regarding this problem if you haven't decided what to choose. Then we recommend that you read and download the FVC Video Converter Ultimate on your desktop. With this tool, you can edit the file's metadata and the cover art you have. So, download it now to change album art on Mac and Windows within a few clicks away.