Top 5 Best Movie Makers for YouTube: Do They Deserve Your Like?
A significant number of people are now looking for YouTube Movie Makers. This is because of the fact that YouTube is becoming the number 1 video-sharing social media platform today. But to those who don't know Youtube, is a social media network where you can watch and at the same time upload video content for entertainment. When the Covid 19 pandemic started, more and more people were fond of using this site because aside from their television, this site became one of their companions during the lockdowns.
In addition, it has been recorded that over 300 million hours of videos are being watched daily. For this reason, many are switching to being YouTube movie creators, also known as content creators, because of the significant earnings that Google Ads is paying them. Therefore, if you are one of the blogger aspirants, you better know the best tools to help you create great content to upload.

Part 1. Top 3 Magnificent Movie Makers on Windows and Mac
1. FVC Video Converter Ultimate
The FVC Video Converter Ultimate has been proven to be the number 1 best movie maker for YouTube videos, aside from being the ultimate video converter. Furthermore, this software allows you to easily share your movie on YouTube along with the other most popular social media networks. In addition, it supports almost all of the popular video, photo, and audio formats, so you won't need to worry if your recorded files would fit in because they surely will. This FVC Video Converter Ultimate has everything you need to create amazing output. The hundreds of various themes also enable you to edit and enhance your content by cutting unnecessary parts, adding effects and filters, same with the subtitles, audio, and watermarks on your own!
This software really has what it takes to be the best movie maker for youtube videos. Imagine having a multifunctional tool that shows excellence in every feature it offers, along with the powerful hardware acceleration and ultrafast conversion technology! This tool is definitely worth a space on your computer device!
Pros
An intuitive YouTube movie maker.
Extremely versatile.
Easy and safe to use.
With multiple acceleration technologies.
No watermark.
Cons
Offers paid version.
Not accessible on mobile devices.
2. Windows Movie Maker
Who doesn't know the Windows Movie Maker? After all, it has been the very common video editor software, not until it was discontinued in 2017. Hence, users of Windows 7 OS are still in luck, for they can still use this iconic video editor. On the one hand, this excellent software has continued its legacy when it comes to video editing and, of course, movie making. On the other hand, unlike the other editors, the Windows Movie Maker cannot count on providing effects and filters, limiting Youtube movie creators' creativity. Thus, it is still countable with other commonly used tools like trim, cut, add titles, etc.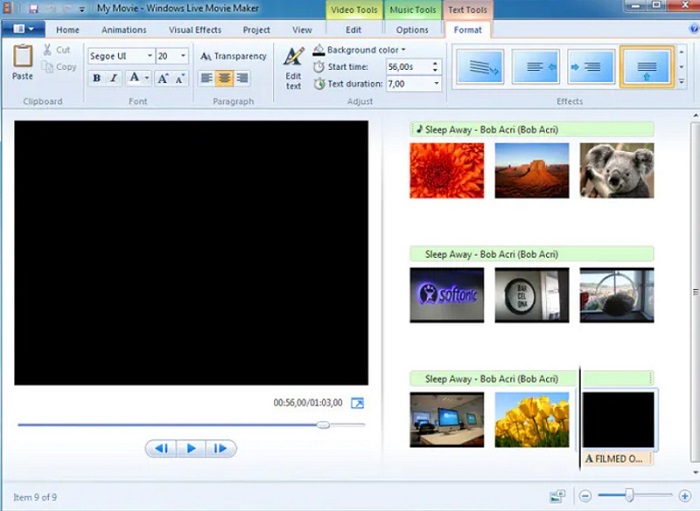 Pros
Easy to use.
It offers significant adjustments for movie making.
It is free.
Cons
Limited features and editing tools.
Not available on all Windows versions.
3. DaVinci Resolve
The DaVinci Resolve is a well-known software for its professional editing ability. Furthermore, this non-linear editing tool is usually tagged as one of the most competitors of the most well-known video editors such as the Premiere Pro, Camtasia, and the Final Cut Pro. This reason makes it one of the best free movie makers for YouTube. However, just like its extravagant competitors, its premium edition has a steep cost. But in all fairness, this DaVinci Resolve can be labeled as an all-in-one editor, for its premium version contains almost all the beautiful features and editing tools that a blogger might need.
Pros
With a free trial version.
With a wide range of editing tools.
Professional-like outputs.
Cons
Confusing to use for beginners.
The free trial contains limited features, unlike its premium.
It requires a high system on the device.
Part 2. 2 Best Moviemakers for Android and iOS
1. PicPlayPost
The PicPlayPost is an original video collage-maker that is now one of the best movie maker apps for YouTube. This application is ready to use on Android and iOS devices, and in making content, it uses video collages that make a great impression on the content creators. Moreover, this tool enables you to create 4k video quality outputs for your content within a 30-minute span. With the multiple effects, stickers, transitions, and text overlays, you will get to enjoy editing your videos for free.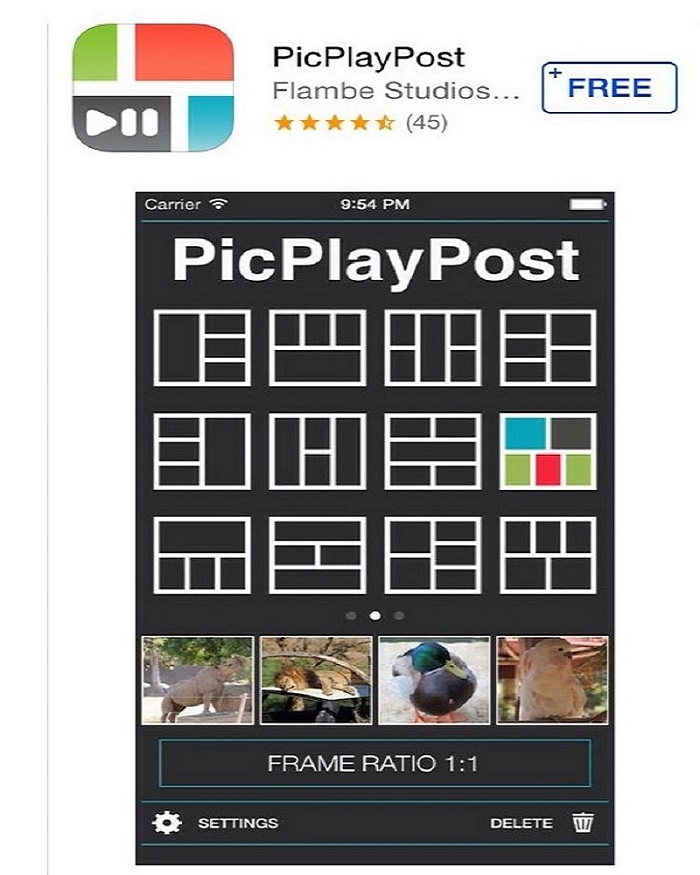 Pros
With a free trial
Easy-to-use
It allows personalizing watermarks.
Cons
It requires 2-5 GB of space on the device.
The free trial limits the span of the video.
2. VivaVideo
Another fascinating YouTube movie creator that you will use on your mobile device is this VivaVideo. Furthermore, this intuitive application offers many editing tools to enhance your video content. Here, you can merge, cut, edit the videos by adding transitions, effects, texts, stickers, and music to them. Moreover, you shouldn't also miss the stylish themes and templates it offers to beautify your video content.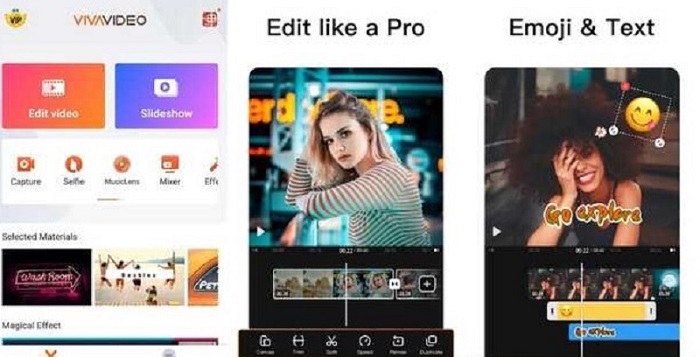 Pros
It comes with a built-in camera.
Easy-to-use
Very intuitive.
It comes with tons of great editing tools.
Cons
With watermarks on the outputs.
Reported bugs while using after the update.
Part 3. Helpful Tips and Steps on How to Make a YouTube Video with Movie Maker
Making your own movie for your YouTube content would be great if you followed the helpful tips below. And So, let us use one of the magnificent moviemakers that have been credited with making the best content to upload! To follow this tip, you must first download the FVC Video Converter Ultimate, launch it and get yourself directly to its MV feature.

FVC Video Converter Ultimate
5,689,200+ Downloads
It offers GPU acceleration.
With multitudes of themes, effects, and filters to beautify your content.
Thousands of editing tools to stabilize and boost the quality of the videos.
Linked to the most popular social media networks for easy sharing.
Make movies in easy steps within the simplest interface.
Tip 1. Prepare Your Raw Data
Before making your video content, you have to prepare the raw data for editing purposes. This step will make you get rid of the unwanted clips, so you may want to crop and trim your video. Go ahead and click the Edit tab once you upload your video.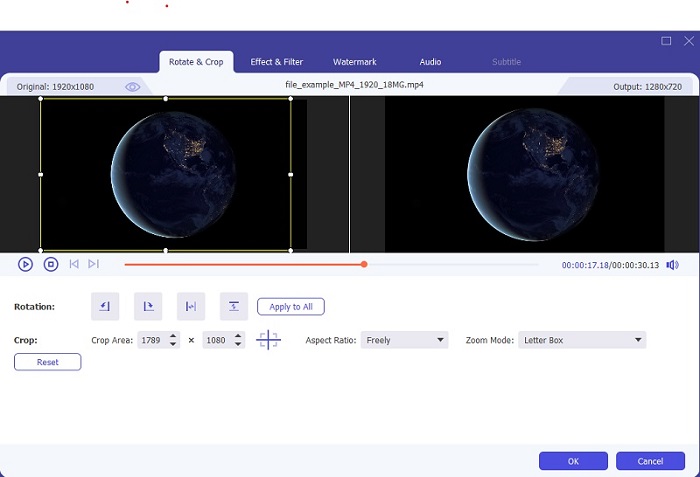 Tip 2. Add Effects
Try adding effects using this YouTube movie maker. Because by doing so, they will add radiance. On the Effect & Filter window, adjust to the Basic Effect. Otherwise, click to choose one of the filters available, and hit OK.
Tip 3. Themes And Music
Your movie would never be as creative without themes and other music on it. Now choose among the multiple Themes available on the tool, and switch to Settings to add a piece of different music on it. How? Just click on the Arrow dropdown button next to the Background Music.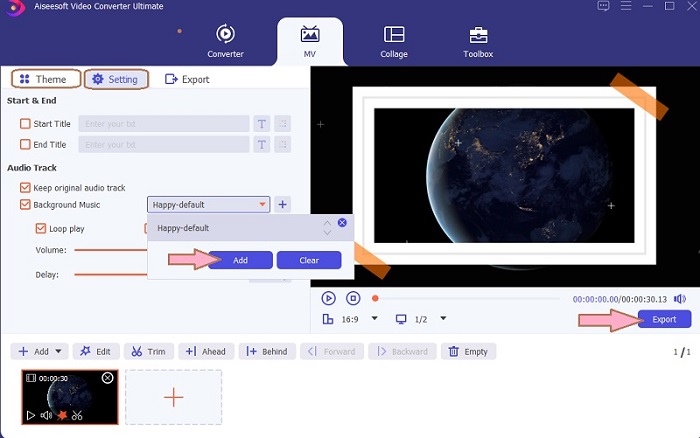 And now you're good to go! Save your project by this YouTube movie creator, and start to click the Export button. This time you will see your video file is being processed to be created anew. Check on the file location once done.
Related:
Part 4. FAQs About Movie Making
Can I make movies online?
Yes. There are available online movie makers that will help you with your content. Try the Ezvid.
Will I still have the same quality from my raw data when edited by the movie maker?
It depends on the moviemaker tool that you will use. Hence, in FVC Video Converter Ultimate, you can retain and enhance even more your video quality.
Can I also make a music video using YouTube Movie Makers?
Yes. But only to those tools containing audio settings like the FVC Video Converter Ultimate.
Conclusion
There you have it, the five best Movie Makers and good attributes. We hope you find this article helpful, especially in creating great videos for your Youtube content. Use the FVC Video Converter Ultimate if you are new to the industry of blogging, and surely you will get lots of likes on your page!