Brief Analysis About the Available Text on Video Apps Windows/Mac/Android/iOS
Protecting your project is essential, especially if you post it online to avoid theft from stealing your work. However, not all websites can save your work from the possible stealing of other people. So, before you post your project to the web, it is ideal for adding a watermark. Although a watermark can't always protect your work, we can say that this is another way of securing your work from possible theft. As a result of this post will provide the tools you can use; most are free, but some need to purchase to unlock the tool's full potential. This very minute, let's take a total glance at the text on the video app this year 2022.

Part 1. 3 of the Best Text on Video Applications You Can Download on Windows & Mac
FVC Video Converter Ultimate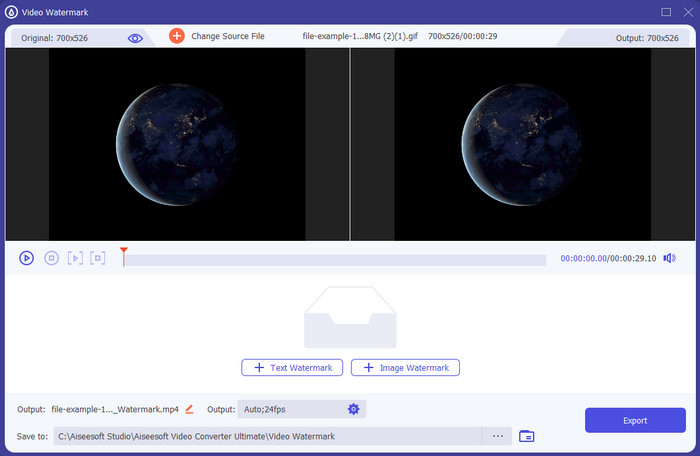 Cost: Free trial available, price starts at $39.50 for one year, $55.20 for a lifetime, and for 2-5 pcs Lifetime $119.00.
Platfom/s Supported: Windows and Mac.
If you want an app to add text to a video, you must go for the most picked tool of 2022, the FVC Video Converter Ultimate. This tool supports extended formats you can upload into, so adding the video file here won't be a trouble for you; you can also change the format if you need it. At first glance at the GUI, the tool looks neat and professional at the same time. Although it is a professional tool, users with little or no experience can quickly learn how to use it. The learning curve isn't as stiff as Adobe Photoshop.
Moreover, the tool brings pride to its name as the ultimate tool because it has the swiftest process of uploading and downloading, whether one, two, or more files. Encoding the lossy or lossless file format is quick and easy if you use this tool. Although the tool is a bit expensive from the list of the video text editor, we still find this tool as the easiest to use yet the most effective.
Adobe Photoshop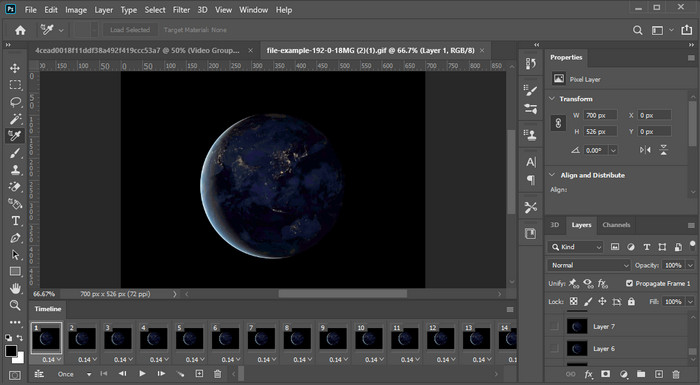 Cost: Free 7 days trial and $20.99 every month.
Platfom/s Supported: Windows, Mac, and iPad.
Need a pro tool to take up the task? Well, Adobe Photoshop is the pro tool in this tool. Its full pact GUI and features became the pro's first choice editor they can download on their platform. In addition to that, this tool offers advanced editing features you can use to make the text on the video looks better than ever.
However, this tool is not the best selection if you are a beginner at editing because it is so technical that even some pro needs to read some tutorials on how to perform a particular task. But if you want to use this, add text to the video app; you can download it on the official website of Adobe.
iMovie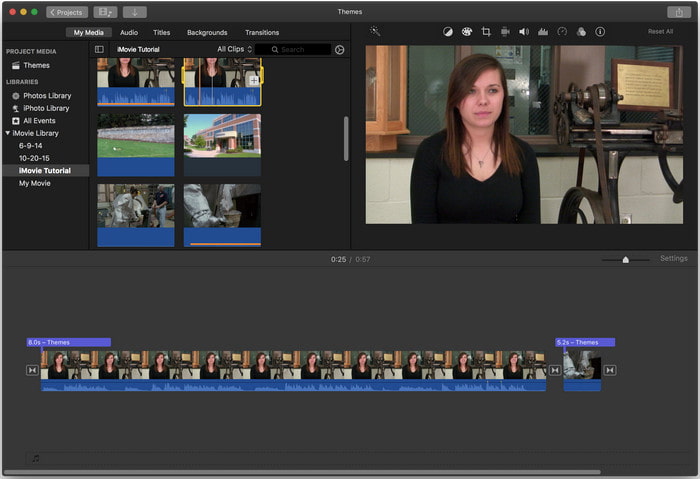 Cost: Free pre-installed.
Platfom/s Supported: Mac and iOS.
If you need a free tool on your Mac or iOS device and add a watermark on the video, you can use iMovie to compensate for this task. This tool is not downloadable on any Windows or Android devices because it is for Apple devices only. Although the tool has a limited supported platform, it is still considered one of the best watermark editors you can use on Mac and iOS. Most beginners would love to use it because of its free full-pact editing. So, if you have a Mac or iOS, you must first try to use this added text-over video app and try it out if it suits your needs.
Part 2. 3 Best Video Text Application Available in All Android and iOS
All of the tools mentioned above are available on Windows and Mac, while some support limited mobile devices. What if you have a mobile device and want to add text as a watermark on a video? Can you still do it? You can with the tool we present below. Read it with caution to know if this tool will suffice your needs.
Video Editor: Text on Video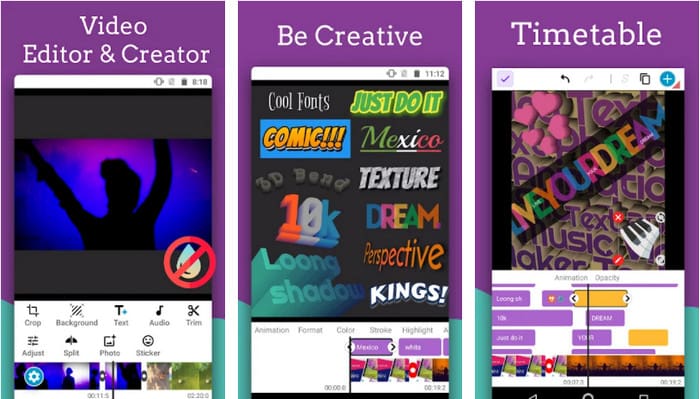 Cost: Free to download.
Platfom/s Supported: Android.
Although there are many add text to video apps free to download on Android, we still find the Video Editor: Text on Video great in many aspects. This Android app offers users many advanced editing features to make their video look outstanding. If you want to use it and add a watermark to your video, it also has text animation to include animated text on the video.
Although the tool is free to download, there are still needs much improvement and need to fix in this tool, like bugs and glitches some users encounter. Also, some ads will pop up once you open the app on your phone and use it. Nonetheless, the developer keeps updating the tool to become the best video editor on Android to reach its full potential.
Vont - Text on Videos 4+

Cost: Free to download, $2.99 to $9.49 In-App purchases.
Platfom/s Supported: iPhone, iPad, and Android.
Vont - Text on Videos 4+ is one of the best apps for adding text to video on all mobile devices. This app supports both Android and iOS devices, so, naturally, this tool gains a reputation and popularity on both ends. But if we compare it to where the app works better, we can say that it is more favorable on iOS devices because it supports more format and has much more detailed editing features you can use.
Although the tool is better on iOS, we can still agree that this tool is excellent to use even on Android devices to add the watermark quickly on some videos.
Text On Video: Easy Vid Editor 4+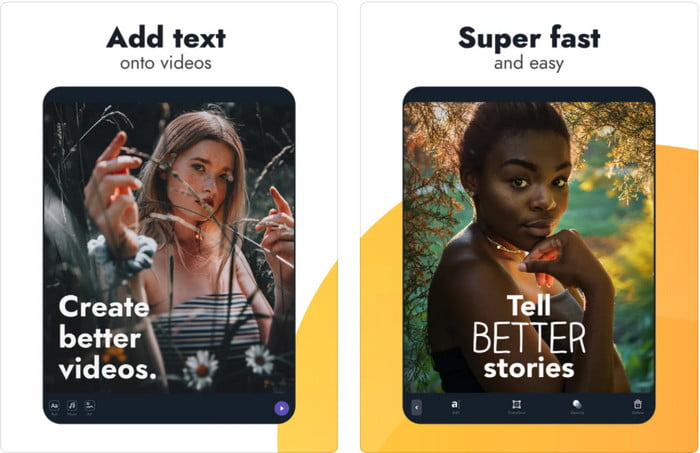 Cost: Free to download, $1.99 to $49.99 In-App purchase
Platfom/s Supported: iPhone and iPad.
If you want to know the best text on video app on iOS, well, this is no doubt that it is the Text On Video: Easy Vid Editor 4+. This tool supports several editing features you can use to add a text watermark to your video with different font styles easily.
Like Photoshop, this tool promotes 3D text watermarking to help you manipulate the text and place it anywhere as if it is in while you take the video or photo. Even though we consider it the best, we still think it is not the pro tool you'll need if you are into much detailed editing that a pro needs.
Related:
Part 3. FAQs about Add Text Watermark Apps
Is it safe to download a text watermark app?
It is safe if you've downloaded the tool on the official sites or downloader. It won't cause any problem if you download it on the official website. However, not all websites are protected, so you must beware of downloading the safest to use the tool on your operating system to avoid any problems.
Which performs text watermark app performs better, on desktop or phones?
It is no doubt that the desktop text watermark app performs better for heavy-duty because the desktop has a higher CPU than the phone. But if you want semi-weighted editing, then phone text watermark is your go-to, for you can bring it anywhere and use it anytime without setting up a desktop.
Is it ideal to purchase for the text watermark app?
If you are on a tight budget, we suggest using the free tool, but there are some limitations, and expect that because it is free. But if you want to have the best features available in the premium version, we suggest you purchase it or subscribe to it because you can't get them with the free version.
Conclusion
Now that we have finished analyzing the tools, it is time to download the suitable one for you. We hope this post helps you decide which you should use, but if you can't decide what to use, we suggest you pick the FVC Video Converter Ultimate. Because it is an all-in-one tool you can download on your Windows and Mac, and all of its features are designed well to help you on a specific task. So, without a doubt, it is the best text watermark app you can download above.