How to Change File Details in Windows 10/11 in an Effortless Manner
Every time we take or download a video, image, or audio, there is an array of data that help us to recognize what is in the file, known as metadata. We can easily view the tags on our various media files without professional software with different built-in applications. However, correcting them is another thing not all metadata viewers can do on Windows. If you want to know how to change detailed files on Windows 10 or 11, you must read this article to get all the gist information you will need.

Part 1. How to Change Video File Details in Windows 10 and 11 at Ease
Using Properties on Windows
Everyone knows that Properties on Windows can help us view the metadata on each file without worrying if it is supported or isn't. This built-in tag viewer and editor can help you finish the task according to your need, and it perfectly works even you don't have an internet connection. Also, you wouldn't need any software; as we said, it is a built-in feature accessible only on Windows desktop.
On the contrary, there are instances that metadata you've added isn't saved at all on this free built-in. Expect it since it is not a professional tool. Yet, users still use these features, especially if they aren't editing the metadata more often than usual. Instead of downloading and saving some room for your drive, this is the ideal technique you should learn to use on Windows. If you want to know how to change file details in Windows 10 or 11, you can follow the steps below.
Step 1. On the screen of your Windows 10 or 11, find the media file on File Explorer.
Step 2. Once you've found it, you can right-click the file and go to the Properties.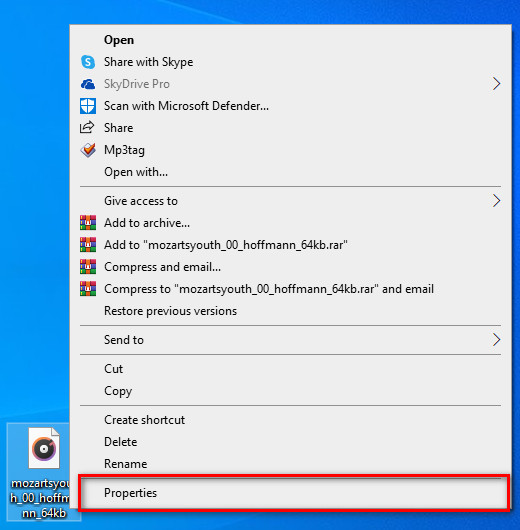 Step 3. On the panel, click the Details; in each space, you can add or change the metadata detail on your Windows by using the Properties. Click OK to save the tags.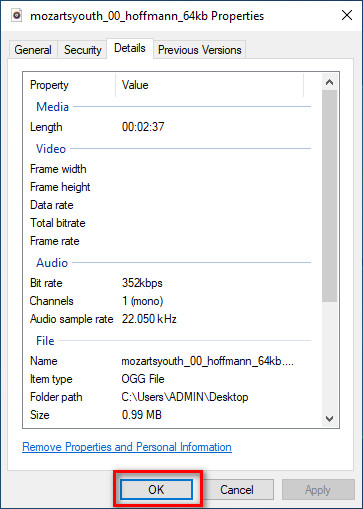 Using Video Converter Ultimate – Best Choice on Editing Metadata on Windows 10/11
Adding album cover and other important information can't be done with Properties, then what should you do if you want to add? Luckily we found that the Video Converter Ultimate supports adding important details on your files and album covers to make it unique. Also, adding the metadata on your file isn't a task that can be executed on Properties but also more professionally with the ultimate.
What's more? Even though it is the best software for editing and viewing metadata, its capability is far more, which means it has more features. One of the best things you can do with the tool is convert any video file into a playable Windows format, such as WMV, AVI, MP4, and many more. Additionally, it can also convert multiple files simultaneously while having the fastest converting process you will ever experience that the other tool can't offer to you, even Properties. Isn't it great? There is still more to tell, but today we will teach how to change the details of mp3 files or any audio and video formats easily with the perfect guidance of the ultimate software on Windows and Mac.
Step 1. Please click the download button for Windows; if you are a Mac user, you can click the other button instead, install it promptly, and open it to add metadata.
Step 2. Once you've launched the tool, click the Toolbox, then proceed to the Media Metadata Editor.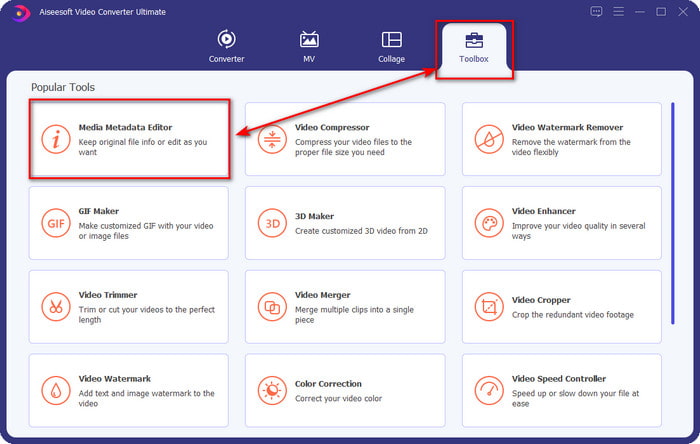 Step 3. Upload any media file here, click the add button, select the file on the folder, and press Open.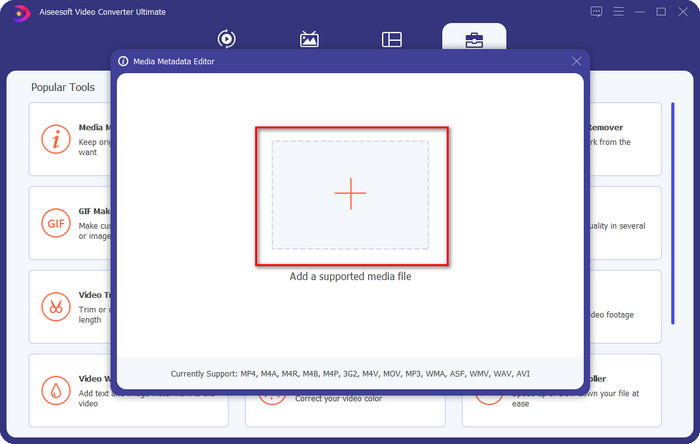 Step 4. Add the crucial details to each textbox by adding information on them. If you've done all of that, you must now click the Save button to save all the changes you've made using the tool. All of the essential details that you can't add on Properties are easily applicable with the help of the ultimate software within a few clicks!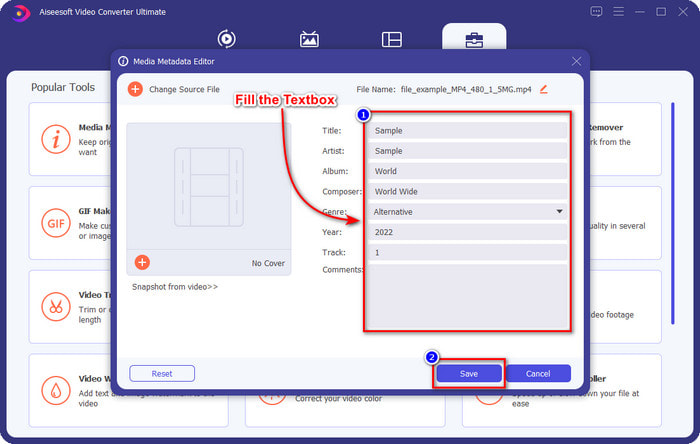 Related:
How to Fix or Edit MP4 Metadata
Part 2: Which is a Better Choice on Editing Details Files on Windows 10 and 11
Do you still have confusion about what side you should pick? In that case, this comparison chart below will help you understand the difference between both tools in terms of metadata editing and other functionality they can offer. Keep on reading to determine which side you should choose.
| | | |
| --- | --- | --- |
| Video Converter Ultimate – Best Choice on Editing Metadata on Windows 10/11 | VS | Properties on Windows |
| | Best Choice for Metadata Editing | |
| | Add Important Details on Metadata | |
| | Upload Album Cover Easily | |
| | Other Functions than Tag Editor include a converter, video editor, and more. | |
| | Free To Use | |
Part 3. FAQs about How to Change File Details in Windows 10/11
Are Properties on Windows working on the lower Windows version?
Fortunately, they all work the same as the introduced steps above; However, their looks have changed because of the updates throughout the years. Although their appearance is different, their overall functionality is still the same as the abovementioned steps. Check out the properties on your Windows and copy the steps above if you want to edit your file's metadata.
Is there any way I can change music metadata?
Yes, you can use Groove Music, another built-in app on Windows; but before you can use the tool, you will need to download it because it doesn't come as pre-installed on Windows, search it on your search bar, and it will automatically start downloading. Open the tool, right-click the file once, and go to the Get Info; in this area, you add the metadata or remove it, then click Save if you are done.
Is using properties enough on adding metadata?
Properties are enough for basic adjusting metadata as it supports the basic information you will need on your media file. But for adding in-depth details, you will need to install reliable software capable of handling the said task easily by any means. Nevertheless, Properties is a good tag editor, but it is not the best for professional metadata editing.
Conclusion
You have now reached the end because of your dedication to reading this article, and we know how to change detailed files on Windows 10/11. With the information, it became more apparent that you can use the Properties if you want to save some space on your Windows drive. Although the said built-in feature is nothing, it is still nothing less. But for a pro or beginner who wants to have more details on their metadata, you must choose the ultimate tool instead. The Video Converter Ultimate has the upper hand regarding this battle of the best metadata editor on Windows. Do you doubt the ultimate software? The only way to prove that you must now doubt the tool is to download it on your drive and have a blast using it!