Simple Tricks You Should Know to Edit and Fix MP4 Metadata Effortlessly
Are you trying to edit or fix MP4 metadata? Luckily, this problem is easy to solve by using the perfect tool for this type of job. Struggle no more! Today, we will introduce the best tool to help you fix this type of problem. So, if you need a helping hand, you are in the right place. By reading this blog promptly, you won't need to falter to take heads-on with this problem or if you ever encounter it. We've gathered and accomplished the essential details to solve the problem and made them comprehensive and straightforward for everyone who was about to read it.

Part 1. Best Tag Editor to Edit or Fix MP4 Metadata at Ease on Windows & Mac
There are no challenging video-related problems that the FVC Video Converter can't solve, such as fixing MP4 metadata. With this tool, setting the tag of your MP4 isn't as hard as you think. In addition to that, you can upload more than 1000+ formats and change or fix their tags if you need to. Amazing right? Well, that is the reason why we choose the ultimate tool to help you edit the tags.
Moreover, users tend to have other video-related problems, like cutting, trimming, cropping, merging, etc. So, users tend to download multiple tools on their drive, which is not storage-friendly. It is unnecessary to download various tools if you have this tool because all of the primary and advanced features you will need are already in the Toolbox. If this tool caught your attention, then you might as well like to know how to edit metadata on MP4 files using this tool as smoothly as a breeze.
Step 1. Before you edit or fix the tag, you must first download the software on your drive and pick whether you are using Windows or Mac. Follow the installation process to set it up, and click Start Now to launch the tool.
Step 2. Open the Toolbox and locate the Media Metadata Editor on the setlist of available features.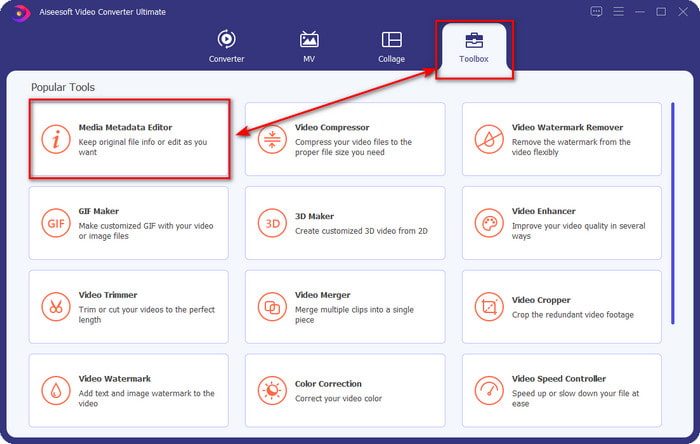 Step 3. Click + to open the computers folder, find the MP4 file you've wanted to fix or edit the metadata on, and hit Open to proceed.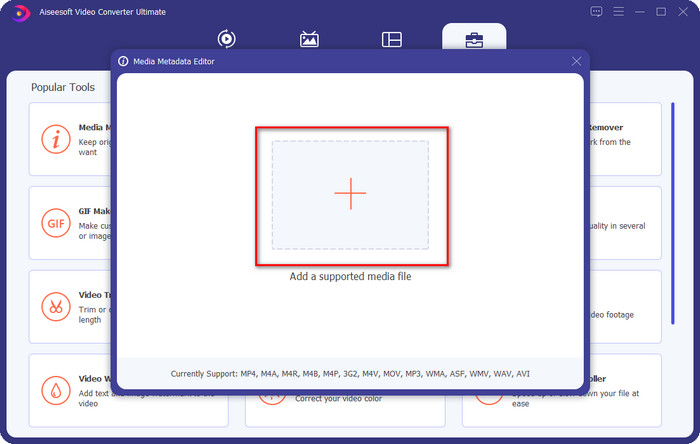 Step 4. Fix the tags by changing the information that will show on your screen, tap each textbox and adjust them accordingly. If you've done and are satisfied with the changes, click the Save button. With that, you've now fixed the MP4 tags in less than a minute.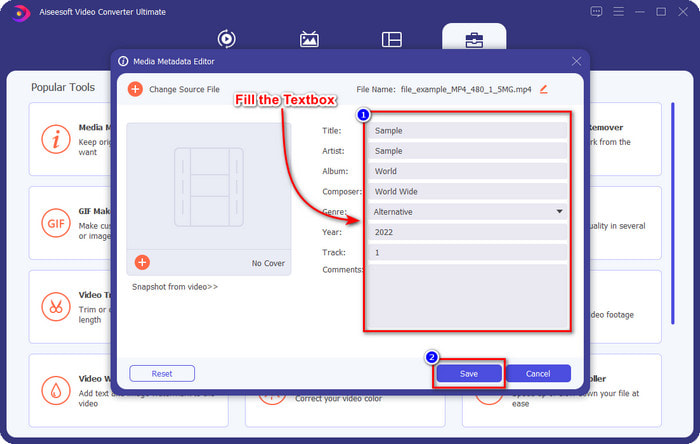 Part 2. Reasons and Solutions to Fix MP4 Video File that Won't Open on Your Desktop
Even though most of the software, whether built-in or third-party, all supports MP4, some trouble may occur that cause it is hard to open. But what are the common reasons you can't open the MP4 file, does fixing the corrupt MP4 metadata can aid this problem? If you don't know what we are talking about, keep reading to understand the reasons and the solutions to fix this problem.
1st Reason: File Extension or Codecs is Unsupported
The extension for MP4 is not only .mp4 its filename extension could be .m4a, .m4p, .m4b, .m4r and .m4v. Although the format structures are the same as the MP4, some software doesn't recognize it as an MP4, and because of that, you can't open it and receive an error. Moreover, the filename is the only problem you need to consider; codecs are part of the MP4 files. The encoder MP4 uses MPEG-4 or H.264 for video, but audio uses different codecs like AAC and AC3. Even though this gained wide support, some software doesn't support the said format.
2nd Reason: Downloading the MP4 Files is Being Interrupted
If downloading is being interrupted, then the file might be unplayable. It is commonly encountered by users who download an MP4 on the web while having unstable internet or unexpected power shortage. Some MP4 files can be opened and play them, but not the whole video will be playing because the file is incomplete. Fixing completing the download is essential if you want to enjoy watching it, and if the tags aren't on the file, you can easily edit MP4 tags on Windows or Mac if you're going to follow part 1.
3rd Reason: Important Data are Corrupted and Broken
Broken glass is not usable even if you want it; the same goes for the corrupted or damaged MP4 files. You can't use a corrupted MP4 because the files are lost. Even you download a third-party player to watch it, the file won't open because it is corrupted or broken. And on your screen, you will receive a pop-up message or notice that says the file is damaged and errors coming from the player. But you can determine if the file is corrupted or broken, you can check it out on the Properties and see if the file size became smaller and compare the original file if you have a duplicate. Nevertheless, corrupted files or broken ones are usually lower in file size.
Are the three reasons above is one of your problems? Well, it is challenging to handle all of this at once. Downloading, accessing, and trying different solutions will eat a lot of your time. Instead of reading another article on how to edit MP4 tags and fix all of these mentioned problems, we combine the solution to help you be productive. Read the following solution below to know more about fixing the videos that won't open on your device.
1st Solution: Convert File into a Playable Format
With the tag editor we mentioned above, you can use this software to fix the compatibility of the MP4 and make it playable or editable on different media software, whether you are using a Windows or Mac. Follow the indicated steps below to convert MP4 files into a playable format. But before we start, you must follow step 1 about downloading and installing at part 1, then proceed to the steps below.
Step 1. Launch the tool click the + button to locate the MP4 files you want to convert into. Select the file, and click Open to proceed. Remember to add as many MP4 files you want because it supports batch conversion; try adding multiple files simultaneously.
Step 2. On the Convert All to choose the format you want, over 1000+ video and audio formats are available with different resolutions, quality, and encoder; select one.
Step 3. To convert the MP4 file into the format you've chosen, click Convert All.
2nd Solution: Re-download the File on the Web
If downloading the MP4 file is incomplete, you better download it again on the same website. But this time, make sure that your internet is stable and check if there will be a power shortage that can cause the same problem. There is nothing much left to say in this solution but download it completely.
3rd Solution: Download a Third-Party Media Player
VLC can help you play the unplayable format because it supports a wide range of formats and can help you fix the metadata of MP4 files if you want. Although the tool is amazing, today, we will introduce the best alternative for VLC: the Blu-ray Player. This media player supports the same range or even more media formats as on VLC, and its skin or GUI is customizable to make it elegant in looking. You can take a screenshot from your video if you want to. No matter what format it is, this is the perfect media player you can use to go beyond what VLC can offer you. If you need a guide on using this MP4 player, you can click this link and learn more about the other alternatives you can use aside from VLC.
Part 3. FAQs about Fixing MP4 Metadata
Is MP4 still the standard video format?
Yes, it is still considered the standard video format many consumers use. Although it is the standard, some formats can do a better compression and have a better quality than the MP4. But overall, it is still the reigning video format for downloading and streaming.
How to make my MP4 compress to make it smaller?
It is essential to make the file size of the MP4 smaller for many reasons, and if you don't have a dedicated MP4 compressor, you can read this article by clicking the link.
Conclusion
Isn't it amazing that the FVC Video Converter Ultimate can teach how to edit mp4 tags and fix the problem on your MP4 files? It is still unbelievable what are the amazing things this tool can do. With the help of this tool, you can do a lot of fun stuff, such as editing, merging, color correction, speed controller, and many more. So what are you waiting for? Download the tool on your drive to avail all of these functions and features in this tool.