6 Best Video Reverser on Mac/Windows/Android/iPhone/Online
Reversing a video became one of the most impressive visual effects a lot of editors use nowadays. Just by reversing a video, you can add a wow-factor to your pre-made videos that become eye-catching as well. So, in this write-up we will explore what are the best video reverser programs you can use for free or paid. And now, if you are ready to start the journey then fasten your seat belt and let the exploration begin.
Part 1. 2 of the Best Video Reverser Software for PC and Mac
1. Video Converter Ultimate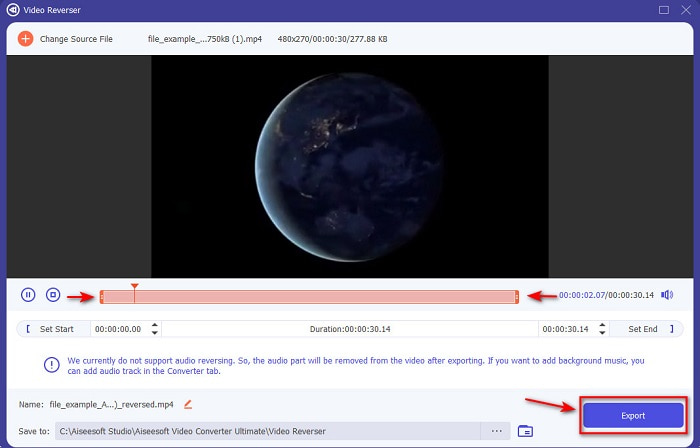 First in this list is the phenomenal converter you can use to make an impressive video without needing a tutorial. Because of its on-point instruction this tool is ideal to be used by the beginner or even a pro who wants to have impressive video. Video Converter Ultimate is the top-notch reverse video editor and the most pick editor in this list. This tool helps its users to reach their full potential in editing but not in a hard way. As it is said earlier the on-point instruction and information of this tool already help a lot of users who don't have experience in editing. Although even if you are a pro, you can still use this tool to make a more impressive video that your current video editor doesn't have.
Pros
Best in making your video look phenomenal compared to the other editor.
It is user-friendly, learning how to use this tool will not take more than 15 minutes or even less.
If you're looking for an all-out tool then this must be your first choice.
Cons
The software is paid but the Movavi is a lot more expensive if we were about to compare.
It is necessary to download the tool first before you can even use it.
2. Movavi Video Suite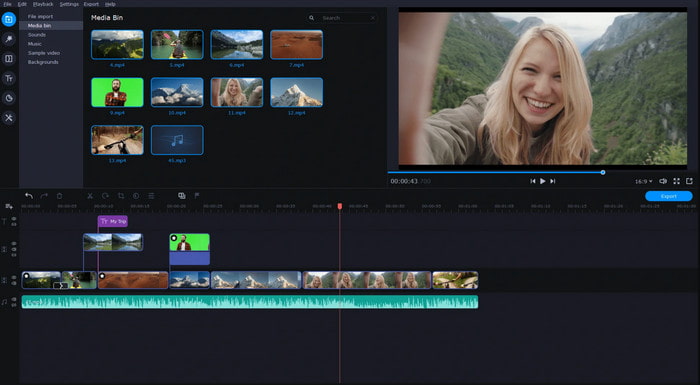 Another tool in this list is the Movavi Video Suite. This Movavi video editor reverse has already been on the scene and already used by millions of users. Because of the advanced editing features it provides like the Video Converter Ultimate. Also, this tool has a lot to offer for its customers. However, the downside of this tool is that the rendering process takes a lot of time and tends to be slow. Another, the tool supports only limited formats so basically you can't choose what format you want it to be because of the limited scope.
Pros
Easy to use as a semi-pro editor.
Interface is very neat and intuitive to look at.
Available in Mac and Windows.
Cons
The tool is very expensive compared to the tool in this list.
Most of the features you can use on Windows aren't available on Mac.
It has fewer templates for you to choose from.
Related:
Part 2. 2 of the Best Video Reverser Online
1. Kapwing
Don't want to pay? Then try to use a kapwing reverse that can be easily done for free. Kapwing is one of the easiest online tools you can use. Also, it provides some editing features you can use for free but you will need internet connection. Although the tool interface looks great because it has similarity with the Adobe Photoshop but online. Uploading and exporting files here is a bit of a hassle because it will depend on your internet. So, if you have an unstable internet connection then expect a slow process. And if you export the files in here there will be a watermark at the lower right side of the reversed video.
Pros
Free webtool.
User-friendly.
Easy reversing process you will need to follow.
Cons
Internet dependent, which means if you don't have internet connectivity you can't use this tool.
Process of editing is fast but uploading and downloading files will take some time.
The final output has a watermark at the lower right side of the video.
2. VideoReverser .com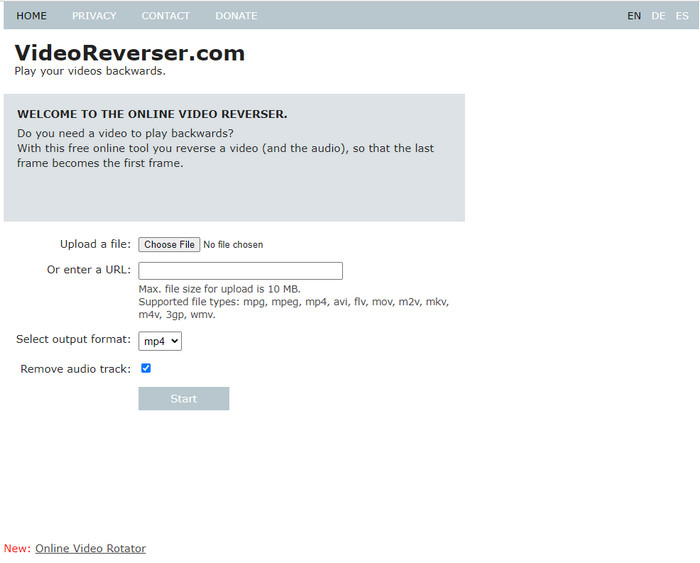 VideoReverser.com is one of the best online video reversers you can search and use on the web. This webtool is great for those who do want to have a simple and short video reversing. As being said, you can only insert a video file less than 10 mb. That file size is a bit low if we were about to compare it to the other tool presented in this article. However, if you have a short video you want to reverse then try to use this tool.
Pros
No hidden charges if you access the tool.
Easy to understand tool interface.
The tool focuses on reversing your video.
Cons
It supports less formats and most of the time when you try to reverse a video in here it fails.
Only 10 mb max file size you can upload.
Can't be accessed if the internet is not available.
Part 3. 2 of the Best Video Reverser App in Android and iOS
1. reverse video backwards (Android)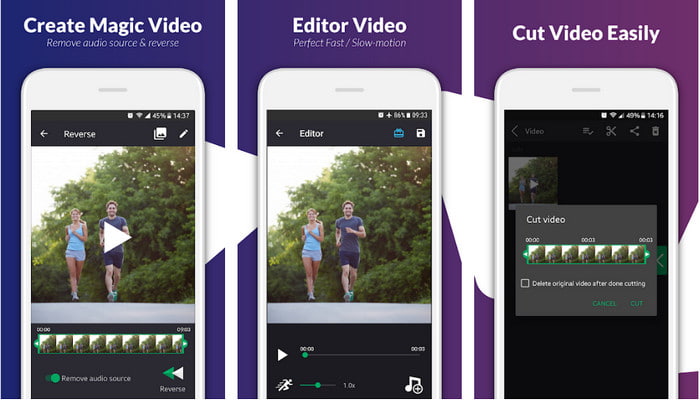 The reverse video backward is only available on Play store for free. This reverse video software is great at reversing videos that can be easily used by anyone who has Android phones. However, a lot of users complain about how this tool crashes, pop-up ads even when you already close the app, and you can edit the video in here also. The overall rating of the tool is so low if we compare it to the other same function on Play store.
Pros
Before you download the tool, it will give some ideas to make a magic reverse effect.
It supports 50 different languages you can choose from.
Cons
There are cases where the tool crashes because of unknown reasons.
Pesky ads are everywhere even when you close the tool ads will show to your screen.
The tool is glitchy when we try it.
2. Reverse Video Editor (iOS)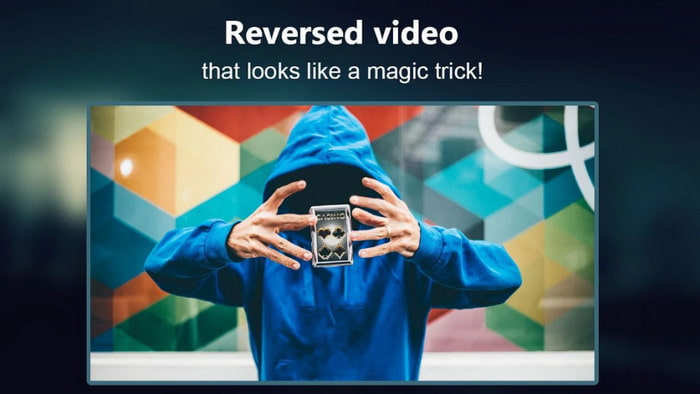 This reverse video app can be downloaded into your iOS for free. Reverse Video Editor receives a great rating from a lot of users. Having 4.5 stars rating on the app can be deceiving in all aspects. Because you will think that this tool is great overall. But little did you know, the developer of the app pushes its audience to give the app a 5-star rating before they can access the tool feature. And most of the comments are non-sense and think that they are commented by the bots to boost the popularity of the app.
Pros
The tool has a great rating provided by the 67.4k users.
Interface of it is fairly great compared to the other iOS reversers.
Cons
Users are forced to rate the app 5 stars to unlock special features on the app.
Reviews of the app below are non-sense. Basically, if you want to figure out what the app is then don't look at the reviews.
Bugs are still in this app and most of the time the video you insert on the app freezes.
Part 4. Comparison Chart
Feature/s
Video Converter UltiR
Movavi
Kapwing
VideoReverser.com
Reverse video backward
Reverse Video Editor
Reversing Features
Pesky Ads on the Interface
Watermark after exporting
Other Editing Features Like Cutting, Cropping, and more
It is available but the reviews say it is not working.
It is available but the reviews say it is not working.
Program Availability
Desktop Based Tool
Desktop Based Tool
Web Based Tool
Web Based Tool
Android Downloadable Based Tool
iOS Downloadable Based Too
Price Range
1 Month: $25.00 Lifetime License:$55.2‬0 Multi-User License Lifetime/5 PCs: $119.00
Movavi Video Editor $39.95 Movavi Video Editor Plus $59.95
Free Online Tool
Free Online Tool
No in app-purchase
In-app purchase 3 to 50 $ range
Part 5. FAQs about Video Reverser
Why do my reverse videos lose their quality?
Most of the tools reduce the quality of the reverse video because they don't support higher video quality format or maybe you set the settings to low instead of high. Neither of the two problems can be fixed by changing the software or adjusting the settings.
Can I use reversed video as transition?
Absolutely, yes. Instead of using the old version animated transition you can reverse your video to make it more visually appealing. Even if you don't use a professional editor tool or experience on editing you can still achieve a great transition with reversing video.
If I reverse my video, does it become inverted?
Actually no, because reversing and inverting are not similar. Although they are both changing the original looks of the video still, they aren't similar. For example, if you reverse a video, it will playback from the end to start while if you invert it the video will turn upside down and still play from start to end.
Conclusion
As we come to an end, the tools we reviewed in this article are all great depending on your platform. And all of them are ideal to be used by anyone with desktop, internet connection, or mobile phones. Moreover, if you find it hard to decide on what to choose then we will give our suggestion to you. The Video Converter Ultimate surpasses its limit as a converter and editor. This tool already helps millions of users and now it is ready to help you too. So, download this tool now, then enjoy and explore the beauty of this tool.