Get to Know More About the 5 Best Video Editor for PC and Compare
A lot of people nowadays love to take videos to save memorable moments and most of them use it to make money. Like vloggers and influencers, they always took a video of themselves on what they are doing for their fans. Also, to gain more popularity than the other influencers or vloggers. So, if you are an aspiring vlogger or influencer who loves to take videos of yourself. Then you must consider having the best Windows 10 video editor to enhance and create an impressive video, gain more likes, views, subscribers, and also profit in the long run.So, before we start, we would like to congratulate you because you already take the first step on becoming a successful vlogger or influencer. But choosing the right tool you're supposed to use is one of the crucial parts you will encounter. So now, we gathered different video editors and as effective as ever for you to choose below.

Part 1. Top 5 Windows Video Editors Online and Offline
Top 1. Video Converter Ultimate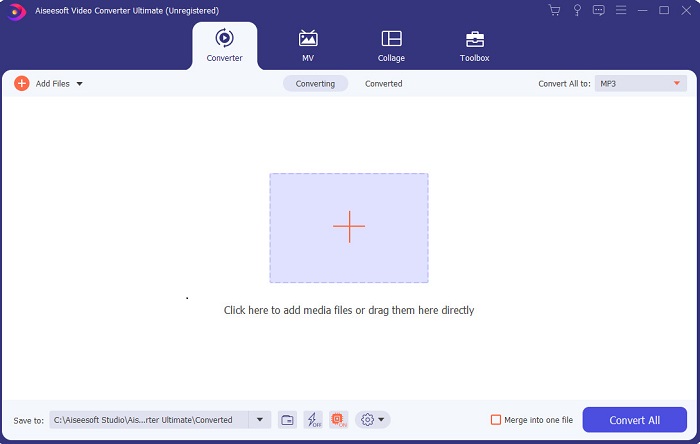 If you want to have the upper-hand and have the best videos like your idols have, then use the FVC Video Converter Ultimate. This converter and Windows video editor already helped a lot of its customers to become popular worldwide and maybe you're next. Most of the known influencers, vloggers, and video editors use this as their editor, enhancer, booster, and more. So, if you want to have a professional output like your idols and make some real cash on it. Then you must download this software immediately to become the new internet sensation and also the best version of yourself. Also, we provided pros and cons for you to understand this tool more.
Pros
For beginners, this tool is the right choice for them. As it provides simple instructions for you to follow and easier to understand. Basically, it is on-point.
For professionals, unlike any other video editor for PC this tool has a lot of futuristic features. For example, if you want to boost your audio quality and enhance the video then you can use this tool. Also, if your audio is not synced with video, it has an audio sync feature to fix it.
Overall, this is the phenomenal converter and editor that you can depend on. Especially if you want to make a surprising entrance into the world of the vloggers and influencers.
The editor software is downloadable and there are no editor tools that have the same features like this.
Cons
This tool is not free but it is low in price. In other words, it is cheap and produces a high quality output.
Top 2. Windows Movie Maker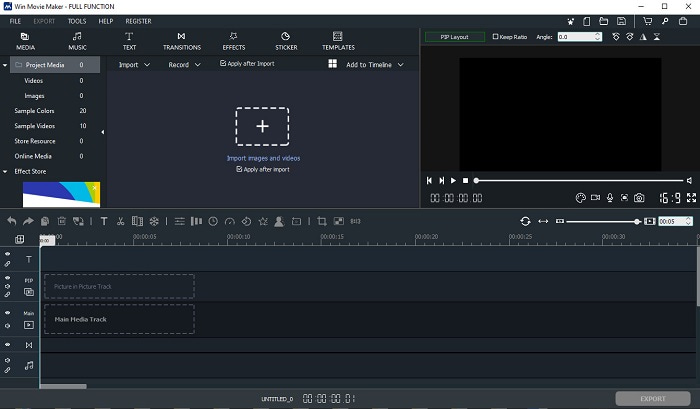 This video editor for Windows 7, 8, 10 and XP is one of the best at creating and editing. The Windows Movie Maker has already been downloaded by many users to edit their own videos. As it provides complicated editing features. But the tool is too overwhelming for those who are new in making and editing. But if you are a pro or should we say you have the experience of editing then you must try to use this tool. This tool has a premium version and it is a lot similar to the free tool it provides but the output has no watermark if you export.
Pros
For beginners, this tool is not ideal but it is great to do complicated editing.
For professionals, the features that are presented here are doable if you have experience.
It provides transition, effects, and stickers etc.
Cons
The tool is a bit disturbing because of the tool functions you can do here. Also, it is overwhelming and it has no instruction on how to operate it.
If you use the free version of this tool expect to have a watermark at the video itself after exporting it.
Top 3. OpenShot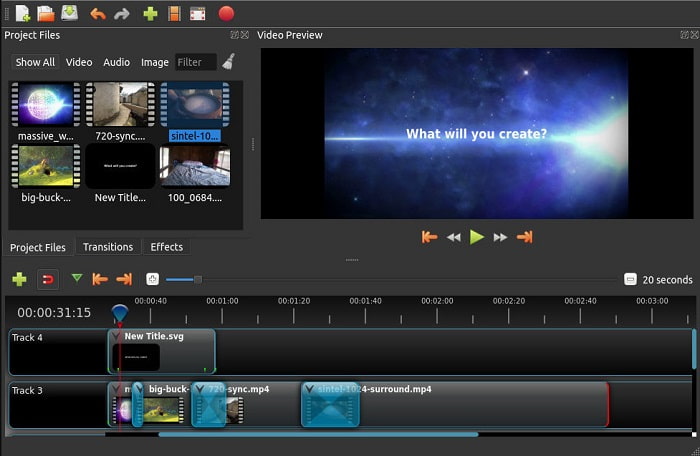 Another free video editing software with no watermark is the Openshot. As it provides simpler to understand functions than the Windows Movie Maker. Moreover, after you installed the tool there will be a simple tour on the tool functions. Although, it is explained but the basic features are only explained. But this tool only provides the basic editing features only which means you can't be creative. Also, if you install this tool, it is a bit boring to look at because of the monochrome color of the interface.
Pros
For beginners, this is a simpler version of the Windows Movie Maker. You can add effects, transitions and more.
For professionals, it is okay for them to use it but it is not the best.
The software is okay if it comes with simple editing.
Cons
Can't change the boring interface of it and it's less interactive.
Some major and minor bugs are still present here even after the update.
Top 4. Lightworks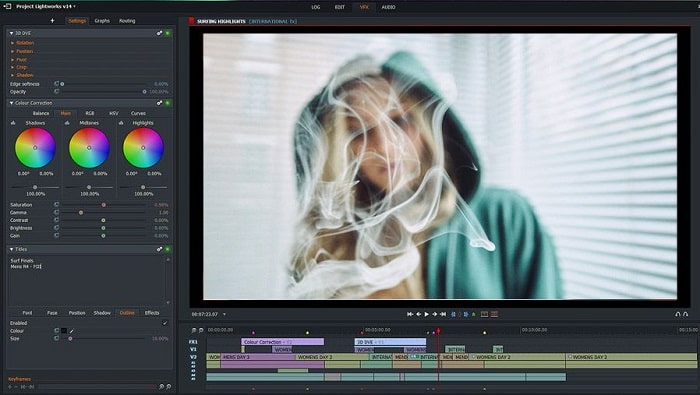 Lightworks is a free video editor for Windows but it also has a premium version. But when we tried and downloaded the tool it said that it has a .exe file that can harm our computer. So, we didn't download the tool and we did deep research about this tool. So, if you install the tool into your drive you will need to register first before you can use it. The editing features this tool provides is a lot to take in if you are a beginner but for pro it is a bit hard also. But no need to worry because you can learn how to use it by trying it.
Pros
For beginners, the tool is too complicated and it can be too much to handle. Especially if you want to try and just do simple editing.
For professionals, you can use the real time editing features this tool provides. Although some of the features are new and most of them are payable.
The overall performance of the tool is classified as class-A in editing and making videos.
Cons
If you want to have a 1080px output you must buy the tool. And even before you can even use it you will need to register.
The software has a harmful .exe file so download it at your own risk.
Top 5. ClipChamp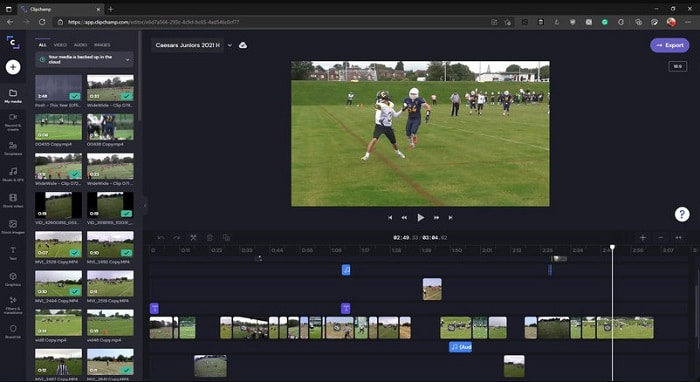 This online tool has if you upgrade the plan. Also, it is one of the easy to access tools you can use to edit the videos without downloading a specific software. Clipchamp is a great tool to use but you will need to register before you can access it. This Windows 10 video editor online has similar features with Lightworks but it is online. Nevertheless, if you import video files here to be edited you must expect a slow process of importing it. But the advantage of it is that you won't need to download the tool to function.
Pros
For beginners, this tool is a must to try but the process of editing and inserting video in here is a bit slower.
For professionals, it is a-okay to use and edit simple videos with limited resources.
Overall, the tool is easier to understand than Windows Movie Maker.
Cons
Internet dependent which means if you have a slow internet then expect an unstable process.
Need a registration form before you can even use the web tool.
Part 2. Comparison Chart for the 5 Video Editors for Windows
| | | | | | |
| --- | --- | --- | --- | --- | --- |
| Feature/s | Video Converter Ultimate | Windows Movie Maker | OpenShot | Lightworks | ClipChamp |
| Video Editing like trimming, cutting, merging and so on. | | | | | |
| Video Enhancer | | | | | |
| Watermark | | | | | |
| Program Supported | Desktop-based tool | Desktop-based tool | Desktop-based tool | Web-based tool | Web-based tool |
| Price Range | For 1 month: $25.00 For a year: $31.20 | $39.95 One-time payment | Free but you can donate | QScan Pro QScan Pro – Monthly Subscription Activations $59.99 | Creator- $9/monthly Business- $19/ monthly |
| | For Lifetime License: $55.20 | | | QScan Max QScan Max – Monthly Subscription Activations $119.99 | Business Platinum – $39/ monthly |
Part 3. FAQs about Windows Video Editor
What is the best Mac Video Editor I can use?
Although, the tools presented here are all Windows editors except for the Video Converter Ultimate. So, to know what the other Mac video editors are then you must click this link and choose in the list.
Why can't my videos be played on Android?
There are a lot of reasons why videos can't be played on your Android. So, to know what the reasons are then it is a must to know it immediately and fix the problem by reading on How to Repair Videos Not Playing on Android Phones.
How to compress my long videos and share them on YouTube?
As for now you can upload 256 file sizes maximum so the best way to fix this is to compress it. If you want to share your videos on YouTube then let's learn how to deduce the file size and post on YouTube.
Conclusion
Before you become one of the vloggers or influencers you always look up, you will need to have the ability to do your own editing. As of today, this is your chance to use the phenomenal editor that provides Hollywood-like editing features and quality. In that way, you will impress your viewers, followers and even yourself. So, shine bright like a diamond and let the ray of light create a way to succeed with the help of FVC Video Converter Ultimate.