CamStudio Screen Recorder Review: All You Should Know about It
Screen recording software has come a long way in recent years, and there are some very great tools available that is able to record everything happening on your computer screen. Many of them on the market today can be quite expensive. Free ones tend to lack features that are necessary for a smooth screen capture. There is however, one option out there that is both free and loaded with outstanding features. That software is called CamStudio. This excellent software makes screencasting incredibly intuitive and easy-to-use. If you are looking into the software for screen recording, there you have it. From this CamStudio review, you'll get everything you need to know about CamStudio.

Part 1. Overview of CamStudio Screen Recorder
1. Key Features
To complete the screencast tasks, CamStudio is a great option and brings users various ways of the screen capture. This tool makes it simple to record your whole screen, a selected area on the screen, an application window, gameplays, webinars, video tutorials, etc. Also, it can capture both video and audio to export them in the popular AVI format.
Moreover, this screen capture software offers captions and annotations when you make the recording. Considering its customization, there are three main options to specify your screen recording, including video, audio and cursor options. For example, you can choose a preferred compressor codec, playback frame rates, quality level, or adjust the cursor highlight parameters.
2. Interface
CamStudio also features the simple interface making it easy to use and get around. The interface lets you add sources, select a specific window, adjust many different settings with ease. And you don't need to worry about how to use it even if you are a novice. There are built-in guides to get you started.
3. Video Quality
When it comes to free video capture software, one of the biggest concerns is video quality. Fortunately, CamStudio allows you to define the quality level of your screen recording. And you can even select keyframes, adjust the capture and playback frame rates, and more.
4. Pros and Cons
Pros
Records anything on your computer without limitations.
Provides various options to customize your screencasting.
Features an intuitive interface that makes it simple to use.
Totally free to use.
Cons
You may experience crash issues.
The output file size is overly large.
There is no much output formats available.
It is not available for Mac.
5. How to Use
Step 1. To get started, you can go to its official website (https://camstudio.org) and install CamStudio together with the codec.
Step 2. After the installation, launch the program and start the screen recording by clicking the Region option to select the region that you want to capture.
Step 3. When you're ready to start, click the Record button. Once the recording is over, hit the Stop button and then save the recorded file in your desired folder.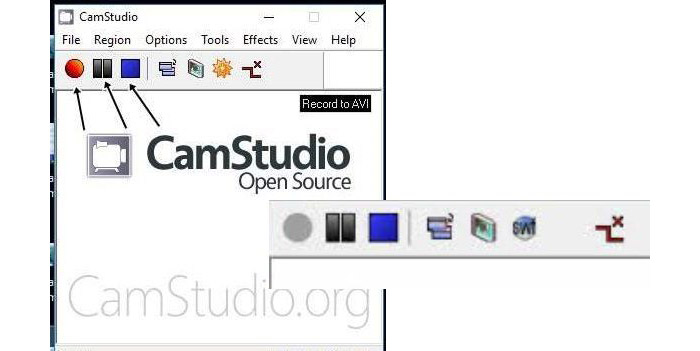 Part 2. Alternatives to CamStudio Screen Recorder
If you want to get CamStudio for your Mac or prefer to have high-quality recording videos and more editing tools, FVC Screen Recorder, a fully-featured and advanced screen capture tool, can help you record any region on your screen as a video or simply as a screenshot. It is simple and easy to use. You can capture gameplay, Skype calls, webinars, tutorials, video guides, videos with the ultimate ease and convenience.
It also has other outstanding features including narration recording, voice capture, real-time drawing, and even the implementation of the webcam in the screen capture task. The basic steps involve you capturing the screen, editing the resulting video, and then saving it, or uploading it to YouTube, Facebook or other social media platforms.
Features:
• Record the full screen, a selected area, an application window in the highest quality.
• Support capturing other inputs like the webcam and microphone.
• User-friendly interface makes it easy to navigate even for a novice user.
• Provide powerful editing tools, automated cursor effects, schedule recording, etc.
• Reliable customer support is available.
• Compatible with both Windows and Mac operating systems.
How to Use FVC Screen Recorder:
Step 1. Free and download Screen Recorder on your computer. Then, launch it and choose the Video Recorder feature in the main interface to move on.

Step 2. In the following pop-up window, you can select the recording area, choose the audio source. If you want to show your webcam display, you need to turn on the Webcam option. After configuring the recording settings, you can hit the REC button to start recording.

Step 3. When the recording is finished, click the Stop button and then you will be taken to the preview window. Here you can preview the video, trim the unwanted parts, adjust volume, etc. If you're satisfied with the results, click Save to export your recording file to your computer.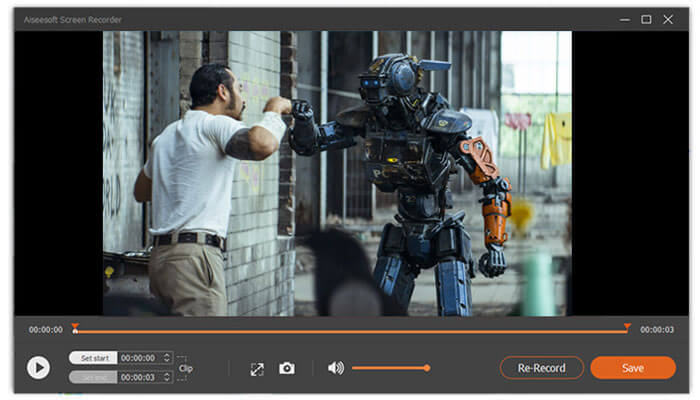 By the way, if you don't want to download the software on your computer, give FVC Free Screen Recorder a try. This browser-based tool is the best free online screen recorder for any tasks. You can use it to record a presentation, video tutorial, gameplay, and more. You can also capture footage from a webcam, and record audio from your system sound, microphone, both or neither.
Part 3. FAQs of CamStudio Screen Recorder
Can CamStudio record audio?
CamStudio will record the output from your speakers while it is capturing video. You will need a sound card with speakers attached to use this option. Note that not all soundcards support this function.
How to fix CamStudio error "could not record the .avi file"?
If you have come across this error while creating AVI file using CamStudio, then you can go to Options, then choose Video Options. Go to compressor options window, when it asks you to select Microsoft Video 1 instead of Intel IYUV codec, click OK. After that, you can try recording again.
Does CamStudio have a watermark?
CamStudio is an open-source software that comes with no watermark.
Conclusion
Overall, CamStudio is a great program for those of us who want to record the screen, capture audio, add annotations to the recording, and then output high-quality videos. When you get the recording file, you can share it on social media platforms like YouTube, Facebook, etc. with ease.