Best Ways to Record MXF Videos on Mac and Windows
MXF file or also known as Material exchange format is another set of container formats used professionally, specifically digital companies like SMPTE or Society of Motion Picture and Television Engineers. To be exact it is an actual replacement of videotapes but this time in digital format. This kind of video file supports metadata and time code. Metadata is very crucial in viewing video content. Most broadcasting stations, Big Movie Productions, or Agencies often use this file format. That is why this format is great in many aspects. Many would want to have this kind of file format when recording or exporting videos. Well let me tell you some good news, you can now get this file format with the help of MXF recorders. Find out more as you explore this article.

Part 1. Professional MXF Recorder for Windows and Mac Computers
One of the most popular and usable tools that provide essential features for your video recording is FVC Screen Recorder. One noticeable thing you will see in FVC Screen Recorder is the interface. It is well organized and easy to understand. It is 100% safe from malware and most importantly, your files are protected and the tool developer considers its confidentiality. Surely this tool is reliable in producing MXF video format. It is also safe to say that this is the best MXF Recorder.
Step 1. Download and Install the tool on your PC.
Step 2. Follow the installation process and launch the app.
Step 3. To start the recording, choose the Video Recorder tab and choose the frame size of the video you are recording.

Note: You can also annotate while you are recording. Just click the Pencil icon to form the floating toolbar.
Step 4. Once you are done with your recording, click on the stop button indicated in the photo. It looks like it is the Red Square button located at the left side of the floating toolbar.

Step 5. This time choose between Save and Re-Record. To preview the video you just recorded, click the Record History button.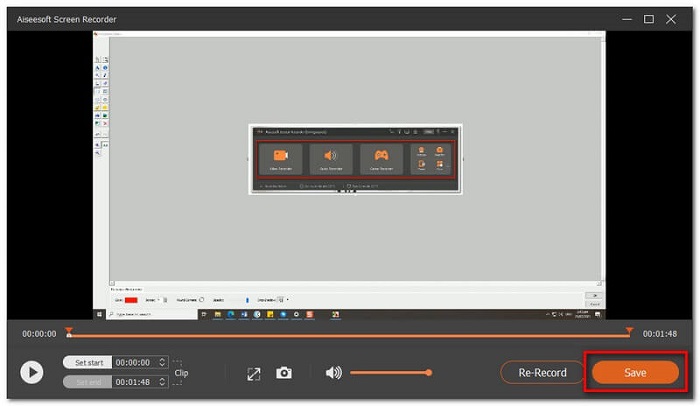 Pros
100% safe. No third-party hardware during the installation.
Privacy protection guaranteed.
Has a vast list of video formats supported.
Part 2. Top 4 Best MXF Recorders Worth Trying
This time we will show you a list of tools that can also be a good alternative to the best MXF Recorder listed above.
1. FVC Free Screen Record- MXF Recorder for Windows and Mac
As good as the first one, but a little limited when it comes to features. This tool is actually a free version of the tool above. Instead of downloading it, you just need a browser and a stable internet connection. Compared to other online tools, the set of features of this app are remarkably great that you cannot find some of it from free tools. If people have no experience in using such tools like this FVC Free Screen Recorder, it is not a problem. The straightforward interface and clean pattern will definitely help the beginner to catch up with the tool real quick. To get started, download the app below and continue to follow the guide written below.
Step 1. Click the Start Recording button and allow necessary permission until you have successfully launched the tool.

Step 2. Once the tool is launched, click the REC button to begin recording. While recording, you can also use the annotating feature.

Step 3. To stop the recording, click the blue Square button to stop the recording.

Step 4. Finally, if you want to preview the video you have recorded, check the list at the bottom part of the floating bar.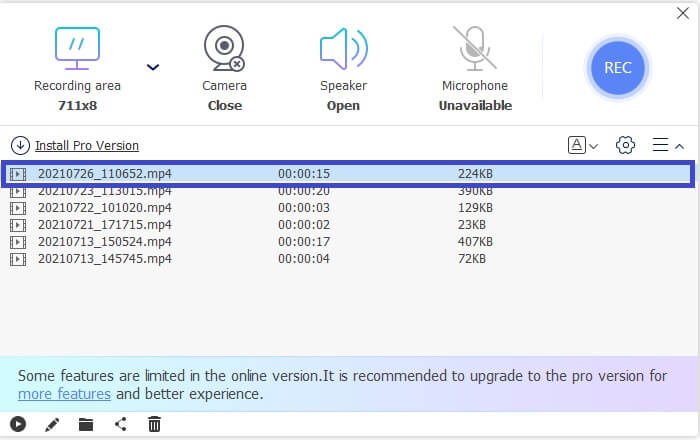 Pros
100% safe. No third-party hardware during the installation.
Privacy Protection guaranteed.
Has a vast list of video formats supported.
2. Tiny Take - MXF Recorder for Windows
TinyTake is another .mxf recorder that captures your computer screen in an adjustable region, specific window, full screen, from webcam, and most especially video. There is also a free store where you can store the video you recorded. Save or directly share it to your social media accounts. On the other hand, the tool has two versions, the free and paid ones. The only difference between free and premium is the set of features and the access. The free version will only allow you to record with a minimum length of 5 minutes. Disregarding those downsides, it is still a good alternative.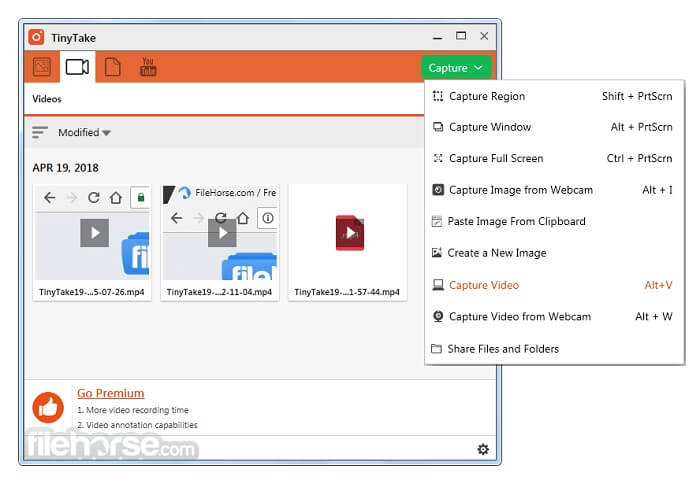 3. Screencastify
More accessible and very straightforward is Screencastify. It is a web-dependent tool specifically made for Google Chrome. This is well-suited to those who are afraid of downloading apps and want to keep their computers safe from malware. This is for you. With Screencastify, you do not have to worry about monthly fees and watermarks after exporting. If you are that type of user, you can keep this into your list of to-go apps. You might need it in the near future.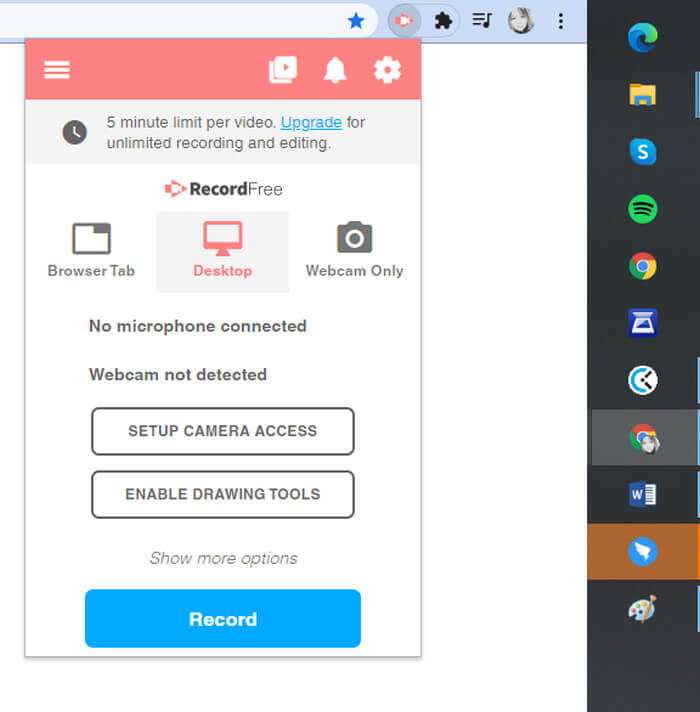 4. Ezvid
We are now down to the last tool for the list of best MXF recorders. See about Ezvid, a video maker, screen recorder, and slideshow maker. One distinctive feature that you find good about Ezvid is the widget displayed on the screen while you are recording. The widget will allow you to enable, disable, pause or make some annotations for your walk-through videos. It is something you cannot find on most screen recorders. Also, another thing that impresses the users of this tool is the ability to multiple recordings and cut them automatically. That is to say, it deserves a place on our list of best MXF recorders.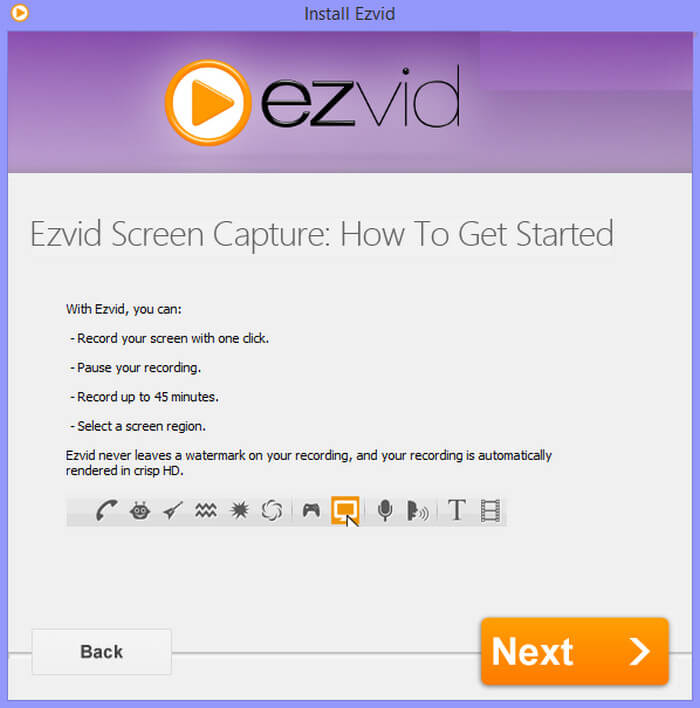 Further Reading
Part 3. Comparison Chart
| | | | | | |
| --- | --- | --- | --- | --- | --- |
| FEATURES | FVC SCREEN RECORDER PREMIUM | FVC SCREEN RECORDER FREE | TinyTake | ScreenCastify | Ezvid |
| Audio and Video recording | | | | | |
| Video Editing Feature | | | | | |
| Lock-in Window Feature | | | | | |
| Annotating Feature | | | | | |
| MXF Supported | | | | | |
| Malware Safe | | | | | |
| Adjustable Bitrate and aspect ratio | | | | | |
| Video Format Supported | WMV, MP4, MOV, F4V, TS, AVI, WMA, MP3, M4A, AAC, PNG, JPG/JPEG, BMP, GIF, TIFF, MXF | BMP, GIF, TIFF, MXF, MP4 | MP4 M4A, AAC, PNG, JPG/JPEG, WMV, MP4, MOV | NG, JPG/JPEG, BMP, GIF, TIFF, MXF | WMV, MP4, MOV, F4V, PNG, JPG/JPEG, BMP, GIF, TIFF, MXF |
| System requirements | OS: Windows 10, Windows 8, Windows 7, Windows Vista, Windows XP (SP2 or later) macOS 10.7 or above Processor: 1GHz Intel/AMD CPU or above RAM: 1G RAM | Web-Dependent | OS: Windows 10, Windows 8, Windows 7, Windows Vista, Windows XP macOS 10.7 or above | macOS 10.7 or above | Windows XP (SP2 or later) macOS 10.7 or above |
Part 4. FAQs about MXF Recorder
I am using a premier pro as I import my MXF file, but it's giving the error message Unsupported File. How do I fix that?
Close your Premier Pro. Then rename the top level folder where the MXF media file is. Then try re-uploading again. This should solve the problem. If it is still not fixed, try to resolve it using codecs.
Footer Data Damage Error. The MXF file won't play because of this error.
One of the reasons why the MXF file is unplayable may be due to damaged metadata of course within the header or the footer section. If the recording is interrupted, this is most likely the cause. Repair the cause by rebuilding it from scratch or use a repair tool.
I keep on receiving an error message that says the importer reported a generic error. What does it mean?
This means that the file has no video or audio streams and even if you are able to upload this file to Premiere Pro successfully, adjacent issues like playback errors and crashes during the process. If this is the case, transcode the footage into a different codec.
Conclusion
There you have it, learning more about the MXF format will help you fix some problems you might encounter while playing videos with this kind of format. You can always rely on the FAQs that you can see in these articles for some troubleshooting tips. If in any case where the MXF format is still not clear to you, crawl the internet and visit the FVC Screen Recorder page.