Pick Your Most Reliable XviD Screen Recorder Available In All Platforms
XviD is a powerful video codec compressor that is free. It earns popularity and the support of the user because of the fast compression and high video quality. It is well-suited for DVD player compression because it performs very well. Also, some users who screen records use XviD files to compress a different variety of their videos or maybe they want to take less space in their storage. Gradually, if you are searching for the best screen recorder in which it supports the XviD file. Read carefully to understand the unique features of the XviD recorders that will fit your demand as the user. Now let's dig into the details furthermore.

Part 1. Top 3 XviD Recorder for Windows and Mac to Record Screen Xvid Video
As we proceed to identify what are these tools and what is the best that will fit the user's demand. It also lists detailed information about it and its unique features. Here are some of the best XviD recording tool screen recorders you may choose from, continue reading this article for more information below:
FVC Free Screen Recorder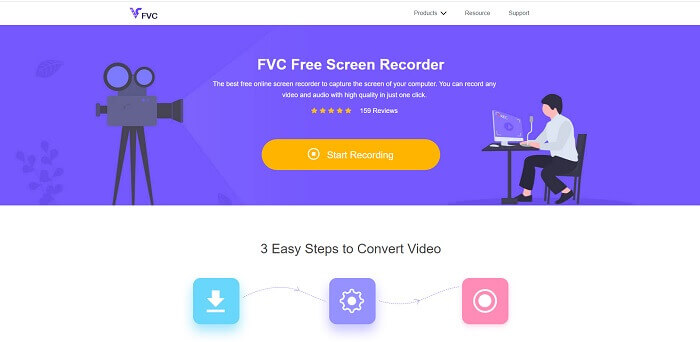 Access the tool for recording video gameplay, streams, video, and audio calls, or any video-audio action on the screen. This FVC Free Screen Recorder is an online tool that allows anyone to access it at no cost. If the watermark in your output is no problem, then this is the best choice for you. Also, you may as well use some hotkeys to manipulate the screen recorder. Another feature is that you may save your recordings into an XviD file although the default format is MP4. Here are some remarkable characteristics of this XviD recording platform.
In the meantime, here are some steps on how to use the recorder.
Step 1. Open the official website: https://www.free-videoconverter.net/free-screen-recorder/. Then click the Start Recording button to launch the app. Then a floating toolbar will show up.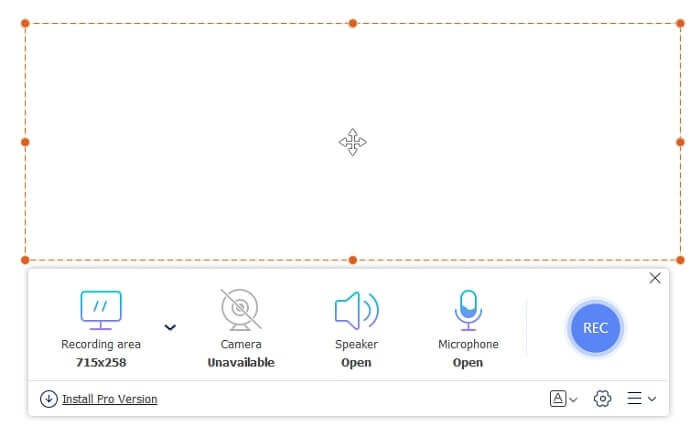 Step 2. Click the Cog icon on the lower-left side of the floating toolbar. Change the video codec to XviD or what is your preference. Click OK to save the settings.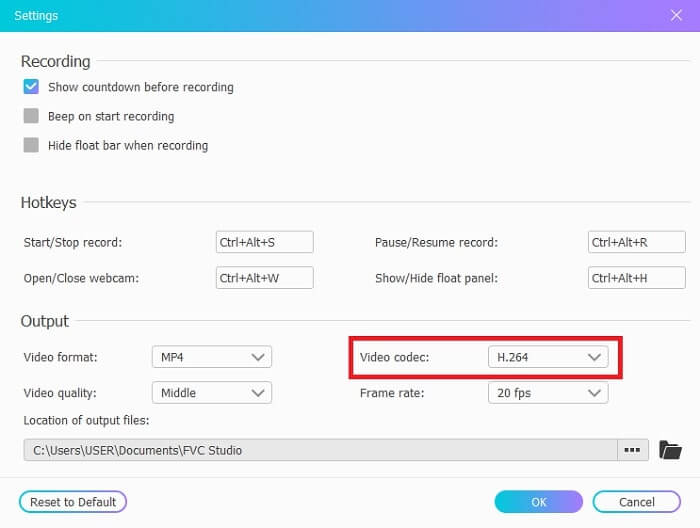 Step 3. Once everything is set up, other options that are available in the floating bar are the Speakers to record the sound in the system. As well you may use the Webcam to add your face and the Microphone to add your voice. Click the REC button on the right side of the floating bar to start recording. It also includes 3- the second delay before it starts.

Step 4. If you want to end the recording, click the Square button to stop the video.

Step 5. The saved output is arranged from the latest to the oldest. Click the recorded video, and enjoy your recorded XviD file.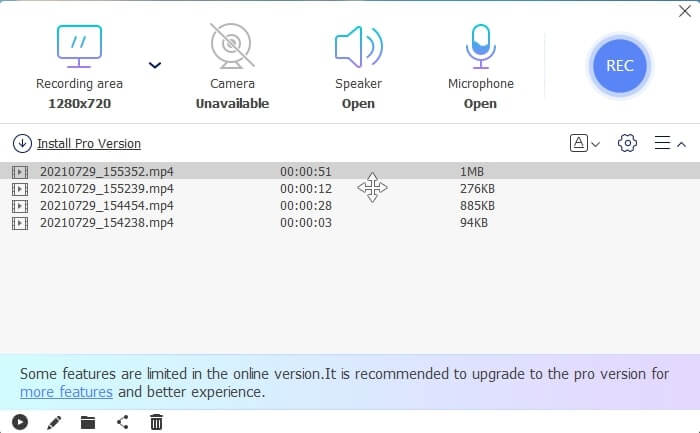 Pros
It is a free online tool that allows anyone to access it. Available to all different platforms.
Check all your finished products effortlessly in the recording history list.
Record any online videos, video calls, record gameplay on different platforms with no quality loss with clear audio.
Available recording quality lowest, low, middle, high.
Cons
Need internet connection to screen record.
Lock-in screen recording is not provided.
FVC Screen Recorder
There is also a Premium Version of the tool. The FVC Screen Recorder, desktop software that takes you to another level of screen recording. Most of the features are free. What should you do if the internet is not available? And I want to get the easiest but professional way of recording. It provides features like screenshots while recording, the best audio-video quality, more frames per second for much more details, different choices of output formats, and much more to settle in. So now, do you want to know what this is all about? Then let us explore this exceptional XviD recorder.
Indeed, follow the step-by-step and read it carefully.
Step 1. Choose which type of software is using either Windows or Mac. Then click the Free Download, then Install, and setup your preference, then click Finish to launch.
Step 2. Click the Video Recorder in the floating toolbar.

Step 3. In the Display, click the Full Screen to display the full-action on your screen. Other options like Speaker to record the sound in the system.To add you face open Webcam. And lastly, hit the Mic to add your sounds.

Step 4. Go to the Record-setting in the upper part of the Mic. Preferences will show, then click the Output on the left side of the interface. Choose your desired video format to save click our recorded XviD video, then click OK to save the settings. Then, hit on the REC button to start recording. You may as well take screenshots, set timer, and annotate.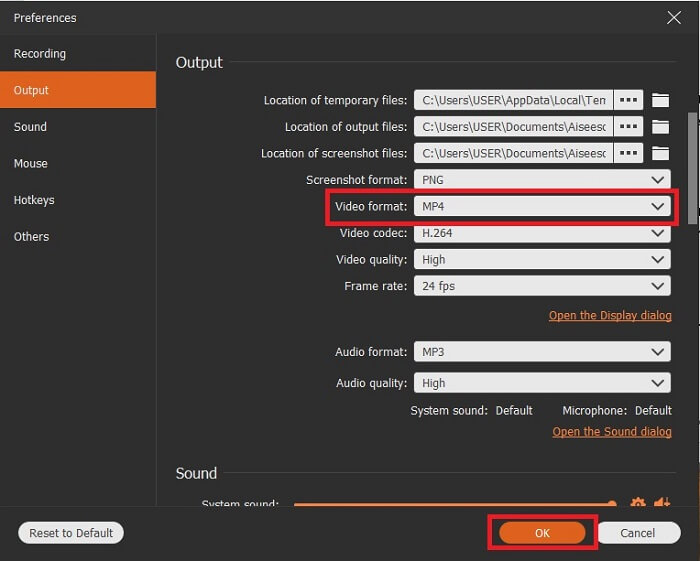 Step 5. After the recording is finished, click the Square button to stop and click the Save button. All the output you've finished recording is arranged from the latest at top and oldest at lowest. Now, you can enjoy your XviD recorded file.
Pros
While recording, this tool has a lock-in screen feature for the users who don't want to be bothered. Also, hardware acceleration for the best performance.
Best choice for a starter who wants to experience high-quality output. And also, to the professionals who want to experience an all-out screen recorder. For Online and Offline screen recording.
30-days money-back guarantee if you change your mind.
No watermark at the end of recording output.
Cons
Pay to use tools.
Need to be downloaded before using.
Bandicam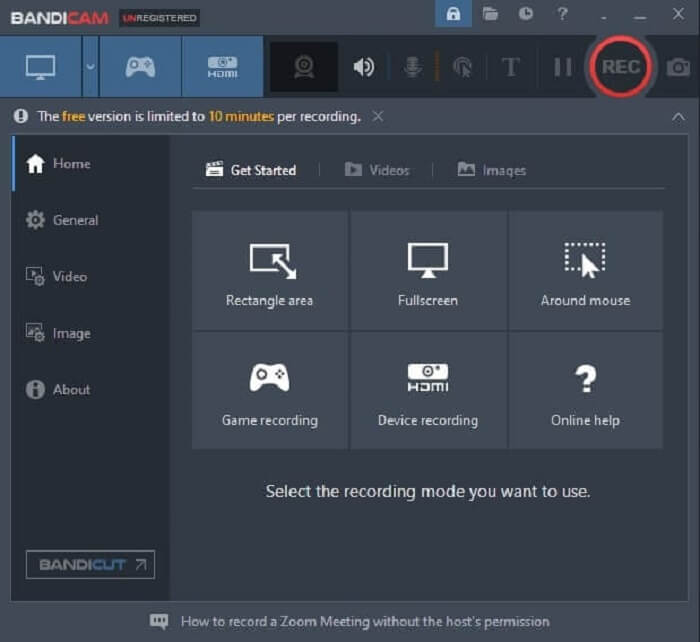 A well-known screen recorder for XviD recording is Bandicam. It doesn't support platforms other than Windows. Another impressive feature is the 480 fps DirectX/OpenGL/UWP/Vulkan hooking and hardware acceleration technologies with 4k Ultra HD videos. However, if you choose this type of format expect much larger storage that it will eat, unlike the other screen recorders. But it is only available at a premium.
Pros
Up to 480 fps.
DirectX/OpenGL/UWP/Vulkan hooking.
Hardware acceleration technologies with 4k Ultra HD videos. For premium.
Record all that's happening on the screen.
Cons
Not available to other platforms other than Microsoft.
Free version is only available for 10 minutes screen recording and needs to be downloaded.
Xvidcap

Another standard-based and free-source tool is XVidCap. It was one of the best XviD screen recorders in late 2010. It was released on October 30, 2006. Also, the best feature of the tools is that it has an audio record and activates full screen if you click the target button. However, it is in the list of the XviD records. Choosing this tool is not the best choice for screencasting because there are a lot of better screen recorders. But it is worth mentioning because this tool is not released. All of the screen recording tools will never reach their full potential.
Pros
Record full screen by clicking the target button.
Audio record.
Available for X Window System and Unix.
Cons
Not the best choice for a screen recorder.
Not supported in another format.
Last update was in 2013.
Part 2. Comparison Chart
Features
FVC Free Screen Recorder
FVC Screen Recorder
Bandicam
Bandicam Xvidcap
Desktop Recorder Audio and Video
Video Editing
Lock in Screen Feature
Malware Safe
Task Schedule
Hardware Acceleration
Recording Quality
Lowest, Low, Middle, High
Lowest, Low, Middle, High, Highest, Lossless
40, 60, 80, 90, 100, 480 fps
Output Format
WMV and MP4
WMV, MP4, MOV, F4V, TS, AVI, WMA, MP3, M4A, AAC, PNG, JPG/JPEG, BMP, GIF, TIFF
MP4, AVI
System Requirements
Available to all up-to date Platform
Available to all up-to date Platform
Windows OS only
X Window System and Unix
Price range
Free

For 1 month: $25.00

For a year: $31.20

For Lifetime License: $55.20

It is Free But it also includes a premium.

For 1 PC: $39.95

For 2 PCs: $59.96

Bandicam with Bandicut: $60.95

Free
Part 3. FAQs about XviD Recorder
What is the best choice? XviD or Divx?
XviD was established by developers who volunteer all around the world. It is also an open-access platform used online. On the other hand, Divx is an owned codec and is only available on some platforms.
Why do I need XviD? What is the purpose of it?
It allows the video output to compress. Another purpose is to transfer faster over other computer networks in an efficient way and with less storage.
Does VLC support the XviD file? How to do it?
Yes, VLC Media Player supports XviD files over to your computer. To watch the Xvid file you must download VLC Media Player first, find media then open the file, or you may as well drag and drop to play the XviD file. Read on Xvid Players to find more solutions for XviD playback.
Conclusion
To sum up all the details, the XviD screen recorder is available either online or offline. Every screen recorder that is listed has its unique features. Although, some of the tools are free or paid. Moreover, they all work to be saved into an XviD file. So, the users may enjoy their video without affecting the audio-video quality.
FVC Screen Recorder is a top-of-the-line recorder if you want to produce a high-quality. Also, it is available to all different kinds of platforms. So, no need to worry about transferring to windows, mac, and any other available platforms. Why stay on one supported platform if you want to make a change. Don't settle for A-Okay, choose what's the best screen recorder XviD for you.