What Does AVI Mean and How to Play It on Desktop and Mobile Devices
One of the known uncompressed formats is the AVI. It is most commonly used for synchronized playback of videos and audios. If you want to know more about AVI then you must keep on reading. The purpose of this article is to know what AVI is and what is the media player that supports this type of file. Keep on reading below to have more ideas about the format and media player available.

Part 1. What Is an AVI File
AVI was introduced in the market in the late 1992 by Microsoft. The AVI name meaning is Audio Video Interleave. It is one of the most popular file containers for its simplicity and compatibility in all different platforms. So, if you want to record or download a video or audio in the format of AVI expect that it is big in size because it is uncompressed. To have more ideas, here are some of the pros and cons of the format.
Pros
It is a multi-functional file container that can contain any file.
Widely used format for any short films, promos, and advertisement. Because of the quality it provides.
The quality AVI stores are exceptional one.
You will not need a specific hardware or software just to play AVI files because it is unrestricted.
Compress the AVI files easily because it supports different codecs like DivX, XviD, MPEG-1, MPEG-4 and more.
Cons
If you compress the AVI file beyond the limit there is a chance that your 4k, HD, or 1080 file will decrease the quality.
AVIs are not compressed so expect a large file size if you use this type of format.
If you use codecs via online to compress AVI remember that the same codecs must be installed to your drive. Installing codecs is very simple but it is a bit scary to select codec because some are unreliable and unsecure. So be careful if you download one.
Now that you know what the format is about. Now is the right time to know how to play AVI files on your desktop. All of the tools that have been mentioned below are the best media player you already encounter or not while searching over the web. Every AVI player indicates description and steps so read carefully to know which one is the best.
Part 2. How to Play AVI Files on Mac and Windows Media Player
1. FVC Free Video Player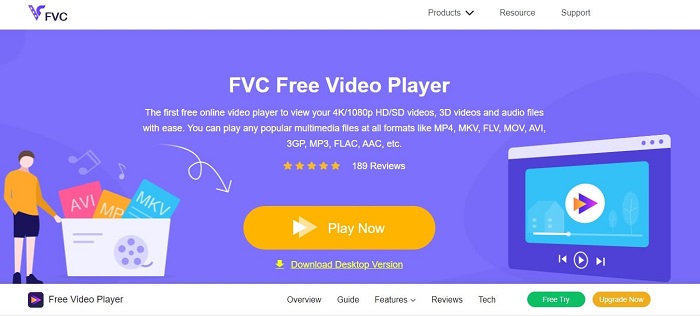 Use this FVC Free Video Player to watch any video format by using your internet. Unlike any other media player mentioned below this tool doesn't need additional files just to function. So, if you have an internet connection you can watch anytime and anywhere. Also, it provides a high quality one and never has a bug issue to play AVIs. But remember that if your internet connection has been interrupted this tool will load or pause for a minute. Which is very common because it is internet dependent. You can also play DVDs here as well if you want. No more asking yourself how to open AVI files so you can watch it. If you follow the steps below provided only for you.
Step 1. Click this hyperlink to proceed to the main webpage of the AVI video player.
Step 2. Click the Play Now to launch the online AVI player.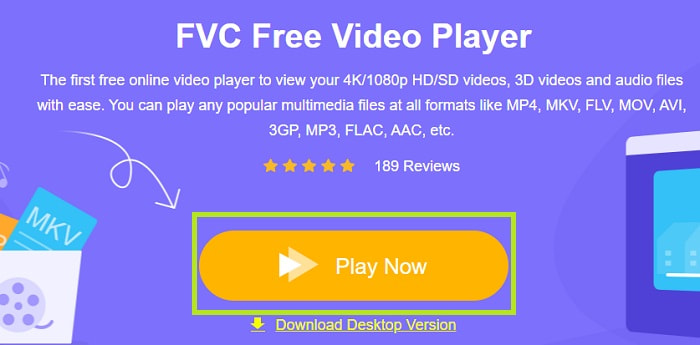 Step 3. Then click the Open File and select the AVI video you want to watch. If you already selected it, click the Open.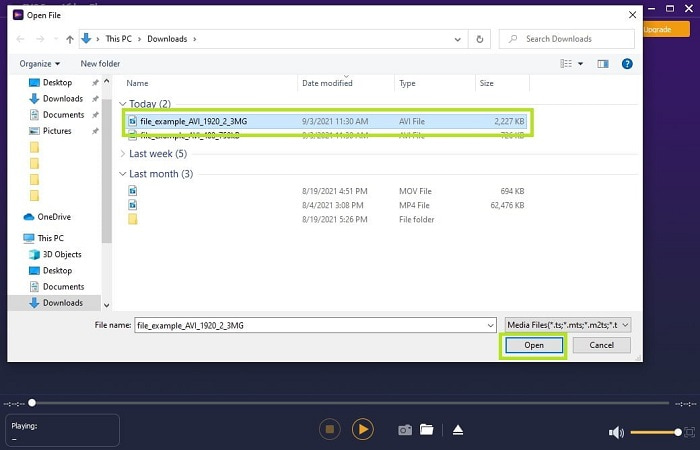 Step 4. Wait for a second to play the AVI video and voila it is now playing. In the interface you can also take a screenshot for free while watching if you want.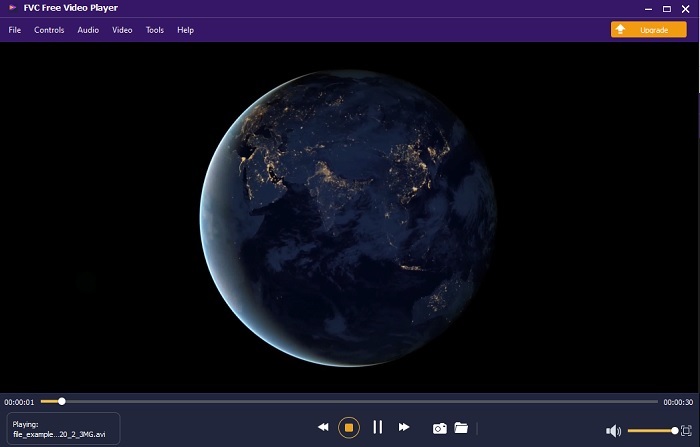 Step 5. And if you want to end the video just click the square button to stop. Repeat the same step if you want to play another AVI video or other format.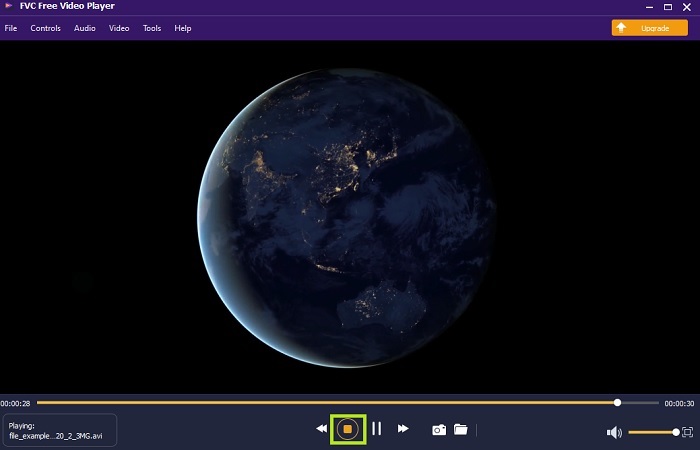 Pros
No extra file needed to launch the tool.
It is more efficient than the other tools below.
It provides 3d vibes if you're watching a 4k video.
Cons
Internet dependent so if you don't have internet, you can't access this.
Some major features on the premium aren't visible here.
2. Windows Media Player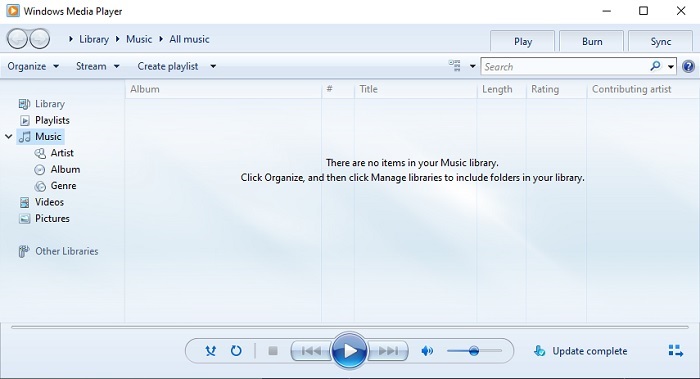 If you want to know how to play AVI files on Windows 10 you can use this default media player developed by Microsoft for Windows users. But there are some cases where you will need to download an extra codec just to play AVI on this media player. Which is a bit of a hassle and sometimes it is annoying because finding the right codec will give you a hard time. So, expect to have trial and error if this happens and sometimes to download the wrong codecs. But no need to worry because it is very simple to download codecs on your desktop.
Pros
Built-in media player for Windows.
Supports almost all of the formats.
Easy to use.
Cons
In some cases, you'll need to download additional codec that this tool doesn't support.
Doesn't provide streaming over slow DSL connections.
3. VLC Media Player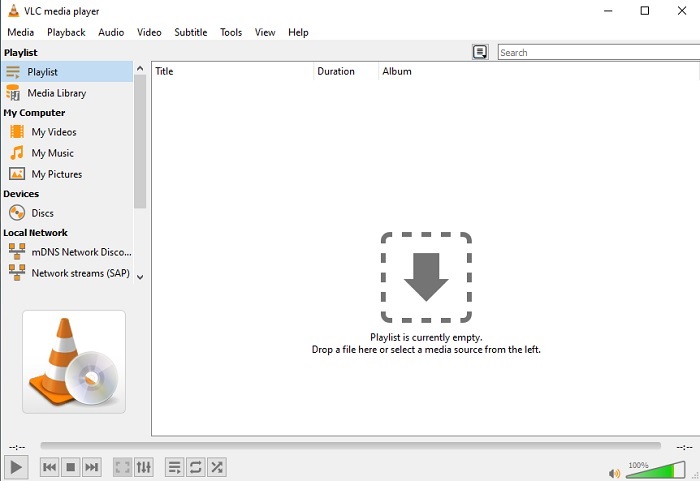 This media player doesn't require additional codecs to be downloaded and to play AVI. Maybe you're asking how to run an AVI file with ease VLC Media Player might be the answer to that. This media player helps millions of users world wide just to play their media file just by opening their file and playing it here. Despite millions of users trusting this tool there are some bugs in this tool and some of the files aren't supported in this software. Expect some errors but no need to worry because it is only once in a blue moon.
Pros
One of the best media players for all platforms.
It can play video even if it is not yet finished to be downloaded. But not the whole video.
Flexible in all formats.
Cons
Most of the time there are some minor bugs that you may encounter while using VLC.
It also has a hard time playing some video formats because of the codecs.
Part 3. How to Watch AVI Files on iPhone
The media players above can't be accessed over to your mobile devices. But there is a way to play AVI on iPhone or iPod. Not only that, we know that AVI files are big. So, if you transfer it to your phone, it will surely take up most of the space on your devices. Instead of transferring the raw AVI file you must convert it into a new format that is playable and now losing the quality as well. Convert AVI to a right format with the help of Video Converter Ultimate. For more details about how to convert please go to this link.
Part 4. FAQs about AVI
Which is better, AVI or MP4?
AVI is better on quality but uncompressed while MP4 files are less on space but it has a good quality as well. If you want to know more about what the differences are and which one is better, you must click AVI vs MP4.
How to convert AVI to MP4?
Converting is the best way to lessen the file size of your file and change it to another format. And the best way to convert AVI to MP4 is listed here in this article. It will teach you the steps on how to convert and what are the different tools you may use to convert.
Can QuickTime play AVI?
Although QuickTime media player supports different formats, there are some troubles playing AVI on Mac default player. Because of the proprietary Microsoft has. So, to know what is the best alternative for QuickTime you must read this article and choose which one is the best alternative.
What if the AVI file is not opening?
There are some reasons why AVI files aren't opening. First one it is because that the file is incomplete, except that because it is uncompressed that some file might be lost. Second, the AVI format is not supported on your local or third-party media player. Third, consider it dead especially if you compress it too much that it can turn into an unplayable one. Lastly, the codec is wrong, so if you compress the AVI with different codecs at the same time this problem is common.
Conclusion
To conclude, AVI is used by many users all around the web. But the file itself is uncompressed so you better be prepared to have a lot of space on your drive if you're recording, downloading or transferring AVI files. As of today, no more asking what is AVI format because of the given information above and where you can play it. Feel free to use the FVC Free Video Player because it is open-source that can be accessed by anyone with internet access. But you can also like to use the premium version of the tool that supports more format than the free version and it has a lot of features as well. If you want to check it click the download button to install it on your desktop.