AVI VS MP4 – Which Is Better (Quality/Compression/File Size…)
Both AVI and MP4 are popular video container formats. You can see many videos saved in .avi and .mp4 file extensions. Is AVI the same as MP4? Of course not. Then what is the difference between AVI and MP4? If you want to figure out AVI VS MP4 in different aspects, just continue reading to get more details.

Part 1: AVI VS MP4, Which One Is Better
What Is AVI?
AVI is the abbreviation of Audio Video Interleave File. It is a multimedia container format developed by Microsoft since 1992. Thus, the AVI format is fully compatible with Windows players and other programs with the related codecs. AVI files contain both video and audio data, which are saved with the .avi file extension.
What Is MP4?
MP4 is short for MPEG-4 Part 14. MP4 is a multimedia container format developed by Moving Picture Experts Group. You can see that MP4 videos are compatible with all mobile phones, including iPhone, iPad, Android phones and tablets. Most MP4 files are saved with .mp4. But you can also see some MP4 videos in .m4a and .m4p extensions.
AVI VS MP4 in Quality
The output video quality is always the first thing to consider. Which quality is better, AVI or MP4? Both AVI and MP4 are video wrapper formats. AVI is associated with DivX codec, while MP4 uses MPEG-4 AVC/H.264 codec. Therefore, AVI has a better quality than MP4.
AVI VS MP4 in Compression
AVI uses less compression to store video and audio files. Thus, AVI files take up more storage space. Moreover, AVI files can be created without compression as well. The lossless AVI files have immensely large file sizes. As for MP4, it is a lossy video format. MP4 video uses H.264 or MPEG-4 compression techniques, while MP4 audio uses AAC compression algorithm.
AVI VS MP4 in File Size
AVI has a larger file size than MP4. If you want to make an AVI file smaller, you can convert AVI to MP4, FLV and other compressed video formats. Or you can use a video compressor to compress AVI file and make it smaller.
The Detailed Comparison of AVI VS MP4
| | | |
| --- | --- | --- |
| MP4 VS AVI | MP4 | AVI |
| Quality | Good | Excellent |
| Compression | Lossy | Lossless |
| File size | Small | Large |
| Supported codecs | MPEG-1, MPEG-2, MPEG-4, H.264/AVC, H.265/HEVC, WMV/VC-1, Real Video, Theora, VP8, VP9, MVC | DivX, XviD |
| Compatible devices | PC, Mac, iPhone, iPad, Android, etc. | Microsoft devices, Games consoles (not supported by all Apple devices) |
| Supported players | Almost all media players | Windows-based players |
| Developed by | MPEG | Microsoft |
Part 2: How to Convert AVI to MP4/MP4 to AVI
No matter you want to convert video from AVI to MP4, or MP4 to AVI, you can run FVC Free Online Video Converter to change video formats. It is a 100% free and safe video converter that can convert videos between AVI and MP4 online. You can batch convert large AVI and MP4 files with ease.
Step 1: Click Add Files to Convert in the main interface. Download and install its launcher quickly.
Step 2: Select which video to convert from your computer. Click Open to confirm.
Step 3: Set the output video format near the bottom. During this time, you can select MP4 or AVI to complete the video conversion.
Step 4: Click the gear Settings icon to adjust video resolution, frame rate and more. Here you can make your AVI or MP4 file smaller tha before.
Step 5: Click Convert to convert AVI or MP4 video files online.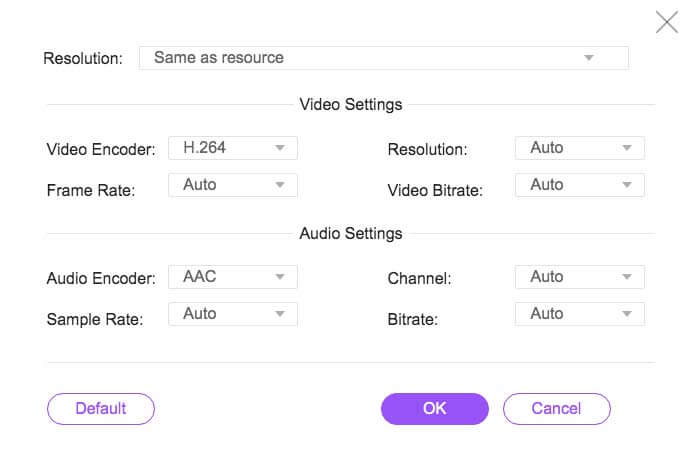 This free online MP4 converter can also change other formats like M2TS, MTS, MOV, MKV, WMV, TS, etc., to MP4.
Part 3: Best Way to Convert AVI to MP4/MP4 to AVI
If you want to get a better converting experience with higher output quality, FVC Video Converter Ultimate should be the best choice. You can convert AVI files to MP4 or change MP4 format to AVI with this powerful video converter. You can also edit the AVI file or MP4 file with the built-in editing tools.

Video Converter Ultimate
1,286,499+ Downloads
Convert 8K/5K/4K, 1080p HD and SD videos to over 300 formats.
Convert AVI videos to MP4, FLV, MKV, MOV, WMV, FLAC, MP3, etc.
Editing features like trim, crop, enhance, 3D, watermark, effect and more.
Advanced hardware acceleration to convert AVI and MP4 file with fast speed.
Step 1: Download and install the AVI to MP4 converter, you can launch the program on your computer. Click the Add Files menu or directly drag multiple AVI videos into this program.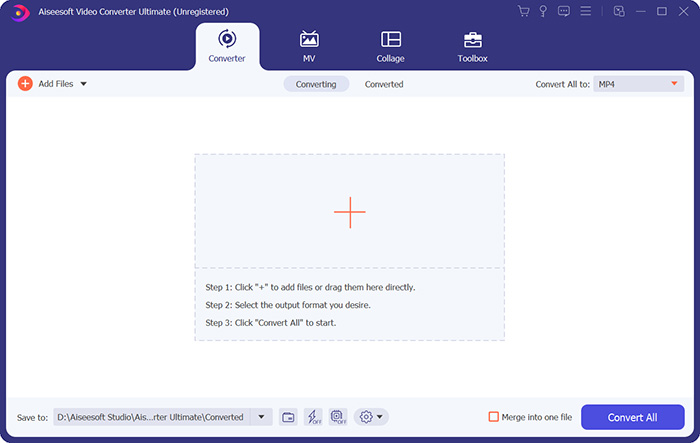 Step 2: Once you have imported the AVI files, click Convert All to button and choose MP4 as the output format. Of course, you can click the Gear icon to tweak the video and audio settings, such as sample rate, audio channel, etc.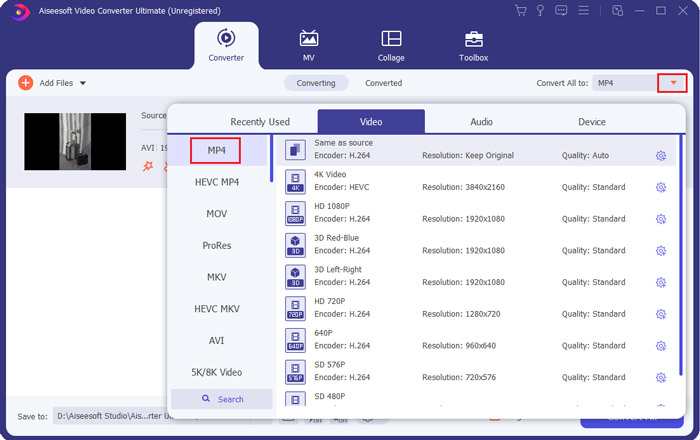 Step 3: Then you can click the Edit button or the Clip button to edit your output MP4 videos. You can rotate/crop the AVI file, add audio track, subtitles and watermark.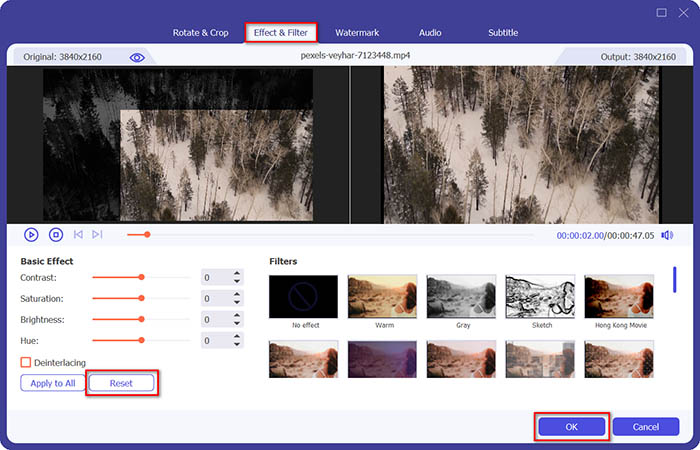 Step 4: If you have several AVI files to be combined, you can check the Merge into one file box and click the Convert All button to start converting AVI to MP4 with ease.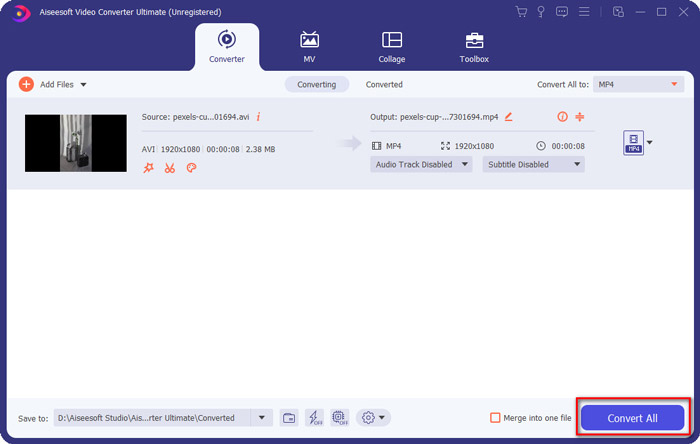 This Video Converter Ultimate supports converting various types video formats. You can also convert MP4 video to AVI format.
Part 4: FAQs of AVI and MP4
Is AVI good for YouTube?
No. YouTube video format is MP4. Because MP4 offers high video quality and small file size. Compared with MP4, AVI is too much for YouTube.
What are the disadvantages of AVI files?
Uncompressed AVI files are large in file size. But if you compress an AVI file with some codecs, you need to install the same codecs on your player as well.
Any other way to convert AVI and MP4 videos on mobile phones?
You can change the file extension to change AVI to MP4 or MP4 to AVI directly. Or you can batch convert AVI and MP4 files using Video Converter Android, VidCompact, iConv and more.
You can get the detailed comparison of AVI VS MP4 from the above paragraphs. Both AVI and MP4 are popular video formats. If you want to get smaller file sizes, you can convert AVI to MP4 format. Well, you can also convert MP4 to AVI to get better audiovisual quality. FVC Free Online Video Converter can be your reliable tool.