Review about the Importance of ID3 Tag Editor on 2022
Songs that you've downloaded on music websites do have metadata or known as ID3 tags. Usually, all the information you need about that song is in the tag information. On some occasions, the music doesn't come with tags or has wrong information. In this type of situation, you will need to use software that can help you easily handle the task. In this situation, we are gladly present to you the best ID3 tag editor you can download on your Windows, Mac, iOS, and Android to edit the tags on your songs.

Part 1. What Is ID3 Tag
ID3 tags are essential for every user who want to know more about the song in-detailed information. A great example of tags that you can see without viewing the exact tags is the name of the artist and the title of the song. Although we didn't add it to the audio file, it is still embedded to help us know if we play the correct music accordingly.
Nevertheless, if you don't have a tag on your songs or podcast, then there is a chance that the files are scrambled throughout the entire library or folder on where they are stored. Adding the tags on your file can help you determine the file and arrange it to look organized. If your file doesn't have one, then you must add data. Keep the ball rolling to help you look for the ID3 tag editor you should use that will fit your needs.
But before we start, kindly prepare the metadata you want to add to your audio file; these include title, author, chapter, pages, comments, lyrics, and such. After reading this, you will be surprised by our review about the top tag editors you can use on all devices.
Part 2. Best ID3 Tag Editor on Windows/Mac to Change Metadata Easily
FVC Video Converter Ultimate – Best ID3 Tag Editor
One of the common knowledge you should know on selecting an ID3 tag editor on Mac or Windows is that it should be on-point, user-friendly, and accessible; all of these can be found on FVC Video Converter Ultimate. It is known as the first-class metadata editor that is easy to handle even the users don't know how to adjust them correctly. Unlike any other tag editor, you wouldn't need to do many complicated things to add or fix your audio or video tags. So, if you are new in this area of editing or fixing the ID3 tags, then without a doubt that this is your one-stop software.
Furthermore, we didn't call it a one-stop editor for no reason; maybe you think why. If we explore more on the tool, you will see that you can do advance and basic video editing here to make your video look outstanding by adding effects and filters. There are still too many unmentioned features that you can unveil if you download the tool. But today, we will focus on using this ID3 tag editing software to help you quickly edit and fix your songs' tags.
Step 1. First, download the software on your selected operating system; there are two options available Windows and Mac. Next is to install it correctly, follow the set-up process, then open the tool once you've done all of this.
Step 2. Once you've opened the tool, you must proceed to the Toolbox section and open the Media Metadata Editor by clicking it.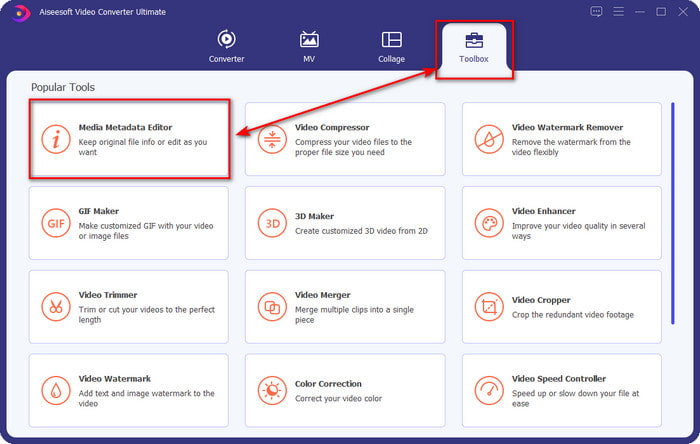 Step 3. Press the + icon on the new window that will show on your screen, select the audio file you want to change the ID3 tags, press Open to upload it.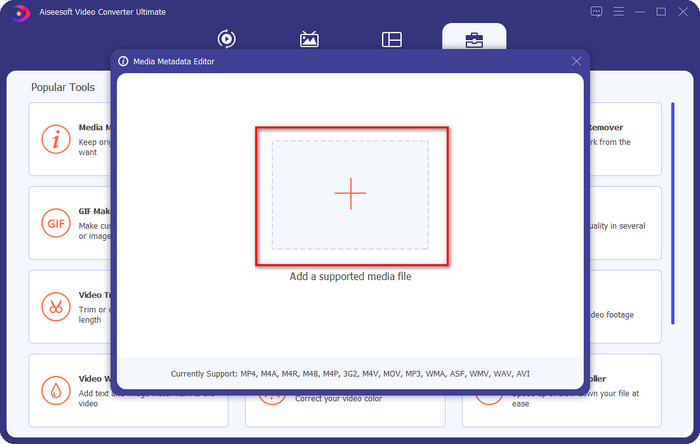 Step 4. You can now type the information you want to add to your audio file and click Save if you are done on each textbox. As easy as that, you have now added tags on the audio file with the assistance of this software.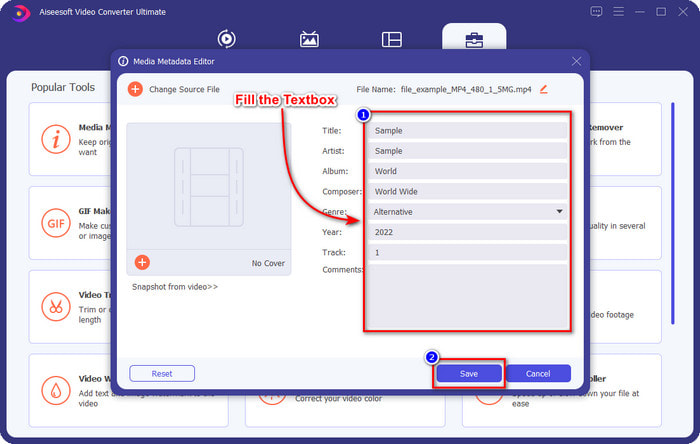 Pros
It supports changing MP3, WMA, WAV, and 1000+ metadata effortlessly.
Ultra-fast converting and hardware acceleration is supported for a lightning speed process.
Primary up to advanced video editing features are available on Toolbox.
It is the first choice of millions of users worldwide to take up this task.
Cons
Purchasing the tool is needed to have all of the fancy editing features.
Not available on Android and iOS.
VLC Media Player

VLC Media Player is a top-notch media player you can download on Windows and Mac. This tool can help you play the video without downloading any codecs on your system, but you can use this as well to edit the ID3 tags of your audio file. Although the tool isn't a dedicated metadata editor, it can still fix the incorrect tags. So, if you have this tool, you can easily adjust the metadata of your song, but don't expect too much on the tool because it is not as good as the first-class iD3 tag editor on a desktop.
Pros
A media player and metadata editor you can use on any device.
It supports an average media format to change the tags.
GUI is plain and simple.
Cons
It is not a pro metadata editor.
Supports limited functions regarding editing the tags.
Part 3. Top 3 ID3 Tag Editor on iOS/Android Mobile Devices
Star Music Tag Editor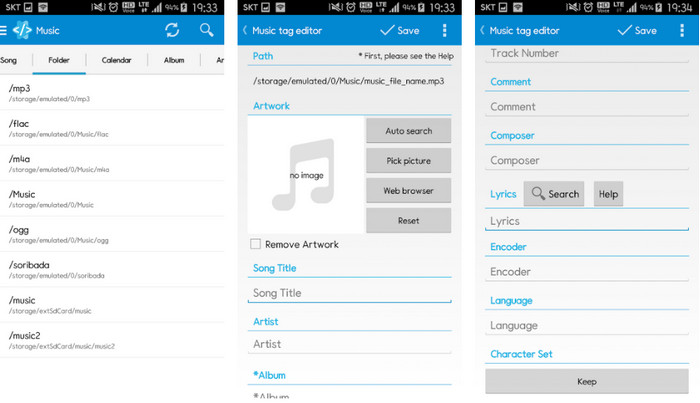 Star Music Tag Editor is one of the most used iD3 tag editors on Android. This app can show you different information on your music, and you can change them if you need to. Its GUI is straightforward, so you can easily learn how to use it even if you aren't familiar with using a tool for editing tags. Even though the app is excellent, it still has some flaws in adding metadata, especially on the album cover. Although problems may occur, it is still a dependable tag editor you can download on your Android phone.
Pros
Free to download metadata editor on Android.
GUI is simple and easy to understand.
Add the tags on the audio file easily.
Cons
It does have a problem adding an image cover on the audio file.
Sometimes bugs are still happenings.
Clouds Music Player for Clouds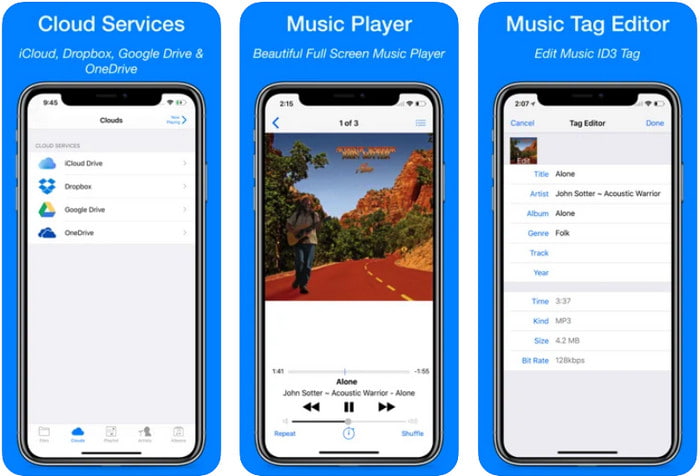 Clouds Music Player for Clouds is a multipurpose app you can download on your iOS devices. It can edit id3 tags on iPhone, play music, and create a ringtone out of the music. With its features, its GUI is plain and simple, and you can access your cloud service through the app. Even with its user-friendly interface, some information you can add as metadata on your audio file is insufficient, which means only the basic tags are available to edit. Nevertheless, it is excellent to download if you are an iOS user.
Pros
Available on any iOS device to download.
Multifunctional music editor and tag editor.
Intuitive metadata editor on iOS.
Cons
It doesn't support adding more metadata.
Changing metadata bugs and issues are happening but not often.
Dash- Infotainment App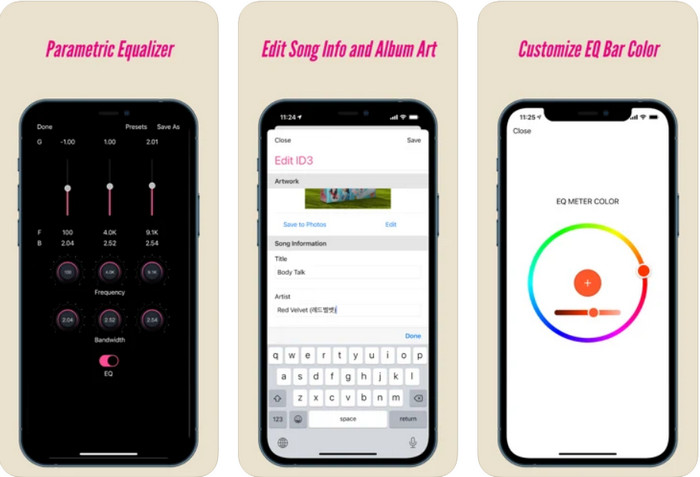 Dash- Infotainment App is another tool you can download and edit ID3 tags on iPhone whether you need one. There isn't much learning you'll need before using the app with its simple and streamlined user interface. You can use this tool to change the parameters of your FLAC and ALAC easily with its easy-to-use equalizer. Also, you can see the speed and compass of the song you upload here. Same as the first iPhone tag editor, you can only add title, artist, and album art here, but remember that your format must be FLAC or ALAC only; if it isn't in this format, then you can't upload it.
Pros
The learning curve isn't that too stiff.
A multitudinous audio equalizer is available.
GUI isn't much, and it is not less.
Cons
It only supports FLAC and ALAC format.
There's nothing much to offer in regards to editing metadata.
Part 4. FAQs about ID3 Tag Editor
What is the best command-line ID3 tag editor I can use?
If you are looking for a command-line ID3 tag editor, you must know that FFmpeg is a command-line editor. With this tool, you can convert, rotate, cut, trim, and edit your metadata tags. If you want to know more about FFmpeg, you might want to read how to use it by clicking the link to edit FFmpeg metadata easily.
What are the other types of metadata?
There are six metadata types: descriptive, administrative, reference or explanatory, statistical, legal, and structural metadata. If you want to know more about these types and their information, you can click this link and read more about them.
Is it possible to view tags without an app?
Yes, instead of downloading software, you can use an online tool to view your file's tags. Click on this link to view metadata on your desktop online, but we will also introduce some tools that you would love to download.
Conclusion
With the information we list above, it became possible to edit the ID3 tags using the editors we presented above, no matter what device you are currently using. Moreover, the app and software are perfect for users who need to edit their metadata. Even though the tools open up an excellent opportunity for users to edit the metadata, it still no doubt that the ultimate tool presents an effective way of editing ID3 tags on any music file. If you want to have the best ID3 tag editor on Windows and Mac, you can download it spot-on by clicking the download button presented above, then enjoy its greatness.