Determine How to Reverse AVI Files with the 4 Tools Available
AVI files are one of the biggest file size formats you have already encountered while searching for the best formats on the web. To give you a brief explanation, AVI formats are files that are uncompressed and most of the editor doesn't accept AVI files because of the confusing structure of it. So today, we gathered different tools for you to choose on to reverse AVI files easily and effectively. Also, all of the tools presented below have already been used by the writer to test it out. Without any more delays, let's proceed to the online and offline tools you can use to reverse a video.

Part 1 How to Reverse an AVI File with the Ultimate Software Offline
If we were going to talk about the phenomenal video reverser available on PC and Mac then this might be your first choice. As this software became greater than the other tools whether it is online or offline. Video Converter Ultimate is not just best in just one job but in almost all jobs like editing, enhancing, making GIF, speed-up or slowdown and more. Unlike any other tools you search on the web to reverse AVI files this software gives you the chance to make an explicit video in reverse. Also, this tool is not for free but if you buy this tool then expect the best output already. So, if you want to know how to reverse your file in the format of AVI then follow the steps below.
Steps on How to Reverse Video with the Help of the Video Converter Ultimate:
Step 1. It is a must to download the tool first on your drive, choose whether you are using a PC or Mac to download. Next, install it then do the set-up quickly and click finish to proceed.
Step 2. To find the Video Reverser click the Toolbox first and under it is the reverser feature.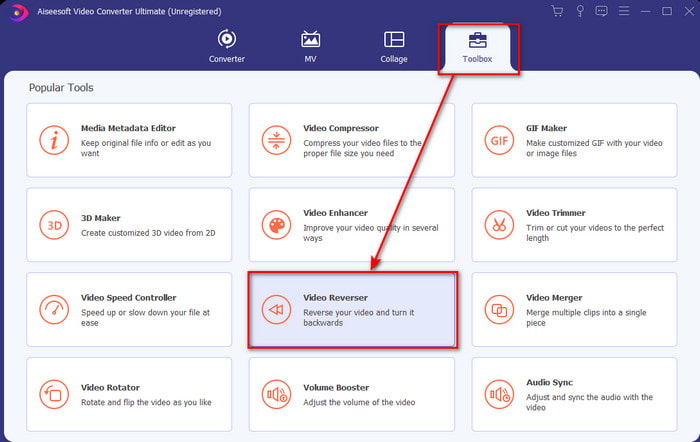 Step 3. Click the + button to add the AVI file you want to be converted into reverse, click open and proceed.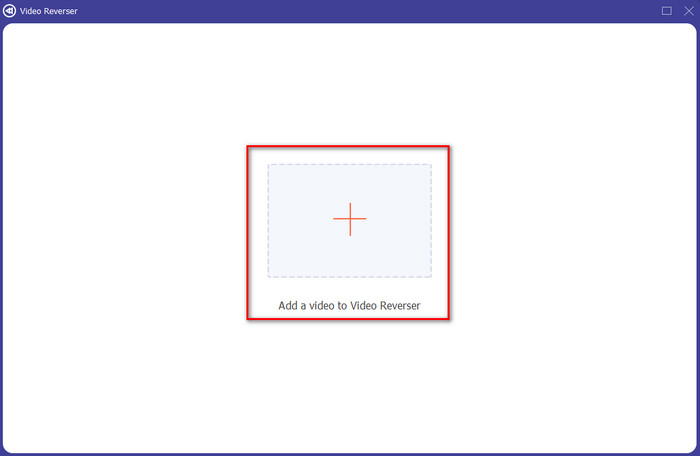 Step 4. On the interface you can now adjust the duration of the video by adjusting playback in and out. To save the video reversed click the Export button and proceed.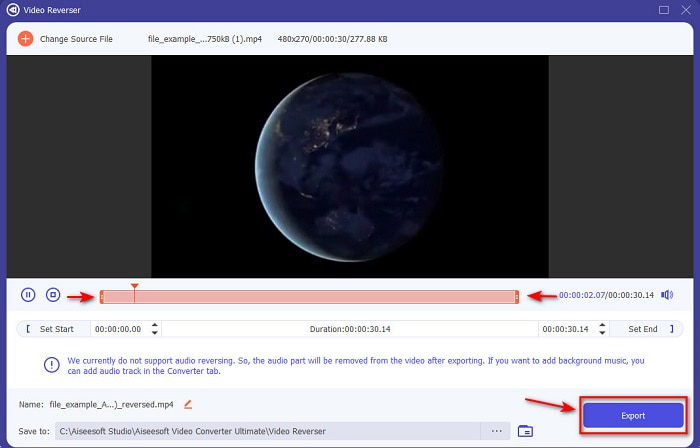 Step 5. After exporting is completed, a folder with the reversed file will show to your display. Hit the video to watch the video in reverse.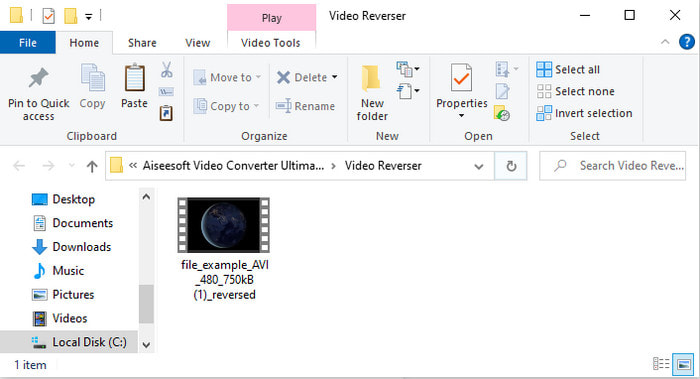 Part 2. How to Reverse an AVI File Online
1. Fastreel - Online Video Reverser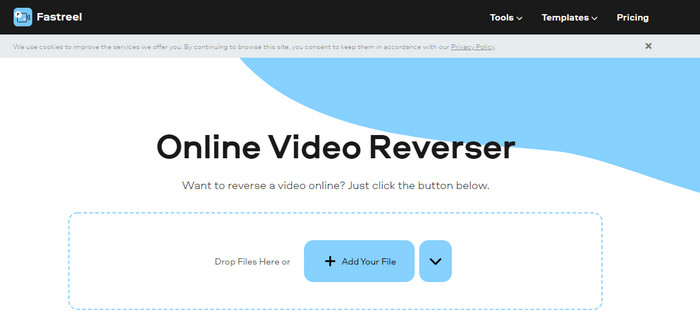 If you want to reverse AVI online then you try to use Fastreel. As this web tool lives up to its name fast and real in reversing. Also, this tool provides simple editing features as well but it is in the other web tool. Although the tool is great and simple, the inconvenience is still there, especially if you lose internet connection. Another, if you are converting and the internet has been interrupted there is a chance that some of the AVI file will go missing because of the uncompressed structure of it. However, if you have a great and stable internet then it is a must to try how to use this tool by following the steps provided.
Step 1. Open your search engine and search for the official website of the Fastreel Online Video Reverser. Click the link to proceed.
Step 2. Then click + Add Files and a file folder will show into your screen then hit open to insert the file. Wait for a minute or two to upload the file.
Step 3. Then click Download with Watermark and it will automatically be saved to your drive.
2. Pixiko- Reverse Video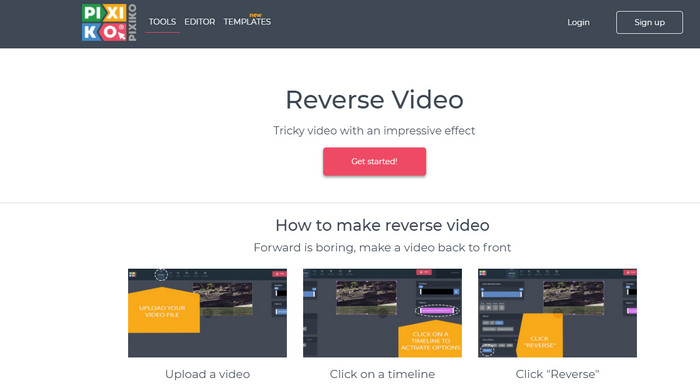 Pixiko is one of the online tools we found out helpful again if you want to reverse AVI files. The tool interface of it is very minimal and easy to understand. Just like the first online tool, internet connection is there oxygen to live up. Basically, if you have no internet connection you can't access this tool like the first one. However this tool is much more effective compared to Fastreel. Then, if you want to know how to make you video play in reverse then follow the steps indicated below.
Step 1. Go to the Pixiko Reverse Video by searching it on the web.
Step 2. Click Get Started and wait for a few seconds to load the reverser interface. On the interface, click in any area of the rectangle to browse your file on the folder then click open to proceed.
Step 3. Then press Reverse to proceed and the website will load then wait for several minutes because the file is loading. If you are ready to export the file click Download Video.
3. Ezgif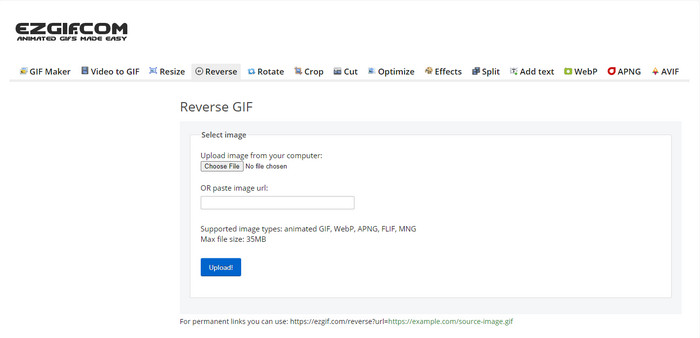 It is not surprising to be in this list the Ezgif because it is one of the best tools on the web to make GIFs and even reverse AVI. This web based tool already proved a lot to the internet user that this tool can do almost anything. To make your video look more incredible than before. However, the features in this tool are limited so in other words you can't make your video look unique compared to others. Although if you are on a tight budget then try to use this and reverse your video by performing the same steps below.
Step 1. Search Ezgif on the search bar of your browser. So, click the link and locate the Reverse
Step 2. Click Choose file to upload the video you wanted to be on reverse. Then pick the AVI file on the folder and press open. After the file is inserted click Upload to proceed.
Step 3. Check the Reverse Option then click Submit and next is click Save to download the reversed file.
Part 3. FAQs about Reversing AVI Files
Why are AVI files too big?
The only reason why the AVI files are too big is that the format is uncompressed. With that being said, all of the files in the format of AVI are just raw files and it has no designated codecs. So, if you want to have an idea what an AVI file is then click this link to proceed.
How to compress AVI files without losing quality?
Looking for a compressor to compress AVI files is a bit harder than you thought. So, if you want to know how to compress AVI files without losing the quality of it then try to read this article. To help you to find out what are the best ways on how to do it.
Is conversion of AVI to MP4 a great idea?
Absolutely Yes! So instead of using a compressor then you must try to convert the file into a MP4 format. So, to have a complete idea on how to turn AVI to MP4 format then click this link and proceed to a new webpage.
Conclusion
All in all, the tools presented in here are great based on their performance on reversing AVI files. Although the tools presented above are great still there is a one and only phenomenal video editor you would love to use. Video Converter Ultimate already makes the impossible possible in converting, reversing, editing etc. So, if you want to experience the greatness of this tool then this is the right time to download it now.