6 Best Video Speed Controllers for Windows/Mac/Android/iOS
Speeding up or slowing down a video can create an incredible illusion if you are tired of using the effects. This video editing technique is simple yet effective. As you search over the internet, there are many different speed controllers options on the market, and we know it is hard to choose. But if you read this article, we will review the speed controller app you can use to change the playback speed. Are you interested in the best speed controllers apps? In that case, keep the ball rolling to learn more about the video speed controller available on your platforms.

Part 1. Top 6 Video Speed Controllers for Windows, Mac, Chrome, iOS & Android
Top 1. Video Converter Ultimate (Windows & Mac)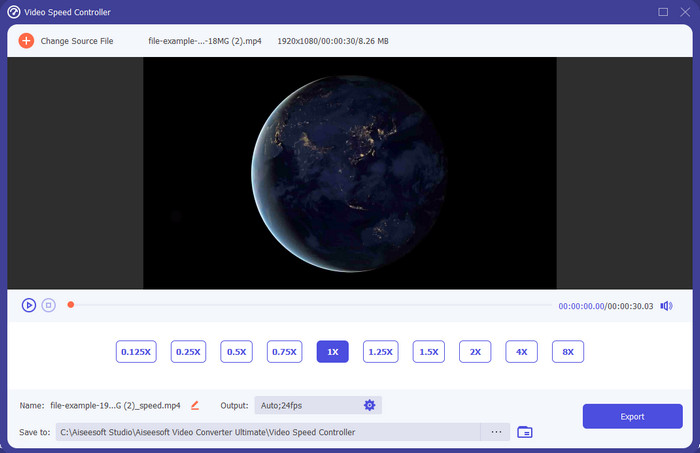 Do you need a video speed controller that is very effective and efficient in speeding up and slowing down the video? In that case, Video Converter Ultimate is the aid for this type of problem. It is the most accessible tool you can use to change the video's speed effortlessly, whether you need it at high speed or in a slow-mo. Even though you change the speed, the original video quality will remain, but the video motion is not because you change the speed.
Other than that, you can do many things like converting, merging, cutting, and more; basically, it is an all-in-one tool. Want to know the other offers you can have with this speed-up video app? If so, read the tool's features to learn more, or you can download the software on your desktop right now to test it out.

Video Converter Ultimate
5,689,200+ Downloads
It can precisely change the video frames up or down quickly in any video format, such as MP4.
Plentiful video editing features and effects are available.
It is flexible on all platforms like Windows or macOS.
The ultra-fast process makes you're downloading or exporting process done in a blink of an eye.
Exporting or downloading the video you edit will not have a watermark.
Pros
Change the frame per frame of the video even you are a pro or not.
Easy to understand video playback options.
An outstanding social media sharing capability.
It is free to download, but it offers in-app purchases.
Cons
Need to purchase if you want to have the full capability of the tool.
Top 2. Clipchamp (Windows)
Clipchamp is a video speed editor you can use on Windows. This tool provides a less stiff learning curve, so you might like to check this out if you are new to editing. It also supports several features you would like to use. However, a major drawback to this tool is the video quality output. You can only export the file into 480 video quality, which is low for the other free tools. But if you need the tool to export 720 or 1080, you can subscribe to it by paying the subscription fee. Moreover, the tool is excellent, but it is still not as good as the first editor.
Pros
Simple GUI and easy to use.
It offers additional features for editing.
Control the video playback easily.
Cons
For the free version, the final output is 480.
Sometimes the tool became inflexible with the task.
Top 3. Video Speed Controller (Chrome)

Want to use an extension of the video speed controller on Chrome? Then you can use the Video Speed Controller. This tool is available in any Chrome browser to speed up or slow down the video you are watching. It is easy to use for everyone, and also it is safe to access as well because it is an extension for Chrome. However, if you export the video, the playback will remain the same even if you change it. Because the tool only works on the video you are currently watching on your Chrome and not outside of it. Additional information, once you speed up the video with this extension, all your play videos on Chrome are at the same speed.
Pros
On-point speed controller you can use on Chrome.
Able to rewind or reset the video playing speed on Chrome easily.
It supports the short-keys command.
Cons
The video controller panel is not visible.
You can't change the speed of the video outside Chrome.
Top 4. Accelerate for Safari (iOS & Mac)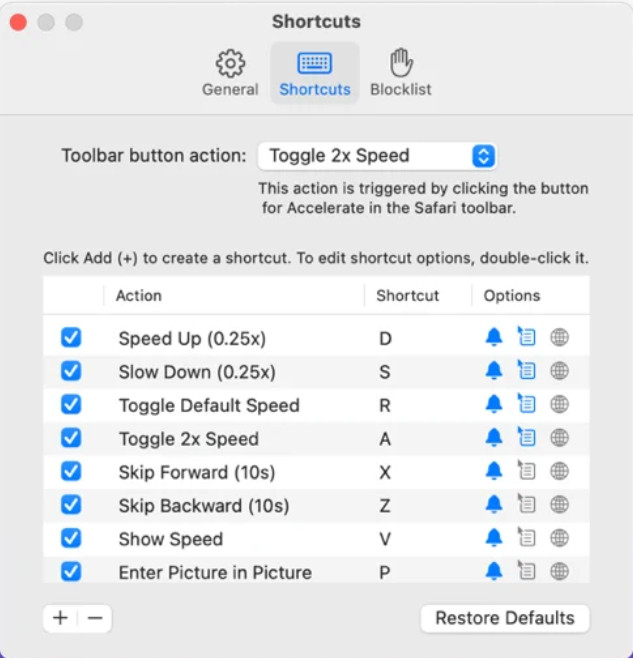 Need a video speed controller on Safari? Accelerate for Safari is available on every Safari of Apple devices. This tool can change the video playback of every HTML 5 video on Safari. Like the Chrome extension above, this is limited on every Apple device. So, if you are an Apple user, you might like to use this speed controller extension to speed up the video or slow it down. Moreover, you can use your keyboard keys to command the tool to change the video playback.
Pros
It is safe to use in all Safari.
It supports Picture-in-Picture and AirPlay as well.
Shortcut keys are available to take control over the tool.
Cons
It doesn't support another web browser other than Safari.
Limited to HTML 5 videos.
Top 5. Slow Fast Slow - Control the Speed of Your Videos (iOS)
For a video speed controller on an iPhone, you can use the Slow Fast Slow. This tool helps iOS users instantly manipulate the video's playback speed; it works best on slow-mo. Moreover, it has a very interactive built-in timeline to adjust the speed. It also supports other features like pitch-bent and reversal of the clip. However, this tool requires an iOS 10 system, so you can't use it if your system isn't 10.
Pros
It supports other features for your video.
User-friendly.
Can slow down videos up to 1/16 speed.
Cons
It doesn't support 4k output and choosing of FPS.
It doesn't work on some of the new iOS devices.
Top 6. Video Speed Controller Pro (Android)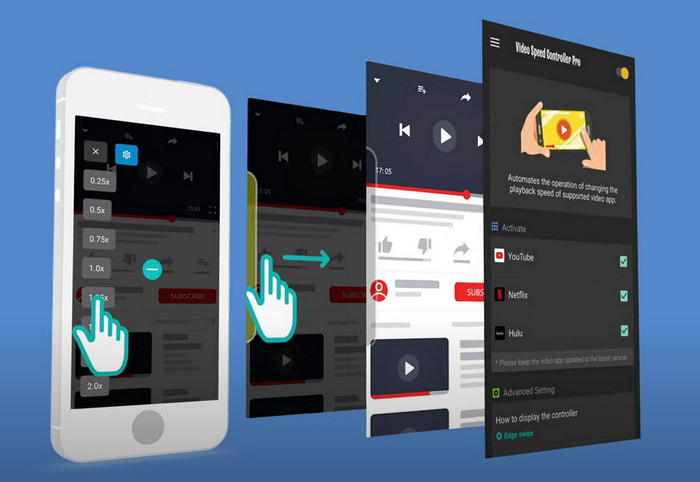 If you need a video speed controller on Android, then guess what? You can use the Video Speed Controller Pro by installing it on your Playstore. With the help of this tool, you can speed up any videos that are playing on your Android with ease. Moreover, this tool is like a speed controller extension on Android. Although the tool can speed up your video, the fastest it can go is 2x only. However, if you need to speed up watching videos, you can use this on Youtube, Netflix, and other video platforms on Android.
Pros
It is simple to use.
The tool itself is on point.
A menu bar is available to reveal the options on your playback.
Cons
The options of playback speed are limited.
Sometimes it doesn't work well.
Part 2. Comparison Chart
| | | | | | | |
| --- | --- | --- | --- | --- | --- | --- |
| Feature/s | Video Converter Ultimate (Windows & Mac) | Clipchamp (Windows) | Video Speed Controller (Chrome) | Accelerate for Safari (iOS & Mac) | Slow Fast Slow – Control the Speed of Your Videos (iOS) | Video Speed Controller Pro (Android) |
| Speed Control | | | | | | |
| High-Quality Video Output | | | | | | |
| Editing Features | | | | | | |
| Ultra-Fast Exporting Process | | | | | | |
Part 3. FAQs about Video Speed Controller
Why do I need to use a speed controller?
In some cases, you'll need to watch a video at high-speed or slow down. A great example of watching a speed-up video is to finish the video you are watching immediately, or alike. Speeding up videos is a great help to these users. While slow-mo, this is usually used on an instant replay of the fast pace sports such as racing, basketball, volleyball, and more. Whether of the two, you will need an effective speed controller to override the normal speed to your needs manually.
Can I speed up videos on Tiktok?
Yes, you can shoot videos that are on speed in Tiktok. However, you can't watch videos on Tiktok at high-speed. So, if you need the help of a suitable speed-up tool for you, click and read this article to know how to speed up video on Tiktok.
How to slow down videos?
Contrary to speeding up videos, you can make a slow-mo on your videos with the help of the editors available on the market. Which tool should you use? No worries, because we present the best slow-mo video software you can use to help you create a slow-mo effect. If you need to know more, you can click this link.
Conclusion
Today, you are now full of knowledge about the paid and free apps to speed up video on different platforms. The speed controllers provide a unique set of skills to help various users speed up videos. If we read it thoroughly, we can see that the FVC Video Converter Ultimate provides everything for the users who need help. So if you want to download the ultimate tool on your desktop, you can click the download button and enjoy an all-out experience of the tool.