Learn Converting MTS to WMV with Different Ways

Part 1. Best Tool that Converts MTS to WMV Online
Most of us prefer not to deal with inconveniences, which is why we don't want to install a software converter. They are looking for an internet converter that would convert their file types. FVC Free Video Converter Online is an online video converter that is entirely free. Even though this program is free to use, you need not be concerned about the quality because FVC Free Video Converter does not compromise quality during conversion.
Step 1: To start, click this link, and it will redirect you to the website. From there, click on the Add Files to Convert button to download the launcher; you will need to upload the files you want to convert.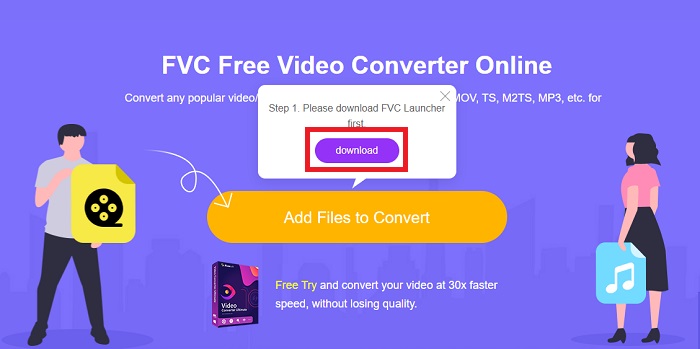 Step 2: After that, you can now click the button again to upload the video file. You will see all the formats offered at the bottom and select WMV among the others.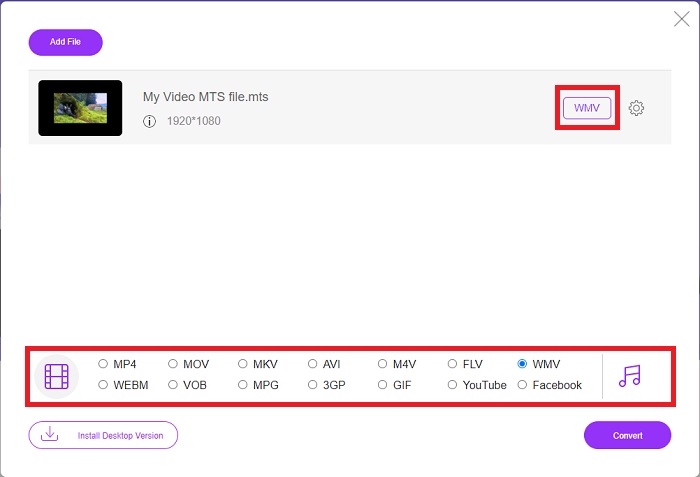 Step 3: The additional options are still there. Click on the gear icon, and it will show you all the tweaks you can make for your video. Just click OK once you choose a format already to save the changes, and click Convert to start the conversion finally.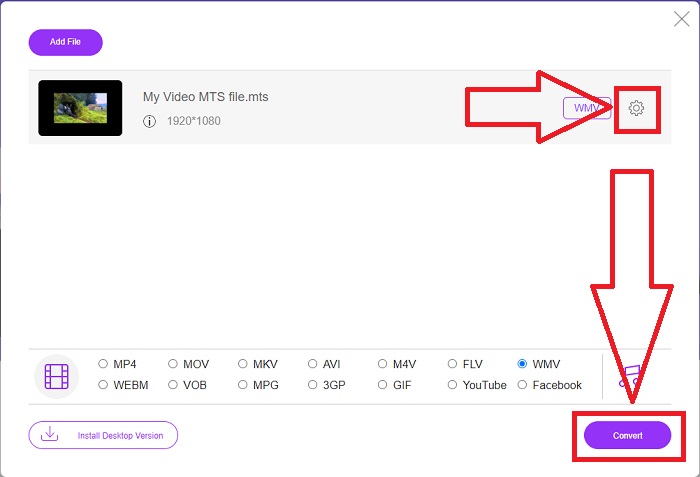 Part 2. How to Convert MTS to WMV with Best Converter Offline
When picking a converter, we must consider simplicity since we do not want an expensive converter that is difficult to use. We are pleased to introduce the Video Converter Ultimate and its user interface. This converter has the most straightforward interface, and since it is essential, it is also the easiest to use. In addition, you may quickly add your files and view the supported file types. There are more features here that you can count on that will make your editing experience more convenient. If you want to use such first-hand, follow these simple steps:
Step 1: First, you have to install the software itself. To do this, download the .exe file by clicking the Free Download button below for Windows or Mac. Wait for it to finish and open it to start the installation process. Click Start Now and finally launch the software.
Step 2: An interface with a + button in the middle will appear once opened. Click on it to upload the MTS video file you wish to convert, or you can just drag and drop for quick use.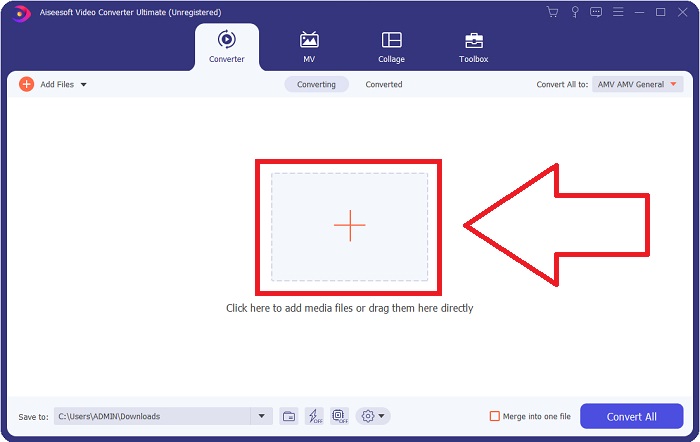 Step 3: If the process is a success, and once it appears on the interface. On its right, you can see the current format your video is in on its request. Click the drop-down arrow, and all the available formats will show. Scroll down and select WMV or just type it in the search bar. In addition to this, you can choose which quality you want on the right panel of the tab.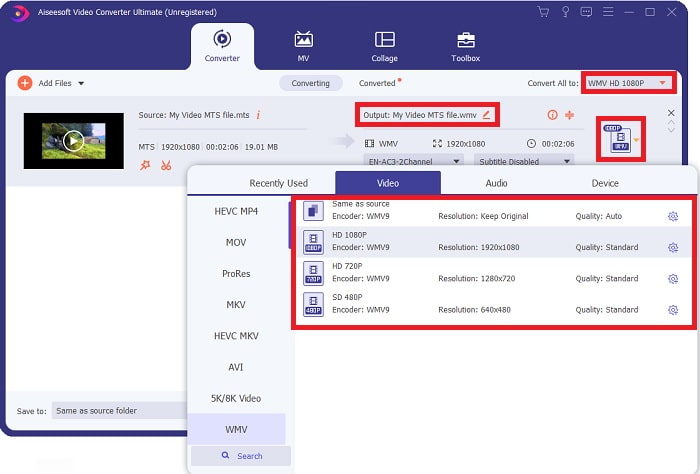 Step 4: For more options, click the gear icon found on the right of the video quality you selected. You can further edit your video from there, such as the resolution, frame rate, bitrate, and many more. Just click the Create New button if you finish adjusting.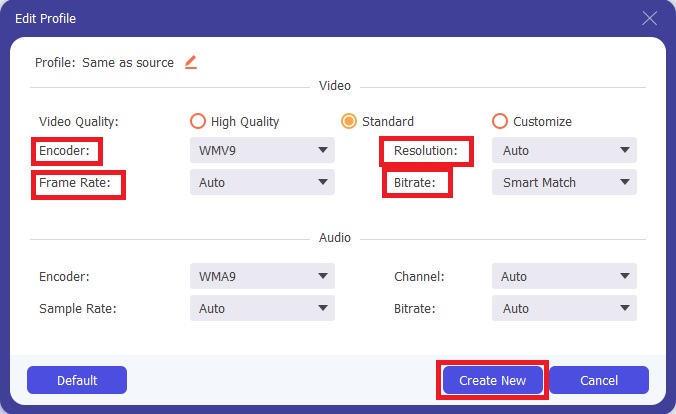 Step 5: If all the necessary adjustments, click on the Convert All button located on the lower right corner to start the conversion properly and wait for it to finish.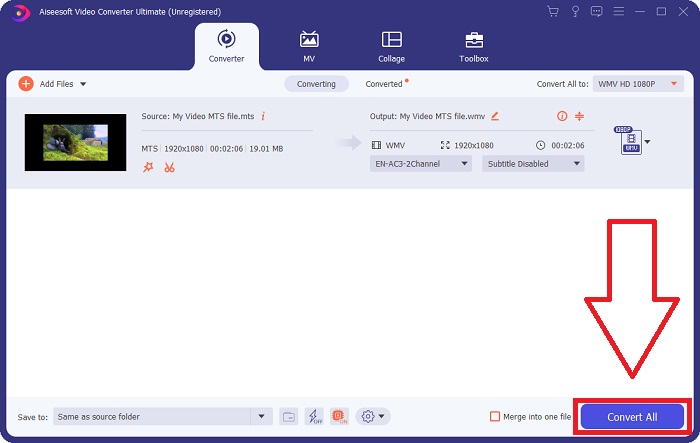 Part 3. Extended Knowledge about MTS VS. WMV
| | | |
| --- | --- | --- |
| File Extension | .mts | .wmv |
| Description | Advanced Video Coding High Definition (AVCHD) is a video format that uses the MTS filename extension as its filename. Some camcorder brands, such as JVC, Sony, Canon, and Sanyo, use the HD MPEG video format and save their files with the .mts filename extension. | As a part of Microsoft's Windows Media framework, WMV (Windows Media Video) includes various video codecs and coding formats. In the beginning, its purpose is to compete with RM format on streaming apps online. Using WMV technology, videos can be stored, compressed, and delivered on Blu-ray/DVDs. |
| Associated Programs | ◆ Roxio Creator NXT Pro 7 ◆ Blender ◆ VLC Media Player ◆ Apple Final Cut Pro X | ◆ VLC Media Player ◆ MPlayer ◆ Media Player Classic ◆ Windows Media Player |
| Developed By | Sony/Panasonic | Microsoft |
| File Type | Video/mp2t | Video/x-ms-asf |
Part 4. FAQs about Converting MTS to WMV
Which player can play the MTS file?
If you have an MTS video, you can edit it using the software that comes packaged with Sony and Panasonic HD camcorders, or you can use one of the programs listed below: In a blender, blend two or more ingredients (cross-platform) MAGIX Vegas is a software package that allows you to create a variety of different kinds of visual effects (Windows) CyberLink PowerDirector is a video editing program (Windows, Mac, Android).
Do MTS files have audio?
Several factors can cause a loss of audio in MTS files. The most common is that the conforming process was not allowed to complete, resulting in no audio or cutting audio and a failure to copy the entire folder structure (as opposed to just the media files) from the memory card.
What is the use of WMV?
Microsoft introduced the WMV file format as a series of video codecs in the Windows Media Player. WMV is an abbreviation for 'Windows Media Video,' a compressed video container format developed for use with the Windows Media framework. To sell video contents online or through HD DVD and Bluray Discs and WMV video files are the most appropriate format to use. To play WMV files, click here to learn about some useful WMV players.
Conclusion
All the converters stated above are reliable and recommended tools to convert MTS to WMV. Video Converter Ultimate and Free Video Converter Ultimate are the two best converters that are incomparable to other online tools and software. It has different kinds of featured tools it offers and the numerous video formats it supports.