What Is Difference Between MTS and M2TS
When you use an Sony camcorder to record a video, and play the video on Windows computer, you may notice that the video file extension is .mts, while it is .m2ts in your camera.
Are MTS and M2TF file the exact same video?
What is the difference between these two video files?
That's what we shall talk in this post about MTS VS M2TS.

Part1. What Are MTS and M2TS Files?
M2TS file is primarily used for high definition video on Blu-ray disc and AVCHD (Advanced Video Codec High Definition). It can store multiplexing audio, video and other streams.
Such high definition disc compression technology is designed for camcorder use like Sony HDR–PJ260V Camcorder, Sony HDR-PJ230/B HD Handycam Camcorder, Canon VIXIA HF R42, Canon Vixia HFG10, Panasonic HC–V770, etc.
Both M2TS and MTS file are the extension for AVCHD video. The file extension is .mts, and it will become .m2ts while it is imported into the computer.
Part 2. What Are Differences Between MTS and M2TS
MTS VS M2TS: Usage
As mentioned above, the most obvious difference between MTS and M2TS is the MTS file is generated on camcorder after recording from Sony, Canon, etc., while M2TS file is the changed extension while the MTS file is imported to a computer.
MTS VS M2TS: Carrier
In the form of the carriers, MTS was created by Sony and Panasonic together as the format for HD camcorder, while M2TS file does not only used for HD video on AVCHD, but also works for the BDAV MPEG-2 Transport Stream container format to store files for Blu-ray Discs.
MTS VS M2TS: Encryption
Almost all commercial Blu-ray discs from M2TS files are produced with encryption by copy protection when MTS files are created by using the common AVCHD technology without encryption.
MTS VS M2TS: Playback
M2TS files can also be played on Sony PlayStation 3s (PS3), Sony Bravia TVs, Western Digital WDTVs, Xtreamer media player, Amkette FlashTV HD Media Player and Panasonic Viera TVs supporting playback of AVCHD.
MTS VS M2TS: Compatibility
Both MTS and M2TS files are encoded in the MPEG-4 AVC/H.264 codec, and audio in Dolby AC-3 codec. Most players and editors like Windows Media Player, VLC, 5KPlayer, Final Cut Pro, and more can open the files.
Part 3. Best Free MTS/M2TS Video Converter
Though MTS and M2TS files are accepted by many software, they fail to play on some devices like iPad, iPhone, PSP, PS3/4, Zune, etc. Moreover, if you want to edit the recorded M2TS/MTS files on some software like
For converting MTS and M2TS files into the compatible formats, Free MTS Video converter will be the ideal solution. This free M2TS/MTS converter is the totally free video conversion software without watermark.

Free MTS Converter
1,234,445+ Downloads
Free convert MTS/M2TS to MP4, MOV, AVI, MPEG, WMV, and more.
Free extract MP3, WMA, AIFF, ALAC, OGG, etc., from MTS/M2TS recording.
Add opening and ending theme for the recordings before sharing.
Compatible with Windows and Mac computer for all users.
Step 1. Add MTS/M2TS files
Free download this software to your computer, install and launch this software on your computer.
Step 2. Add MTS/M2TS files
Click Add File(s) button to import one or more MTS or M2TS files into this program. If you have stored the MTS files on your camcorder, then just use the USB cable to connect the camcorder to this computer.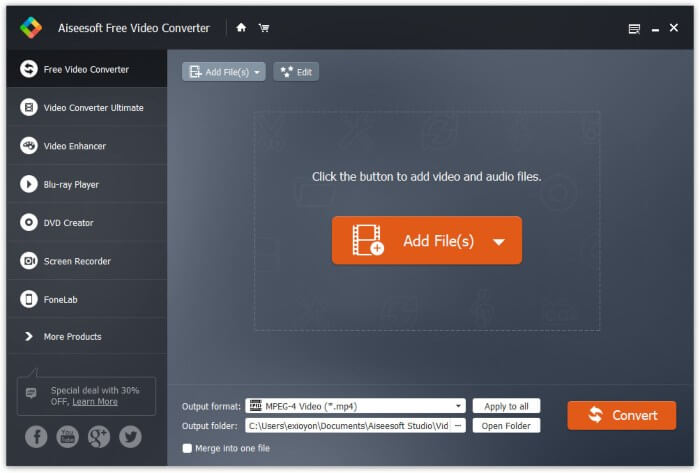 Step 3. Convert MTS/M2TS
Select the output file from the drop-down list of Output format. Here you can select MP4, MOV, or other formats.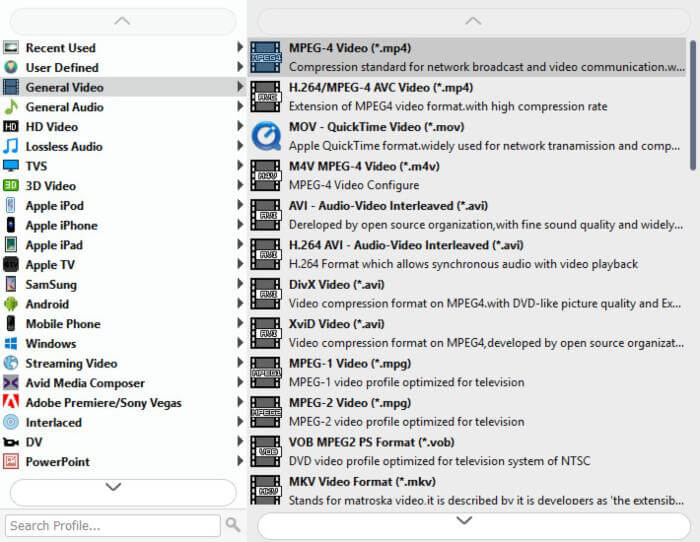 Click Convert to start converting MTS/M2TS files immediately.
Optionally, you can click Edit to add the opening and ending themes for your recording.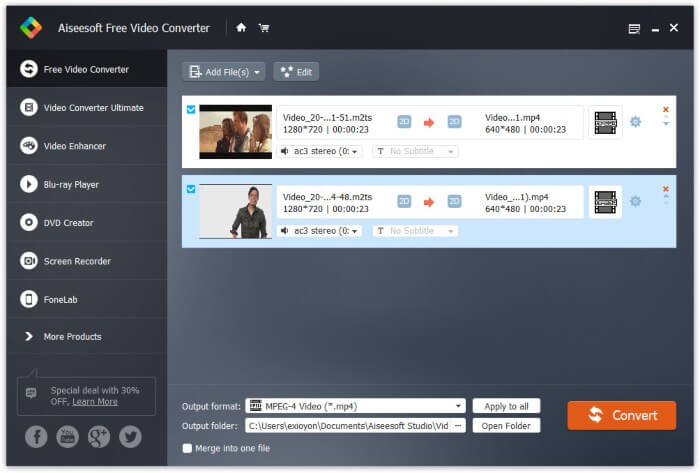 Part 4. FAQs of MTS/M2TS Files
Is M2TS better than MP4?
In the form of compatibility, MP4 is more popular than M2TS, and accepted by almost all devices. Besides, MP4 supports the UHD 4K resolution while M2TS can only supports the high 1080p HD resolution. To summarize, MP4 is better than M2TS.
How do I open a M2TS file?
You can open the MTS files on your camcorder directly. While you import the MTS files to computer, you will need the media player to open the M2TS files. Such players that can play M2TS files as VLC, 5KPlayer, etc. are free. Besides, for opening the M2TS files on iPad, PSP, etc., you will need the free M2TS video converter to convert to the compatible formats and open them.
Can Plex play M2TS?
No. The native video format supported by Plex is MP4 container, H.264 codec and AAC audio codec. M2TS is not supported by Plex. For playing the M2TS files on Plex, you will need to convert M2TS files to MP4 firstly and then add the converted MP4 files into Plex for playback.
How to convert M2TS to MKV?
For converting M2TS files to MKV, you will need the M2TS converter. Free M2TS Video Converter is the free software that can convert M2TS to MKV, including the 3D MKV files. You just need to add M2TS files into this freeware, and select MKV from the output drop-down list. After that, click Convert to start changing M2TS to MKV immediately.
Conclusion
M2TS and MTS files sounds similar and many users are confused by these two items. This post lists the difference between MTS and M2TS, and you can identify them easily. Moreover, we also share the best M2TS/MTS video converter to change MTS/M2TS to MP4, MOV, AVI, WMA, MKV, and other popular formats for playing on more devices, so that you can use the M2TS and MTS files easily.
Do you still have any question about this topic?
Let me know by leaving your comments below.